Harris County and Houston officials said several long-awaited parks and recreation projects in the Humble and Kingwood area will break ground next year.
Dennis Johnston, parks director of Harris County Precinct 4, said Phase 1 of Edgewater Park, a 19-acre site, will include a detention basin, fish-cleaning station, trail and boat launch. A timeline is not available for Phase 2, which is east and north of Phase 1.
Construction on the $2.3 million park will begin in mid-2021, Johnston said. The park's opening was delayed from early 2021 to early 2022.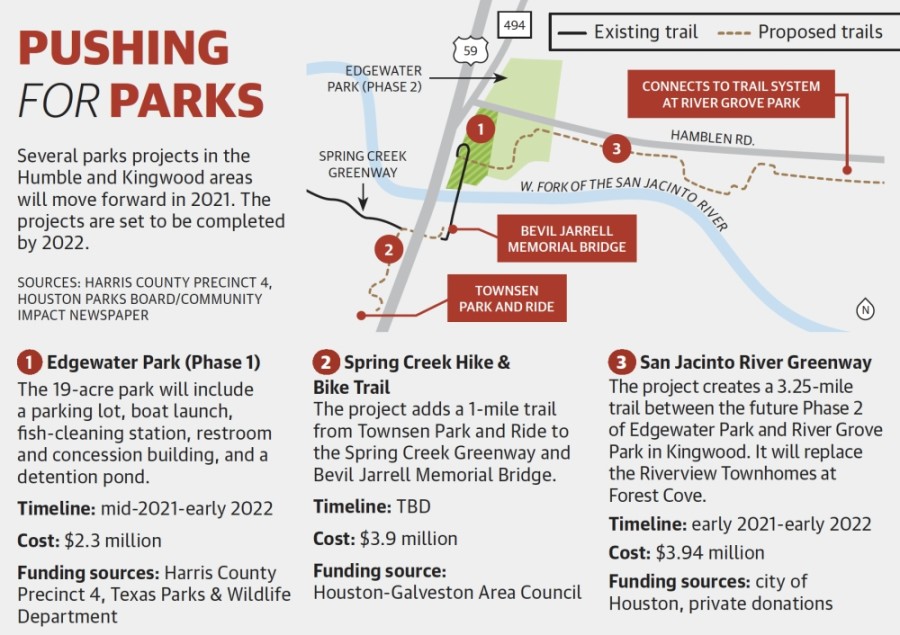 "Getting approvals for both the right of way and the design to continue the Spring Creek Greenway under the existing railroad bridge took much longer than anticipated," he said.
The park's trail will go through Phase 1, under the Union Pacific railroad and through the future Phase 2.
A $3.9 million trail from the Townsen Park and Ride to the Spring Creek Greenway trailhead and the Bevil Jarrell Memorial Bridge is also under consideration by the Texas Department of Transportation, Johnston said.
Meanwhile, the Houston Parks Board will begin work in early 2021 on the San Jacinto Greenway. The greenway, located directly east of Edgewater Park, will connect Edgewater Park to River Grove Park in Kingwood, creating a continuous system from the Spring Creek Greenway to the Kingwood Greenbelt.
The $3.94 million project was set to begin in mid-2020, but permits delayed it until early 2021, said Beth White, president and CEO of the Houston Parks Board.
Harris County Flood Control District officials said in late October they will soon acquire the last seven units at Riverview Townhomes at Forest Cove and demolish them for the greenway.
"Construction may commence on other sections of the trail while the demolition is pending," White said.
Correction: The original version of this article incorrectly called the San Jacinto Greenway project the San Jacinto River Greenway. The name has been updated.