Editor's note: Since the original story published May 4, the opening date for the Houston Interactive Aquarium & Animal Preserve has been pushed back from May 10, as the attraction awaits approval from the U.S. Department of Agriculture and inspections from the city of Houston. A new opening date has not yet been announced as of 1 p.m. May 6.

The story was also updated to correct the misspelled last name of the Covino family and to clarify this location is owned by Crysty Covino. According to Head of Public Relations Sebastian Griffin, the Houston Interactive Aquarium & Animal Preserve, the San Antonio Aquarium and the Austin Aquarium—all reportedly owned by Crysty—are no longer affiliated with nationwide aquarium chain SeaQuest as of April 28. The nine SeaQuest locations are owned by other members of the Covino family, Griffin said.
---
A new development will soon open in the Humble area that offers an interactive experience where visitors can touch, feed and learn about various mammals, sea life, birds, and exotic and endangered animals. The
Houston Interactive Aquarium & Animal Preserve
is set to open May 10 at 5440 N. Sam Houston Parkway E., Humble.
Head of Public Relations Sebastian Griffin said the attraction is a new concept from Crysty Covino, who operates the
Austin Aquarium
and the
San Antonio Aquarium
.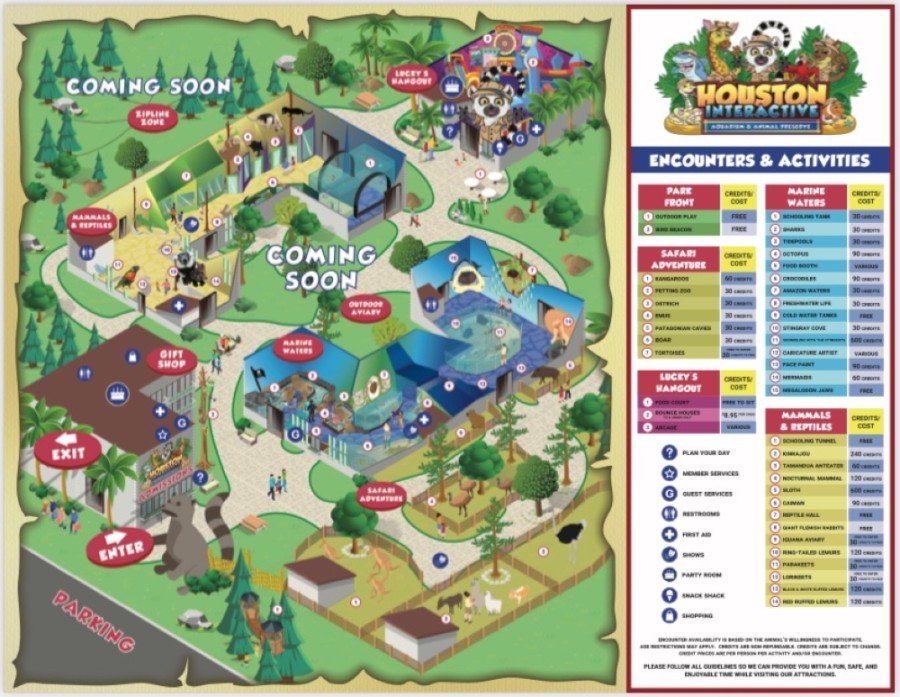 The Humble location will be different from Covino's other attractions as it also creates spaces for lemurs, kangaroos, sloths and exotic birds, Griffin said. In the interactive exhibits, visitors can have "encounters" with animals by snorkeling with sting rays and sharks.
"There's a side of education that we really want to break through," he said. "It's hard to connect to something through a 10-inch glass. But when you're in there and you can feel it breathing, you can feel its heartbeat, you can have it take something out of your hand, you're educated in a way that no one else in the whole world really gets to do."
The roughly 5-acre property off Beltway 8 has been under construction since the fall of 2019, with the developers initially anticipating opening the attraction in six months, Griffin said. However, he said the coronavirus pandemic spiked construction costs, thus delaying construction and the park's opening date to this May.
When completed, the development will feature a marine building; a mammals and reptile building; an outdoor aviary with hundreds of bird species; a gift shop; an adventure course; outdoor exotic enclosures; and a building with an arcade, a bounce house and a food concessions area.
The business is awaiting licensing by the U.S. Department of Agriculture before opening. Officials said it will not be certified by the
Association of Zoos & Aquariums
—an accrediting body for zoos and aquariums.
Its first phase—the marine building, mammal and reptile building, and outdoor enclosures—is scheduled to open to the public on May 10; however, the party room in the marine building as well as the games building will open after the soft opening phase, Griffin said. Construction will be ongoing on the future Phase 2 of the park, which will include an adventure park with a zipline course.
District Husbandry Director Jamie Shank said she hopes the attraction helps the community feel connected to animals and encourages visitors to be conservationists, as several animals at the park are endangered.
"Our message is to educate and inspire a new generation of conservationists and explorers," she said. "What I want is ... when someone visits that they leave inspired ... to change, to create a better environment and world for future generations as well as themselves and the animals and environment around them."
Daily ticket prices are $14.95 for children, $19.95 for adults and free for age 2 and under; annual season passes are available for purchase. Community members can call 281-442-7000 for more information or visit
www.houstonaquariumtx.com
.