A stall in anticipated federal funding has up to 45 of 181 flood-mitigation projects in Harris County at a funding deficit, including several projects in the Lake Houston area.
At the March 9 Harris County Commissioners Court meeting, the Harris County Budget Management Department said projects from the $2.5 billion flood bond program in 2018 were at a $1.4 billion funding deficit due to a lack of match funding secured. It also showed projects in the Greens Bayou, Halls Bayou and the San Jacinto River watersheds were less than 50% funded.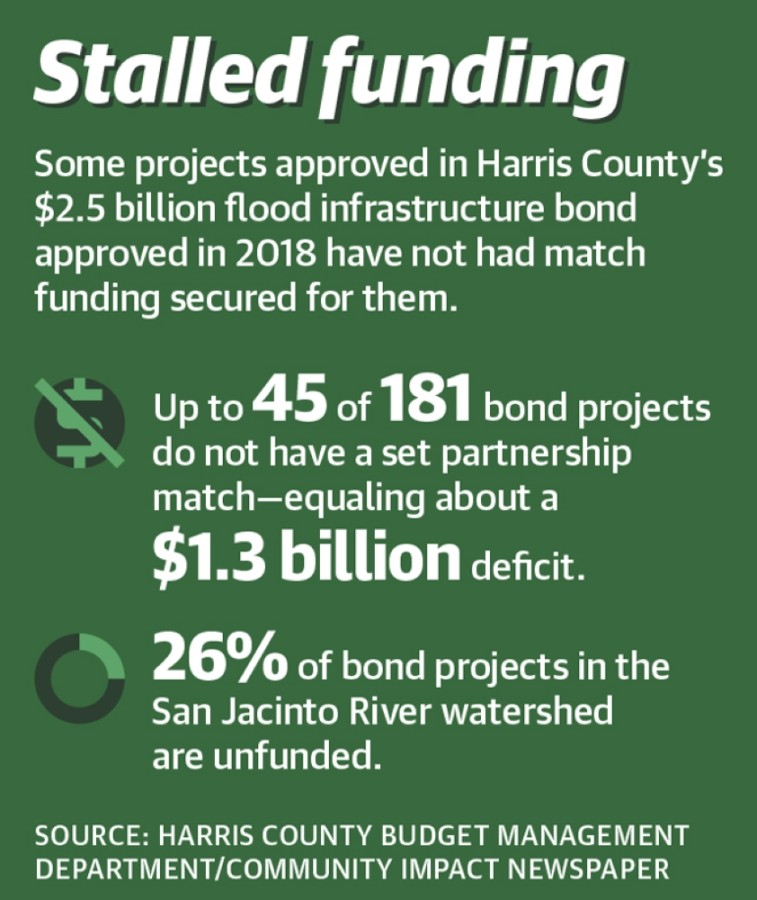 However, after March 9, the budget office received more data, bringing the San Jacinto River watershed down to 26% unfunded compared to the initial 63%, according to budget officials. Despite this, Lake Houston-area officials are taking flood project funding into their own hands to ensure major projects are funded.
Houston Mayor Pro Tem Dave Martin, who represents District E in the Kingwood area, spoke about the shortfall at the March 11 Lake Houston Redevelopment Authority board of directors meeting.
"The projects that you saw ... when we passed the bond referendum, they're not coming to fruition like we thought they would," he said. "We need to take more things into our own hands ... and not rely on Harris County."
Assessing the shortfall
When voters approved the $2.5 billion bond in 2018, Harris County Flood Control District officials said the district planned for partnerships with state or federal agencies to match the bond amount, offering $2.5 billion more toward the projects.
So far, the district has secured about $1.2 billion from partnership matches, leaving around $1.3 billion unsecured, HCFCD Deputy Executive Director Matt Zeve said. This results in Harris County projects being at a deficit, including several Lake Houston-area projects.
This can largely be tied to a shift in how the Texas General Land Office allocated funds received from the U.S. Department of Housing and Urban Development, HCFCD officials said. Instead of giving the county and city of Houston allocations of $1 billion each in Hurricane Harvey relief funding, the GLO made funds available through competitive grants across the state.
Now, the county is vying for funding with the rest of the state. Some projects submitted to the GLO's mitigation programs for the 2015 Memorial Day and 2016 Tax Day floods recently did not receive grants, Zeve said.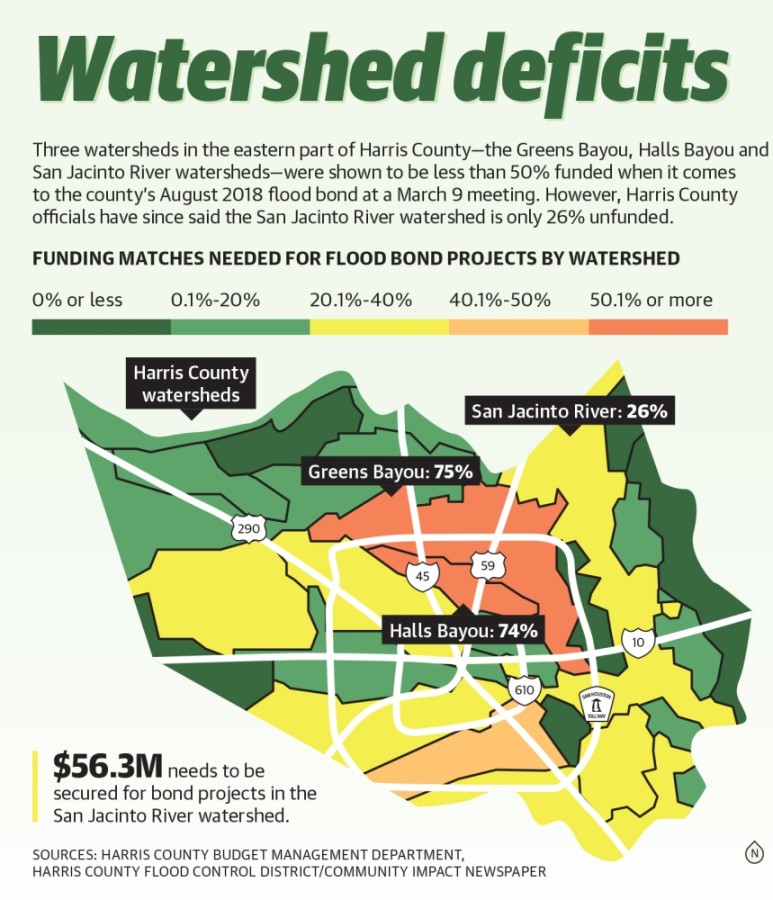 "We have to ... figure out what type of funding sources we can pursue next," he said. "We also have to decide how we can ... phase the projects so that we can get started but build them over a longer period of time."
Four San Jacinto River watershed projects were deemed unfunded in March, but two have since left the list. Subsequent projects from the $2.7 million San Jacinto Regional Watershed Master Drainage Plan study and a study into building a detention basin near the Houston Ship Channel, however, do not have match funding secured, according to HCFCD officials.
The preliminary study released in August outlined up to $3.3 billion in proposed projects—all located near channels leading to Lake Houston. The HCFCD has almost $18.8 million set aside from the bond for projects related to the study, but it planned $56.25 million from unknown partners.
However, Zeve said he hopes the district will not have to go out for grant funding and instead gather local matches from agencies and slowly move through projects.
A $40 million project to dredge Lake Houston was mistakenly listed as lacking a match, but it has since been resolved. However, Martin said he hopes state Rep. Dan Huberty's, R-Houston, bill moving through the Texas Legislature will fund future dredging in the lake, easing the area's reliance on state and county funding.
House Bill 2525 would create the Lake Houston Dredging and Maintenance District to oversee and fund long-term dredging in the lake. The entity would collect funds from taxes.
"What happens in Lake Houston affects the entire southeast part of the state of Texas," Martin said.
Short end of the stick
Despite Lake Houston-area projects having more funding than anticipated, the nearby Greens Bayou and Halls Bayou contain some of the county's most socially vulnerable communities but are still 75% and 74% unfunded, respectively. During Harvey, 24,730 homes in the bayous flooded, per HCFCD data.
At the March 9 meeting, Harris County Judge Lina Hidalgo asked why the district relied on federal money for the bayous after putting aside $1.74 billion of the bond for local use.
"This is not just a budget issue; this is a strategic issue," she said.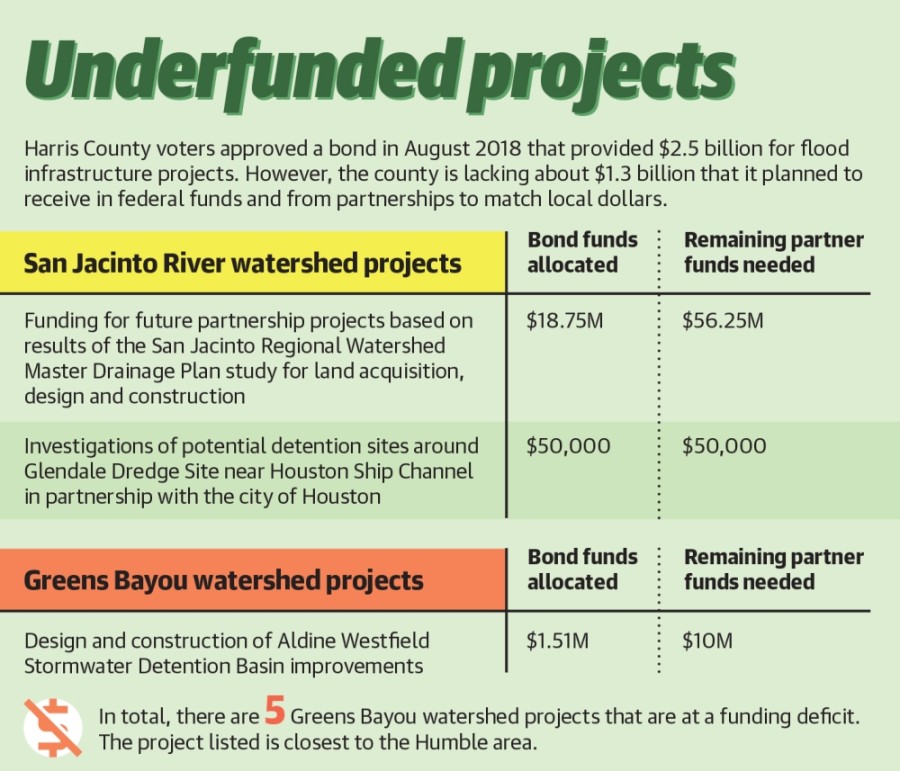 In an April 20 release, the HCFCD announced Phase 1 of the Aldine Westfield Stormwater Detention Basin, located south of Greens Road, was completed; designs for Phase 2—north of Phase 1—are also complete. However, the HCFCD learned in March the district was not awarded $10 million from the GLO's 2015 grant program to build Phase 2.
Despite this, HCFCD Director of Operations Alan Black said the basin could still be funded, as it was also part of a $967 million bundle of projects Harris County and the HCFCD submitted to the Harvey grant program. The GLO could award funding in late April, and the second round of Harvey funding opens in September, he said.
"I'm hesitant to say the applications have been rejected. We just haven't received notification as to whether or not we will get them awarded," he said.
If Phase 2 is not awarded funds, the district will consider funding it and other unfunded bond projects through its capital improvement program or other partnerships, Black said.
Commissioners have directed the HCFCD and the county's budget department to determine how stalled funding affects projects, how to prioritize resources and what to do if state funding is not granted. The plan, due back June 30, will also include a timeline for a possible second flood-control bond election.
Precinct 1 Commissioner Rodney Ellis, whose precinct includes portions of Halls and Greens bayous, said he was disappointed the bayous were underfunded.
"If we don't get [federal funding], it is unacceptable," he said at the March 9 meeting. "We will all have blood on our hands because we would have lied."
Editor's note: This article was updated to clarify the process the Texas General Land Office uses to grant funding.