The Texas Commission on Environmental Quality began a yearlong process in mid-November to form more rules for sand mining in the San Jacinto River Basin. Environmental advocates hope this process will reduce downstream flooding, limit sediment runoff and minimize pollutants discharged from the mines into waterways.
During the TCEQ's virtual stakeholder meeting Nov. 10, Jill Boullion, executive director of the Bayou Land Conservancy, said the number of sand mining companies located in the flood plain along the West Fork of the San Jacinto River between I-45 and Hwy. 59 increased 31% between 1995 and 2017—from about 1,300 occupied acres to almost 5,500 acres. The nonprofit aims to preserve land in the flood plain in the Greater Houston area to reduce flooding effects.
"What we're advocating for is that standards be developed that provide a broader regional benefit while maintaining consistency and predictability," Boullion said. "We want to keep sediment in place through flood plain preservation and mine reclamation. Sediment transport in this watershed is a huge deal because these rivers are made of sand and they're delicate ecosystems. If we don't protect them, they will degrade, and that has an adverse impact on us as people, not just the environment."
At the
Nov. 10 meeting
, organizations and state and local officials gathered to weigh in on best management practices for aggregate production operations—also known as APOs or sand mining companies. The state of Texas does not currently have uniform best management practices for all sand mining companies.
The stakeholder meeting took place because two organizations—the Lake Houston Area Grassroots Flood Prevention Initiative and the Texas Aggregates and Concrete Association—filed petitions with the TCEQ with proposed rules for sand mining. Over the next year, the TCEQ will receive public comments, propose drafts rules and finalize best management practices, said Rebecca Villalba, stormwater team leader of the TCEQ's Water Quality Division.
Differing opinions
The Lake Houston Area Grassroots Flood Prevention Initiative, or FPI, formed after Hurricane Harvey hit in August 2017, and it is focused on various areas of pollution and flood prevention, FPI representative Bill McCabe said.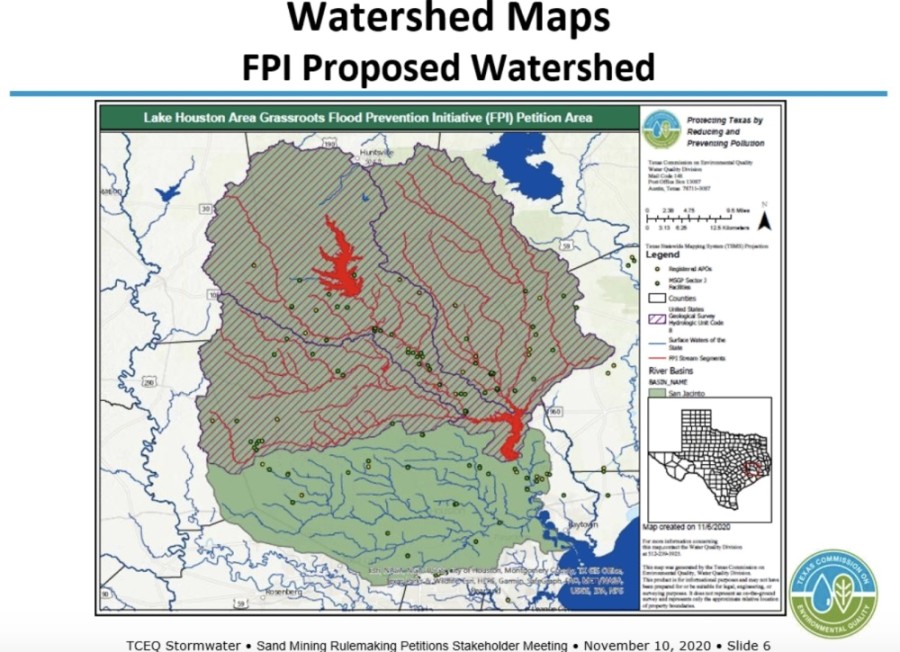 McCabe said the organization worked with TACA for two years to form best practices, but they disagreed on several main points, leading them to file the petitions in June with the TCEQ. He said the FPI wants best management practices to be mandatory.
"Voluntary guidelines are no guidelines at all," he said.
McCabe said FPI also believes APOs should operate 1,500 feet from the waterway but no closer than 200 feet, and there should be more restoration and reclamation requirements when companies exhaust resources at a site and relocate. TCEQ currently requires APOs to submit remediation plans, but FPI claims there are no repercussions if an APO does not follow through with the plans.
Boullion agreed, saying APOs should be required to restore sites after use.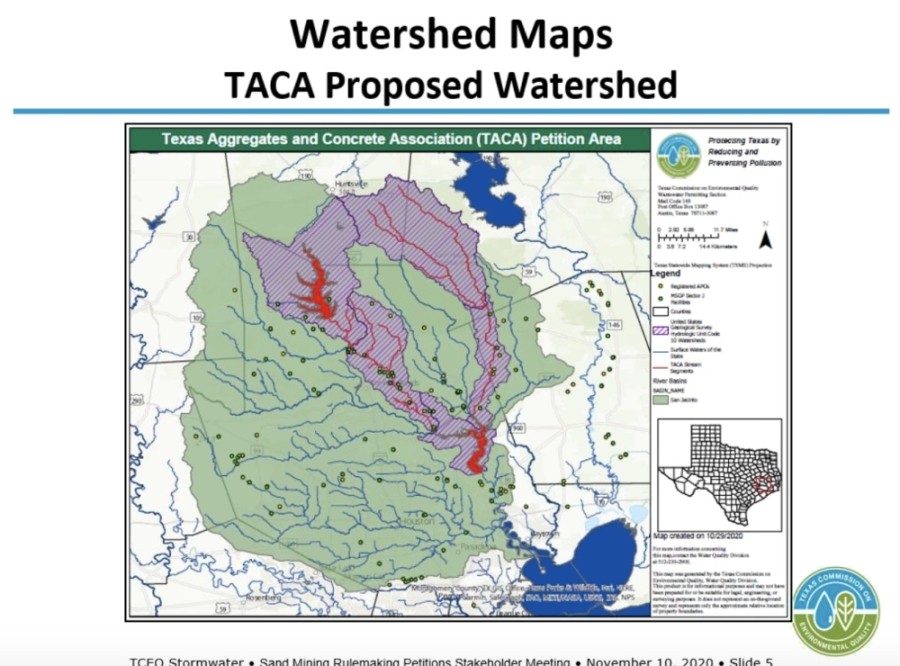 "We understand that we're not going to stop the industry from doing its business, and we don't seek to do that, but we feel that as Texans we should advocate to give back something when we're using the natural resources of the state," Boullion said.
Meanwhile, TACA President and CEO Josh Leftwich said his association believes APOs should be able to choose which best management practices they want to implement. He said many APOs are operating appropriately, and commercial and residential developments in the area are more to blame for stormwater runoff into the water supply.
"Mining has been going on there in the San Jacinto waterway for over 50 years," he said. "There's been much growth around the area that has contributed to ... issues that have led to more potential runoff from these other areas coming into these sand mines and to the San Jacinto River area, too."
The petitioners also disagreed on which parts of the San Jacinto River Basin the rules should apply to, as the basin is comprised of streams, tributaries and water bodies in Harris, Montgomery, San Jacinto, Grimes, Waller and Liberty counties, according to the petitions.
FPI wanted the TCEQ's rules to apply everything north of Lake Houston, while TACA wanted the rules to apply only to companies along the East and West forks of the San Jacinto River and their tributaries, between Lake Conroe and Lake Houston.
Proposed rules
The original petitions included 42 proposed best management practices, most of which FPI and TACA agreed on. The best management practices cover maintenance, stormwater discharge and land restoration, to name a few.
During the meeting, TCEQ officials proposed language that would require APOs seeking new permitting or renewed permitting from TCEQ to adopt as many best management practices as feasible, but APOs must only adopt a minimum number practices. This proposed language more closely aligned with TACA's proposed language on the item.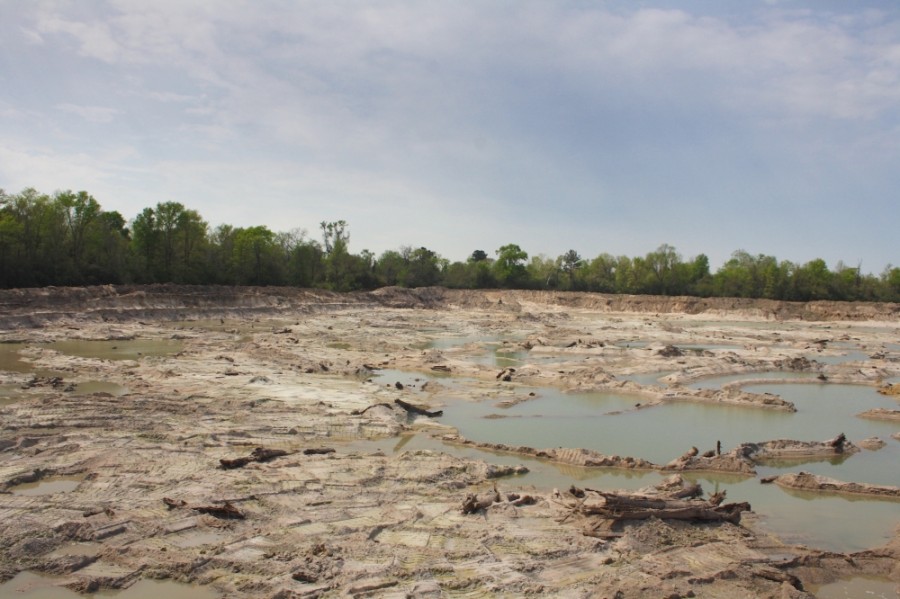 Boullion and McCabe pushed back against the language, saying that APOs should be required to adopt all the practices; however, they said companies could then apply for waivers from the TCEQ for specific rules that would not be applicable to the site.
TCEQ officials said comments will be taken into account to form the proposed draft rules. Stakeholders can submit comments on the proposed best management practices to the TCEQ until Nov. 24, Villalba said. Emails can be sent to
[email protected]
.
A public meeting will be held in December to receive further comments. The TCEQ will then create draft rules of the best management practices between this December and March 2021, which will also include responses to public comments. The rules have to be approved by commissioners throughout the process, but Villalba said they hope to adopt the final rules in November 2021.
Correction: The original version of this article incorrectly stated that TACA President and CEO Josh Leftwich had said developments put pollution runoff in the water supply. Leftwich was actually referring to stormwater runoff. This article has been updated with the appropriate language.

Correction: The original version of this article misspelled Jill Boullion's last name.