The Humble ISD board of trustees unanimously approved attendance boundaries for the incoming Middle School No. 10 at the May 11 school board meeting. The boundary option, which goes into affect in the 2022-23 school year, will alleviate crowding at Woodcreek and West Lake middle schools and creates a flex zone.
The campus is under construction near Woodland Hills Drive to the north of Ridge Creek Elementary School, which is located at 15201 Woodland Hills Drive, Humble. The roughly $64 million project is funded by the district's $575 million bond approved by voters in May 2018. The school will open in August 2022 and be able to accommodate 1,250 students, according to the board agenda.
HISD held meetings in April with the Student Area Attendance Zone Committee as well as residents from neighborhoods in the area to discuss and provide feedback on four boundary options. The options were narrowed does to Option A and Option B, which were favored 34% and 33%, respectively, by community members who participated in the survey, according to the board agenda.
The attendance boundary approved by trustees May 11 creates a flex zone over the Lakeshore neighborhood and will alleviate overcrowding at Woodcreek Middle School and West Lake Middle School—which are shown to be overcrowded by hundreds of students.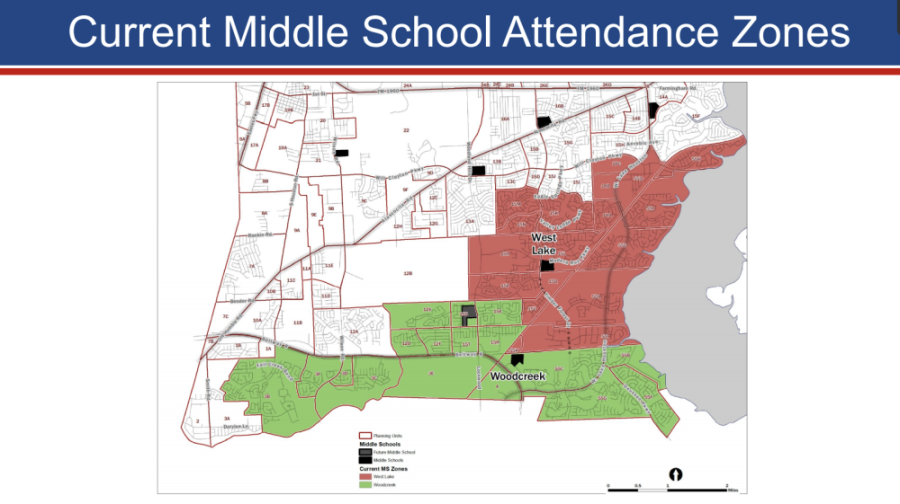 Woodcreek Middle School's enrollment is 1,721 students, and it is designed to have 1,200 students, according to the district's presentation for the April 26 community input meeting. Meanwhile, West Lake Middle School has 1,523 students, but it is designed for 1,250 students.
During public comment at the start of the board meeting, parent Whitney Jansen addressed the board via Zoom about the zoning process. Some residents in the Stillwater of Lake Houston, Summer Lake Ranch and Lakewood Pines neighborhoods reportedly felt their concerns and feedback were not addressed in the rezoning process, Jansen said.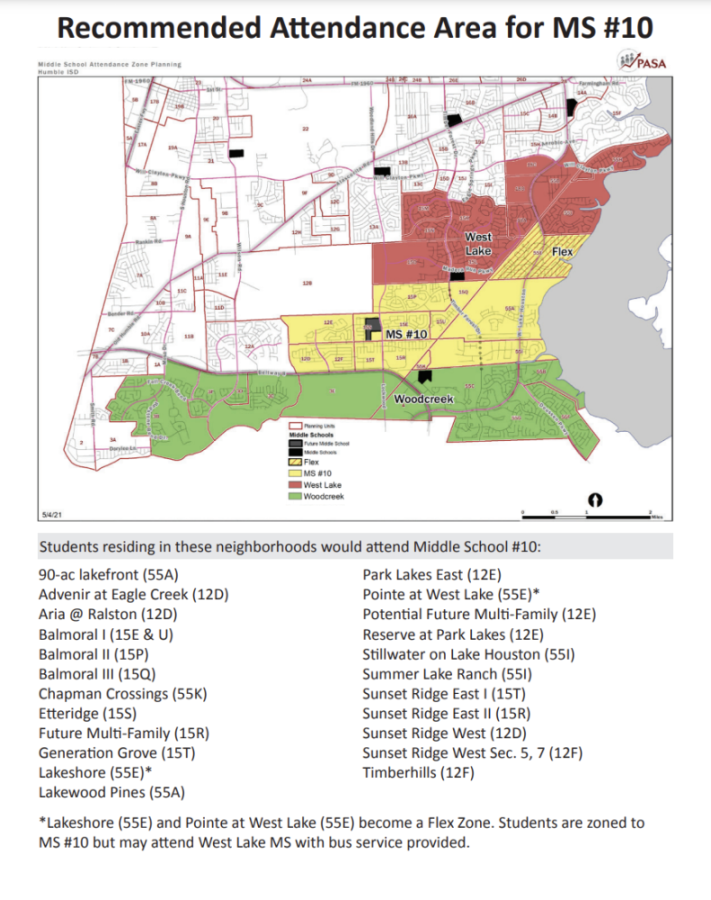 She said residents are concerned about mobility between the new school and the Atascocita neighborhoods, as she was uncertain if traffic could be rerouted to the already congested West Lake Houston Parkway and Beltway 8 intersection. She said she believed the rezoning would also remove too many students from Woodcreek and West Lake middle schools and quickly overcrowd Middle School No. 10.
"In my opinion, I don't think that our neighborhoods had a voice in the zoning committee," she said. "From the survey that went out, there were no changes to how our area was zoned because our area is smaller compared to the other neighborhoods. Our comments got lost in the shuffle."
Superintendent Elizabeth Fagen said the approved attendance boundary offers flexibility for families, as students within the flex zone will be able to choose whether they wish to attend Middle School No. 10 or West Lake Middle School with bus transportation being provided.
"I'm very proud of all of that work the committee has done together as well as the recommendation that I believe is a win-win scenario," Fagen said. "There's a lot of flexibility within the plan. It also has a long-term strategy to balance our middle schools, so that no one middle school is overfilled at any time into the future."
As for the mobility aspect, district officials referenced the ongoing Timber Forest Drive expansion as a solution to mobility concerns from parents. Timber Forest Drive is being extended between south of Madera Run Parkway to Lakewood Pines Boulevard to create a four-lane bridge over the Union Pacific Corp. railroad.
The road will create a thoroughfare to both Centennial Elementary School that opened in August 2020 and the future Middle School No. 10. Harris County Precinct 2 officials said recently the $7.64 million road project was expected to be completed in late 2021.
Other agenda items:
Trustees unanimously approved that all COVID-19 protocols to be removed beginning May 29, the day immediately following the last day of the 2020-21 school year. With this, the district will not require masks or social distancing and individuals will not be required to quarantine if they come into close contact with someone who tests positive for COVID-19, according to district officials.