Many elementary students in Humble ISD have regressed in literacy comprehension in the wake of the coronavirus pandemic, district assessments show. Educators have deemed this regression, or lack of academic progress, as the "COVID-19 slide."
HISD determined 52% of first- and second-grade students who were assessed in reading comprehension, fluency and phonics in fall 2019 did not meet their reading targets when measured against their own performance as second and third graders in fall 2020. Additionally, 24 of 29 elementary campuses had fewer students meet their grade-level targets compared to last year, according to the data.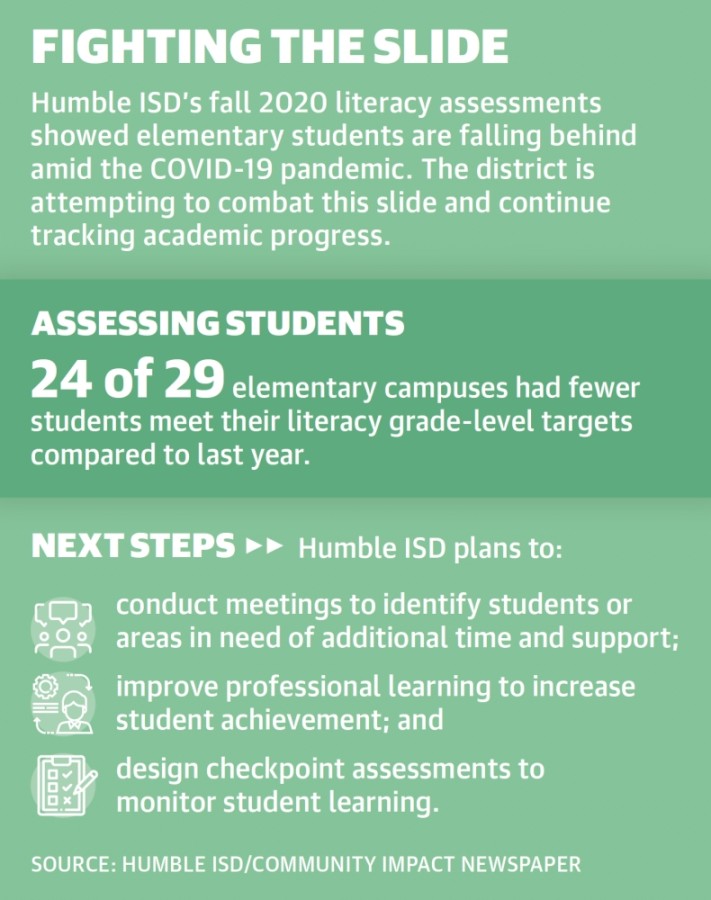 Luci Schulz, HISD's assistant superintendent for elementary schools, said via email that the district conducts the literacy and math assessments in the fall, winter and spring for kindergartners through fifth graders. The assessments provide teachers with information so they can develop targeted plans to respond to each student's needs, Schulz said.
At the Jan. 12 school board meeting, Melissa Mayhurst, HISD's assistant superintendent of middle schools, said the district plans to offset the slide by conducting meetings to identify students or areas in need of additional time and support, improving professional learning to increase student achievement and designing checkpoint assessments to monitor student learning.
"For those of us who have worked with elementary [grades], we recognize that those grades are critical to reading, to early reading development," she said. "It is there that our teachers can provide the support for progress even into middle school and high school."
Trustees asked district officials if factors such as virtual learning or socioeconomic status affected academic progress. District officials agreed it was too soon to speculate, but HISD Superintendent Elizabeth Fagen said at the meeting the district hopes to better understand what factors contributed to the regression when it releases the spring 2021 assessment.
"It's the worst set of circumstances for learning for these young children who benefit so greatly from social interactions with one another ... and developing a foundation of literacy," Fagen said. "But if you are genuinely afraid for someone in your family or household to get sick and not make it through, those are tough decisions to make."
The district finished its spring assessment in January, and officials will present the findings during the March school board meeting, HISD Chief Communications Officer Jamie Mount said.