Kenn Franklin, New Caney ISD's former superintendent, served the district for 11 years before
resigning in mid-November
. Now, the district is searching for his replacement as he heads to court for allegedly stealing more than $2,500 from the district and filing false expense reports, according to arrest warrant affidavits from the Montgomery County District Attorney's Office.
Booked into the Montgomery County Jail on Jan. 7 and released on a $40,000 bail bond, Franklin was charged with aggregate theft by a public servant and tampering with a government record, according to Montgomery County Jail records.
In a three-month investigation, the Texas Rangers discovered and verified 31 instances of Franklin submitting expense reports for travel to events and meetings when phone records show he was at his residence in New Caney or in Tyler, per the affidavits.
"Mr. Franklin wishes the best for the students, faculty, administration, staff and board at the New Caney ISD, and hopes that this matter does [not] cause too much of an interruption on the good work that is being done at the district for the kids they serve," said Christopher Tritico, a defense attorney with Tritico Rainey PLLC who is representing Franklin, provided in an emailed statement.
Franklin was hired by the district in 2009 after serving as superintendent in Marshall and Marfa ISDs. In his 11 years at NCISD, enrollment increased from 9,590 in the 2009-10 school year to 16,081 students in 2019-20, according to the Texas Education Agency. He left with a salary of $334,538, per the TEA.
NCISD must now deal with the fallout of his alleged wrongdoing by hiring a new superintendent before the end of the school year and auditing the district's finances.
The investigation
The investigation into Franklin by the Texas Rangers, who receive specialized training to investigate public servants, began several months prior to his November resignation.
According to affidavits from the DA's office, the NCISD Police Department contacted the Texas Rangers in September. NCISD Police Chief Troy Wooten reportedly told Texas Ranger Derek Leitner, who conducted the investigation, that Franklin submitted expense reports claiming he traveled to events where other employees did not see him in attendance.
Details of the district's investigation into Franklin were not included in the affidavits. Scott Powers, NCISD's executive director of public relations, said the district could not comment on its internal investigation nor Wooten's communications with the Texas Rangers.
Further investigation by Leitner corroborated the district's suspicions. Leitner requested cell phone and toll road data and observed Franklin at his RV home in New Caney in October when Franklin said he was attending a meeting in San Antonio, according to the affidavits.
Franklin also
submitted travel expenses
for other days he claimed to travel to Waco, San Antonio and Austin; however, license plate readers from toll roads showed he traveled to Tyler, where his wife lives, per the affidavits. Leitner spoke with Franklin during a Nov. 12 interview.
"Franklin said he didn't live up to his expectations and let the district down on where he was on some of those dates when [I] told him that he had yet to say he didn't travel to these locations," Leitner stated in his report.
Leitner notified Tritico about Franklin's arrest warrant and allowed Franklin to surrender to the Montgomery County Sheriff's Office on Jan. 7, Tritico said.
The charges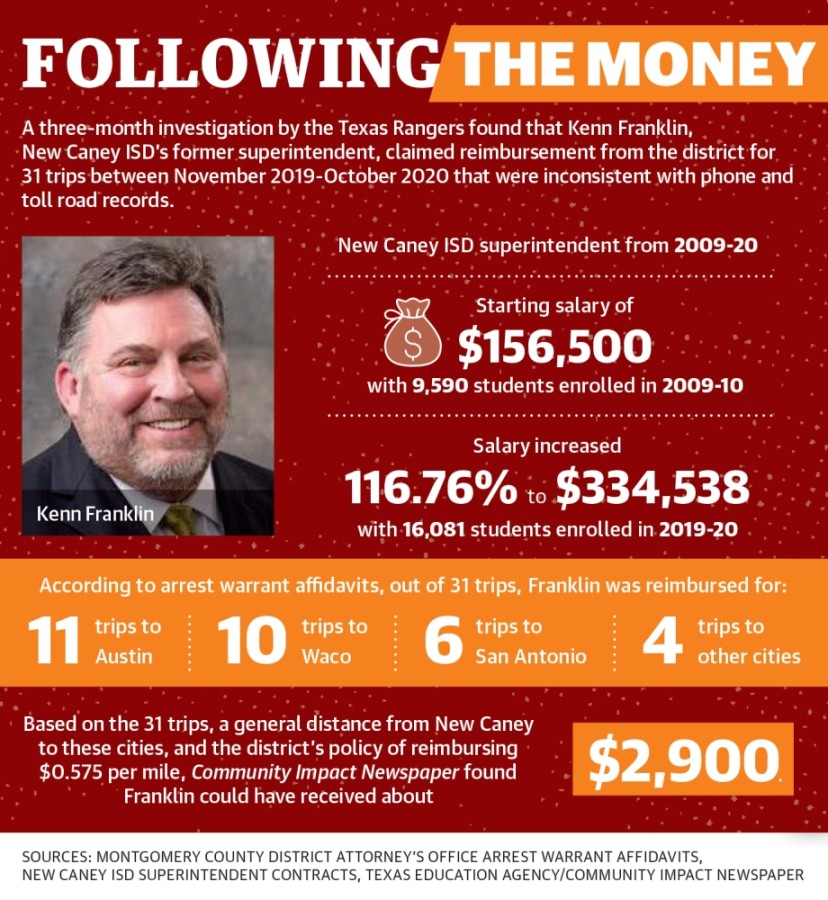 After Leitner's investigation and interview with Franklin on Nov. 12, the official complaints were submitted to Montgomery County on Dec. 7. Per the affidavits, Leitner concluded there was "well over $2,500 that was reimbursed to Franklin based upon fictitious expense sheets."
Darla Faulkner, the Montgomery County special crimes division chief, said although $2,500 is a state jail felony, Texas law requires Franklin's charge to be increased to the next category—a third-degree felony—because he is a public servant.
Faulkner said District Attorney Brett Ligon is passionate about crimes committed by public officials, having established the Public Integrity Division in 2009 when he was first elected. The division ensures "elected and appointed officials and their subordinates comply with the law," according to its website.
"They're paid with public funds, and they have access to public funds. They're put in positions of trust," she said. "If they commit offenses in which they abuse that trust, abuse their authority for personal gain, then that is something that [Ligon] is very passionate about us pursuing."
The Texas Penal Code states a person found guilty of a third-degree felony could face between two to 10 years of jail time in addition to a fine of up to $10,000.
The case has been assigned to the 221st District Court, which is presided by Judge Lisa Michalk, Faulkner said. Tritico said Franklin's first court date is a court setting March 31, in which a judge sets an appointment for a future court date. Neither he nor Faulkner provided an anticipated timeline for the court proceedings.
The search
In the aftermath of charges against Franklin, NCISD began searching for his replacement and called for a financial audit at its Jan. 19 school board meeting. In a Jan. 27 interview, board President Chad Turner said the district planned to undertake a procedural audit before allegations against Franklin surfaced.
During the
Jan. 19 school board meeting
, Vice President Creg Mixon said the board has no information on any issues other than Franklin's alleged theft and tampering with government records, but trustees want a better view of the district's finances before a new superintendent is hired.
"This board wants to ensure that we continue to be able to be appropriate public stewards in our district," he said.
Powers said no timeline nor cost for the audit has been determined as of press time. Powers did not respond to
Community Impact Newspaper
's requests for comment about whether the audit would dive into Franklin's 11 years at NCISD or if it would be made public once completed.
Following Franklin's resignation from the district in mid-November, Deputy Superintendent Matt Calvert was
immediately appointed
to serve in the interim while NCISD searches for a replacement. Turner said the district posted the job listing Jan. 18, and it received applications until Feb. 12.
In the January interview, Turner said the district hopes to have a superintendent hired before the end of the 2020-21 school year.
To aid in the search,
NCISD surveyed the community
on the traits and background they wanted in the next superintendent. Turner said about 1,300 people responded, saying their top priorities for the new superintendent are employing the best educators, having an overall vision for the district, and providing the safest and best facilities.
Turner said the district will provide any information to law enforcement as the case continues, but he could not comment on the case or Franklin's alleged crimes. However, in speaking to the NCISD community, he claims individuals have not said they distrust the board because of Franklin's actions.
"Our district, we're not just one person," Turner said.
Kelly Schafler contributed to this report.