Humble and New Caney ISDs moved ahead this fall on significant campus and facility build-outs from their 2018 bond referendums despite uncertainty on how the coronavirus pandemic could affect long-term enrollment and facility needs.
Between June and November, HISD broke ground on eight projects from its $575 million bond package, while NCISD broke ground in August on its third comprehensive high school.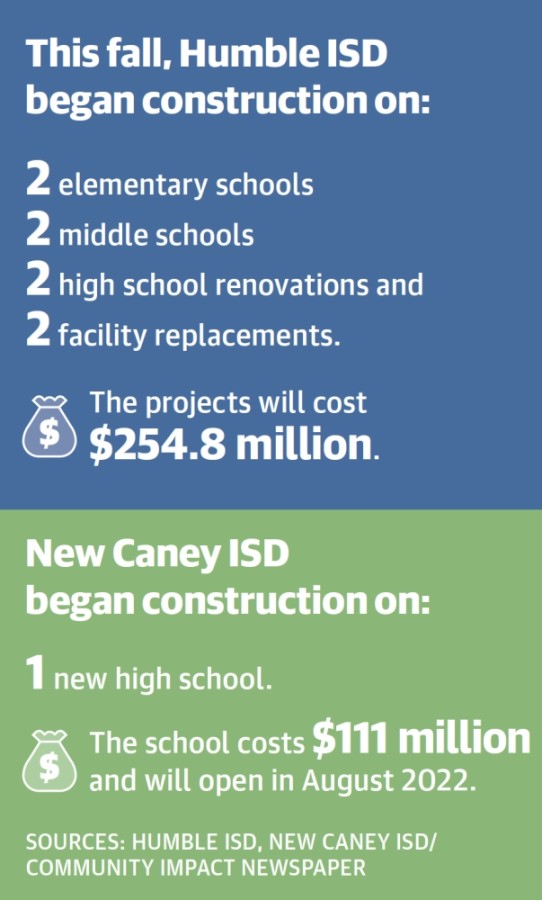 HISD Superintendent Elizabeth Fagen said the economic depression caused by the pandemic led contracting bids to come in lower and bonds to be refunded at lower interest rates. These factors made the district confident in moving forward on numerous bond projects on schedule, she said.
"The more we saw those things occurring, the more we knew that it was absolutely the right strategy to continue to move forward," she said.
Prior to this year, enrollment was on the rise in both districts, and both are classified as fast-growth districts due to their increasing enrollment.
Justin Silhavy, demographer for Population and Survey Analysts, said the demographic firm recommends districts move forward on development projects—especially at the elementary level—to prevent overcrowding in the near future following a likely enrollment boom. He said economists are predicting an economic rebound will lead to growing enrollment in 2021 and 2022.
"If all of this is resolved and people bounce back by 2022-23, you're now ... a year behind, and you don't have space," he said. "I would be very careful about canceling building or delaying building."
Enrollment lull
In the 2020-21 school year, districts across the state have seen an average of a 1%-3% enrollment decline over last year, according to results based on PASA's projected enrollment for 20 school districts for which PASA had recently prepared demographic reports.
Cy-Fair ISD officials reported in mid-September the district anticipated 118,498 students this year, but 115,923 were enrolled by the end of the first week of classes. Similarly, Silhavy said Klein ISD anticipated 900 additional students and ended with 600 fewer than the 2019-20 year.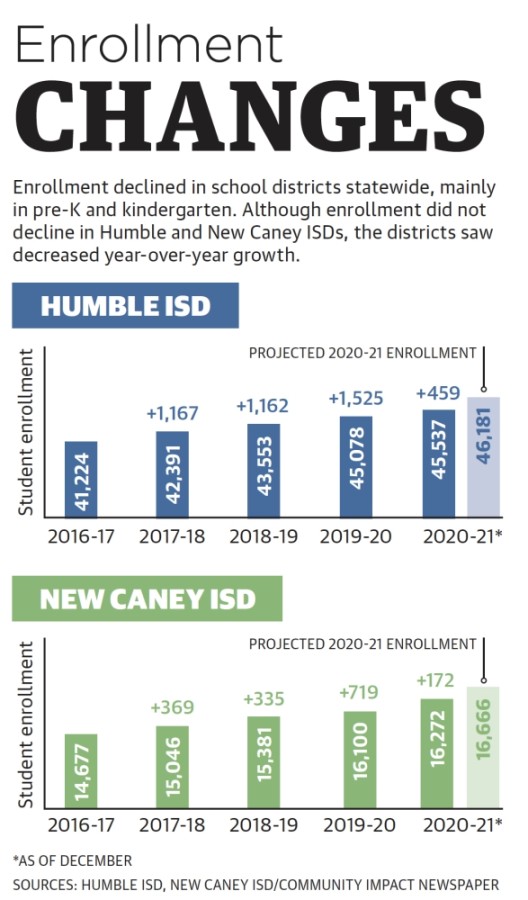 The trend is not seen in HISD and NCISD, as the districts still added hundreds of students over last year's enrollment. Silhavy said HISD's resiliency likely stems from continued residential development in the area combined with low mortgage rates.
"Humble [ISD] was lucky. ... Certain districts that had very high growth, they just had less of an impact," he said.
However, the pandemic did slow the districts' growth. Current enrollment for NCISD is 16,272, which is less than the district's projected enrollment of 16,666 students. The district had 16,100 students enrolled in the 2019-20 school year.
Scott Powers, executive director of NCISD's public relations, said via email he believes lower growth is temporary and that the district still predicts enrollment growth to be on track for the next several years.
"Even accounting for this year's slower growth, student enrollment has increased by more than 18% since 2015," he said. "The amount of growth the district experiences in the next few years will have implications for the timing and nature of future facility needs."
HISD has also not experienced a decrease in enrollment year over year. However, according to the district's enrollment data, HISD added about 450 students in 2020-21 after gaining about 1,000 new students annually each of the last five years.
Nonetheless, Fagen said the district has reached 98.8% of its projected enrollment of 46,181 students for this year. While enrollment gain has slowed, the district was not at a loss for state funding.
"When you take projected students and you spread them across the district, there's really not a significant impact to any one campus at all," she said.
Long-term planning
HISD and NCISD have broken ground on almost all projects from their respective 2018 bond referendums, leading the districts to plan for potential future bonds.
Powers said construction on High School No. 3 and the Keefer Crossing Middle School replacement, the last two projects from NCISD's $200 million 2018 bond, have progressed steadily despite the pandemic. Construction on the $52 million Keefer Crossing replacement is 65% complete and expected to be finished next summer.
The other bond project under construction is the new $111 million high school off Sorters McClellan Road, the district's third comprehensive high school. Powers said the site has been cleared for the campus, which will open in August 2022. He said both projects are within their respective budgets.
HISD officials said the pandemic has proved favorable for bidding bond projects. Between June and November, HISD began construction on two elementary schools, two middle schools, two high schools and two other facilities. The district also expects to begin renovation projects at Kingwood and Kingwood Park high schools in February.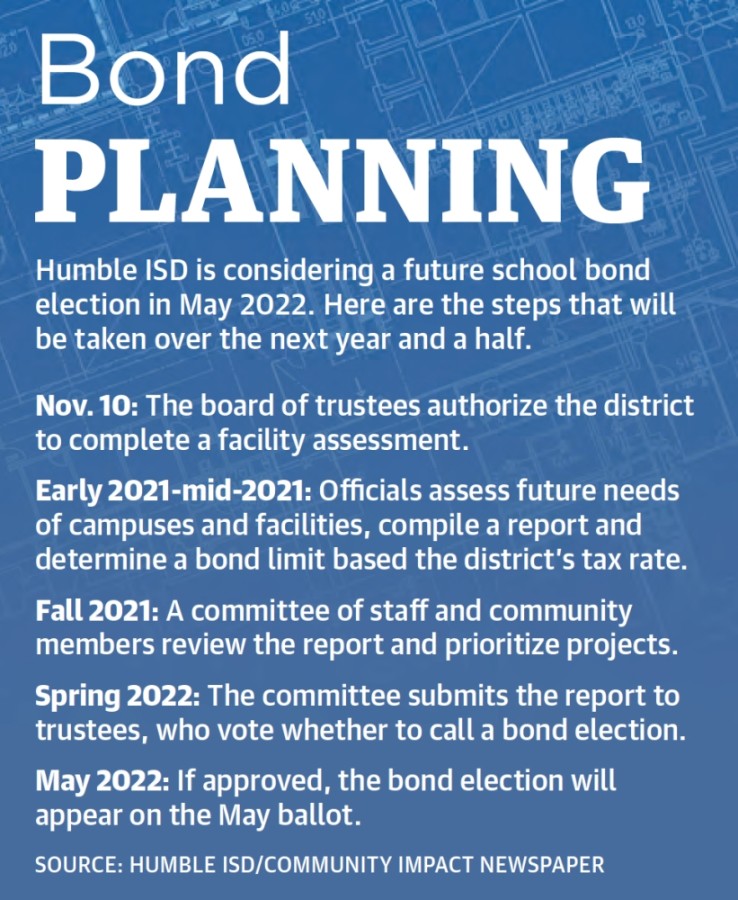 Unanticipated savings from under-budget bond projects allowed HISD to add the $38 million North Belt Elementary School rebuild—originally set to be funded in a future bond—to the 2018 bond package. With the exception of North Belt and the two high school projects, HISD has initiated all projects from the 2018 bond package, leading the district to begin plans to call a bond election in May 2022.
The HISD board of trustees authorized the district to update its comprehensive facility assessment and long-range master plan at the Nov. 10 meeting. Fagen said the facility assessment will begin in early 2021 and that a bond study committee will be formed in fall 2021, followed by the board deciding whether to call an election in spring 2022.
While the pandemic has not led HISD to slow down ongoing projects, student interest in remote learning has made the district consider taking a costly sixth comprehensive high school off future bond planning schedules, Fagen said. District data shows 31.14% of HISD students, or 14,213, were participating in partial or full remote learning as of Nov. 16.
Fagen said she believes improving and making virtual learning more accessible for public school children will be a priority in the 87th Texas legislative session next year. With this, the district is looking at ways to incorporate remote learning into future projects by creating asynchronous and synchronous learning opportunities, she said.
"We just have such a great opportunity in front of us ... to create the facilities that will nurture us into that next iteration of learning in Texas," she said.
Powers, however, said remote learning during the pandemic will likely not have an effect on NCISD's future in-person enrollment. As of early December, 5,050 students, or 31%, were learning remotely.
"Remote instruction, as it is currently administered, is a response to the needs of our community during the pandemic," Powers said. "It is not necessarily a long-term program that would greatly impact the number of students that attend schools in person."