McCord Development, the company behind the 4,200-acre Generation Park development off Beltway 8, did not sit still in 2020. The developer launched a hospitality and restaurant group, opened two restaurants and completed a $25 million road extension.
In 2021, the developer plans to open new restaurants and retail, increase tourism and attract tenants to expand Generation Park's job offerings. Still, like most businesses, interest in Generation Park has suffered during the pandemic, McCord Development President Ryan McCord said.
"A large number of transactions we were pursuing at the beginning of [2020], they effectively pushed pause in terms of other companies looking to come to
Generation Park
," he said.
However, McCord said the commercial pause enabled the company to accelerate infrastructure plans in Generation Park. He said his team designed roughly $25 million of additional infrastructure during the pandemic—roughly half of which will begin by the second quarter of 2021.
The infrastructure designs include roads to continue Redemption Square's build-out to the south, amenity lakes and miles of trail systems.
Additionally, McCord Development will move forward on several components of Redemption Square this year, which is the development's lifestyle district. McCord said he also hopes to secure the development's first life sciences tenant this year.
Mark Mitchell, the chief economic development officer at Partnership Lake Houston, said economic growth did slow across the Lake Houston area at the start of the pandemic, but he believes interest in the area and in Generation Park is increasing.
"We're starting to see an uptick in companies going out more actively and kicking the tires on potential locations," Mitchell said. "So we're pretty excited about seeing that."
Hospitality, tourism focus
A 144-room Courtyard by Marriott hotel is set to open in Redemption Square in March or April. This will be the first hotel in Generation Park but likely not the last, McCord said.
Directly in front of Courtyard by Marriott is the future spot for McCord's multipurpose event venue, The Long House. The venue—set to break ground in the second quarter of 2021 and open in spring 2022—will complement the hotel by offering space for weddings, events and community outreach, McCord said.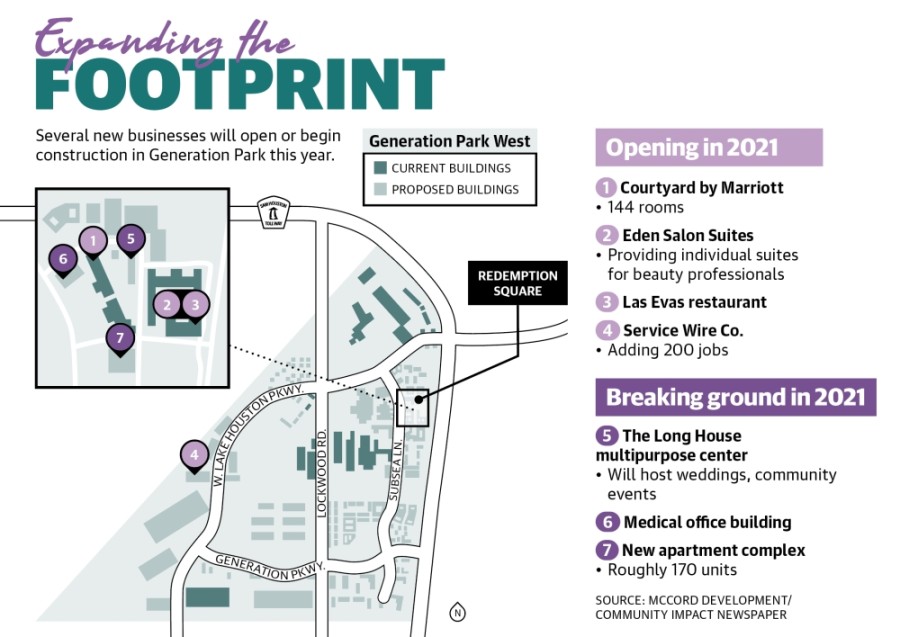 "We've been working on it for quite a while, and it's going to be stunningly beautiful," he said. "It'll really complete Redemption Square."
The Long House is one of several projects taking place in Redemption Square this year. Construction on a restaurant and bar will also begin next to The Long House this year. The eatery will be designed by McCord Development's new restaurant and hospitality group, Gastropub Productions.
Gastropub Productions, which launched in November, opened its first two concepts, Bocca Italian Kitchen and Lupo Pizzeria, in December in Redemption Square. Houston chef Justin Turner was chosen to take on the newly created role of director of culinary hospitality for McCord Development.
The group also plans to open Las Evas, a Tex-Mex eatery, this summer on the bottom floor of 255 Assay apartments in Redemption Square, McCord said. Eden Salon Suites, a collection of suites for beauty professionals, will also open in February near the future Las Evas.
Meanwhile, McCord Development is also designing a second apartment complex that will have about 170 units and be adjacent to 255 Assay, which opened in December 2019 and is at 50% occupancy, McCord said.
"We certainly believe [occupancy] would have been higher if there had not been a pandemic, but we're pleased with what we've seen thus far," he said.
Sector growth
McCord Development will also focus on expanding its industrial sector and launching a life sciences sector in Generation Park in 2021.
Service Wire Co., a family-owned wire and cable manufacturer, is an incoming industrial tenant that could bring hundreds of jobs to the area. It will soon relocate its Houston headquarters to Generation Park, bringing 100 new jobs as well, said Chuck Oldaker, executive vice president and chief financial officer at
Service Wire Co.
, via email. Oldaker said the new facility will open this fall.
McCord said he hopes to announce a new industrial tenant for the second building for Lockwood Business Park as well as break ground on a third industrial building in the business park this year.
Furniture retailer IKEA is also set to build an e-commerce fulfillment center on roughly 160 acres south of Service Wire Co.; however, a development timeline for the Generation Park location has not yet been determined, according to an email from an IKEA U.S. spokesperson.

"IKEA is transforming in order to better meet the needs of the American consumer in our rapidly changing retail environment. This includes strengthening our fulfillment network to bring IKEA closer to many more people across the U.S.," the statement read.
Meanwhile, McCord Development took several steps this fall toward launching its life sciences sector. The developer announced plans in September to open its first medical office building in Redemption Square. Construction on the five-story building will begin this year and finish in 2023.
Additionally, McCord Development hired Shawn Cloonan as a director of life sciences in the fall and acquired a biomanufacturing facility in Boston. McCord said he hopes to use the existing Boston facility to ease into the life sciences sector to bring it to Generation Park.
McCord said he hopes Generation Park will be a hub for life sciences companies pursuing pharmaceutical innovation and manufacturing, clinical care and genetic therapy development. He also aims to bring on a regional hospital in the future.
"We expect ... for the Lake Houston submarket to look similar to The Woodlands or Katy or anywhere else in terms of the number of hospital beds per person that exists in those submarkets," he said.
According to an October news release from data research firm CBRE, the pandemic accelerated momentum in the life sciences industry, specifically in Houston. In the third quarter of 2020, Houston was listed among emerging life sciences clusters due to its employment growth and federal and private investment.
In his role at the partnership, Mitchell said he aims to attract businesses and economic development to the Lake Houston area. Mitchell said Generation's Park proximity to the Texas Medical Center, George Bush Intercontinental Airport and Beltway 8 is a selling point for companies.
"The fact that we have a dedicated life sciences corridor makes companies feel good in terms of like-minded companies ... [and] long-term property value," he said.
Creating a workforce
As the life sciences and industrial sectors grow, Lone Star College and San Jacinto College—both located in the community—can offer courses to train students to meet the area's workforce need.
The $26 million
San Jacinto College Generation Park Campus
was completed in August. Destry Dokes, the executive director of the campus, said the location will offer workforce programs as the campus expands on its 57-acre plot.
Dokes said SJC has talked with McCord Development about how the college can support the development's budding logistics, supply chain management and life sciences sectors. However, Dokes said there is not a timeline available for when the programs could begin.
"We're serving as the educational engine, so oftentimes what will happen is that our work is a derivative of what really is taking place with McCord and [incoming] organizations," he said. "We determine what their needs are from a training or education perspective and we draft those [programs]."
Additionally, Lone Star College opened its 8.3-acre
process technology center
off West Lake Houston Parkway in early 2018. The program prepares students for careers as process technicians and operators in various industries, including petrochemicals, pharmaceuticals, and food and beverage, according to the LSC website.
The process technology center's programs complement the offerings at SJC, said Linda Leto Head, senior associate vice chancellor at LSC, via email. She said LSC has discussions with all employers who could hire technicians and other positions from the process technology center.
"Employers are the key for us to start, expand, modify and sometimes deactivate programs of study," she said.
Although the pandemic has been difficult, McCord said the Houston region seems ready to pursue new development and innovation.
"They're excited and chomping at the bit for a return to some level of normalcy," he said. "I don't come across ... [anyone] waving the white flag; they're ready to charge."
---
Editor's note: This article was updated from its print version with comments from Lone Star College, which were not submitted before press time. Additionally, the article was edited with information from Service Wire Co., who specified how many jobs it would bring and when the facility will open.