The coronavirus pandemic has affected nearly every aspect of everyday life, including the local residential real estate market.
Several experts discussed how the Katy-area home market has fared during the coronavirus pandemic along with what could happen in the next few months.
1. Spring home sales slow, but local Realtors expect busy summer
The total number of homes sold in the Katy area has declined by about 7.9% year-over-year during the first half of 2020, but local Realtors say the summer season—which is usually their busiest time—is off to a good start.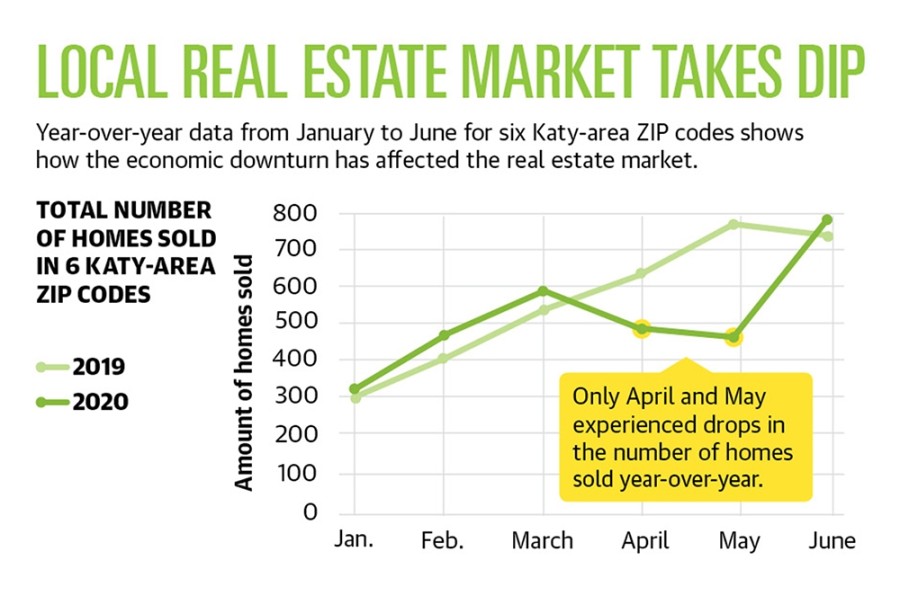 "At the current moment, we're swamped because of the season and because people had to wait to move during the coronavirus," said Syed Mubashir, owner of Katy-area M&M Realty.
The number of homes sold across six Katy-area ZIP codes declined 21.8% and 40.7% year-over-year in April and May, respectively, according to data collected by Esmeralda Martin of the Katy-area See Tim Sell Property Group. But in June, 2020 home sales slightly outpaced 2019 by 48 sales.
"Home prices are holding for now," said Tim Sojka, CEO of See Tim Sell. "[The Katy-area residential real estate market] is doing much better than any of us could have expected."
In particular, homes $350,000 and under are selling quickly not only because first time home buyers are looking at these houses, but also because many people are buying down due to the economy, Sojka said.
"These homes—if they're ready to move in and updated—are flying off the market," said Jihan Wells, a Katy-area Realtor with Jane Byrd Properties International LLC.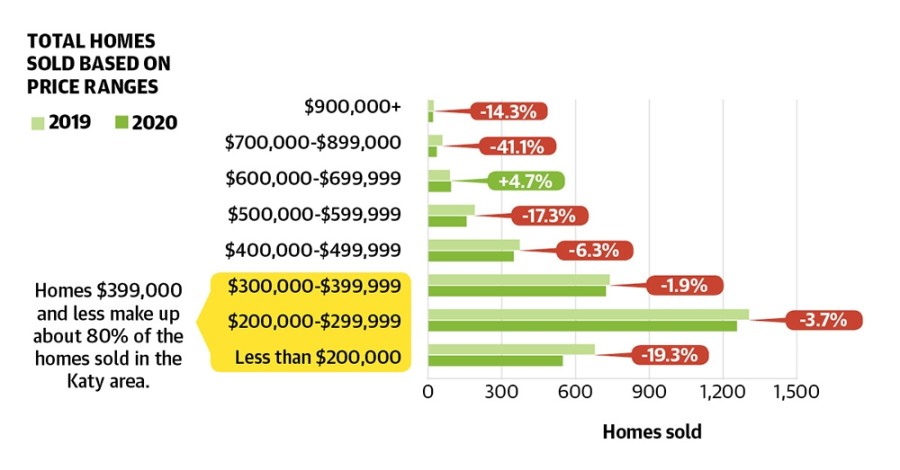 Several Realtors said inventory is low because many sellers held off on putting their homes on the market during the coronavirus, and now many Katy-area homes for sale are receiving multiple offers.
"It has been a spike in the market due to people wanting to get into a better housing situation after the stay-at-home order," said Katy-area Realtor Brad Evans of Houston Properties Teams. "[It] is a false sellers' market with higher prices. For people that need to move right now they are likely paying a premium."
Realtors cited Katy ISD and its academic accolades as the reason why the Katy area continues to attract new families. The Katy area is also appealing because of its close proximity to jobs and its growing commercial areas.
"There is so much more growth in Katy compared to Sugar Land," Mubashir said. "Even with the energy industry going down, we're still sustained by new people coming and moving."
2. Low mortgage rates affect local real estate market
Mortgage rates are the lowest Bill Lacy has seen in his 25-year career in the real estate industry.
The weekly average 30-year fixed-rate mortgage fell to 3.03% as of July 9—a record low since the Freddie Mac Primary Mortgage Market Survey began in 1971—and the rate could fall below 3% in the second half of 2020, the survey stated.
Lacy, a KISD trustee and senior mortgage originator at Independent Financial Mortgage Division in Katy, said mortgage rates are low because of the economic slowdown from the coronavirus pandemic and oil crash this spring.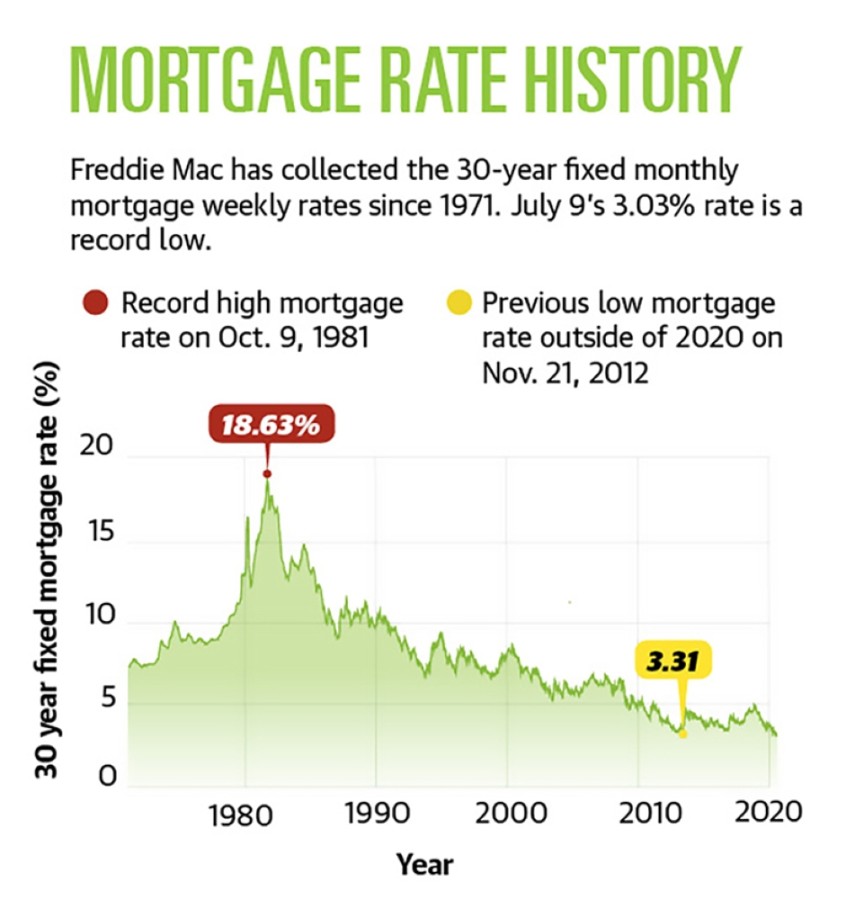 "This is one of the big reasons that housing is still doing as well as it is," said Katy-area Realtor Brad Evans of Houston Properties Teams. "Interest rates have been great."
Despite the low rates, some local deals are falling through, said Patti Lacy, a Coldwell Banker Residential Brokerage real estate agent serving the Katy area and Bill Lacy's wife.
Effat Mirzakhani of Realm Real Estate Professionals-Katy pointed out buyers who have a stable job are seeing no trouble in home closures. In particular, homebuyers who can pay in cash have little trouble in the purchase.
Bill Lacy and Evans also noted there has been a wave forbearance—which is when homeowners ask their lender for a temporary postponement of mortgage payments—because of the economic downturn.
However, the federal government announced in May that beginning July 1, borrowers affected by COVID-19 can repay their missed payments when the home is sold, refinanced or at maturity.
Although forbearance gives Katy-area homeowners some flexibility, many loans that go into forbearance go into foreclosure, Evans said.
"We haven't seen foreclosures yet, but we will," Sojka said. "People are holding on for dear life."
3. Experts: Developers continue construction on homes, apartment in Katy area despite coronavirus pandemic
In mid-March, Lawrence Dean— the Houston regional director of Metrostudy, a residential market research company—thought the worst for residential real estate.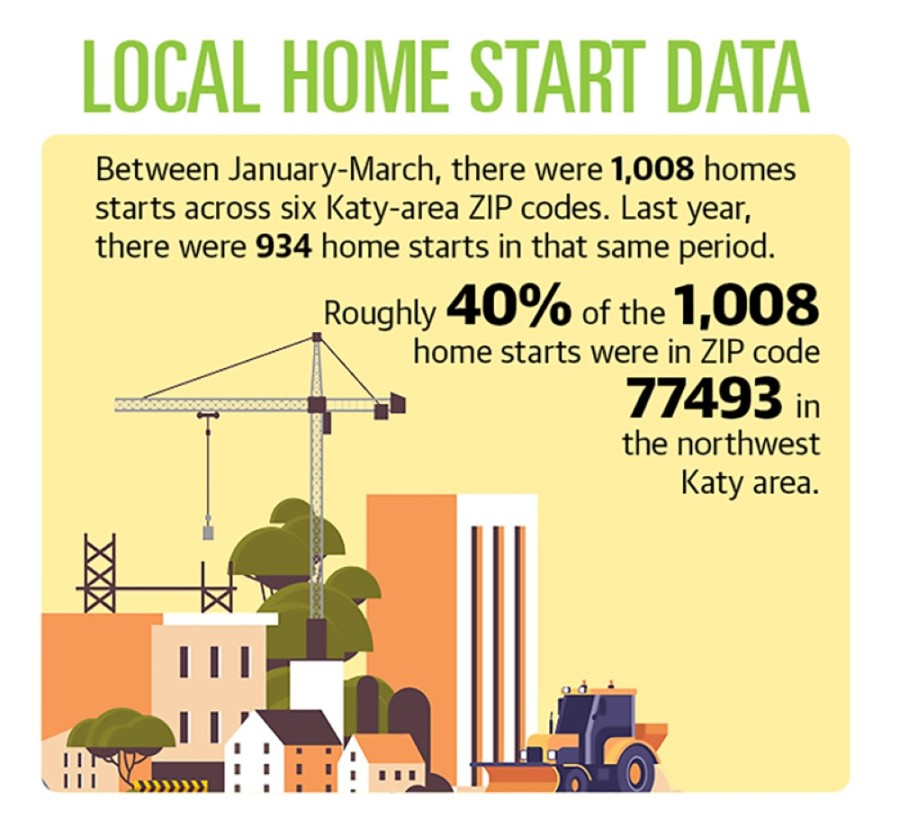 "In the first 3-4 weeks of the coronavirus pandemic, home sales and starts were in free fall," he said."[But] we didn't see the drop off of home starts that I thought we would see because of COVID-19."
Based on preliminary data for the second quarter, Dean said he predicts 2020 annual home starts in the Greater Houston area to be about equal to or slightly less than 2019.
In fact, home starts across six Katy-area ZIP codes in the first quarter of 2020 totaled 1,008—a 7.9% year-over-year increase—according to Metrostudy data. Second quarter data was not available as of press time.
Demographer Population and Survey Analysts is less optimistic, estimating the Katy area could see an annual 19% decline in new home starts in 2020-21. But PASA also noted demand for new homes remains high in the Katy area, especially in the northwest region.
ApartmentData.com President Bruce McClenny also said there is continued demand for apartment units the Katy area. Seven multifamily complexes are expected to open by October 2021.
"[Katy] is a very desired place to live, and development has been rewarded," McClenny said. "That dynamic may pause [because of the coronavirus and oil crash] but should get back to its position."
4. Demand for community amenities still strong during coronavirus pandemic
Homebuyers continue to look for homes in the Katy-area offering amenities such as gyms, trails and lakes, local Realtors said.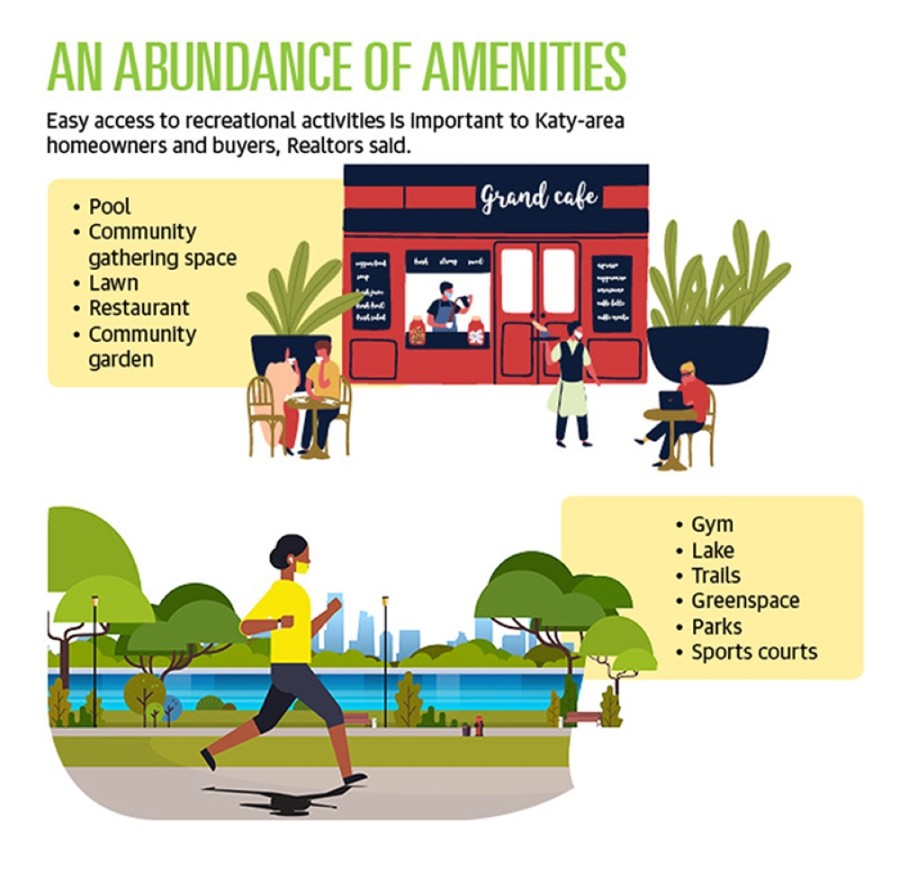 "The competition of amenities is fierce among master-planned communities," said Sojka. "Cinco Ranch set the bar. Now, everybody's playing the game."
Because of the coronavirus pandemic and stay-at-home orders issued this spring, these neighborhood amenities have become even more important to homebuyers, Sojka said.
Several Realtors noted there has been a high demand for private pools, and many homeowners are installing them because their community pool is closed or they are afraid to swim in public.
Experiencing an uptick in demand for her services, Veronica Solomon, owner of Katy-based Casa Vilora Interiors, said homeowners want fewer formal spaces and more family-oriented homes with media and family rooms.
Home offices and open floor plans have always been in demand, said Wells.
Before the coronavirus, Wells said homebuyers wanted their home to be close to schools, libraries and grocery stores.
"Now, there is more value on being close to green space and walking trails," she said.
Wells said whenever she shows homes to potential buyers, she also takes them to any nearby amenities, such as the clubhouse, events lawn or community pool and gym.
"The house is important, and the community is just as important," she said. "The community and the amenities need to fit the buyer's lifestyle."