The number of uninsured patients in the Katy area will continue to increase in the upcoming months, said Marlen Trujillo, the CEO of Spring Branch Community Health Center in Katy, a nonprofit servicing uninsured communities.
"Regardless of how many individuals are uninsured or underinsured in the Katy area, we are definitely going to see an increase in individuals needing health coverage," Trujillo said.
Although the Katy area's population increased by 26% over five years, the area has seen a decline in the number and percentage of residents who are uninsured, according to census estimates.
But the highest numbers of the uninsured in the Katy area in the following months will be within the low-income and immigrant population, Christ Clinic Director Lara Hamilton said.
Approximately 15% of Katy residents are uninsured, which is lower than the state average of 18%, said Lisa Wright, the CEO of Community Health Choice.
However, these numbers have likely grown much higher after the impact of COVID-19, Wright said.
About 1.6 million Texans have lost their employer-sponsored coverage in the past couple months, but the true influence on the Katy area will be seen in late 2020, Wright added.
"Many uninsured Texans make below 400% of the federal poverty line and some work in jobs that typically don't offer coverage such as cashiers, cooks, salespersons and janitors," Wright said. "Specifically, the entertainment, service, construction, and retail industries will likely be most impacted by COVID-19 losses."
Assessing the uninsured
Texas leads the nation in its percentage of uninsured residents with 18% of Texans, or 4.76 million residents, uninsured in 2018, down from 22.8% in 2013. By comparison, the U.S. rate was 9.4% in 2018, according to census estimates.
Houston-based Community Health Choice helps families who earn too much money to qualify for Medicaid but cannot afford to buy private insurance.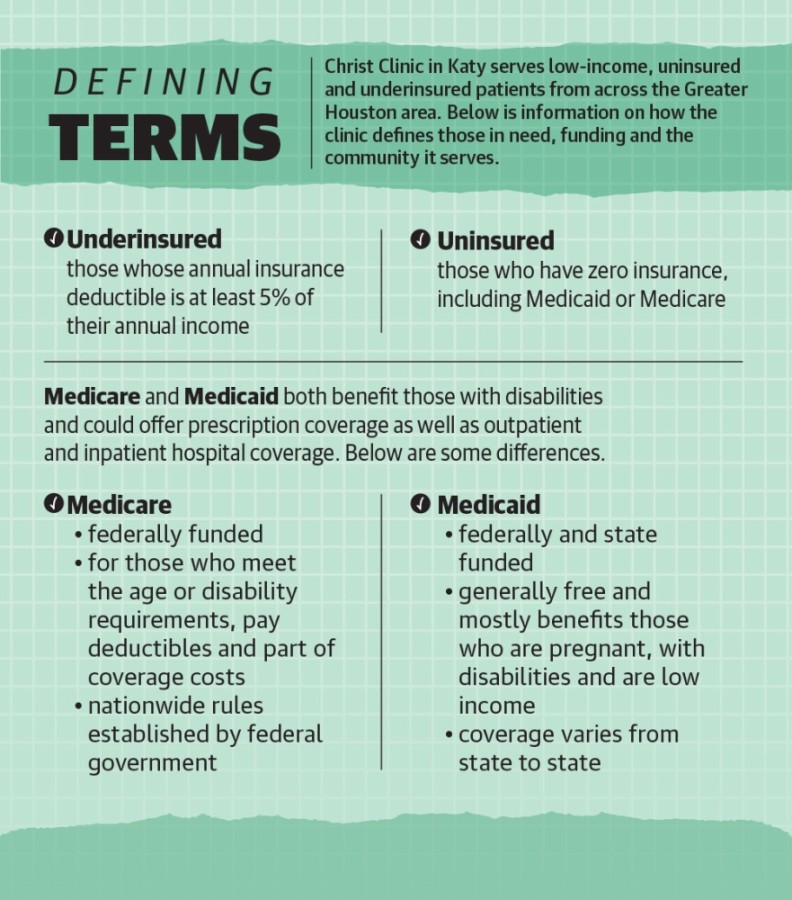 Most adult Texans will probably not qualify for Medicaid, but parents can check to see if they qualify for Medicaid for themselves or their children, Wright said.
Christ Clinic in Katy serves low-income, uninsured and underinsured patients from across the Greater Houston area.
Christ Clinic defines the uninsured as those with zero insurance, including Medicaid or Medicare. The underinsured as those whose annual insurance deductible is at least 5% of their annual income, Hamilton said.
Out of the 6,500 Christ Clinic patients in 2019, most were immigrants from the Katy area, she said.
"Many Texans are stuck between making too much to qualify for Medicaid but not enough to qualify for marketplace subsidies," Wright said.
Rise in uninsured population
Data from the Texas Workforce Commission shows 1.96 million unemployment claims were filed in Texas between the weeks ending March 14 and May 2.
A May 13 report from the Kaiser Family Foundation projects 382,000 Texans will be within a coverage gap—meaning they will be unable to access health insurance—in January 2021, when employer-sponsored insurance and unemployment insurance benefits are likely to run out.
In addition to specific industries, those who are starting a smaller business or who are self-employed will also be affected by COVID-19 because they tend not to afford insurance for themselves or any employees they may have, Hamilton said.
"Texas has the worst availability and take-up rate of employer-sponsored insurance," Wright said. "Another option would be to pay cash at a primary care office, but the patients we see here are primary uninsured and can't afford to do that."
Health care and policy leaders also point to Texas' hesitancy to expand Medicaid eligibility—as outlined by the Affordable Care Act—as a contributor to the state's large uninsured population. According to a report from the Kaiser Family Foundation, 1.5 million currently uninsured, nonelderly adults could be covered if the state expanded Medicaid eligibility.
"Many people across the state are calling on Texas leaders to expand Medicaid to adults," Wright said.
The future
Christ Clinic has already lost $250,000 of donations and fundraising money compared to May 2019 and is expected to lose at least $300,000 by the end of 2020 due to the cancellation of fundraisers, Hamilton said.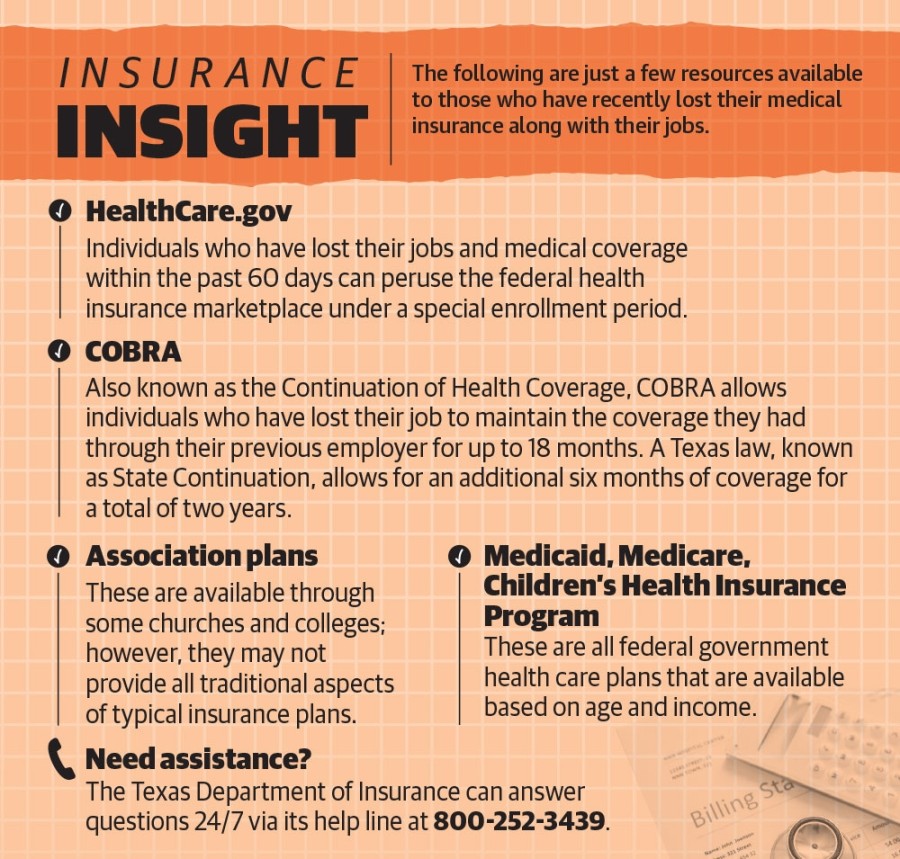 Hamilton said other factors influencing the clinic's low revenue numbers this year are related to individual donors and foundations slowing monetary donations.
"We have seen donors go down all together because individuals are taking a financial hit and foundations want to make sure they are funding something that the government isn't already funding," Hamilton said.
Although the clinic has only seen one COVID-19 case so far, Hamilton said the health care industry is collectively working to educate the general public and urge civilians to continue social distancing and monitoring their interactions closely to avoid being overwhelmed and unable to serve the underserved community in Katy.
"History tells us that we should expect a second wave in the fall," Hamilton said. "About 65% of our patients are very vulnerable to the virus if they get it, so we really prioritize keeping those patients at home and out of the emergency rooms so they are able to social distance."
Anna Lotz contributed to this report.