When Nadeem Ahmed purchased KT Discount Grocers from its previous owner in January, he said he regularly had about 96-110 customers every day.
But due to the coronavirus pandemic, the store only has about 25 daily customers, even while offering delivery and curbside service, he said.
"It's not been a pleasant two months," Ahmed said in a May interview. "[Customers] have no money to buy things. ... If they don't have money, how do they spend money?"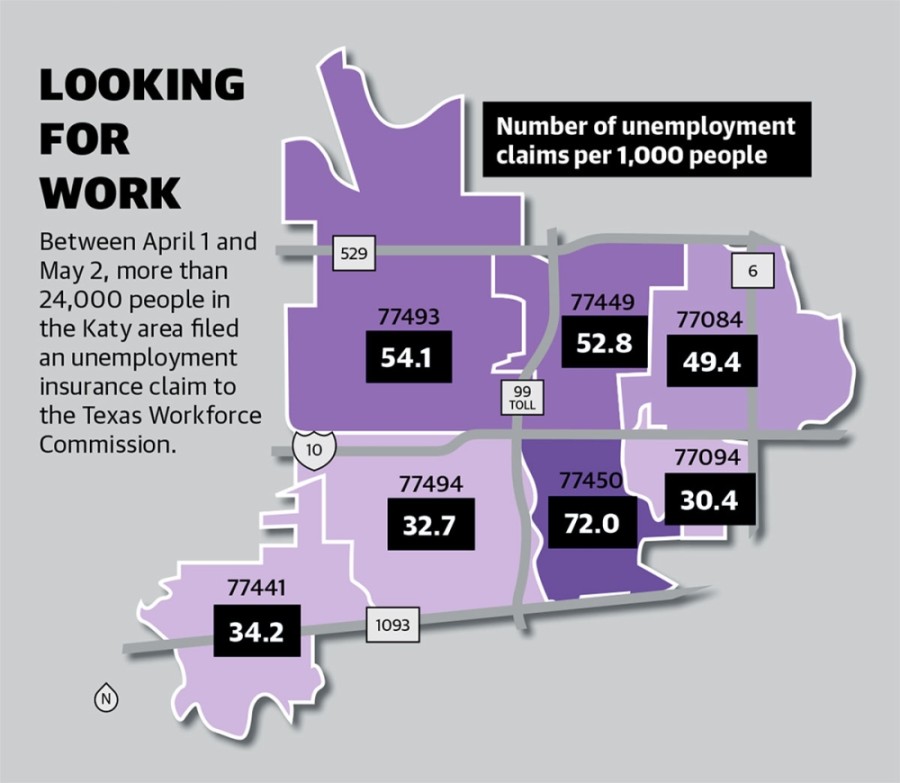 Companies in the Katy and West Houston area will have laid off at least 1,467 employees between February and June, according to the Texas Workforce Commission's
Worker Adjustment and Retraining Notification notices
. Between April 1-May 5, more than 24,000 people—or about 48.7 claims per 1,000 people—in the Katy area filed an unemployment insurance claim,
per TWC data.
Regional economist Patrick Jankowski said he suspects the Greater Houston area economy will not return to its pre-coronavirus state
until mid-2021 at the earliest.
However, local economics expert Lance LaCour said in a May 7 interview it is too soon to tell the economic fallout for the Katy area.
"I don't want to give anybody a false sense of security," said LaCour, the president and CEO of the Katy Area Economic Development Council. "We're in parts of three counties, and it's hard to grasp [the data] exactly. What you got to do is get on this micro level."
According to data updated April 11, the unemployment rate in Katy's three counties ranges between 18.29%-20.46%,
per the Katy EDC's website
.
The national unemployment rate rose to 14.7% in April
, the highest month-over-month increase in the history of tracking the rate, which goes back to January 1948.
"This is another Great Depression, I feel," said Cori Xiong, the co-owner of Mala Sichuan Bistro, which has a location in the Katy area. "In the foreseeable future, I think people's spending power will decrease, and people's confidence in the market will decrease, so people are going to hold on to their money."
The local economy could begin a recovery as it begins to reopen under the
state's reopening plan
, local business experts said.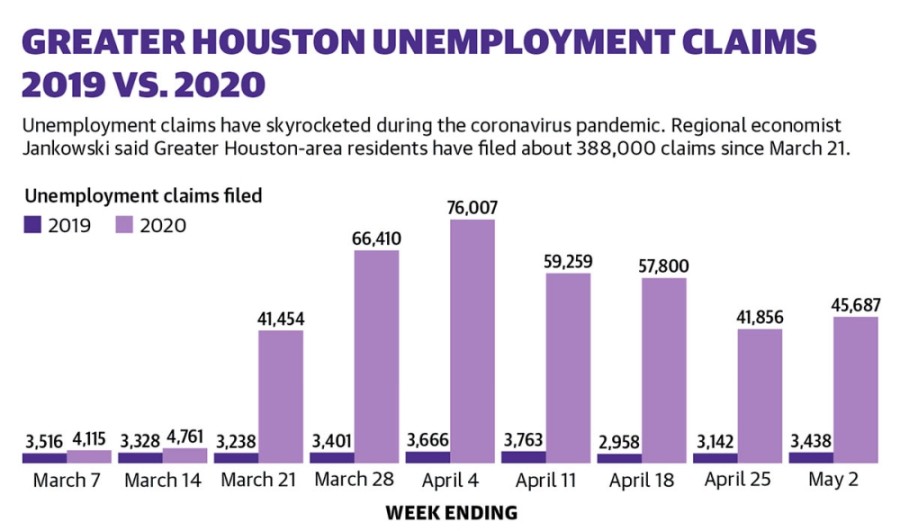 To help businesses navigate the complexities of reopening and prevent a second wave of the coronavirus,
the Katy Returns to Work Task Force
—led by Christ Clinic, the Fulshear-Katy Area Chamber of Commerce, Houston Methodist West Hospital, the Katy Area Chamber of Commerce, the Katy EDC and Parrish Partners Leadership—launched May 8.
However, Katy-area business attorney Michael Berg said he believes it will take a long time for the Katy area's economy to recover.
"I think there will be a hangover effect for quite some time," Berg said. "This pandemic has slowed business worldwide. I do believe it's going to be a while before things [get back to where they] were in February. And it may take until late fall or beyond."
Katy area less affected by oil, gas downturn
As the economy reopens, jobs will continue to be lost in and adjacent to the energy sector in the Katy area, local economists said.
However, the Katy area should be OK
, said Ed Hirs, an energy economist at the University of Houston.
"The Katy area has the folks who work for the headquarters in oil and gas research and development, which tends to weather downturns better than most places in the oil patch," Hirs said.
At least 535 employees have been laid off by energy companies with a presence in the Katy and West Houston area this year, but at least 30,900 oil and gas employees across the state have applied for unemployment insurance between April 1-May 2, according to the Texas Workforce Commission.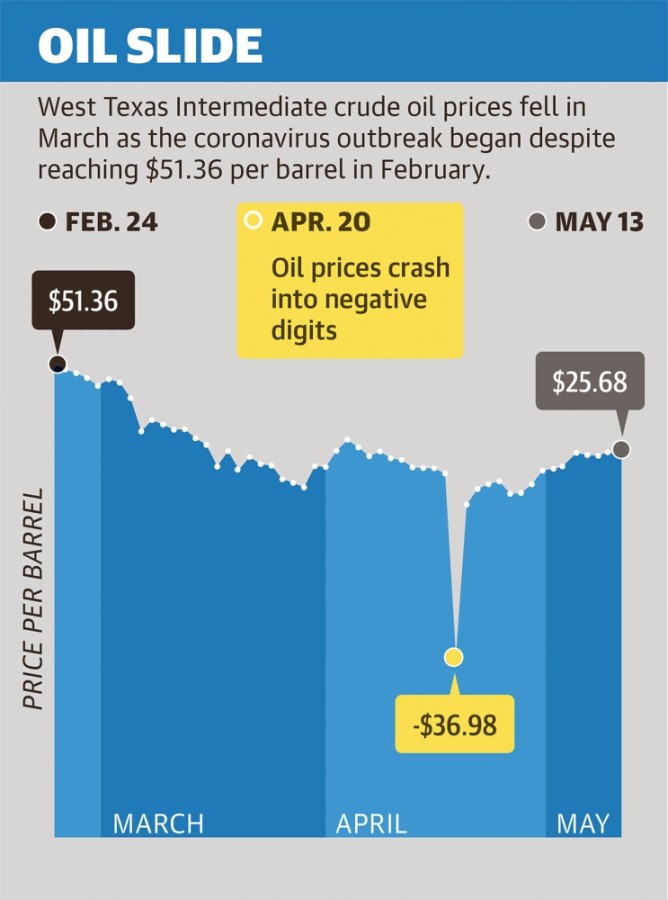 Katy-area businesses will be affected because of the energy industry downturn, said Jesse Thompson, a senior business economist with the Federal Reserve Bank of Dallas, Houston Branch.
"People's budgets are going to be tightening up," Thompson said.
Prices for the West Texas Intermediate crude oil crashed into negative digits—with a low of -$36.98 per barrel April 20—according to the U.S. Energy Information Administration. As of May 13, oil prices are $25.68 per barrel, according to OilPrice.
Although it is impossible to predict how long it will take for the economy to stabilize, Thompson said the area will resume its pattern of outperforming the rest of the country once the energy market stabilizes.
"This is not the end of oil and gas," he said. "But for the foreseeable future, the virus is in the driver's seat."
Local eateries cautiously reopen
The restaurant industry is among the hardest hit by the COVID-19 pandemic, and recovery will take months, according to state data and experts.
With about 66,500 unemployment insurance claims, the full-service restaurant industry makes up 6.9% of the 957,000 claims filed in the state between April 1-May 2. The next highest industry—temporary help services—had about 25,700 claims.
At least 769 Katy-area restaurant employees were laid off between April 7 and May 4, according to data from the Texas Workforce Commission.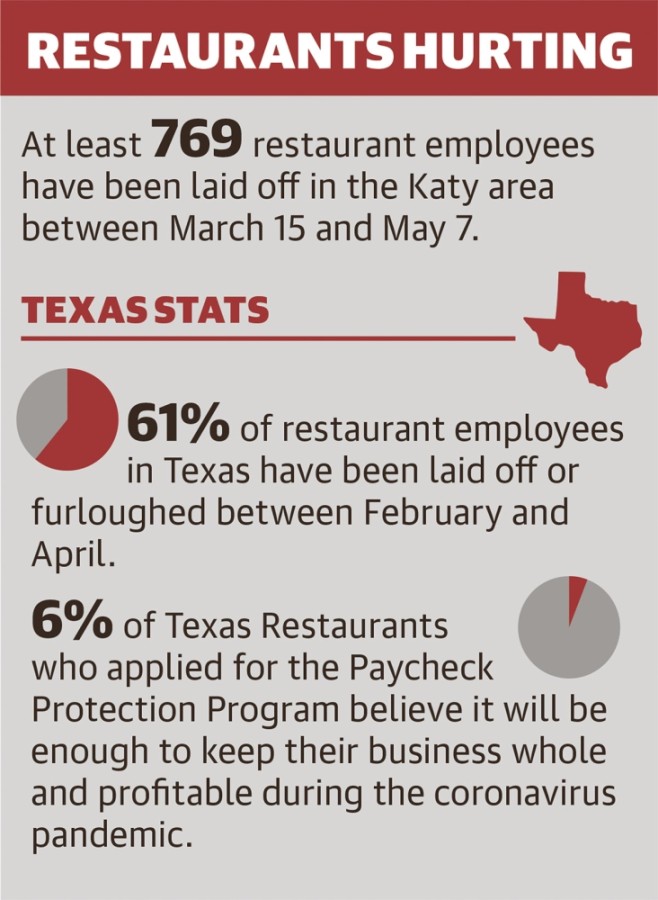 Yet when given the option to reopen their dining rooms May 1 to a 25% capacity, not every Katy-area restaurant chose to do so. In fact, about 57% of restaurants statewide chose not to reopen May 1, according to a survey by the Texas Restaurant Association.
Dish Society, which has a location in the Katy area, has been able to retain about 75% of its staff, founder and CEO Aaron Lyons said. He said many of his employees are in high school or college and volunteered to give up their hours while they move in with their parents and focus on virtual school.
"We've had people basically volunteer to sit on the sidelines," Lyons said. "We've been able to retain a lot of our staff and give them pretty decent hours, so it actually worked out better than I was thinking going into this."
Lyons said he believes it will take at least 12 months for a restaurant recovery, but a cure or vaccination could accelerate the progress.
Additional reporting by Jack Flagler, Vanessa Holt, Danica Smithwick and Hannah Zedaker.