Under state guidelines, restaurants have the option to reopen their dining rooms May 1 to a 25% capacity. However, two restaurateurs who have eateries in the Katy area said they felt it is too soon for them, their employees and their customers.
Neither Dish Society nor Mala Sichuan Bistro plan to reopen their interior dining rooms May 1, said the eateries' owners.
Dish Society is reopening its outdoor patio for dine-in and will continue its pickup and delivery options, while Mala Sichuan Bistro will only offer its menu for via to-go, pick-up and delivery orders. Neither has settled on a date for reopening their dining rooms.
"We don't want people to feel that we're too reckless," said Cori Xiong, co-owner of Mala Sichuan Bistro, at 23119 Colonial Parkway, Ste. C1, Katy.
Aaron Lyons, founder and CEO of Dish Society at 23501 Cinco Ranch Blvd., Ste. D100, Katy, said his team may not consider reopening the dining room for at least another 10-14 days.
"We're going to play it by ear," Lyons said. "Let's see how this weekend goes, and then let's see how the next week goes, and then the week after that. ... Honestly, at 25% [occupancy, opening the dining area] doesn't really make a whole lot of sense."
Both Xiong and Lyons said they made their decisions based on reading and listening to customers' dialogue about the state's reopening plans.
"Before deciding whether to open on Friday [May 1] or not, I went onto Facebook and read people's discussion about it," Xiong said. "I've read hundreds of comments by real customers on how they feel about the opening [of] dine-in, and how they would feel comfortable if they go out to dine-in."
Based on the comments, Xiong said she made a list of changes she would need to do to the restaurant before it could reopen for dine-in.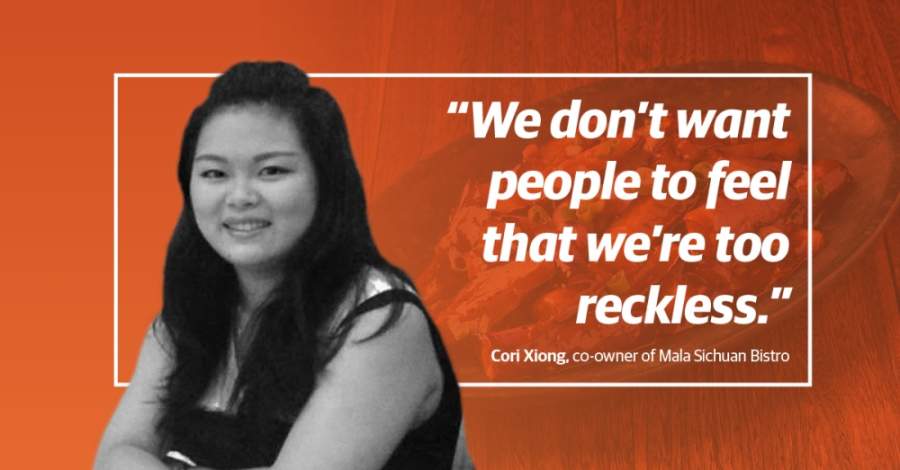 These changes include creating a touchless payment system, purchasing enough masks and face shields for employees, installing a foot-operated door pull, purchasing thermometers to test guests before they arrive, and creating new systems so that customers have minimal contact with employees and other guests, Xiong said.
And to fulfill the 25% capacity rule, she said she also plans to remove nearly all dining tables rather than block off or put up shields between tables.
"I feel that not everybody knows about the 25% occupancy," Xiong said. "So I feel that if I have less tables available on the dining floor that'll make people feel, 'Oh, OK, you're only going to seat [that many people], you only have this many tables now.'"
At Dish Society, the patio's sanitation will be overseen by a designated sanitary manager who has gone through special training to ensure the restaurant's health standards are upheld, Lyons said. And the patio orders will be treated like a pick-up or delivery order—with touchless ordering—but instead of the customer taking the dishes home, they'll sit on the patio.
Both Dish Society and Mala Sichuan Bistro have taken a hit financially. Lyons said Dish Society's sales took a dip in March, while Xiong said Mala Sichuan Bistro felt the decline earlier around Chinese New Year, which was celebrated Jan. 25.
"For us Chinese restaurants, we got hit very first," she said. "Before the American people were aware and were panicking or fearful about this virus, Chinese people started to feel that way ahead of everybody else because we all have close ties with China because we all have relatives and friends and family in China."
To cope with the financial decline, Mala Sichuan Bistro expanded its hours for pickup and delivery, and the restaurant also received a temporary discount on its rent. Dish Society also switched to pick-up and delivery options and even began hosting a virtual farmers market.
Both restaurants had to furlough some employees, but these were mostly those who volunteered to give up their hours or those who did not want to work out of safety concerns, Lyons and Xiong said.
Nonetheless, neither restaurant brand plans to close any of the multiple locations across the Greater Houston area. In fact, Xiong still plans to open a new restaurant in Sugar Land soon.
Both Lyons and Xiong said it will be many months before the restaurant industry recovers from the coronavirus pandemic.
"We've talked to hundreds of our customers, and they all say, 'Hey look, it feels too soon. I might not eat in a restaurant for two more months, and then even after that, I'm probably still going to do curbside or to go a lot,'" Lyons said.
Lyons thanked the Katy community for its support during the pandemic.
"The outpouring of support from people has been incredible," he said. "It's kind of reminiscent of Harvey a little bit of how everybody banded together to support local businesses and each other. It's been really cool. [I want to give] a big virtual hug to everyone to say thank you to everyone in Katy."