As housing demand soars in Houston, Mary Lawler and her team are doing their best to keep up.
Lawler, CEO of the Houston-based nonprofit affordable housing builder Avenue CDC, said the city's reputation for affordability is becoming less of a reality for more and more people. In fact, that storyline has been something of a myth for a while, she said.
"I think the city of Houston for a long time was considered an affordable city—seen as being low compared to other cities," Lawler said. "That's not the case and has not been the case for a long time."
Lawler's perspective is one echoed by housing experts who have been studying the city for the past decade, a time during which apartment rents and rising property values have been putting a strain on a wide range of residents. With median home sales prices in Harris County jumping by 15.4% between 2020 and 2021, one market area in particular is facing greater challenges than ever, experts said: affordable housing.
In the
2022 State of Housing in Houston and Harris County repor
t, released June 22, researchers with Rice University's Kinder Institute for Urban Research said the convergence of many factors—the city's lack of zoning, rising costs of construction materials and the general lack of units that are restricted from raising rents—has put a strain on the county's already-dwindling affordable housing stock.
Kinder Institute Director Bill Fulton said there are several groups in Houston like Avenue CDC that are doing good work to tackle the issue. However, what needs to happen next, he said, is more organizing.
"I think Houston probably has the money because Houston has strong philanthropies, but Houston has not organized around this issue in the past, and the talent pool in Houston is much smaller than it is anywhere else," Fulton said.
Changing lives
For Rita Martinez, the availability of affordable housing is the difference between a life where her family can live with stability and one where they would have to move every time rents went up and could potentially spend time in homeless shelters.
Martinez, who lives in a community managed by Avenue, said she is a mother of three children, including one who is autistic and one who is medically fragile, making it important for her to be a stay-at-home mother. Her husband is the sole income earning in her household, she said.
Without Avenue, which charges her $865 per month for rent, she said the possibility of an economic recession in the future could have been much worse for her family.
"My family can have a somewhat normal life, and my kids can get the best medical care," she said. "I know my husband will make the money to be able to pay this. If we go two times the rent, where are we going?"
Helping families like the Martinez family is at the core of Avenue's mission, Lawler said, noting that children who do not have stability in the housing situations tend to do less well in schools.
As apartment rents rise at a faster rate than incomes, Lawler said the number of people who are paying more than they can afford for rent is growing. In addition to affordable rents, the nonprofit also looks to offer other services to residents at its communities, including counseling and downpayment assistance.
Another Houston-based nonprofit in the fight to preserve and build affordable housing is New Hope Housing, which manages nine communities in Houston and growing. New Hope has been working for 28 years to provide affordable housing with eight of their nine properties specifically built to support homeless individuals and those at risk of homelessness, CEO Joy Horak-Brown said.
Around 60% of the housing offered by New Hope is dedicated as Permanent Supportive Housing, meaning it is meant to be housing that individuals can stay at as long as they are in need, catering to very low income people. Like Avenue, New Hope also provides a variety of services to help residents stabilize their lives.
Roughly $12 million in services is provided each year with the help of partner organizations, such as Search Homeless Services, Health Care for the Homeless, the YMCA, Star Hope and Theatre Under the Stars, which provides play therapy as well as life skills training.
For many people who are not homeless but still struggle with bills, one costly event like a car accident can put them in a hole that can be hard to get out of without help, Horak-Brown said.
"That's really our mission and our focus, is to help at-risk Houstonians stabilize and advance their lives," she said.
Fighting against the grain
Several local projects that are under construction or have been recently completed have benefited from funding supplied through the U.S. Department of Housing and Urban Development's Hurricane Harvey Community Development Block Grant Disaster Recovery program.
Officials broke ground in April on the reconstruction of a senior affordable housing community at 2100 Memorial Drive that was flooded with five feet of water during Hurricane Harvey. The $62 million project benefited from $25 million in grant funds and will provide 197 units when completed, including 39 units for vouchers, 120 units for residents at 60% of the area median income and 18 units for those at 80% AMI.
Meanwhile, the 115-unit South Rice Apartments on South Rice Avenue made use of $12.4 million in grants and opened May 16. The project features units for 42 households at or below 60% of the AMI, while another 35 units are for 50% AMI households and nine units are for 30% AMI households.
Affordable housing can refer to both single-family and multifamily and is generally divided into two overarching categories. The first category includes subsidized housing, or housing that is supported by public entities. This type of housing makes up about 15% of affordable units in Harris County, or 55,000, according to Kinder.
The second category is known as naturally occurring affordable housing—or NOAH—and refers to housing that is not subsidized, is privately owned and falls below a certain rent threshold. The local chapter of the community development support organization, LISC Houston, defines NOAH as housing where rents are $999 maximum for a one-bedroom unit or $1,199 for a two-bedroom unit. The vast majority of affordable housing in Harris County falls into this category at roughly 315,000 units.
Houston is far more reliant on NOAH than almost every other large U.S. city, Fulton said. Although that trend has reversed in more recent years, its effects can still be felt in that the city's supply is more vulnerable to market trends, he said.
With the recent increases in land values, rent prices have followed. For NOAH, no guardrails are in place to stop landlords from raising rents as high as the market will allow or from selling their properties to another developer that wants to tear it down and replace it with something more profitable, Fulton said.
"Although this is a problem all over the country, it is especially in Houston because we are unusually dependent on these older, privately owned, low-priced apartments," Fulton said.
Subsidized housing in Houston is at risk too, Fulton said. Of the 55,000 subsidized units in Harris County, 16% of them will have their housing assistance expire by 2030 and 42% by 2040, at which point landlords of those units can decide to either renew their agreements or raise rents, according to Kinder research.
New Hope Housing has ambitions to build three new projects per year, including a project in Sharpstown called Savoy, set to open in 2023 with 120 units for working families and seniors.
Openings at existing properties do not last long, Horak-Brown said.
"For folks at 30% of the area median income, for every 100 units of affordable housing that are needed in the Houston metropolitan area, 19 of them exist," she said.
Avenue operates 10 multifamily communities comprising roughly 1,000 units in Houston, including both subsidized and unsubsidized projects. The company launched a social impact fund two years ago to help acquire and preserve NOAH projects. The move was a necessity to meet the challenge of providing more units as demand rises, Lawler said.
"We would love to build as many units as possible, but the subsidy is limited," Lawler said. "It's just not currently sufficient to build us out of this challenge."
The path forward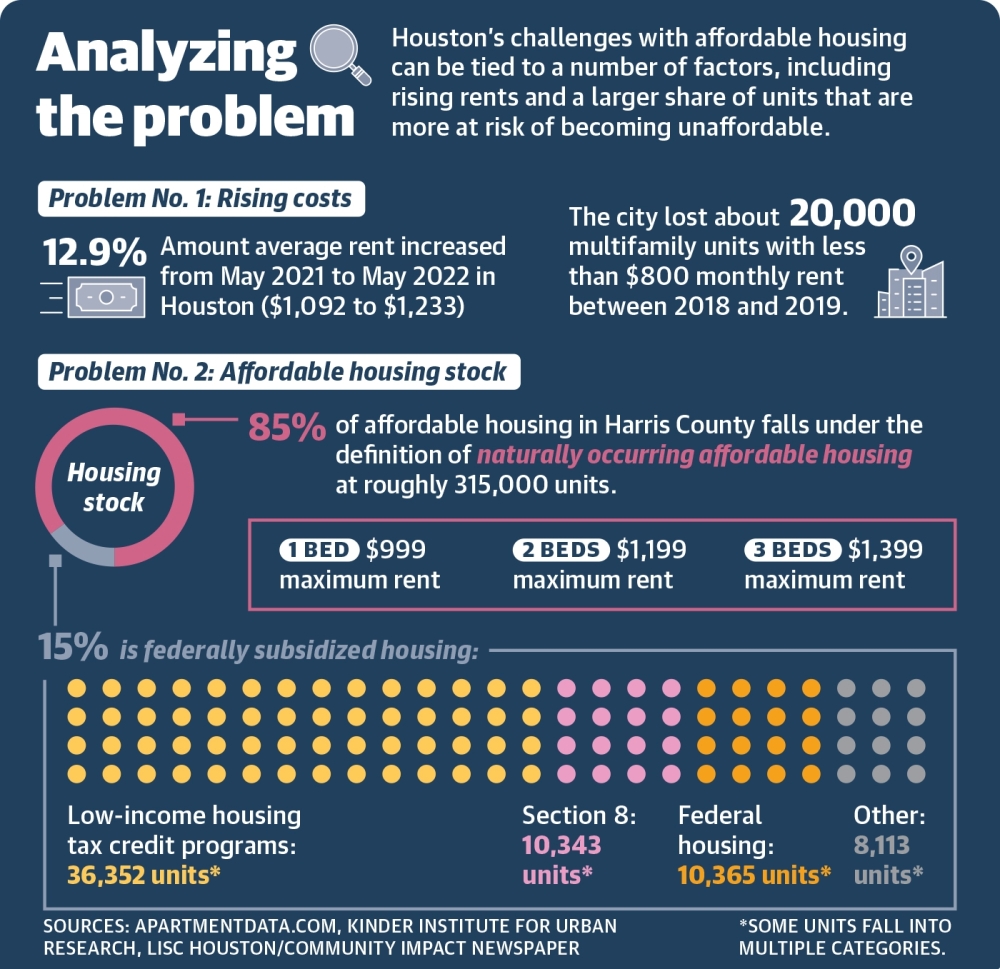 The Kinder Institute released a report in November 2021 outlining strategies for how to preserve affordable housing in Harris County. Strategies that show promise include social impact funds, Fulton said, in which investors who want to support affordable housing can invest in projects with the expectation they will get low market returns. Avenue CDC is one of the few groups in Houston that have launched a social impact fund, Fulton said.
Another concept is a community land trust, a home ownership model in which a nonprofit or governmental agency acquires the land and the homebuyer buys the house, reducing the cost and making homeownership an opportunity to more people.
Founded in 2018, the nonprofit Houston Community Land Trust provides assistance to prospective homeowners who are under 80% of the area median income level. Assistance can include up to $150,000 in help with down payments and closing costs.
The land trust works in partnership with the city of Houston and builders like Avenue CDC to find homes for people, Executive Director Ashley Allen said. The city provides funding that goes toward subsidies while also helping streamline the permitting process for nonprofit builders, Allen said.
Allen, who experienced homelessness as a youth, said she sees positive momentum in Houston. The next step, she said, is getting all of the different pieces working together.
"We need to provide more support and uplift the great nonprofit developers doing the work," she said. "If we put some focus and policy on supporting them, we can address the issue."
Tax increment reinvestment zones can also play a vital role, according to the Kinder study. TIRZs are local governmental entities that collect increments of tax revenue over a period time to use on improvements within their boundaries.
The Montrose Tax Increment Reinvestment Zone finalized its Livable Centers Plan in 2021. The plan included strategies for how to preserve affordable housing in the area, which is already largely built out.
The TIRZ is in the early stages of determining the best ways to move forward, but has identified a few key strategies, including adding more accessible dwelling units and using TIRZ funds to incentivize landlords to preserve their older, more affordable properties.
"The fact that we're actually sitting down and trying to figure out a policy puts us ahead of other organizations of our type," TIRZ chair Joe Webb said. "The question is, can we move fast enough at this instance? I hope so, and I think we can."