If anyone knows how quickly real estate development can move in Houston, it is Jason T. Hyman. Founder of the Third Ward Real Estate Council, Hyman brought together Third Ward-based investors to gain a sense of control in the gentrifying area. The group pools funds to buy and redevelop properties while gathering community input on their use.
The council organized its first land purchase in April. Beginning with a food truck park that will eventually feature an office building, Hyman said the approach is a way to bring economic opportunity into the community rather than new, expensive housing that is unattainable for many current residents.
"We're trying to create models for responsible development," he said "It's a more tangible impact that people can really see and visualize," Hyman said.
Unrestricted by land use laws, Houston's Inner Loop added more single-family and multifamily homes per year between 2005-18 than the entire cities of San Diego, Atlanta and San Francisco/Oakland, an April 2021 study from the Rice University Kinder Institute for Urban Research found.
While other cities' land use restrictions limit housing supply, Houston's Inner Loop, "is a remarkable case of urban infill for a major American city," the study stated.
That pace of construction has helped high-demand neighborhoods such as the Heights and Montrose accommodate growth without pushing current or prospective residents as quickly into neighboring areas that are facing gentrification such as Independence Heights and Third Ward.
Researchers are unsure, however, how long that pattern can hold.
"Most of our major job centers are inside the Loop or on the edge of the Loop, ... and they are pretty well served by public transportation," Kinder Institute Director Bill Fulton said. "So low-wage workers who have a tough time affording a car have options to get around. ... When those households move outside the Loop ... it creates a real strain on the undergirding of our society and the people we have come to recognize as essential workers."
Scale of growth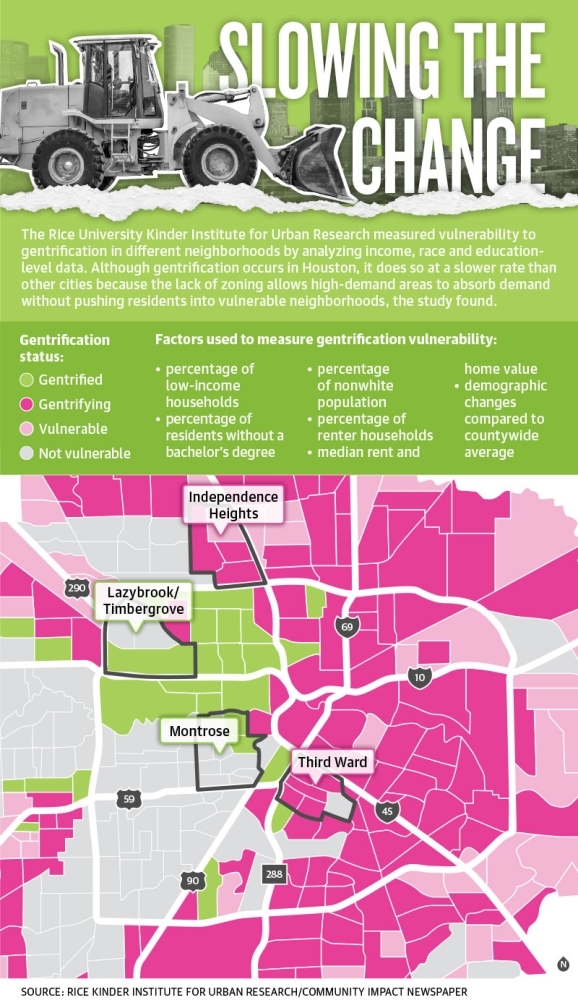 The Inner Loop's whirlwind growth is best seen in data from the Lazybrook and Timbergrove area and in Montrose. Both neighborhoods saw higher rates of demolition and new construction over the past 15 years than the countywide average, according to the study.
"It really happened all at once. ...Two or three single family homes were being torn down and eight townhomes would come in. ... Now you can hardly drive through Cottage Grove," said Timbergrove Super Neighborhood president Leigh Killgore about a high density area of the community.
Montrose alone gained over 7,000 new units between 2005-18, including apartment units, townhomes and single-family homes.
Montrose's growth may help stem the tide of redevelopment in nearby areas of town such as the Third Ward that are more vulnerable to gentrification. Neighborhoods that the study determined "vulnerable" have a combination of low incomes, rising home prices and lagging educational access, making the displacement of residents more likely.
"[Gentrification] depends a lot on the current landowners and how quickly they sell out to allow for new development," Fulton said.
The median income in Third Ward is $27,860, and nearly 20% of residents do not have a high school degree, according to the Rice study.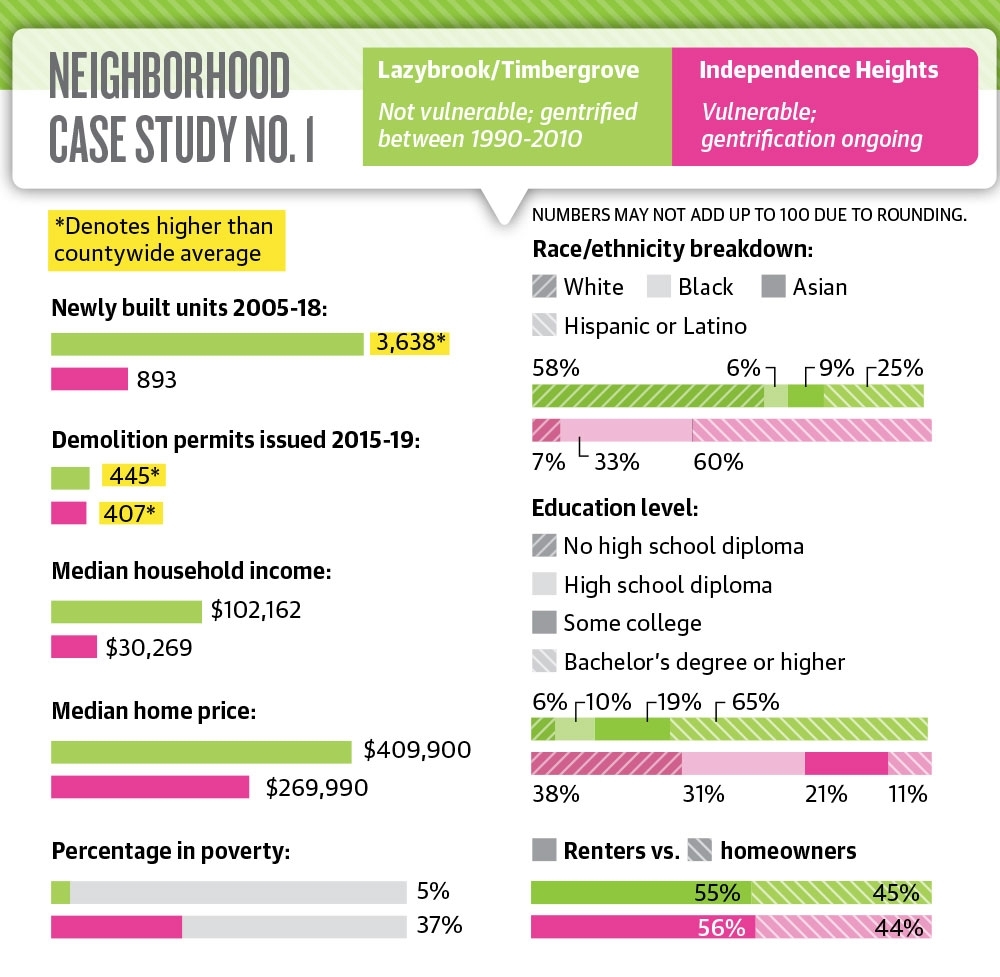 Compared to Montrose's median income of $91,000 and 3% of residents without a high school degree, Third Ward residents on average are at a higher risk of being priced out of the Inner Loop and pushed farther from job centers and long-established community ties. Although new construction has happened at a slower rate in the Third Ward, with 810 new units built since 2005, a steady rate of demolitions could mean developers are speculating that wealthier residents will encroach, Fulton said.
"There is a lot of speculation, a lot of demolition and not a whole lot of construction yet," he said.
A similar trend is playing out in the Timbergrove area and the nearby Independence Heights neighborhood.
Independence Heights, which is named for its origins as the first independent city in the state established by Black Texans, still holds onto its storied history with long-standing churches and community groups. It also faces gentrification worries with a median household income of $30,269 and 38% of residents without a college degree, the Rice study found.
"While there may be what looks like raggedy homes to other people, it's really our history being torn down," said Tanya Debose, director of neighborhood advocacy group, the Independence Heights Redevelopment Council.
Compared to the nearby Timbergrove neighborhood, growth in Independence Heights has been slower. Between 2005 and 2018, it added 893 new housing units and saw 407 demolitions. Timbergrove, on the other hand, added nearly 4,000 new units.
Growing pains
For both vulnerable and non-vulnerable neighborhoods, Houston's development-friendly environment brings both opportunities and challenges.
"We never had a problem going from my neighborhood toward Washington Avenue on Shepherd and Durham, and then those intersections started flooding," Killgore said.
Seeing redevelopment without acknowledgement of Independence Heights' original residents' perseverance hurts, Debose said.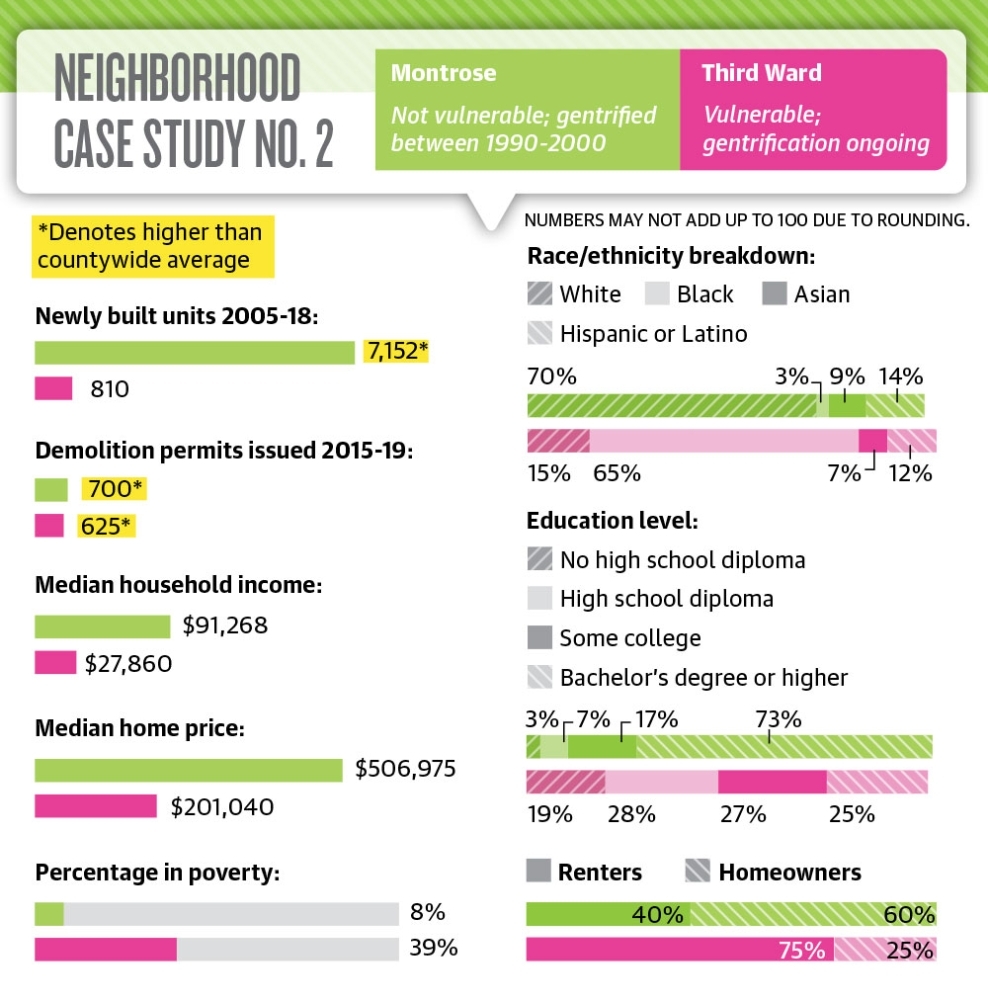 "I've just been hoping and praying that we would get improvements so that the kids could have Wi-Fi ... and then new people start coming to the community and all of a sudden, it's the perfect time to put all this infrastructure in. It's heartbreaking to see that happen. It's like you weren't worthy," she said.
In Montrose, the neighborhood still serves as a home base for the city's LGBTQ community and businesses but has become less accessible to young newcomers. Meanwhile in Third Ward, residents are finding themselves surrounded by growth in Midtown and from a new tech industry innovation hub, the Ion, which borders the neighborhood.
"Texas is just one of those places where if you have money in real estate, people do what they want," Hyman, the Third Ward Real Estate Council founder said. "But I think we can show different ways of doing things and still show investors and property owners the returns."