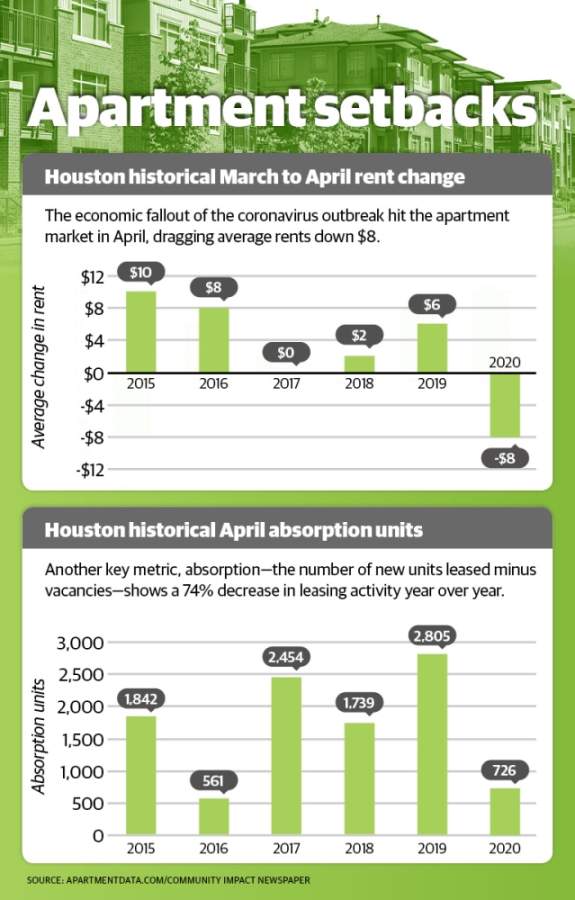 In April, the Houston-area apartment market saw average rents drop after years of growth and sharp declines in leasing activity overall, according to data published May 1.
"We're giving back rent gains that we might have had," said Bruce McClenny, president of
ApartmentData.com
, which collects monthly data on leasing activity. "And the early trend for May is that we are moving lower."
Average rents for all classes averaged $8 less in April compared to the same period last year. A factor in those decreases is concessions, the discounts that apartments give to encourage leases, often in the form of free months. For class A properties, the average discount in April was over 8%.
Net absorption, which counts new leases minus new vacancies, fell by 74% overall, suggesting that people are staying put and fewer people are seeking new leases in the market.
More apartment properties are offering virtual tours and online leasing amid the coronavirus fears, he said, which could be the norm until prospective tenants feel safe visiting new properties in person.
"It'll pick back up, but it's anybody's guess as to how fast that'll happen," McClenny said.