The city of Houston unveiled the new proposed boundaries for its City Council single-member districts July 7. With the proposed plan, Freedmen's Town could soon find itself in District H, a move that some residents said will hurt the success they have seen in the historic district in recent years.
The redistricting process takes place every 10 years with the release of the decennial U.S. Census Bureau data. Houston has 11 single-member districts and five at-large positions.
The proposed draft plans were drawn by the city demographer Jerry Wood, who sat in the series of town hall meetings held in April and May to allow residents to provide feedback on how they would like the single-member districts to be redrawn.
When creating the maps, Wood must comply with the Voting Rights Act of 1965 and city guidelines. City Attorney Arturo Michel said the redrawn map must maintain a relatively equal population between districts, include easily identifiable geographic boundaries, not break up county voting precincts, avoid the diminishing of voting power by demographic concentration or dilution, and preserve neighborhoods and incumbent and constituent relations.
In July, Wood and Houston City Council held three public hearings for feedback on the draft plan. During this time, the city heard from residents about the changes they would still like to see.
"I want to emphasize [the map] is proposed, it's not final," Michel said.
Proposed changes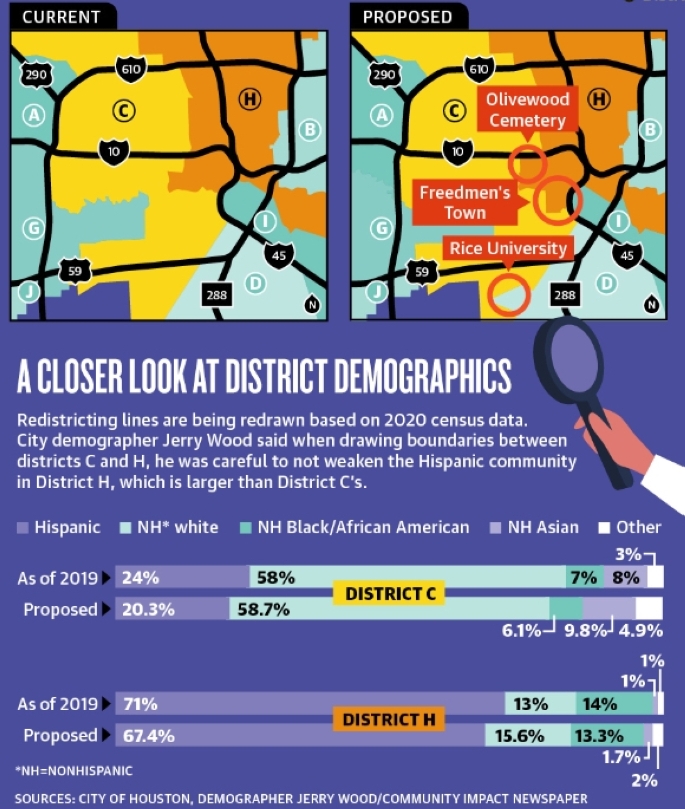 According to discussion in Super Neighborhood meetings, Houstonians were anticipating the most change to occur within districts C and H due to the difference in population.
District C—which covers the Heights, Montrose, Garden Oaks and Meyerland—is overpopulated by 15%, while District H—an area that spans Woodland Heights, Northline and Northside Village—is 17% underpopulated, according to the latest data collected by the U.S. Census Bureau.
During a July 13 public hearing, Wood said District C's population needed to be reduced by 20,000 people. In an email, District H Council Member Karla Cisneros said her district had 35,000 fewer residents than the average for the rest of the city's districts.
Despite the overpopulation, during the town hall meetings, residents expressed their desire to stay with District C due to good relations with Council Member Abbie Kamin, like-minded neighborhoods and a fear of not being prioritized. Under the draft plan, District C could lose Rice University, Freedmen's Town and Fourth Ward, and neighborhoods in the far southwest part of the district.
In a phone interview, Kamin said she was "surprised and disheartened" to see Freedmen's Town, a neighborhood intrinsically tied in with the city's history, drawn out of District C. She said it is important for Houstonians to understand the significance of Freedmen's Town.
"There are so many ties to District C, including how historic the area is," Kamin said. "We have some of the oldest neighborhoods in the city, which comes with its challenges but also serves as a common uniting bond between the neighborhoods."
In an email, Wood said the only reason he heard during the town hall meetings to keep Freedmen's Town in District C was the presence of historic districts. District H also has several historic districts, he said.
Representation of Freedmen's Town
Many Freedmen's Town residents said they were unhappy with the proposed draft plan, especially since during the town halls, those who spoke asked Wood to keep the town in District C.
Zion Escobar—executive director of Houston Freedmen's Town Conservancy, a nonprofit that works to preserve and protect the town—said in a phone interview that Kamin, along with other relations beyond local government, has helped Freedmen's Town immensely in the past years.
"[Kamin] has been trying everything I know of to help us move forward," Escobar said.
According to Escobar, several projects—such as preservation efforts of historical homes and the red brick streets, sidewalk repairs and the Emancipation Trail—that are spearheaded by Kamin, District C and Freedmen's Town are almost complete. Moving to District H could disrupt that process, she said. Although she said she thinks the neighborhood would be fine with the move, she is worried Freedmen's Town may not be seen as a priority.
Freedmen's Town resident Gladys House-El said the move to District H came as no surprise. She is a fifth-generation resident of the town, and throughout her time there, the neighborhood has bounced between District I and C. It has never been an area with stability, she said.
If the proposed changes go through, the relationship between Freedmen's Town and District H will go to square one, House-El said.
"We will continue to fight for our neighborhood," House-El said.
Final steps
A series of changes could be implemented once the final map is brought back to Houston City Council. Escobar said she hopes Freedmen's Town's feedback will be taken into consideration ahead of the final map being released this month and the process being completed.
Kamin, who was moved by the public testimony during the July 13 public hearings, said she too hopes Freedmen's Town residents' desires to stay in her district will be heard. The map will be revised before going back to council.
The final map could be voted on in September, ratified in January and go into effect Jan. 1, 2024, Michel said.