Residents In the Heights' Timbergrove neighborhood are acutely aware of a difficult catch-22 Houston is facing.
Flood research indicates that denser development, rather than unchecked suburban sprawl, puts less strain on the region's bayou system. But as it arrives, drainage infrastructure in the city's core hasn't kept up with new demands.
Leigh Kilgore, president of the Timbergrove Super Neighborhood, is on a mission to prove that. Kilgore brings anyone who will listen—local politicians, city and county employees—on a 20-minute driving tour of the area to point out drainage ditches that fill up during mild rains, piles of dirt ready for use as infill to heighten new developments and vacant warehouses with permits posted on them, documenting a new projects' approval.
It seems, she says, that storms are having stronger effects more frequently.
"When I moved here in 1993, my house had never flooded," she said. "Then it flooded with [Tropical Storm] Allison. ... And since then we've seen more and more localized flooding."
Photos she collects of Timbergrove's streets and neighbor's yards and homes show flooding during Tropical Depression Imelda in 2019, the Fourth of July flood in 2018, the Tax Day flood in 2016, the Memorial Day flood in 2015.
"When there is a whole lot of rain in a short period of time, the water isn't getting through the drainage system fast enough," said Matt Zeve, Harris County Flood Control District Executive Director. "Those issues happen a lot in Timbergrove."
A 2020 study of the city's flood risks led by Dutch researchers and commissioned by Mayor Sylvester Turner stated that upgrading existing infrastructure is as crucial as improved incentives and regulations for new development.
"If development that is insensitive to water continues upstream and in flood prone areas, and retrofitting efforts are avoided or delayed, today's risky neighborhoods become tomorrow's buyouts," read the study.
Opportunity costs
Timbergrove is seeing redevelopment come its way as popular bars and restaurants continue to draw new residents to the Heights area. Companies that bought properties along the edge of Loop 610 for warehouses and other industrial purposes are cashing in on developers eager for space to build large scale mixed-use and residential projects.
As of September, the neighborhood, about a 4-square mile area bordered W. 11th Street, T.C. Jester Boulevard and Loop 610, had at least eight proposed subdivisions or multifamily developments awaiting final approval, according to Houston planning department data.
Rather than focusing on the amount of development residents and officials should keep tabs on the quality of developments and stay on guard for those taking shortcuts on city regulations, District C Houston City Council Member Abbie Kamin, who represents the area, said.
"We need new development to address current needs but at the same time we have to make sure that it is happening responsibly and nobody is cutting corners," she said.
Since 2016, the Timbergrove area has still reported higher numbers of flood-related 3-1-1 calls, inside and outside its floodplains, than other areas of the Heights, River Oaks and Montrose.
To combat these concerns, development regulations in Houston have strengthened since Hurricane Harvey and now require developers to prove that new projects do not increase runoff beyond what a site would produce if it were undeveloped land.
Before any of the new development came in now, however, the area's drainage infrastructure was already lagging behind. A 1966 proposal from Houston-based civil engineering firm Turner, Collie and Braden called for additional storm sewer lines in one section of the neighborhood, but current Houston Public Works maps show that these were not fully built out.
Even then, when the area was primarily populated by single family homes and some industrial sites, the study proposed a new storm sewer line along West 12th Street and various other below-ground drainage improvements.
"Some of that infrastructure has been there for decades, up to 40 to 50 or 60 years," Zeve said. "It was designed for the needs at that time so there has to be a retrofit of the drainage infrastructure, but it's difficult messy work."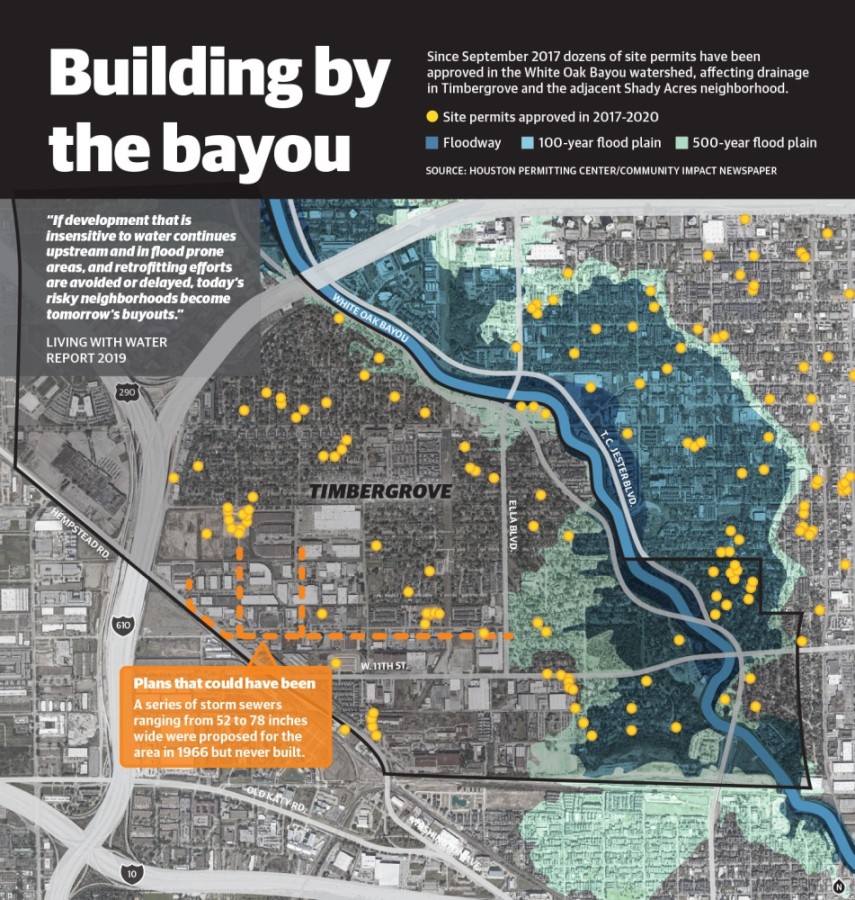 Forming a plan
Having a drainage study, which analyzes existing infrastructure, detention, topography and street-level flood data, is one of the best ways to advocate for neighborhood infrastructure improvements while taking new development into consideration, said Derek St. John, principal at Gauge Engineering.
"In a new neighborhood, it's very simple to size a storm sewer but not when you're trying to retrofit an older community with similar criteria," St. John said.
Arming a Tax Increment Reinvestment Zone with a drainage study helps identify needed infrastructure projects as well as fund them, Montrose TIRZ board member Joe Webb said. A TIRZ generates revenue when property values increase in its boundaries.
Webb and his TIRZ commissioned St. John and his team conduct a drainage study of Montrose to help plan future projects.
Kilgore has been advocating for a new study but says the area's City Park TIRZ doesn't generate enough revenue to complete the types of projects a study would propose. Its total project budget is $16 million, which pales in comparison to the neighboring Memorial Heights TIRZ's $500 million project budget. A TIRZ develops a project budget based on projected property value growth over 20-30 years. City Park has limited capacity to raise revenue with 92 acres of property compared to Memorial Heights' 1,400 acres.
She proposed getting the City Park TIRZ annexing some of the surrounding area's unclaimed land into the City Park ahead of its redevelopment.
"If we don't do that, they're never going to get that kind of money," Kilgore said.
Local efforts
The best solution for the area, Zeve said, may also be the most expensive.
"In that area, adding more storm sewers would probably be the primary alternative to drainage improvements," he said. "Unless there is a way to buy a multiacre piece of property to provide detention storage, but it's really 100% developed already."
While Houston Public Works has not implemented the 1966 drainage study's proposal, it is in the process of selecting an engineering firm for an expanded study of the area, officials said.
The department is nearly finished with a $4 million project to improve detention along the stretch of the Union Pacific Railroad line along the Southern Border of Timbergrove and also has street repairs planned along West 20th street bordering the northern edge of the neighborhood.
Also by the end of 2020, Harris County Flood Control District and Public Works will begin updating a 2015 study of Turkey Gully, which feeds into the stretch of White Oak Bayou in Timbergrove.
Any progress in the area can be slowed by the fact that many areas of the city face similar or worse concerns.
"I think we're seeing this development happening all around the city," Kamin said. "I don't think there's one neighborhood that is an exception to that."
Even with neighborhood champions like Kilgore, flood mitigation can still be an uphill battle, Kamin said, because it involves so many different players and was historically neglected across the city and arguably the region at large.
"Residents have waited long enough, we need to get the Turkey Gulley study done so we can move forward in funding partnerships," Kamin said. "There is a lot of neighborhood advocating that we're going to need at all levels of government."