The rate of eligible Harris County residents getting vaccinated for the coronavirus rose steadily throughout 2021, but the emergence of a new variant and a holiday-fueled case spike underway have clouded how the pandemic may play out at the onset of 2022.
The omicron variant of the coronavirus was already starting to spread nationwide by mid-December, prior to the family gatherings that took place during the holidays, according to the U.S. Centers for Disease Control and Prevention. The trend led the CDC to predict between 19,700-30,500 new COVID-19 deaths nationally during the week ending Jan. 29.
The omicron variant is still being studied, but early reports suggest it is more contagious but less severe than past variants. However, Houston's Medical Director Dr. David Persse urged residents to continue to take the virus seriously.
"The omicron variant ... is extremely contagious," Persse said at a Dec. 29 press conference. "There has been a lot of narrative about how it also causes a mild illness. A small percentage of those folks who become infected are going to require hospitalization ... but a small percentage of a really big number is still a big number. Our hospitals need to be functional for everyone."
The first cases of the omicron variant in Houston were confirmed with tests given on the evening of Dec. 9, Houston Health Department officials said. The confirmed cases include a female in her 20s and a male in his 30s, neither of whom had traveled recently, suggesting community spread of the variant. While the omicron variant is still being studied, Houston health officials continue to push strategies to lessen viral spread, with the largest emphasis on getting vaccinated.
However, three rules announced by U.S. President Joe Biden in August requiring vaccines for different employment groups—intended as measures to control COVID-19—have been challenged in lawsuits. The U.S. Supreme Court is slated to hear oral arguments over two rules, one dealing with health care workers and one dealing with private companies with more than 100 employees, on Jan. 7.
Meanwhile, the city of Houston has ramped up vaccine efforts, focusing on providing vaccines to children in the 5-11 age group as well as booster shots to the general public, including a Dec. 17 event hosted by the city in partnership with Texas Children's Hospital. The city also opened multiple new testing mega sites in late December and early January—including sites at the Kingwood Community Center, Delmar Stadium, Minute Maid Park and a former Dave & Buster's on Richmond Avenue—expanding capacity to test 30,000 people per day.
"In addition to vaccination, boosters and masks, testing is another layer that can help protect us from COVID-19," Houston Mayor Sylvester Turner said at the Dec. 29 conference.
Because the majority of COVID-19 transmission occurs within five days of the onset of symptoms, the CDC announced Dec. 27 it was lowering the number of days an asymptomatic individual is recommended to quarantine from 10 days to 5 days.
Omicron and the unknown
After summer months brought waves of the delta coronavirus variant through Houston, pushing hospitals to the brink, the fall was marked by drops in all major metrics amid a rise in vaccinations and the release of the vaccine to children ages 5-11, according to data from the Harris County Public Health Department.
Most notable were the drop in new cases and hospitalizations, which prompted Harris County officials to lower the county's threat level to yellow in November, meaning the virus threat was moderate. That threat level was raised back to orange again in mid-December, but the advice—to minimize contacts and avoid gatherings—still only applies to the unvaccinated.
Those declining case and hospitalization trends started to show signs of reversing heading into the new year. More than 5,600 patients in the Texas Medical Center
tested positive for COVID-19
Jan. 3, up from an average of 2,094 per day in mid-December. Meanwhile, 401 new COVID-19 patients were admitted to TMC hospitals Jan. 3, up from 201 per day between Dec. 27-Jan. 2.
It is unknown how many of the new cases are of the omicron variant, but estimates from the CDC for Region 6—which includes Texas, Oklahoma, Arkansas, New Mexico and Louisiana—suggest about 86.7% of new cases were caused by the omicron variant.
Variants in the coronavirus occur when there is a susceptible population and the virus replicates at a high level, said Dr. Pedro Piedra, a professor of molecular virology and microbiology at the Baylor College of Medicine. A mutation can make the virus more fit to spread among the existing population, he said.
The omicron variant—which was first detected in Botswana and South Africa in November and was named a "variant of concern" by the World Health Organization on Nov. 26—is still being studied by the CDC. As of press time Jan. 3, the CDC states the omicron variant likely spreads more easily than the original virus, but its infectiousness as compared to the delta variant remains unknown.
As research continues, the CDC said more data is also needed to know if omicron infections are more likely to result in severe illness or death compared to other variants.
Vaccine policies
The Houston Methodist Hospital system was the first major employer to institute a vaccine mandate in the U.S., with the system announcing its mandate for all employees on March 31, 2021, and setting a deadline of June 7. In reaction to the mandate, employees filed a lawsuit challenging its constitutionality.
However, that lawsuit was settled in Houston Methodist's favor in June, and only 0.6% of its 26,000 employees—or 153 people—were fired or resigned for refusing the vaccine. Another 118 employees were approved for a religious exemption; 193 were approved for medical exemptions, and 366 received pregnancy deferrals, CEO Marc Boom said.
Following Methodist's win in the courtroom, other Houston-area hospital systems, including Baylor St. Luke's Medical Center and Memorial Hermann Health System, instituted vaccine mandates of their own, though Boom said he was initially surprised it took so long.
"If I'm being honest, I really thought there was going to be a whole host of other institutions very closely following us because it just seemed like a logical thing to do," Boom said.
The fate of the three vaccine rules issued by the Biden administration remains to be seen. A rule requiring vaccines for health care workers is on hold in a number of states, including Texas, and another one requiring vaccines for federal contractors was blocked by a federal judge.
A third vaccine rule requiring vaccines for all private-sector businesses with 100 or more employees has been challenged by numerous lawsuits, all of which were consolidated before the U.S. Sixth Circuit Court of Appeals. In December, the Sixth Circuit overturned a lower court injunction. Both the private sector case and the health care case will go before the U.S. Supreme Court for oral arguments Jan. 7.
For private sector employers, the ongoing court cases have added confusion to what was already an unclear situation, said Paul Seegert, a managing partner with PCS Advisors, a supply chain management strategies company that has been consulting with employers over how to navigate the rules.
"A lot of them have seen how divisive this has become and how much tougher hiring has gotten," he said.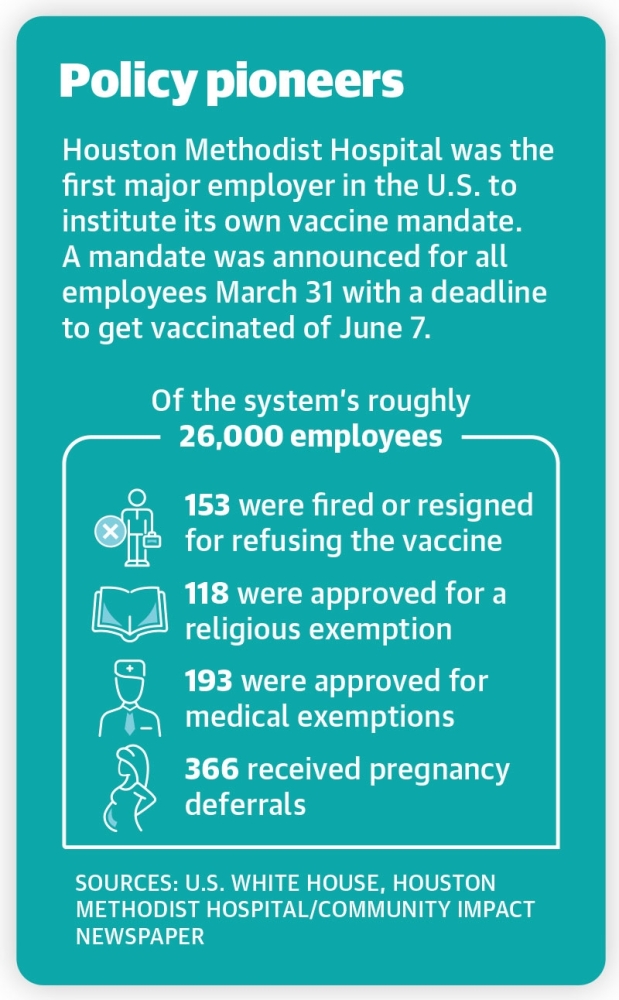 Future outlook
Valerie Gutmann Koch, co-director and assistant professor with the Health Law & Policy Institute at the University of Houston Law Center, said she believes the Biden administration and the federal regulatory authorities are well within their power in issuing each of the three rules. However, she said the political leanings of judges may influence the outcomes of some cases.
"We're seeing a direct correlation between the judges that were appointed by Republican presidents and these rules being stayed and overturned and vice versa," she said.
Koch said she also took issue with using the word "mandate" to describe the rules, pointing to the rule for private sector employees in particular, which is being enforced by the Occupational Safety and Health Administration, or OSHA. The rule is not a mandate, she said, because it allows for test and mask requirements for people who do not want to get vaccinated.
"It really does allow employers a lot of flexibility in crafting their rules when it comes to how they protect their own employees," she said.
As those cases play out, several developments are on the horizon that could bring new ways to treat COVID-19 in 2022. Developers of two oral treatments for COVID-19—Pfizer and Merck—are pushing for emergency use authorization for their treatments from the U.S. Food and Drug Administration. If granted, the treatments would be available for the public to take when symptoms start to present as a means of preventing the illness from becoming more severe, Piedra said.
How successful local health experts are at getting people to get booster shots will also be telling, Piedra said, and could shape how the virus evolves and how often outbreaks occur.
"We have to see whether booster shots that we receive now will need to be given in a yearly fashion because we have waning immunity," he said.