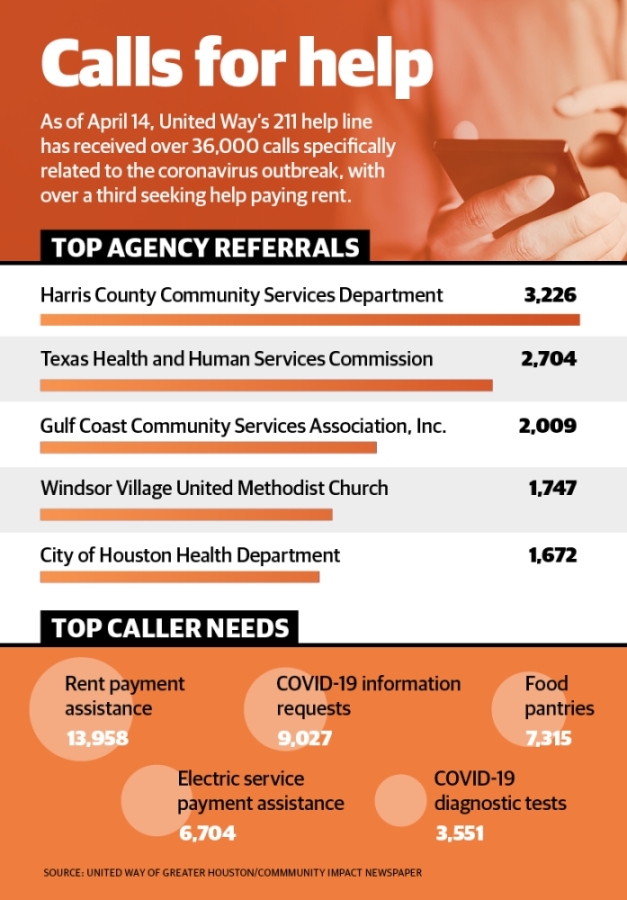 Updated 10 a.m. April 15:
This article was updated to reflect new fundraising totals and disbursements.
In just over two weeks, the United Way of Greater Houston has raised over $7.4 million toward the Greater Houston COVID-19 Recovery Fund in partnership with the Greater Houston Community Foundation.
On April 15, the fund began distributing $1.5 million to
30 front-line organizations that are meeting the biggest needs
. These organizations will be ones that already work in partnership with the United Way in Harris, Fort Bend, Montgomery and Waller counties.
"Our focus is on food access and financial assistance—the critical and urgent needs we're seeing across the area," said Stephen D. Maislin, the president and CEO of the Greater Houston Community Foundation.
Since March 1, United Way's 211 help line has received over 36,000 calls specifically related to the coronavirus outbreak, with over a third seeking help paying rent.
"I've been through a lot of disasters," said Anna M. Babin, president and CEO of United Way of Greater Houston. "This one, the need is so pervasive, it's throughout the whole community, not just one area. For those vulnerable families, it's hitting them even harder."
The fund
was launched with an initial gift of $1 million
from the Houston Endowment, which also pledged to match a dollar for every $4 donated, up to an additional $1 million.
Recent gifts include $300,000 from the pipeline company Enbridge, $250,000 from David and Bonnie Weekley, and $250,000 from oil firm Motiva Enterprises. Deloitte, The Kroger Co. Foundation, Doug Foshee, and Ryan and Lisa Lance each gave $100,000.
"As the disaster continues in this mode, we have to monitor and adjust where we might send resources in the future. But it will always be sent where it's most needed. And our dollars will complement—we hope—whatever federal dollars come into play," Babin said. "But in reality, no dollars will be enough."
One area that might need additional support in the future is mental health services, Maislin said, as the trauma of the health and economic crisis takes its toll.