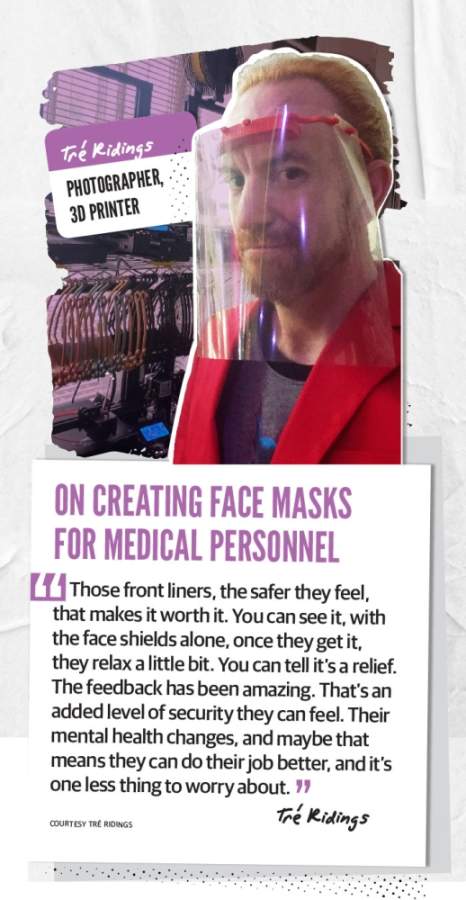 In Tré Ridings' art studio in the restored Jefferson Davis Hospital building in First Ward, a 3D-printing side hustle has become what he said feels like a moral obligation.
"Watching the news and then hearing from friends who are hospital workers and hearing their horror stories ... for some of them it's a matter of not if, but when they themselves will get infected. The bravery over there, I can't imagine," said Ridings, a photographer by trade whose contracts with DC Comics and Warner Bros. conventions dried up as social distancing took effect. "I had to do something."
He began experimenting with publicly available mask designs and tweaking them based on feedback from medical professionals. Since March, he estimates he has 3D-printed over 1,000 masks, face shields and mask clips, which he gives to medical workers for free.
Ideally, he said he would be able to get his masks, which are built to national standards, officially endorsed by local hospital systems, but for now he is content with occasional donations. In the meantime, he said, he could also supply first responders and even restaurant workers. For now, this is the only gig in town, so it has his full attention.
"There's so much uncertainty; many of us artists are contract gig people, and now every single gig is gone," he said.
A new platform
Ridings is one of countless Houston artists digging deep to figure out ways to adapt their offerings, develop new venues for selling wares or performing, and seek out support of arts patrons to keep them going until they reach the other side of the outbreak.
Like many businesses, the first and most obvious step for some arts venues and artists was to double down on their digital outreach efforts.
"If you had asked me three weeks ago, in March, my response would be very different. But now we were in a place where we've made the transition to virtual programming for about 90% of our regular programming," said Eepi Chaad, director of community engagement for Art League Houston, based in Montrose.
The Art League is hosting virtual exhibitions and video workshops and is continuing its Healing Art program, a hands-on art class for people fighting cancer, HIV/AIDS and other diseases, all through livestreams and other formats.
"Everyone is adapting in different ways, which is fascinating to see," Chaad said.
Digital efforts do not come close to closing the gap for most artists though, including established names such as Allan Rodewald, a mixed media artist and First Ward resident for over 20 years. He held a drive-by art show on April 23 to offer a respite for homebound Houstonians and promote his work at the same time.
"Artists, we make our money by having people come and view our art, almost always in person. I've never sold anything online, all those years painting. It's not a great avenue," he said.

Performance venues and others that rely on live shows are also hurting. White Oak Music Hall has raised almost $65,000 from fans to help it stay afloat after losing dozens of scheduled acts. Opera in the Heights canceled all of its remaining shows, as did the newly renovated Stages, forfeiting thousands in ticket revenue.
For small, tight-knit community venues such as Station Theater, the initial loss of revenue is almost secondary to the loss of in-person connection, co-director Jessica Brown said.
"It's not just financial; it's separation from the community. A lot of our programs just bring people together to practice improv. It's something you have to stay sharp on, and you really need to do it in person," she said.
Advocacy and development-oriented organizations such as the Houston Arts Alliance and Fresh Arts have made it a priority to be a source of education and community.
"We're staying on top of developments and trying to put a face on it and also putting it into the language of an artist," said Reyes Ramirez, outreach coordinator for Fresh Arts. "The transition to digital and online sales has been tough for some artists. ... But we have to continue to have those conversations on having more of a digital/online presence because people need to understand things are not going to be normal for a while."
Even as social distancing measures are gradually relaxed, he said, large events are unlikely to return soon, and fears of crowds may also persist.
"Even if it resolves itself tomorrow, the financial ramifications will be felt, and people will be apprehensive for a while," Ramirez said.
Thinking like a business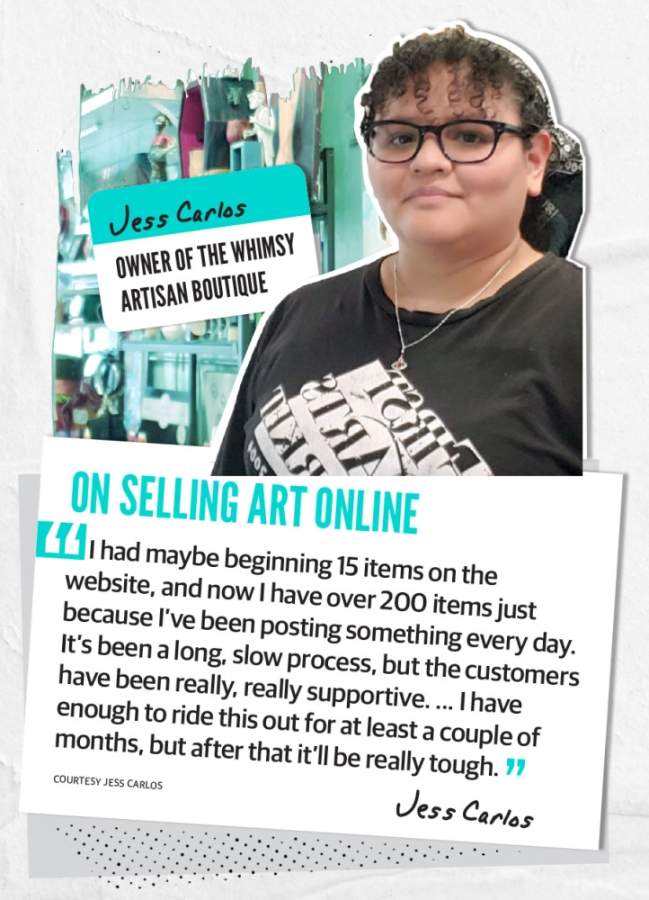 The estimated economic loss for the Houston arts community is around $50 million, according to the HAA, underscoring the arts are a business like any other.
"Artists tend to not see themselves as small businesses and end up excluding themselves from some of the benefits that others are eligible for," Ramirez said. "We've been trying to provide them that context ... and put it into language that artists speak."
For example, artists who have payroll and overhead costs are eligible for the new Small Business Administration loans, and gig workers in general are eligible for unemployment benefits, depending on their situation, but navigating those options is a test of patience, and government systems have been overwhelmed with requests.
Not being able to tap into these resources has lead to a trickle-down effect on other businesses that support the arts.
Sawyer Yards, which bills itself as one of the largest creative communities in the country, has around 400 studios across four buildings, and owner Jon Deal said the month of May could be the big test of whether artists can pay rent.
"We've already heard from maybe 40 who have reached out, and I'm personally answering and treating each one case by case," he said. While not offering outright rent relief, he is deferring payment for just about anyone who asks. "Whatever it is, we'll pick it up at the end of the lease or carry it over to a new one."
However, without any relief directed specifically at landlords, it will not take much of a collapse in rent-paying tenants to start hitting Deal's business.
"If just 10 decide not to pay at all, I'm digging into my own pockets to make principal, interest, maintenance and property taxes. It's got to come from somewhere," he said.
The big loss for his community was the cancellation of the annual spring market and the weekly Saturday markets that bring in customers.
"Some artists here, it's more of a passion, but some do rely on it; it is their livelihood," Deal said.
He said he hopes he can reschedule the market and is looking at absorbing more of the costs of hosting so artists can recoup more of the revenue.
"We'll do all we can on all of that to make sure everyone is participating, especially if they've had a tough year," he said.
Building support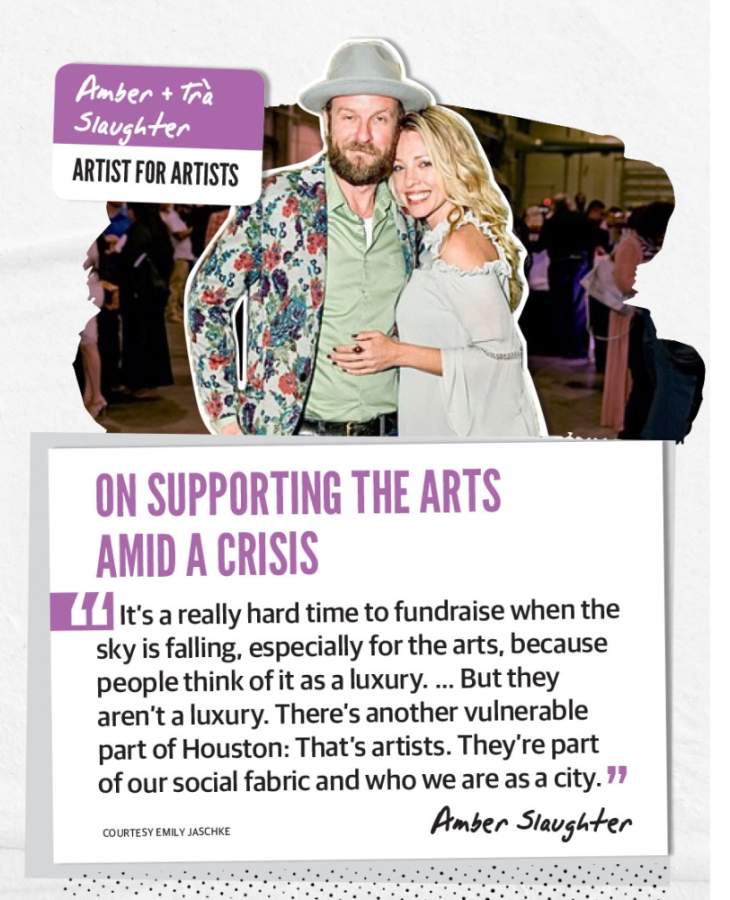 The lack of a safety net specifically for artists was apparent to Amber and Trà Slaughter, who founded Artists 4 Artists in 2018 to raise funds to help cover medical costs and other personal crises in the community.
"There was an untouched need in the Houston art community. It was something we could do to help," Amber Slaughter said.
When the coronavirus outbreak lead to widespread event cancellations, the group was already positioned to quickly launch a COVID-19 relief fund.
"It's a really hard time to fundraise when the sky is falling, especially for the arts, because people think of it as a luxury," Amber said. "But they aren't a luxury. ... There's another vulnerable part of Houston: That's artists. They're part of our social fabric and who we are as a city."
Despite the difficulty, Artists 4 Artists was able to secure a $450,000 donation to support the roughly 300 artists who lost income by not being able to participate in the Bayou City Art Festival in April.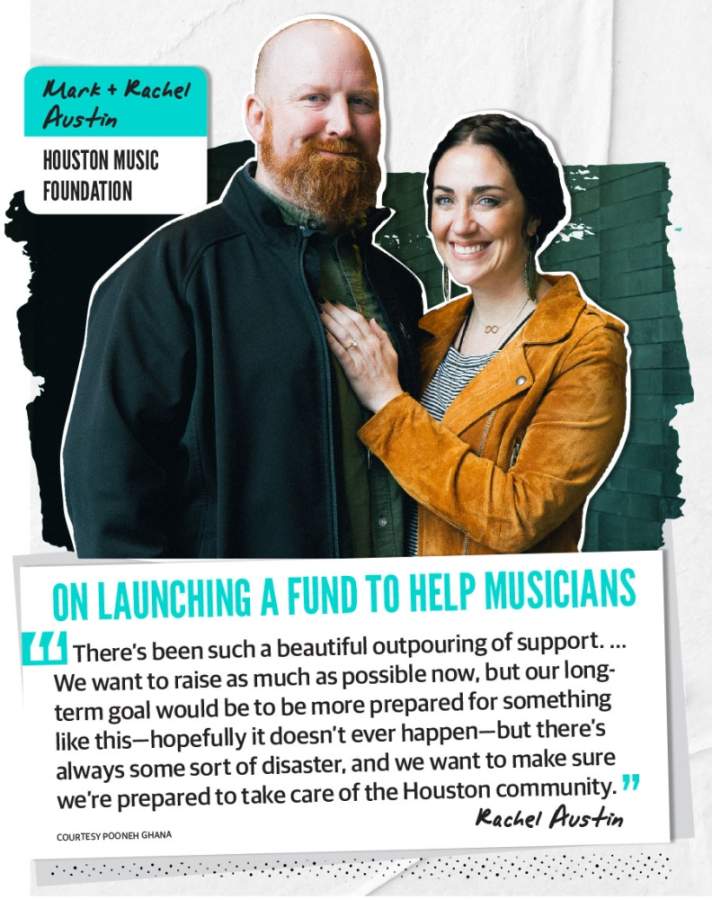 The structure in place with Artists 4 Artists also helped Rachel and Mark C. Austin launch the Houston Music Foundation in April.
"We received over 600 applications in three days," said Rachel Austin, who owns Hometown Social, a public relations agency. "If that doesn't tell you that the need for a program like this isn't dire, I don't know what will."
Even with their deep ties to the local music industry—Mark Austin is a talent buyer for local venues—the outreach effort has made the Austins even more aware of the broader music community in Houston.
"We thought maybe we'd get mostly gigging musicians from the Continental Club or your local coffee shop, but a good majority are music teachers, performers in the opera or the symphony. ... It's much more than we thought," Rachel Austin said.
Beyond the current crisis, the Austins said they would like to see funds such as theirs remain in place from here on out.
"Our long-term goal would be to be more prepared for something like this—hopefully it doesn't ever happen—but there's always some sort of disaster, and we want to make sure we're prepared to take care of the Houston community," Rachel Austin said.