Correction: The road project to widen Cypress North Houston between Jones and Perry roads is slated to go out for construction bids in the third quarter of 2021. The timeline of a related project to extend Cypress North Houston Road from Perry Road to FM 1960 is to be determined. The costs of both project are also to be determined.
Traffic congestion levels are on the decline in Cy-Fair, but mobility experts say those gains could easily be lost without other ongoing projects needed to keep up with population growth.
Widening Hwy. 290 throughout northwest Houston—a $2.5 billion project that wrapped up in 2020—reduced travel times and congestion on roads throughout the region, according to research by the Texas A&M Transportation Institute, which ranks the most congested roads in the state each year.
However, with roughly 37,000 additional homes expected to be occupied in Cypress by 2030, focus has shifted to filling in connections around the master-planned communities where growth is happening, including Bridgeland, Towne Lake and the upcoming Dunham Pointe, where ground broke in February. Several road projects planned near Dunham Pointe have been part of the county's master thoroughfare plan for years, said Archie Dunham, the developer behind Dunham Pointe.
"The county has worked hard over a long period of time," said Dunham, who is partnering with transportation agencies to extend Mason and Mueschke roads south of Hwy. 290. "Those large collector streets are so the population has multiple entrances and exits into their developments."
Demographers with Population and Survey Analysts project most of the growth in Cy-Fair over the next decade will occur around the Grand Parkway south of Hwy. 290. Around 3,700 new homes in Bridgeland will be occupied by 2030, along with more than 1,500 in Dunham Pointe and just over 1,100 in Towne Lake.
As a result, several road projects that have gotten the attention of local mobility experts involve connecting corridors to Hwy. 290—including Mason and Greenhouse roads. Other important projects involve widening major roads toward the Grand Parkway farther north, including Telge and Grant roads.
"Staying on top of growth is always hard, but I think the county precincts are doing a good job of identifying the projects that will get us there," said Jeff Collins, a board member of the Transportation Advocacy Group in the Houston region.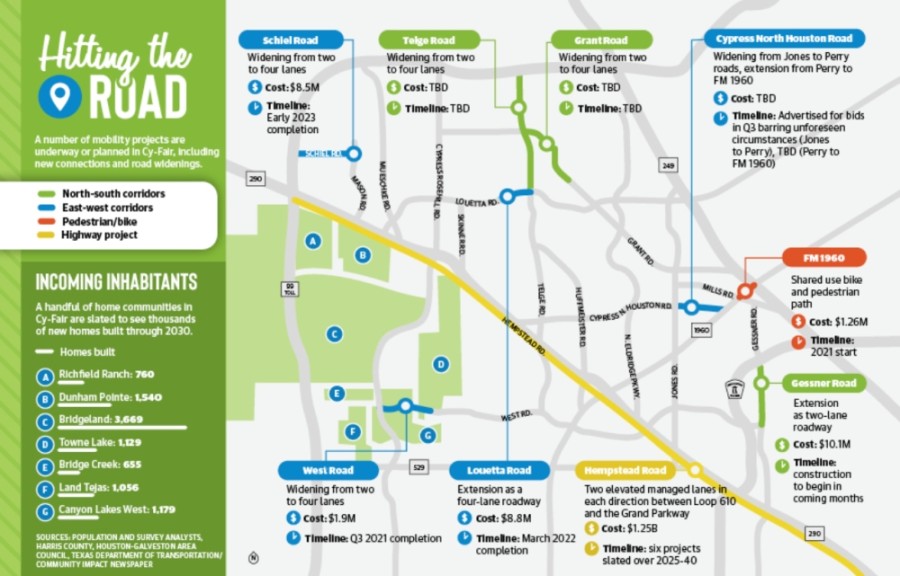 Upcoming construction
The Mason extension through Dunham Pointe kicked off last fall. Dunham said he hopes the project, which will serve as the primary entrance into the community, will be completed by the end of 2021.
However, the road will not yet connect farther south, and it will for now end at the end of the Dunham Pointe community. At some point, plans are to connect Mason through the Bridgeland community and farther south toward Katy, county officials said. Completing the connection will involve multiple landowners working together, with private developers likely taking the lead on bringing it to reality.
Aside from Dunham Pointe, other key players are the Howard Hughes Corp., which owns Bridgeland, and Richfield Ranch, which owns another tract nearby and has not announced plans for development.
Dunham said a project similar to Mason will involve extending Westgreen Boulevard south from where Mueschke Road meets Hwy. 290. A separate but similar project in the Towne Lake area involves bringing Greenhouse Road north to Hwy. 290 and connecting it to Skinner Road.
The latter project is being led by Harris County Municipal Utility District No. 500 and funded partially with a federal grant. Construction is slated for kick off in 2024, but MUD officials said it could begin sooner if approved by the federal government.
The $38 million project will involve building a six-lane roadway with 10-foot-wide hike and bike lanes along both sides of Greenhouse. Once construction begins, it will take roughly 20 months to complete.
Funding boost
Harris County commissioners approved a mobility funding boost in March in the county's 2021-22 budget. Although a funding formula has been used in the past to determine how funding should be allocated among the county's four precincts, the funding was split equally this year while a new study determines how it should be allocated moving forward.
However, the overall boost resulted in each precinct receiving more than it did in the previous fiscal year. Precinct 3, which covers parts of Cy-Fair west of Hwy. 290, saw its funding go up from $32.4 million in 2019-20 fiscal year to $40.5 million in FY 2020-21. Precinct 4, which covers Cy-Fair east of Hwy. 290, went from $36 million to $40.5 million.
At an April 1 Transportation Committee meeting of the Cy-Fair Houston Chamber of Commerce, Precinct 3 Commissioner Tom Ramsey said his precinct is working to advance an asphalt pavement program slated to bring the quality of 35 miles of road—including parts of Spring Cypress and Telge roads—up to standard within the next five years.
"That is getting it done," Ramsey said. "We know what our mission is."
Other local road projects address some of the roads on the Texas Transportation Institute's list of the 1,000 most congested roadways in the state, including widening projects on Telge and West roads.
Collins said he was following the county's mobility study with interest in how mobility funding could be split across the precincts next year.
"We have to take care of what we got, but we also have to plan for future growth, and precincts 3 and 4 are where a lot of that growth is happening," he said.



Long-range planning
The Houston-Galveston Area Council is also in the process of updating its 2045 regional plan for the eight-county Greater Houston area.
The plan was last updated in 2019. Among the proposed amendments this year is a re-imagining of long-term plans to expand Hempstead Highway parallel to Hwy. 290 between Loop 610 and the Grand Parkway. Under a new pitch from the Texas Department of Transportation, which is studying the project, the highway would no longer include tolls and would instead feature two elevated managed lanes in each direction and one transit lane in each direction.
Project design is still years away, with H-GAC listing timelines for six separate projects for various times between 2025 and 2040. Timelines and costs are subject to changes, officials said.
Transit improvements are also a big part of H-GAC's plan, said Adam Beckom, one of the council's transportation managers. Several of the proposed amendments this year coming from METRONext, a long-range plan by the Metropolitan Transit Authority of Harris County, he said. Projects in Cy-Fair include new Park & Ride stations near the Grand Parkway and Hwy. 290 intersection and a new transit center near Willowbrook Mall.
However, those projects are not expected to get underway in the short term, and the Fairfield Park & Ride is not slated until 2030. The plan does fund the construction of a ramp from Hwy. 290 to an existing Park & Ride at Skinner Road, a $38.2 million project slated for 2022, according to the H-GAC.
H-GAC accounts for projects that have multiple modes of transportation in its scoring process, such as projects with transit or pedestrian components, Beckom said. Over the past few RTP updates, it has become increasingly apparent that new roads cannot solve congestion issues on their own, he said.
"We do see and we do hear that transit is going to be how we move the needle on congestion," Beckom said. "We know we can't build our way out."