Large investment firms are converting single-family homes to rentals and building communities to rent in Cy-Fair to help meet the rising rental demand, while the housing shortage is driving more people to rent in the Houston area, real estate experts said.
The Houston Association of Realtors reported June 15 the number of leased single-family home rentals increased 24.8% from May 2021 to May 2022. While rising mortgages and low inventory are contributing to the trend, experts said potential homebuyers are also facing competition from real estate investment firms buying properties to sell or lease.
"These are not mom and pop buyers. They look to buy properties and communities on a large scale and make profit from them," said Nadia Evangelou, the director of forecasting at the National Association of Realtors.
Texas leads the nation in institutional buying with 28% of single-family homes purchased by institutional investors in 2021—more than double the national average of 13%, according to data from the NAR.
David Howard—executive director of the National Rental Home Council, a nonprofit that represents the single-family rental home industry—said out of 23 million single-family rental homes in the U.S., 1.3% are owned by large companies.
The NAR reported institutional buyers purchased 38% of single-family properties bought in Harris County in 2021. Harris County Appraisal District data showed nearly 850 homes in Cy-Fair are owned by five institutional buyers and their subsidiaries: American Homes 4 Rent, Progress Residential, FirstKey Homes, Invitation Homes and Tricon Residential.
"Investors are making more than 25% of home purchases at this point. ... That's part of what's created our price surge," Cy-Fair Realtor Debbie Marshall said.
Firms target homes with broad appeal as rental homes, Marshall said. One-story residences with three bedrooms and two bathrooms are popular among these firms. The trend to rent instead of flip homes is driven by construction costs and the firms' desire to yield more profit month to month.
These firms have also been investing in developing entire build-to-rent communities. Howard said two years ago, 3% of NRHC companies were building homes for rent, compared to 26% in 2022.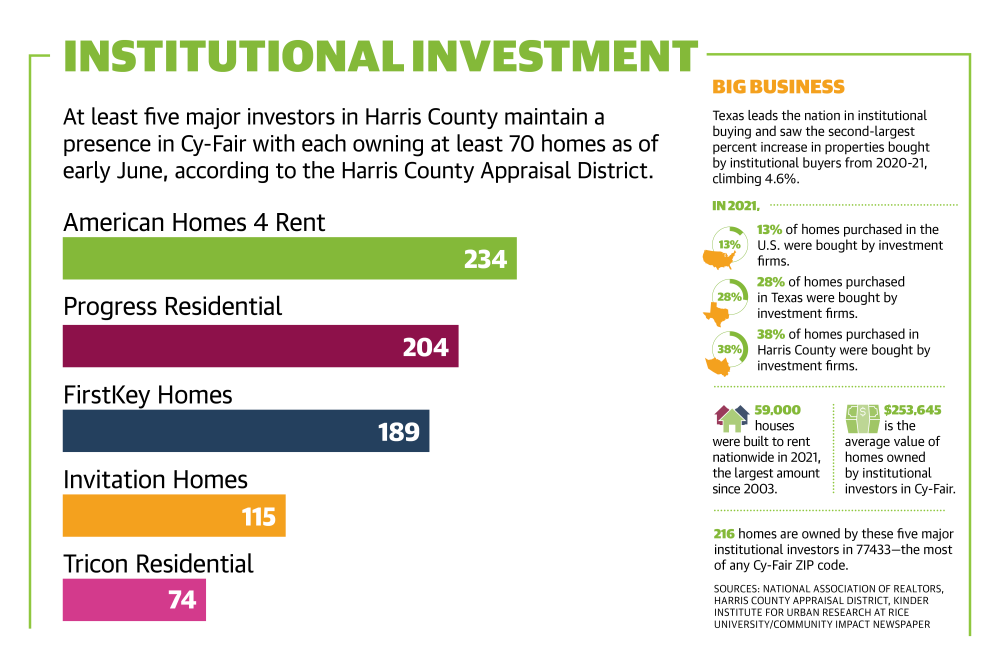 Rise in communities for rent
Charlie Kriegel partners with firms for Winhill Advisors-Kirby and said his clients see build-to-rent as a "windfall" for the return on investment.
"[Build-to-rent] allows investors to control cost, absorption rate, so it's going to be the fastest growing segment for the next five years," Kriegel said.
In the Cy-Fair area, officials with The Howard Hughes Corp. announced June 22 that Bridgeland's first build-to-rent neighborhood of 263 homes is under construction. Jim Carman, Houston region president for Howard Hughes, said Cypress has a high apartment occupancy rate, but many renters are looking for the single-family experience with benefits such as yard space.
"We are seeing a growing renter-by-choice population," Carman said. "They're doing it for a lot of different reasons. You know, they may be new to the area and not sure where they want to buy. They may be in a job transition and not quite ready to buy, or they may be retirees that have multiple homes and want to have something near the grandkids."
Evangelou said institutional buyers are contributing to more rentals, providing more options as mortgage rates rise.
Marshall said many builders in Cy-Fair are worried about rental properties decreasing the property values in their communities, leading builders to shut out investors.
Kriegel said although investment firms are pivoting toward build-to-rent communities, institutional purchases of existing homes will "never go away." National trends could see 40% of single-family homes owned by firms in the next few years, he said.
"You're dealing with corporate America; they're going to find ways to be able to develop and build stuff," he said. "There needs to be some common ground between city officials and investors to make sure that what they're building matches the absorption rate and what the market will demand."