Throughout the COVID-19 pandemic, Cy-Fair real estate agents have managed higher demand from homebuyers with limited inventory.
Nicole Travis, a Cypress-area agent with Texas Realty Select, recalled a listing earlier this year brought more than 60 showings and 28 offers within two days. According to the Texas A&M University Texas Real Estate Research Center, Cy-Fair had an average of 0.7 months of housing inventory in 2020, a measurement showing how long it would take to sell all properties currently for sale at the average monthly sales pace.
"With buyers, we were strategizing as you're walking up to the house ... and basically [communicating] what we wanted to do for a strong offer even before we saw the house," she said.
However, at the onset of the pandemic, apartment landlords had to offer specials just to get tenants, ApartmentData.com President Bruce McClenny said.
Apartment rental rates dropped in 2020 for the first time in at least 10 years, but as demand has picked up again, rates are up nearly 13% year over year.
"The supply for single-family homes has dropped, and so that drives the price up," McClenny said. "Traditionally, there's this movement from renters to be buyers of homes, and that has been disrupted in a big way."
About 67% of the homes sold in Cy-Fair in July and August 2019 sold for less than $300,000. That percentage dropped to 45% in July and August this year while the share of homes priced higher than $500,000 doubled, according to monthly market data provided by the Baker Foreman team at Better Homes and Gardens Real Estate Gary Greene.
Janet Ryan, development director with Cypress Assistance Ministries, said a decline in affordable housing is not a new concern in Cy-Fair. According to the U.S. Census Bureau, Cy-Fair's median household income has grown about 11% since 2010 while home prices have increased nearly 60%.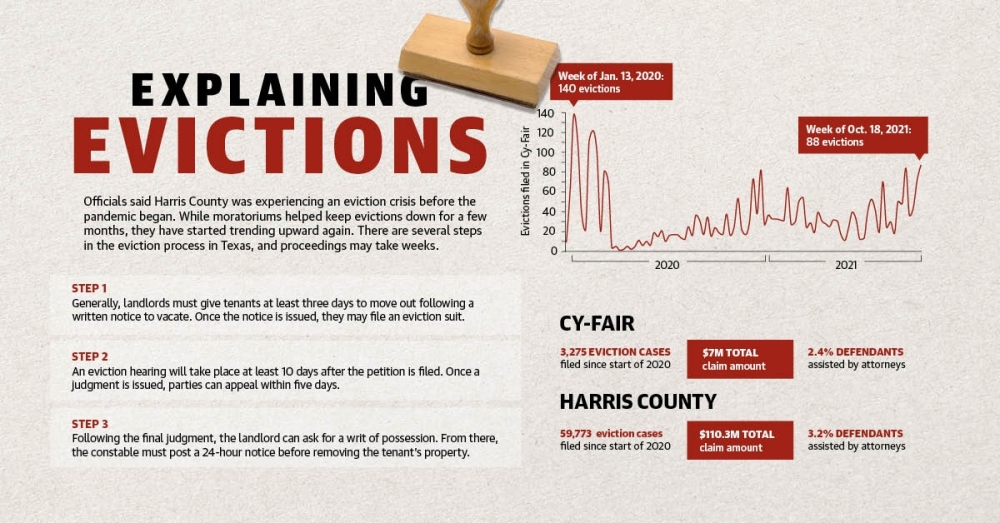 CAM only saw a slight uptick in clients seeking financial assistance at the start of the pandemic. Ryan said a boost in unemployment benefits helped many at risk of losing their homes. In fact, many made more money from these benefits than they did working, she said.
The state ended its participation in the federal pandemic unemployment benefits program in late June, and the number of monthly clients at CAM has doubled since. In September, CAM's services allowed 151 people affected by the pandemic to stay in their homes with electricity and water.
"During a time when the unemployment benefits were available and increased, not everyone chose to budget accordingly, so now they're in trouble financially," Ryan said. "Now with [rent] prices going up, ... if you're already living paycheck to paycheck, that totally takes you out of having the ability to pay your rent."
Facing eviction
Passed in March 2020, the federal Coronavirus Aid, Relief and Economic Security Act included an eviction moratorium through late July 2020. By September, the Centers for Disease Control and Prevention had issued its own national eviction moratorium.
While evictions notably dropped during the pandemic, moratoriums were not consistently enforced, according to reports by data science consulting firm January Advisors. The reports show more than 57,000 eviction filings have been made in Harris County, including about 3,100 in Cy-Fair, since the start of 2020.
After multiple extensions, the CDC's moratorium ended late this summer, according to Texas Legal Services Center. Data from Workforce Solutions shows the region's unemployment rate was 6.1% at the time.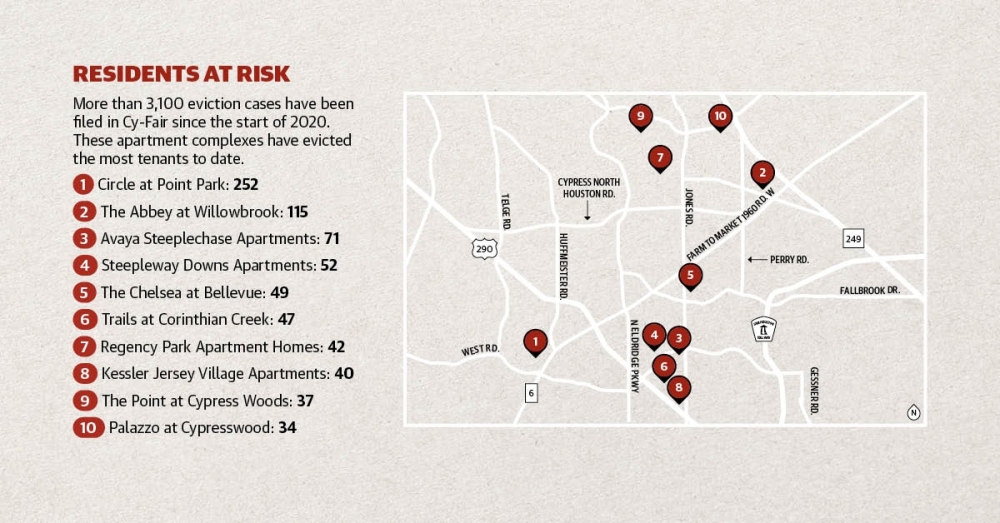 A report from January Advisors revealed the CDC's moratorium delayed or prevented evictions for 13% of defendants in Harris County.
"The challenge with the eviction moratorium all along has been that people had to meet certain criteria and fill out a moratorium declaration and take that with them to court, and quite a lot of folks didn't know how to do that, didn't have the support they needed to do that or were scared to use it," said Leah Barton, director of strategic initiatives with the Harris County Office of County Administration.
Local resources
Barton said as housing becomes a larger share of the budget for many families, some may be forced to cut back on other expenses, such as health insurance or food.
"We know that rents have gone up faster than wages, and people were struggling pre-pandemic," she said. "As people experienced loss of jobs—or in many cases even if they kept a job, loss of hours—and increase in expenses with kids home and [personal protective equipment] purchase needs, ... they've really felt the squeeze."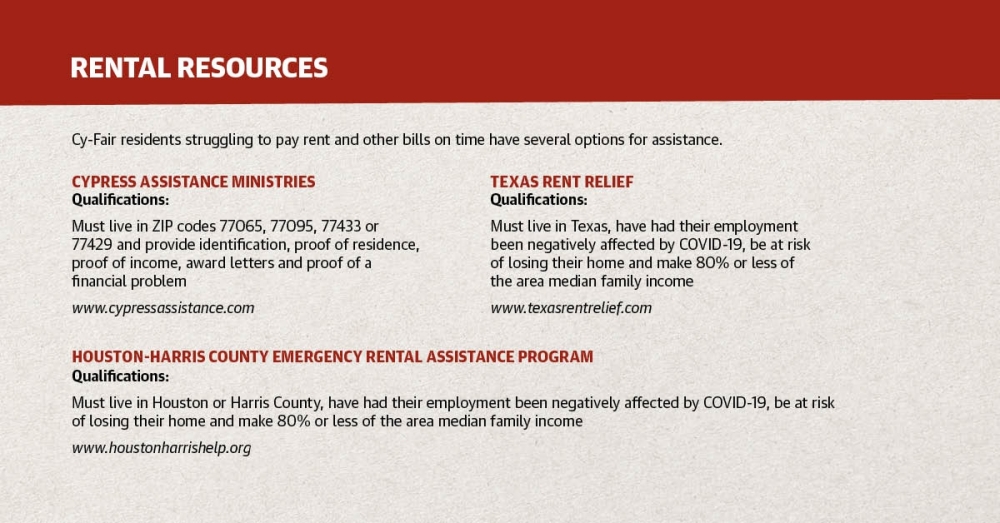 Renters needing assistance have a few options. The Houston-Harris County Emergency Rental Assistance Program had pledged or paid over $221 million to more than 57,000 families as of mid-October, most of which was subsidized by federal funds.
The program can cover up to 18 months of rent as far back as April 2020, and up to two months can be allocated to current or future rent to allow tenants time to get back on their feet, officials said. Harris County renters whose employment has been affected by COVID-19, are at risk of losing their homes, and have household incomes at or below 80% of the area median family income can apply.
Meanwhile, CAM's Operation Jobs program teaches interviewing skills, helps with resumes and sends job leads to unemployed individuals. Those who are working may also be eligible for financial assistance.
Looking ahead
Evictions are beginning to trend up again throughout the county, officials said. More than 1,400 cases were filed the week of Oct. 11, which was the highest weekly number since before the pandemic.
"Having an eviction on your record makes it really hard to get new housing," Barton said. "Some families are lucky to be able to find a new apartment, but I think that's not the norm. Many wind up moving in with friends and family. Maybe they'll end up finding temporary housing in a pay-by-the-week motel. ... Some may wind up living in their car for a while or becoming homeless."
McClenny said he expects 2022 to look like 2021 in terms of "supercharged demand" for apartments due to population and job growth, single-family home prices and other metros seeing larger rate increases. Apartment rent in Austin has jumped 26% year over year, while Dallas and San Antonio have seen 17% and 14% increases, respectively.
"Where we stand in terms of everybody else in Texas, our rent growth is not as strong as all the other major markets," McClenny said. "The affordability issue is better handled in Houston, so that might be something that people consider."
Homeownership for these renters is becoming less feasible as single-family home prices continue to climb. Most of Cy-Fair's new-construction homes are in ZIP code 77433, where housing costs have risen 13%-22% each month year over year in 2021.
Even in more established and affordable ZIP codes, such as 77065, prices have risen as much as 27%, according to data from the Baker Foreman team.
"The median home price is over $300,000 now nationwide. That cuts so many people out of the ability to buy a home," Ryan said.
Sierra Rozen contributed to this report.