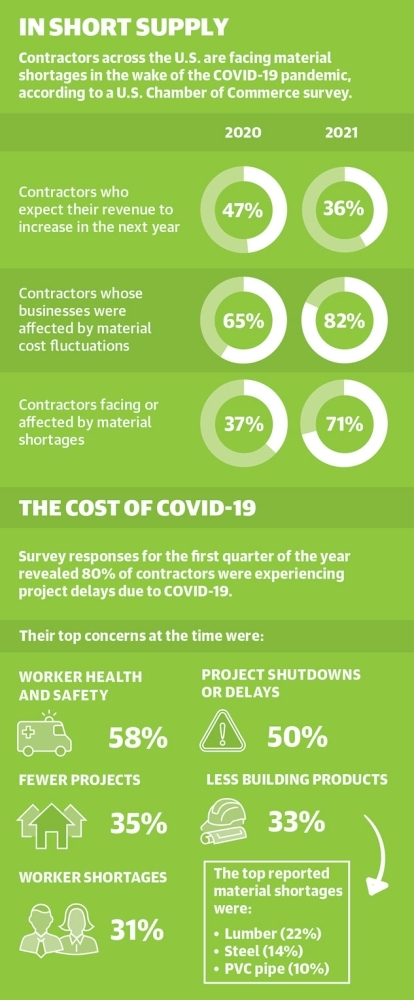 Due to a rise in demand for construction materials, 71% of contractors said they faced a shortage of supplies needed to complete projects, and 82% said cost fluctuations have affected their business, according to the U.S. Chamber of Commerce's quarterly Commercial Construction Index report released March 18.
Rising costs and a short supply of lumber, steel, copper, paint, plastics, sheet metal, windows, home appliances and other products have caused construction delays locally and beyond, said Mike Dishberger, CEO of Houston-based Sandcastle Homes and a former Greater Houston Builders Association president.
"A lot of companies thought last year when COVID[-19] hit in the spring that business would drop in homebuilding," he said. "Instead, the opposite happened. People had nothing better to do, I think, than stay at home and decide they want to buy a new house or remodel. So, demand has exceeded supply, and when that happens, prices rise."
For example, Dishberger said plywood cost $7 per sheet in April 2020 and was up to $50 per sheet this June. A recent copper shortage increased the price of his electrical materials by 25%, he said. Dishberger said he has seen costs go up in the past but never quite to this extent.
An uptick in lumber prices began last summer, but other products started to be in short supply in late 2020, and the trend continued into the new year as supply channels could not keep up with demand.
Homebuyers affected
In addition to delaying the construction process, Dishberger said some homebuilders included escalation clauses in their contracts, giving them the flexibility to bump costs up as materials become more expensive. However, builders do not want to raise their costs to the point where consumers can no longer afford their products.
"Builders normally work on a margin like a lot of businesses, so you would think they're making a lot more money this year," he said. "Well, they probably aren't because the costs are rising faster than they can raise prices. The buying public is not going to accept a 25% increase in the cost of homes."
Kadie Sellers lives in a Willowbrook-area apartment with her husband of nearly two years and said they pursued buying their first home early this year as she was wrapping up graduate school.
The young couple had reserved a lot and chosen a floor plan by February with plans to build a home near Hwy. 290 and the Grand Parkway later this year. Sellers said the cost of the home had escalated by $60,000 due to a shortage of building materials by May, when they ultimately agreed this was not the right time to build.
"I don't want to lose equity in a home," she said. "We wanted to invest in something that will grow, and since we're seeing this spike we don't want it to all of a sudden drop again. Then you paid all this money for a house that's not worth what you paid."
Builders told the couple that materials from lumber to shingles, joists and appliances were all backordered. They looked at other less expensive homes but decided they did not want to settle when making such a significant purchase, she said.
Future outlook
The demand is also exceeding the supply in the market of existing homes. Sellers said many homes are selling as soon as they are listed.
"I'm hoping that we'll see a change because it's becoming kind of unattainable for a lot of people to buy a home right now—especially people who are my age who are looking into buying their first home," Sellers said.
Dishberger said he expects to see elevated costs for several more months, and he does not anticipate costs ever declining to prepandemic levels.
"Until they get supply channels worked out where they have materials going across the country in rail, trucks, ship—however they get here—and get employees to work to do that, the issues are going to continue," he said. "If the price gets too high, some [builders] are going to say, 'I'm not going to start any more houses [because] I can't make the money I need to make.'"