Hospitals in the Houston area and across the country reported higher rates of turnover and staff burnout as nurses faced heavier workloads and treated critically ill COVID-19 patients, according to a study from the U.S. Office of Inspector General.
At the same time, local educators training the next generation of nurses said programming was temporarily paused, already-limited capacities in clinical programs became even more restrictive and graduations were delayed.
But hospitals across the state have faced nursing shortages since long before the pandemic. The Texas Department of State Health Services projects the Gulf Coast region will have a deficit of 21,400 registered nurses by 2032 as the growing demand continues to outweigh supply.
"Health care workforce shortages existed before the pandemic. We didn't have enough doctors; we didn't have enough nurses, and the pandemic has definitely exacerbated that problem," American Medical Association President Susan Bailey said.
The median turnover rate for registered nurses in Gulf Coast hospitals was 17.5% in 2019. Since the pandemic began, many nurses have considered leaving the profession between the anxiety over bringing COVID-19 home to their families and losing at least 4,000 health care workers to the virus nationally, Bailey said.
When a hospital faces a nursing shortage, Marci Holub, vice president and chief nursing officer at Memorial Hermann Cypress Hospital, said it could lead to extended nurse-to-patient ratios, nursing burnout due to working additional shifts, decreased patient satisfaction due to slower response times and further turnover and vacancy rates.
"Some factors that are contributing to this nursing shortage are burnout, an aging baby-boomer nursing workforce, a lack of nursing school faculty members and nursing school enrollment that is challenged to keep pace with the projected nursing demand," Holub said. "In addition to the factors listed above, post-COVID surge, the economy is driving many nurses to leave the Houston area to support a loved one that has been relocated or is now required to remain home due to childcare and/or homeschool responsibilities."
On the other hand, health care workers have been promoted as heroes during the pandemic, and many have decided to enter the field as they learn more about the role, said Dr. Renae Schumann, the former dean of Houston Baptist University's School of Nursing and Allied Health who now serves as District 9 president of the Texas Nurses Association.
"There's the part of nursing where people are tired; they're burned out; and they're having a hard time staying in it. But there's another part where people are looking at nursing and go, 'I really want to be a part of that,'" Schumann said.
In the last decade, the region's supply of registered nurses has grown by 45%, according to the DSHS, but that growth is not enough to keep up with the population. Nursing education leaders said there is not necessarily a shortage of individuals interested in the profession, but admission to training programs is competitive and expensive.
Christina Hagerty, the dean of public service, health and behavioral sciences at Lone Star College-CyFair, said hundreds of students apply to the nursing program in a typical semester, but the campus only accepts 50 nursing students each semester. This capacity limit is in place because hospitals are only able to accept a few students for clinical placements.
"We're all in competition with one another for clinical placements," Hagerty said of regional nursing programs. "We're trying to produce students, but hospitals have limitations on how many students they can bring in, too."
Long-standing shortage
While the pandemic amplified the state's nursing shortage, experts said it has been a concern for years.
"I don't believe we have ... at least in my career as a nurse in the last 25 years—that we've had an excess of nurses. We definitely have a shortage," said Kelli Nations, chief nursing executive for HCA Houston Healthcare. "As our nursing workforce is aging and our population is aging, the nurses are retiring at a greater rate than we can hire, and our patient volume is increasing."
About 24% of the region's registered nursing workforce in 2019 was over the age of 55, according to the DSHS.
Nations said while Texas leaders have made efforts to increase the number of seats available in nursing schools across the state, the rate of nurses graduating from those programs simply does not meet demand.
Additionally, Nations said nurses today can choose from a more diverse range of career pathways than ever before. HCA Houston Healthcare's nursing senior team includes roles in clinical practice and operations, nursing clinical informatics, nursing analytics and care experience.
"We are quickly realizing that nurses play such an important role in the health care delivery model [and] that they have skills and talents that are beneficial for many roles that are not necessarily just at the bedside, so that bedside role is competing for a lot of other roles that need that nursing skillset and talent as well," she said.
In addition to these expanded opportunities, many in the younger generation of nurses do not plan to stay in the same position for 20 or more years like the baby boomers who are now approaching retirement did. Nicole Twine, chief nursing officer at Houston Methodist Willowbrook Hospital, said this also contributes to the rising shortage projections.
She focuses on ensuring her staff members are happy where they are to retain them on her campus, even if it means serving in different roles.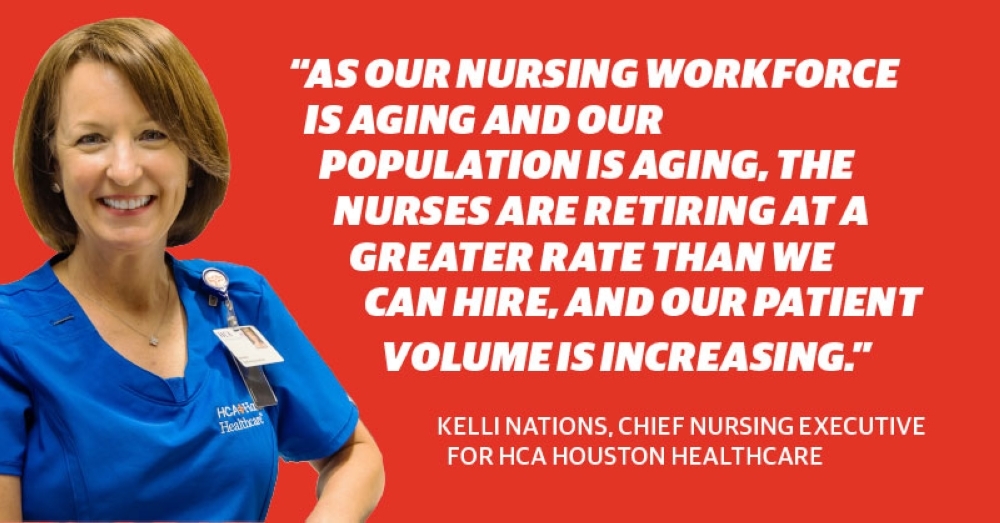 "Even though I hired you as a med surg nurse, if you want to be an [intensive care unit] nurse, tell me when you walk in the door so that way I can help develop you, grow you and give you that opportunity," Twine said.
At Memorial Hermann Cypress, Holub said there was a slight uptick in turnover during the pandemic, which was primarily attributed due to nurses leaving to support their families as spouses relocated for work or for personal reasons.
Hospital officials are currently able to recruit and retain talent through nurse resident programs, fellowship programs, flexible shifts, cross-training, sharing within the system and opportunities for educational reimbursement, according to Holub.
COVID-19 complications
Amy Jaster decided to become a nurse after a two-decade career in accounting and, after a few years of experience throughout the Cy-Fair community, found her way to Houston Methodist Willowbrook Hospital's staff in August 2020.
She served on the COVID-19 unit and temporarily worked as an ICU trauma nurse as cases surged this past winter. It was a logical decision to serve where she was needed, Jaster said, but despite her positive outlook, the work was difficult.
Jaster said some patients simply could not be saved no matter how hard the staff worked. As of May 28, more than 4,500 Harris County residents have died with COVID-19.
"It's not an easy job, but it is very, very rewarding," she said. "[Being] able to be that person for that one who is crossing over, that's also very rewarding—especially in this past year that we've had where the families haven't been able to be there, but they need to have somebody compassionate to help guide them through that."
During the pandemic, Houston Methodist Willowbrook had to increase its nurse-to-patient ratios as patients became sicker and staff members came down with COVID-19, Twine said. Officials reskilled some nurses to fill gaps, she said.
Schumann said COVID-19 has led to more nurses retiring early than hospitals would see in a typical year. Others transitioned to travel nursing or part-time assignments to alleviate some of the stressors they faced, she said.
"When you are in a full-time position, most of the hospitals will have 12-hour shifts, which sounds great if you're thinking, 'Oh, well that means I get to work fewer days,'" she said. "Well, that's true, but if you're so tired that you're sleeping through all your days off, then that's not very helpful. COVID has been very difficult for nurses and health care workers in general."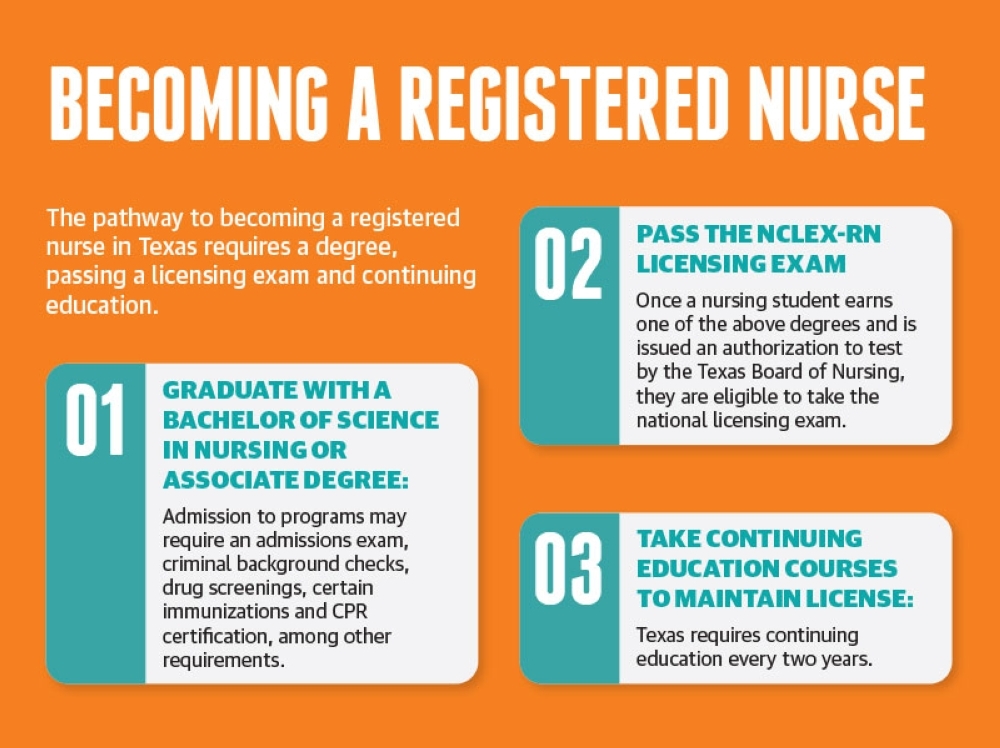 COVID-19 also interrupted nurse training programs at institutions such as Lone Star College-CyFair. While faculty members continued instruction online last spring, lab hours could only be completed on campus, and capacity limitations in local hospitals grew stricter, Hagerty said.
Many are still eager to enter the field of nursing despite the pandemic, Twine said, but challenges remain in the process of educating and training upcoming nurses.
"I don't know that the pandemic is the reason why we're going to continue to have a shortage," Twine said. "Really, it's about understanding our generation, preparing our students, having enough faculty so we can really educate [and] admit more students."
Obstacles in education
Bailey said applications to both medical and nursing schools are at an all-time high as the pandemic put a spotlight on these careers.
"One thing the pandemic has done, I think, is really shown that taking care of a patient in their most desperate hour is one of the most honorable things that a human being can do," she said.
But faculty shortages and clinical placement capacities limit the number of new nurses produced every year. The DSHS reported 54% of qualified applicants were not granted admission to one of the region's 27 prelicensure registered nurse education programs in 2019 due to a limited number of seats available.
The Texas Legislature created the Nursing Shortage Reduction Program in 2001, allowing the Texas Higher Education Coordinating Board to provide dedicated funds to nursing education programs that increase the number of nursing graduates. According to the Texas Nurses Association, the number of new nurses produced grew by nearly 180% from 2002-19.
Schumann said faculty shortages remain an issue because earning the advanced degrees required is time consuming and expensive. The nursing faculty turnover rate in 2019 was 13%, and the vacancy rate was 6.5% for Gulf Coast-area programs.
"We absolutely need more faculty, which means that the schools have to pay the faculty something that they consider desirable enough to leave the hospital," she said.