Cypress-based Amy Wine Counseling Center has had a 35% year-over-year increase in new clients during the COVID-19 pandemic. CEO Amy Wine said she has seen elevated levels of anxiety, depression and suicidal ideation amid a season of unknowns.
"Right now, a lot of times you've got to be in survival mode, which means do only what you've got to do to get through the day, and everything else can wait," she said.
Residents continue to deal with financial instability, negative effects of prolonged isolation, changes in relationship dynamics, loss and fear over the virus a year later, Wine said.
By December, Mental Health America of Greater Houston reported 66% of Harris and Fort Bend county residents screened were battling loneliness or social isolation; 31% were dealing with financial problems; and another 24% were experiencing grief over loss. The organization offers free online screenings for youth and adults to gauge their mental health.
"Even before the pandemic, a public health challenge existed as demand for services increased and access to care was difficult for many," said Renae Vania Tomczak, president and CEO of Mental Health America of Greater Houston. "Here in the Greater Houston region we have had to deal with trauma as a result of devastating hurricanes, school shootings, the pandemic as well as the recent winter storm—and that's just in the last four years."
Local counselors may have seen a rise in demand this past year, but many people still face barriers in accessing care. Mental Health America, a national nonprofit that promotes mental health, reported 20.1% of Texas adults with a mental illness are uninsured compared to the national average of 10.8%.
Vania Tomczak said she has seen an uptick in mental health training and awareness in sectors such as law enforcement and public education in recent years as well as more funding allocated to support resources but that there is always more to be done to meet local needs.
Statewide, a projected $8 billion—about 3%—of the 2022-23 budget is allocated for mental health initiatives across 24 state agencies. Gov. Greg Abbott has commended these agencies for creating a 24/7 mental health support line and establishing virtual access for behavioral services during the pandemic.
Managing mental health
Rice University's COVID-19 Registry, an ongoing survey designed to gauge local effects of the pandemic with real-time data, reported 46% of Harris County residents are dealing with mild to severe anxiety. Vania Tomczak also noted significant increases in alcohol and substance use; eating disorders; and youth at risk for emotional, attentional or behavioral disorders.
Experts said healthy coping mechanisms—limiting news consumption, connecting with loved ones, exercising and meditating—can lessen anxiety. Unhealthy responses include withdrawing from others, being self-critical, showing aggression or anger, and using alcohol or drugs to cope.
Michelle Wright, a local independent counselor specializing in youth and families, said many of her clients are failing classes due to mental health effects this year. She is also seeing some clients more frequently, and many parents have joined their children in counseling.
"The parents don't know how to handle it, and when they don't know how to handle it, it trickles down to the family," she said. "Problems that were there before are exacerbated."
Wine's business also serves children and teenagers, but she said the greatest surge in demand has been from adults grappling with pandemic effects such as job insecurity.
"With the unknown of COVID[-19] and the unknown in the oil and gas industry, ... restaurants [and] most businesses, the level of suicidal ideation has dramatically [risen]," she said.
Cammy Hazim, South and Southeast Texas-area director for the American Foundation for Suicide Prevention, said it can be difficult to recognize when someone is struggling with their mental health.
She encourages going beyond surface-level conversations and asking about loved ones' moods and sleeping and eating habits. If someone is exhibiting risk factors, Hazim said she tells people to ask directly if they are contemplating suicide so they can get help as soon as possible.
"It's hard, and it's uncomfortable. Most people would feel nervous about asking someone if they are considering suicide, but if ... they're showing [risk factors] and if in your gut you feel that something's not right, then absolutely you should ask," she said.
Barriers to care
All demographics are vulnerable to mental health issues, but local experts agreed some groups are less likely to receive treatment due to obstacles of insurance coverage, transportation, cultural stigmas and mental health workforce availability.
Hazim said insured individuals have taken advantage of telehealth therapy services more than ever before this past year, but those without technology or health coverage access do not have the same opportunity. Communities of color are less likely to have health insurance, and many do not have the option to work from home, she said.
"We know that disproportionate amounts of Blacks and Hispanics have contracted COVID because they're more likely to have a job where you have to go in," Hazim said. "If you are in construction or hospitality, you can't Zoom in. If you've got to show up every day no matter what or you don't get a paycheck, that affects your mental health."

Data from Mental Health America also shows some correlation across racial lines. While loneliness and isolation were the top contributing factors across all demographics nationwide in 2020, they most often affected the Hispanic and Latino subgroup's mental health.
White Americans were more likely to be concerned about current events, including the pandemic, than Black Americans—the group most likely to be dealing with financial problems.
"As you might expect, those who struggle in meeting their needs for a better quality of life are at a greater risk for mental health challenges," Vania Tomczak said. "Persons dealing with food insecurity, economic risk, unstable housing, lack of access to transportation and unsafe neighborhoods face impacts on their overall health."
Texas ranks below every state except Alabama when it comes to mental health workforce availability with 1 care provider for every 880 residents, according to Mental Health America.
Access is not as limited in Cy-Fair as it might be in more rural communities, but navigating provider and payment options can be difficult, according to officials from Cy-Fair ISD's mental health team. CFISD families are encouraged to reach out to campus guidance counselors for assistance accessing mental health resources in the community.
Moving forward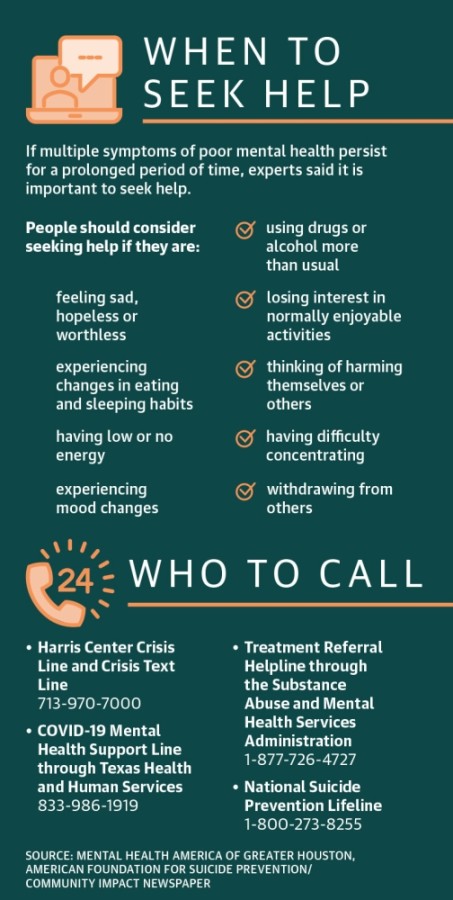 COVID-19 vaccine rollout is underway, and statewide restrictions have begun being lifted. Wright said people may face social anxiety upon returning to group settings after being isolated for so long as well as continued fear of the spread of the virus as individuals have become more aware of risks.
"It was hard for us to adjust to this, and now it's going to be really difficult to adjust back to everything being normal," she said.
Recovering from any traumatic experience occurs over time and in phases. Some individuals will take more time than others, Vania Tomczak said. Experiencing other disasters along the way could interrupt the recovery process. For example, Wine said the February winter storm that caused thousands of Cy-Fair residents to lose power led to a spike in anxiety and depression.
Vania Tomczak said while she believes Texans tend to be resilient, continual trauma could make Houstonians consider leaving the area and cause others to avoid moving to the region.
"Certainly, I'm hearing from people in meetings that I'm having, 'Oh my gosh, how much more can we take?'" she said.
As people transition back to in-person activities and some sense of normalcy, experts said it will be important to maintain routines, focus on things they can control and surround themselves with people they trust.
"We've noticed our vulnerabilities and also our strengths," Wine said. "Collectively, even the strongest of us have had to contemplate that we all have deep-seated need for connection."