Nearly five years after Hurricane Harvey flooded more than 150,000 homes countywide, flood mitigation efforts continue.
As of June, the
Harris County Flood Control District
's $2.5 billion bond program, which voters approved in 2018, was 21.8% complete, according to the HCFCD's monthly report. HCFCD
Executive Director
Tina Petersen said bond projects require time-consuming steps before construction begins, such as feasibility studies, preliminary engineering and design.
"Where we've been focused over the last several years is more on what happens inside the [flood control] district, not the things that we're out wearing hard hats for," Petersen said. "But as we move further into the bond program, more and more of these projects that we've been studying and designing are going to happen."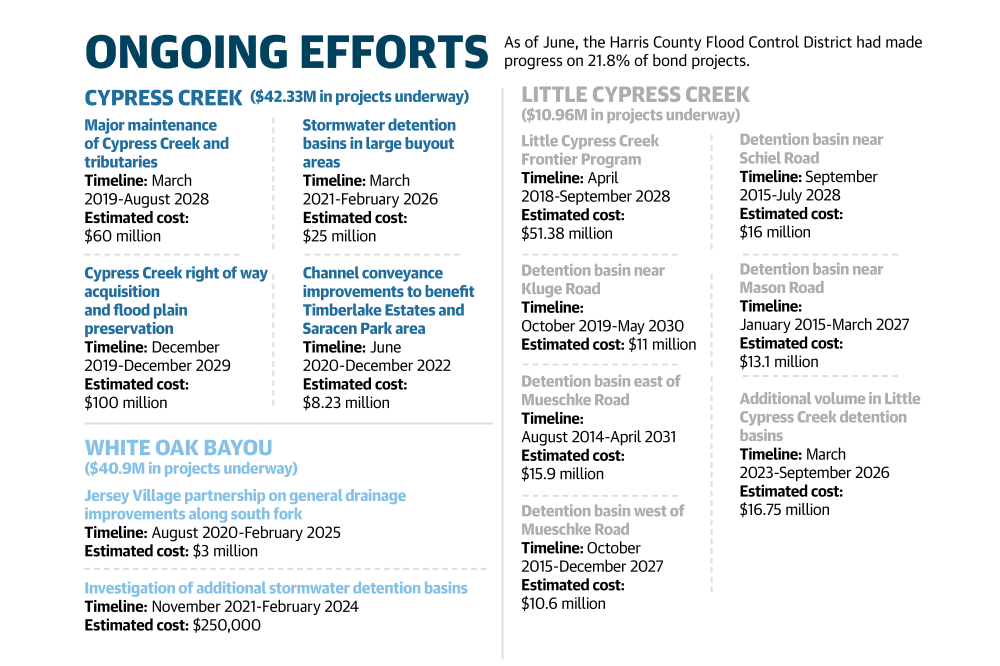 Flood mitigation is underway along
Cypress Creek
and
Little Cypress Creek
as well as in the
Jersey Village
area with more planned as funding becomes available.
To supplement the $2.5 billion in bond funding, which becomes available to the district over time, the HCFCD anticipated receiving an additional $2.5 billion from grants and local partnerships. But in May 2021, the
Texas General Land Office
excluded Harris County from an expected $1 billion in federal funding, leaving the district with a funding gap.
"[The bond] was presented very fairly to people that this $2.5 billion is a lot of money, and we're going to seek matching funds for that, but this is just a step in the right direction. It's going to take much more than that to adequately reduce flooding," said Jim Robertson, the chair of the Cypress Creek Greenway Project, which aims to connect green spaces along the creek and mitigate flooding.
Making progress
One of the first projects executed from the bond was an update of a 2003 regional drainage plan for Cypress Creek. Robertson, who also serves on the board of the
Cypress Creek Flood Control Coalition
, said the local nonprofit advocated for this updated study to reflect the present needs of the community.
The new study was released in early 2020 and recommended about 8.6 billion gallons of stormwater detention be added to the Cypress Creek watershed. An additional 9.8 billion gallons of stormwater detention was recommended upstream for the Little Cypress Creek subwatershed.
Robertson said funding for these efforts was not necessarily included in the bond since the updated study came later, but he was pleased to see $291 million of the bond set aside for Cypress Creek.
"Our view is that Cypress Creek has been underfunded through the decades for addressing the issues that we face in the watershed, and Cypress Creek did get more funding in the bond issue than historically what we've seen," he said.
Another Cypress Creek study was released this year by engineering firm Jones & Carter. It recommended
22 stormwater detention basins
along Cypress Creek between Hwy. 290 in Cypress and the Hardy Toll Road in Spring. The projects are expected to cost $597.1 million over the next several years, and officials are working to identify funding sources.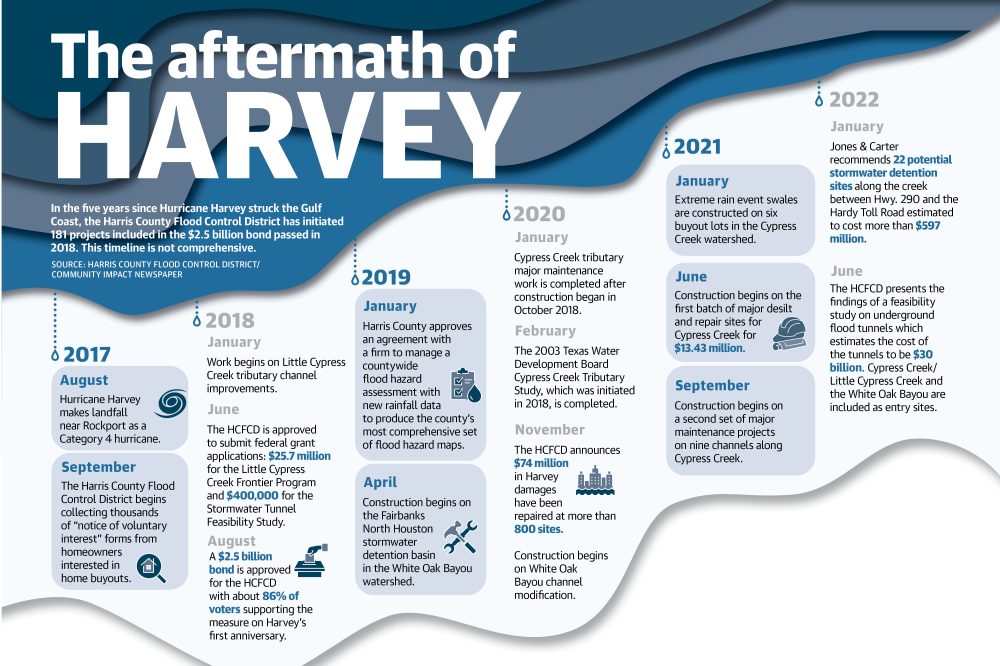 While Hurricane Harvey mostly spared Jersey Village from flooding, the 2018 bond brought an opportunity for much-needed mitigation work in the city, which saw about 235 homes impacted by the Tax Day flood of 2016.
City Manager Austin Bleess said in the aftermath of the 2016 flooding event, the city commissioned a long-term flood recovery plan, which recommended four major projects: channel modifications in the
White Oak Bayou
watershed, a berm around the city's golf course, Wall Street neighborhood drainage improvements and home elevations.
The city has partnered with the HCFCD as well as state and federal partners to fund these projects. Channel modifications are expected to wrap up by the end of this year, Bleess said, and the berm and Wall Street projects were mostly completed in June. The city identified about 160 home elevation candidates, and 21 homes have been elevated so far.
"We're doing our best that we can as a city to maximize what we can do to bring federal funds into Jersey Village to help mitigate future flooding," he said.
The bond also allocated $20 million for a study to determine the feasibility of constructing underground tunnels to move stormwater from flood centers to a larger body of water. The HCFCD completed Phase 2 of the study in June and estimated a system of eight tunnels would cost $30 billion.
The report indicated construction costs for tunnel alignments for Little Cypress Creek and Cypress Creek and for White Oak Bayou could cost around $3.63 billion and $2.45 billion, respectively, stating they would take around five to six years to build.
"[A] tunnel would capture that water farther upstream and move it down through that section where the greatest amount of flooding has happened and provide some flood relief," Robertson said.
Innovative solutions
Local community group
Cypress Creek Flooding Task Force
is seeking to fight flooding in the watershed by creating a new drainage district. The district would be on the ballot for voters in the November 2023 election since the earliest the district could be submitted as legislation for discussion is in the upcoming 88th Texas Legislature, which starts in January.
The drainage district would use property taxes and government funding to build the 22 stormwater detention basins included in the Jones & Carter report, task force Project Chair Calvin Cobb said.
"About 10% of ... [the] Harris County [population] is in the Cypress Creek watershed," he said. "If you can get all of them involved in some kind of modest tax rate, then you can generate enough money to help with the build-out of these detention sites."
In June, task force President Glenn Wilkerson estimated the drainage district's tax rate would be about $0.10 per $100 valuation.
In Jersey Village, City Council approved the creation of a tax increment reinvestment zone in 2021 to help facilitate the purchase of homes that have repeatedly flooded to be torn down, allowing for new homes to be built. Bleess said this approach is not something he has seen elsewhere, but it will promote the redevelopment of a flood-prone portion of the city.
"[Flood mitigation is] a problem that takes every level of government to try and solve, but as we all know, the weather patterns have changed and are changing. And as we see more intense rainfalls, that certainly is going to impact our area as a whole," he said.
Fighting for funding
The HCFCD continues efforts to close the partnership funding gap, Petersen said. As of June 28, the district had secured $1.275 billion in partnership funding, needing another $754.2 million.
The
U.S. Department of Housing and Urban Development
approved a GLO amendment to allocate $750 million to Harris County in March following opposition to the decision not to award funds. According to David Berry, Harris County administrator and budget officer, the county is in the negotiation and allocation process for the $750 million.
"We believe that both Harris County and the city of Houston should receive at least $1 billion each for [flood] mitigation," Berry said in an email. "Although [$750 million] is short of our unmet need, we look forward to investing those funds in much-needed, shovel-ready projects as soon as possible."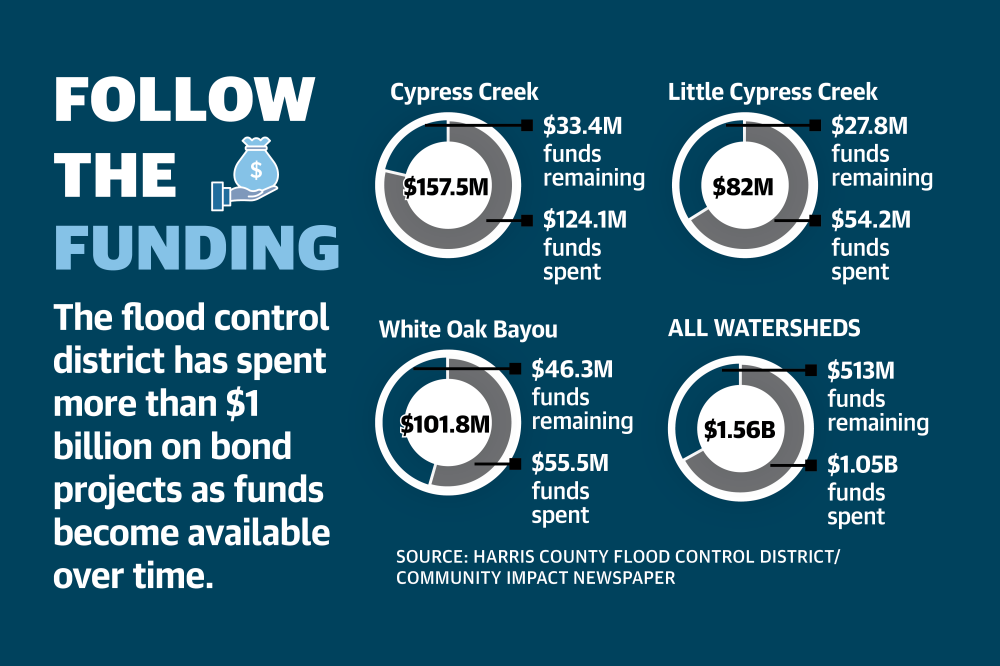 Another way the district is bridging the gap is through the $834.2 million
Flood Resilience Trust
, which Commissioners Court approved in June 2021. Petersen said the trust is designed to fill project needs when partnership funding is not available. Funding for the trust comes from reimbursements from the state and federal government as well as money left over from completed bond projects and county mobility funds
.The HCFCD reported in late June no 2018 bond projects had been delayed due to a lack of partnership funding but that funding from the trust would be needed to avoid future delays in certain projects. With $124.9 million in bond funds available from the trust, the bond program can run for the next year, according to county documents.
Additional funding for the HCFCD was not part of the discussion in a potential county bond issue in November, but Petersen said the initial $2.5 billion in bond funding and efforts to secure $2.5 billion in partnership funding should be sufficient to execute the 2018 bond projects despite rising costs.
"One of the things that we have in the works is a process to make sure that the cost estimates that we have on paper are going to be accurate because we do know that costs are going up," she said.