Victor Hebert said his family first came to the Carverdale area in the 1940s, and many of his neighbors have owned property there for generations.
This summer, dozens of those neighbors gathered in protest of a landfill expansion proposed just across the street from Hebert's home. Residents stood at the corner of Gessner and Tanner roads chanting "No more dumping; Carverdale matters."
"As long as that place is over there, that means the value of these homes is almost at zero," Hebert said.
Waste Management of Texas filed a permit amendment application in February to expand Hawthorn Park Landfill, which has been in operation for decades, according to Director of Public Affairs Lisa Doughty. She said the permit review process has no set timeline.
If the Texas Commission on Environmental Quality approves the permit, the landfill's disposal area would increase by 32%, and its elevation limits could grow up to 63% higher. Waste Management officials said these steps would extend the site's life by at least 46 years.
"The skyline out here will be dominated by trash," Hebert said. "When you wake up in the morning, [you see] the trash and the stench that goes along with it. Construction debris over time, it stinks; it smells; it fills
with rats, all kinds of things. And the chemicals from the items ... it does get into the environment."
The landfill accepts construction and demolition material, including concrete, brick, dirt, asphalt, wood, drywall and rock, which environmental experts said could present health hazards to those who live nearby. However, it is not permitted to accept household garbage or trash from commercial businesses.
State agencies encourage the expansion and redevelopment of existing waste sites as opposed to the creation of new facilities, officials said.
More than 250 public comments opposing the plan have been submitted as of late September. Residents expressed concerns about their health, property values, increased traffic and debris, potential water contamination and a lack of transparency from Waste Management.
But Doughty said Waste Management has followed the appropriate steps throughout the process, and she believes many of these concerns are not based on facts.
"There's been a lot of misinformation, and that's our biggest challenge is that [residents] make statements that are not true," she said. "We are held to a very high standard by Harris County Pollution Control, the TCEQ, the [Environmental Protection Agency]. We have random inspections all the time, and if you look at our records, you can tell everything that we've submitted [is] within compliance."
Site plans
The Hawthorn Park Landfill started as a 10-acre site in 1977. It expanded by another 30 acres in the early 1980s and grew again in the mid-'90s to 171.6 acres. Waste Management took ownership in 1996, and the landfill has operated at that size since.
Officials said the proposed expansion would be contained within the existing site boundary. Waste Management would terminate the leases of a concrete recycling company as well as a composting and mulching facility, which have operated on-site since 2006 and 2014, respectively.
"We know that you can't pick up a landfill and move it across town. Because of the technology that you build into the site, you just can't do that," Doughty said. "This facility has the opportunity to use more of the space within the permitted boundary, and we're trying to make the highest and best use of that space."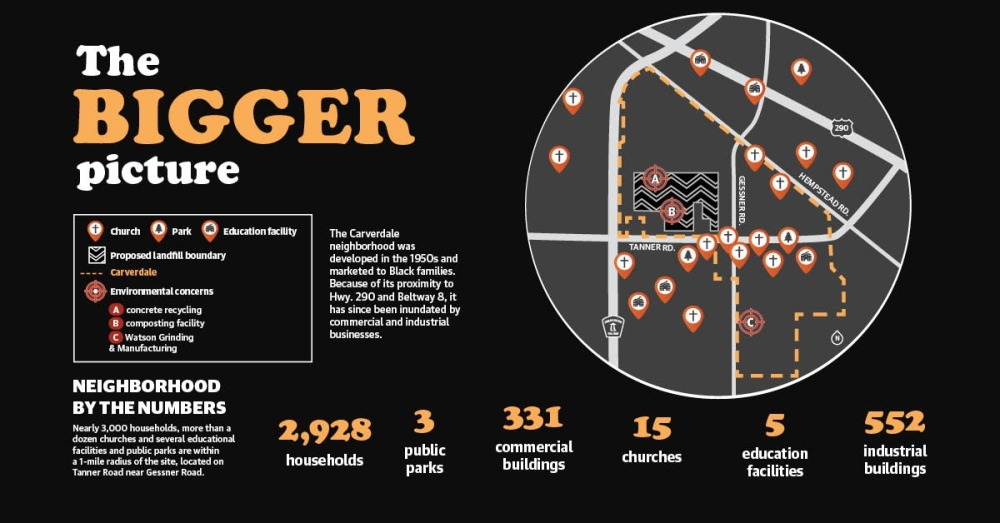 The site accepted an average of 222,000 tons of waste annually between 2012-16, but Doughty said activity was limited over the last four years while the engineering and analysis for the revised permit was ongoing.
Waste Management estimates the site will receive 150,000 tons and 200,000 tons, respectively, in the first two years of the expansion. That number would grow by 1.2% every subsequent year until capacity is met at about 340,000 tons, according to the permit application.
"[Hawthorn Park Landfill] meets or exceeds the standards for protection of human health and the environment required by law. The TCEQ is currently reviewing the proposed expansion to ensure it complies with all regulatory requirements," Waste Management officials said.
Community considerations
According to a land-use analysis, about 62% of the land within a mile of the site is for industrial and commercial uses while 12.5% is residential space. The radius includes 2,928 households, 331 commercial buildings and 552 industrial buildings.
Carverdale resident Iesheia Ayers-
Wilson said increased truck traffic is a concern. A widening of Tanner Road is included in the Houston-Galveston Area Council's 2045 Regional Transportation Plan, although no timeline has been established.
The Texas Department of Transportation reports about 17,000 vehicles travel the stretch of Tanner between Beltway 8 and Gessner Road daily, and Waste Management projects the landfill will contribute about 130 vehicles to that count. Property values in the historically Black neighborhood are also a concern, Ayers-Wilson said.
"What value is it bringing? You bring a landfill to a community, and our property values go down but your property value in your neighborhood is still going up," she said. "It's only in the Black and brown communities. Go put it in River Oaks, Memorial, Spring Branch, Kingwood ... and tell me how they like it."
According to the Houston Association of Realtors, the median appraised value of homes in Carverdale was $90,035 in 2020. Directly northwest of there, Jersey Village's median appraised value was about $240,000.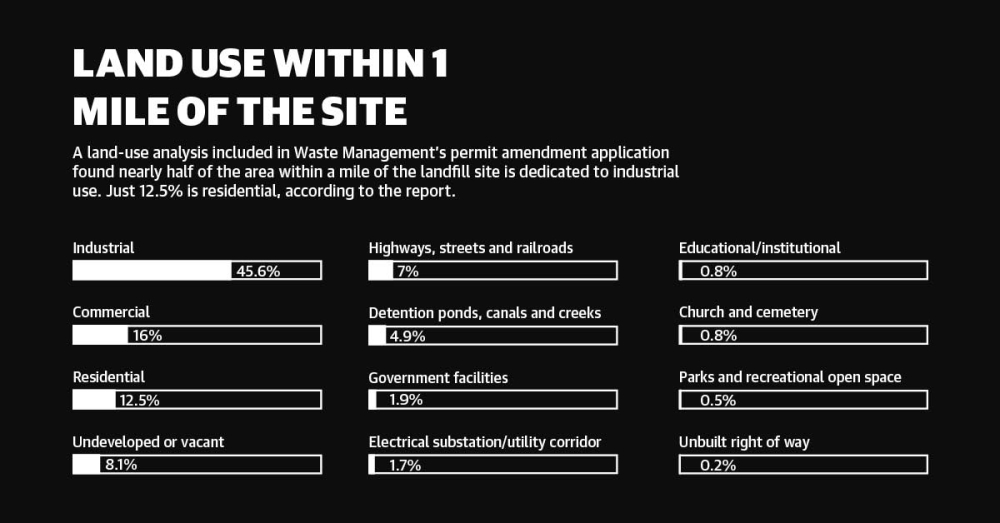 Anthony D'Souza, policy and research coordinator with the environmental justice nonprofit Air Alliance Houston, said low-income and minority communities tend to face higher risks of environmental hazards because residents lack the resources to adequately advocate against them.
"The health impacts are multiplied because it's not just one facility. ... It's a variety of polluting facilities all emitting a variety of polluting substances all within very close proximity," he said. "So, you have things like asthma clusters [and] cancer clusters within these minority communities."
Many Carverdale residents were also affected by the propylene tank explosion at Watson Grinding & Manufacturing in January 2020, for instance. The incident damaged homes and other structures near the Hawthorn Park Landfill.
Resident opposition
Calvin Smith, pastor at St. James Missionary Baptist Church, said the landfill and businesses operating on-site produce odor, chemicals and dust. "It's not like I moved into this neighborhood knowing it's a dump. I've been out here all my life, so [Waste Management] wanting to open a dump next to me, that's not fair to me," Smith said at an Aug. 21 protest.
D'Souza said the dumping of construction and demolition materials can release particulate matter—tiny particles that can have harmful health effects. Exposure over time can contribute to respiratory issues, heart and lung diseases, and can affect lung development in children, he said.
In addition to health effects, D'Souza said stormwater runoff from landfills could be polluted. Drainage improvements are included in the permit amendment, and the runoff that drains to Tanner Road would flow to a detention pond on-site if the permit is approved.

Carverdale resident Pamela Roberson received a letter about the proposed expansion this spring but said many residents were not notified. Waste Management has met all required postings since submitting the application in February, according to the TCEQ, and more than 200 landowners were notified via letters mailed in April. Residents had a town hall meeting with Waste Management soon after.
"We didn't like their response to us. It was like, 'What do y'all want us to do for y'all?' Like to say, 'Can we give y'all something to shut y'all up,' so to speak. And we weren't going for it," Roberson said.
Doughty said Waste Management has a long history in the Carverdale community and has contributed to park beautification efforts, donated school supplies, funded after-school programs and, most recently, hosted a document shredding event at which officials shared about the proposed landfill expansion.
"We know people do not like the landfills in their community, but what I would say is that if you want to have a partner, Waste Management is a good one," she said. "I would challenge any of the residents in the Carverdale area or even at one of my other landfills, if you talk to them about any other commercial businesses and what they do for the community—we try to get very involved and engaged, and we want to be transparent."
Local support
D'Souza said residents looking to keep landfills out of their neighborhoods have few options—partially due to the lack of zoning laws in Houston—but garnering support from elected officials and requesting both public hearings and contested case hearings can help.

"In Texas, and especially Houston, the odds are really stacked against communities for a number of reasons," he said. "The burden of knowing about these permits is largely placed on the residents, and oftentimes by the time residents realize, it's too late because the public participation window is really short."

Houston City Council Member Amy Peck submitted a letter this summer to the TCEQ requesting additional air monitoring and boundary reductions. She also connected residents with state Sen. John Whitmire, D-Houston, who said residents never wanted the landfill in the first place.
"The state of Texas' leadership, ... going back to every governor I can think of, prides themselves in less regulation than other states, so you kind of get what you ask for if you're not careful," he said.
Harris County Pollution Services expressed concern in a June 2 letter to the TCEQ, recommending the landfill's maximum elevation level not be raised by "the equivalent of a seven-story building" and more gas-monitoring devices be added. Harris County Precinct 4 Commissioner Jack Cagle said while the county does not have jurisdiction of the issue, he has ensured the county health department's involvement, and his office confirmed engineering regulations have been followed.
Erin Livingston, principal planner with the H-GAC, said her organization has no regulatory authority over landfills, but she reviews permit applications to determine if they align with their regional solid waste management plan. Findings are submitted to the TCEQ, but recommendations are not necessarily incorporated into the final decision.
Objectives in the plan include encouraging the expansion of existing sites over new facilities, among other goals. At an Aug. 17 meeting, the H-GAC's board of directors deemed the proposed expansion was consistent with this plan, and officials noted Waste Management's efforts to "minimize the impact to the surrounding residences in several ways."
"It's always hard. Nobody wants a landfill near them," Livingston said. "If we could not have landfills, that would be great, I guess, but that's not the case at this point in time."