Discipline reports in Cy-Fair ISD increased by approximately 224% over five years from 2017-18 to 2021-22. Mental health experts said the stress and trauma students faced in recent years compounded with the continued uncertainty of the pandemic may cause them to act out.
District administration is taking steps to address the rising behavior concern and support students' mental health.
Superintendent Mark Henry acknowledged the increase in behavioral issues during the June 13 board meeting and discussed the district's desire to alleviate the problem heading into 2022-23, the fourth school year affected by the pandemic.
"Probably the biggest concern we had this year on campuses [was] discipline, which we're going to take a much more hands-on approach this year. ... We're going to start off the year making sure the year goes much smoother," he said.
CFISD's board of trustees approved $6 million in June in the 2022-23 budget to hire either a behavioral interventionist or a testing coordinator for each elementary and middle school campus. Principals will choose based on their school's needs, so campuses dealing with discipline issues can receive additional support.
District officials said these behavioral interventionists will collaborate with teachers to foster a learning-centric environment and model effective classroom management strategies to assist teachers in managing student behavior as outlined in CFISD's student handbook and code of conduct.
At the June 13 board meeting, CFISD teacher Danielle Cockrell spoke about the rise in student conduct issues in the last year and the need to address them.
"Student behavior was out of control this past year," Cockrell said. "Students knew administrators were limited to what they were allowed to do, and they did as they pleased."
Behavioral problems
In the 2021-22 school year, 28,723 students were disciplined in CFISD, about 25% of students. The discipline record count was 156,069, which translates to an average of 5.4 incidents per disciplined student.
Disciplinary infractions can range from being tardy to class to controlled substance and weapon possession. Consequences for each situation are outlined in the student handbook, serving as a road map for teachers to maintain order in the classroom, and they can range from a written or verbal correction to expulsion to the Juvenile Justice Alternative Education Program. In 2021-22 alone, there were 35,459 in-school suspensions and 14,060 out-of-school suspensions.
District officials cited learning loss and absenteeism as contributing factors to the disciplinary issues and contention points throughout the year. Henry noted a trend of increased absenteeism during the June 9 work session. Following the return to in-person learning, attendance in CFISD dropped from 95.4% in 2017-18 to 92.6% in 2021-22.
"I'll be honest with you: I think not in Cy-Fair ISD, but across the state and country, after COVID[-19], I think parents were just more willing to take a vacation during the school week," he said. "I think there was more of that. Attendance didn't seem quite as important when you were online as [when] you were in person."
In her comments to the board, Cockrell noted teachers also faced added pressures due to the ongoing pandemic and high absenteeism among students. The district reported 999 teacher resignations in 2021-22. This 12.1% resignation rate is up from 8.4% in 2017-18.
Cy-Fair High School student Samantha Reimers finished her eighth-grade year and entered high school during the height of the pandemic when classes were at least partially operating online. She said it was easier for her to complete her assignments from the comfort of her home.
"You never had to get ready to go to school. A lot of kids, they would roll out of bed and just go to school in their pajamas and not turn their cameras on," Reimers said.
In addition, Reimers said the return to in-person learning was made with limited social interaction at school. She said she believes this negatively impacted how students handled social scenarios, often reverting to violence.
"There were a lot more fights, I guess, and a lot more [tension] between people because they weren't as accustomed to the situations that they were in," she said.
Mental health effects
Tiffany Priska is a licensed professional counselor who owns Cypress Therapy and Counseling off Cypress Rosehill Road. She said she has seen an increase in social anxiety and adolescents acting out as a result.
"They can't articulate emotion like adults can; their brain is not fully developed, and so oftentimes they don't have the verbal capacity. They just don't know what those emotions are. So instead of saying, 'Oh, I'm really stressed,' or, 'I'm having anxiety,' they might have a behavior issue," she said.
While the pandemic exacerbated issues for many students, Stephanie Peterson, a training and education specialist with Texas State University's Texas School Safety Center, said students were already susceptible to high levels of stress before the pandemic.
"Stress was something that was an epidemic to students even prior to COVID-19," Peterson said.
The Centers for Disease Control and Prevention reported in 2019 more than 1 in 3 high school students experienced persistent feelings of sadness or hopelessness.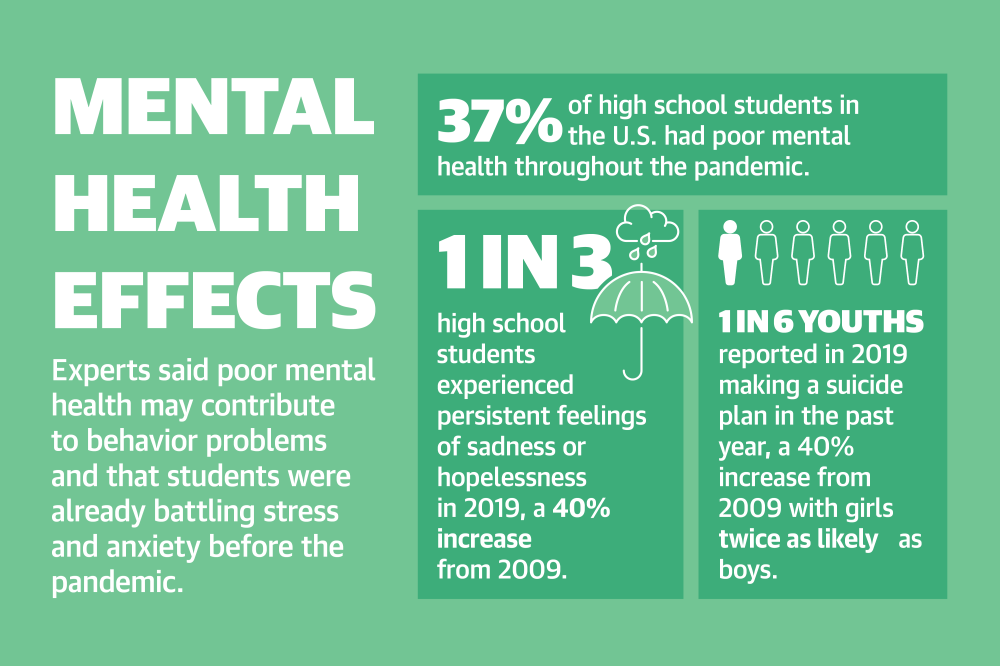 With high levels of stress already present, children of all ages saw their stress levels rise exponentially as the pandemic upended their social and personal lives, Peterson said. Students lost a sense of security as the constant of school was stripped away, and some experienced the loss of family members or friends to the virus.
"And this means that for some of these young people, they're experiencing real trauma," Peterson said. "And so then you add in ... the potential learning loss and skill deficit—they may be behind where everybody else is and feeling overwhelmed and not even know how to ask for help or believe they can catch up academically."
Reimers said she believes the insecurities and fears she and her peers faced during the pandemic left them isolated and unaware of how to ask for help or resolve issues in a healthy manner, which may have contributed to more students acting out at school.
Priska said these effects trickle down to younger children as well.
"We are now seeing kids who are struggling with social anxiety at a very young age," Priska said. "They're 3 and 4 and 5 years old, and they are experiencing social anxiety, some of them still co-sleeping with their parents and not even wanting to sleep in their own room because they are so attached to their family because they grew into that."
Handling discipline
District officials said disciplinary issues are handled according to procedures outlined in the CFISD student code of conduct.
While all students are expected to abide by the student code of conduct, campuses approach discipline differently depending on grade levels and other factors, according to Assistant Superintendent for Student Services Ify Ogwumike.
"Each campus has its own unique needs regarding discipline, so what we've done this year is try to tailor our support," Ogwumike said. "What we provide is support and guidance; the principals ultimately make the final decision regarding discipline, and we support and guide them."
Reimers said she believes students may have become more comfortable with misbehaving due to their knowledge of teachers' limited ability to directly discipline them. According to the student code of conduct, teachers can issue verbal and written warnings, tardies, or send students to the principal or assistant principal.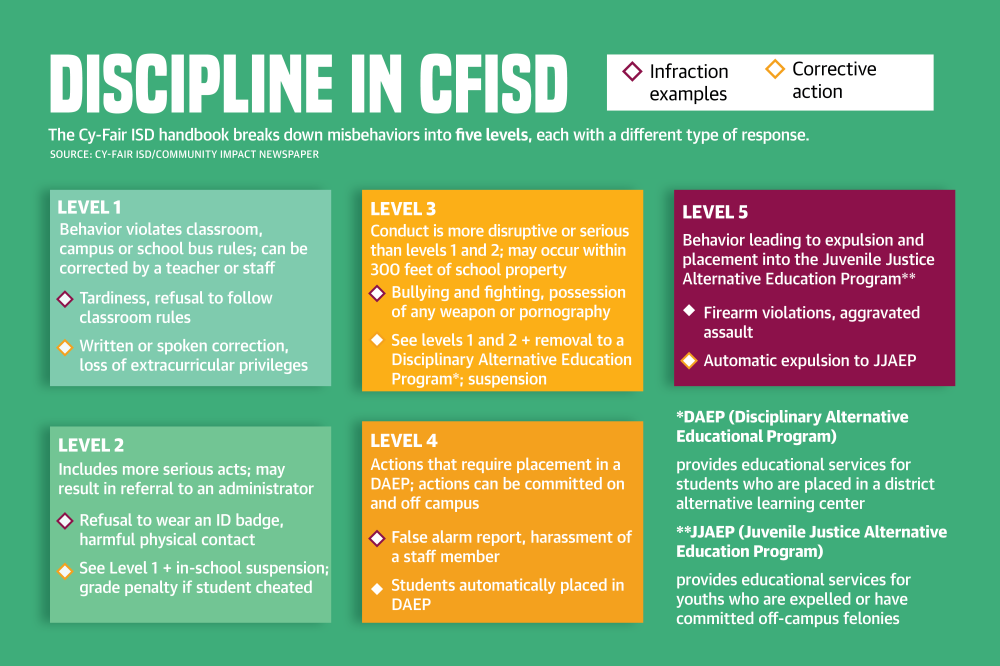 Offering support
Peterson said she encourages school districts to ensure they approach behavioral issues with an understanding of the circumstances children face.
"I think it's important that there is a comprehensive and holistic approach to behavioral issues and to discipline," Peterson said. "But to also really emphasize that we need to do what's best for each student, each individual, because what's best for one student may not be what's best for the other."
CFISD has 309 employees dedicated to counseling and support for more than 118,000 students. This includes the four-person Mental Health Intervention Team, which works at all district levels to promote and support the mental health of students and staff through prevention, intervention and safety.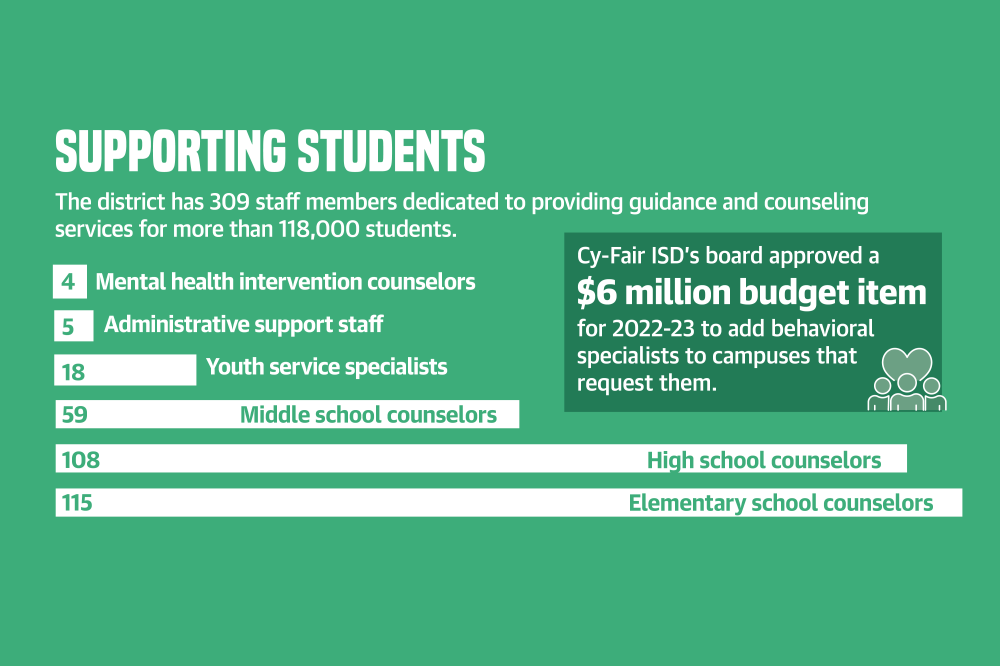 CFISD Chief of Staff Teresa Hull said officials are working to provide teachers with more enforcement power.
"At the beginning of the year, we were hopeful that we were going to be able to allow that transition of getting kids back into structured environments and work with them and keep them in school. That was our goal: keep them in school; keep them in class. But the disruptive behavior was just not being effective, not improving learning," Hull said during the June 9 board work session. "And so we modified that approach and really supported [the teachers] in being able to remove those disruptive students."
Peterson said consistency in discipline can be helpful but emphasized the importance of addressing each student as an individual.
Two different kinds of discipline can be used together to create a structured and nurturing learning environment. According to Peterson, restorative discipline focuses on teaching children whether behaviors are acceptable in a nurturing way, while punitive discipline is a punishment for doing something against the rules.
Priska said she believes it will take society years to overcome the effects of the pandemic, and adults should empathize with youth who have dealt with that hardship.
"I think we need to expect different things from kids than we expected two or three years ago," she said. "They just aren't as mature and they just aren't as able to communicate their feelings, so we should also teach them about emotions and how to express emotions appropriately."