After working for Cy-Fair ISD for years, a group of local retirees continues to stay active in social, charitable and legislative efforts. The Cypress-Fairbanks Association of Retired Employees is an affiliate of the Texas Retired Teachers Association and welcomes retired local teachers, counselors, bus drivers and other school staff.

President Becky Riley, who worked as a school counselor, said the organization's mission is to improve the lives of retired school personnel. The group provides a venue for retirees of one of the region's largest employers to connect beyond their employment with the district.
"We learn about each other's families, and we're there to support each other if there is a problem," Riley said.
Cy-FARE was founded in 1998 by CFISD campus namesakes Jan Aragon and Charlie Goodson with an average attendance of 10-15 members. Riley said the organization had more than 500 members ranging in age from 50 to over 90 in 2020-21, when meetings were held via Zoom.
Members will resume monthly in-person meetings Aug. 26 at the Steve Radack Community Center. In addition to socializing and hearing relevant legislative updates, members hear from speakers on topics such as gardening and crafts, trusts and wills, healthy living, membership benefits and local resources.
Giving back to the community is another key aspect of Cy-FARE's mission. Members hosts book drives, school supply drives and food drives in partnership with local nonprofits including Cy-Hope, Reach Unlimited, Cypress Assistance Ministries, Cy-Fair Helping Hands and the Cy-Fair Educational Foundation. Riley said Cy-FARE also supports active teachers.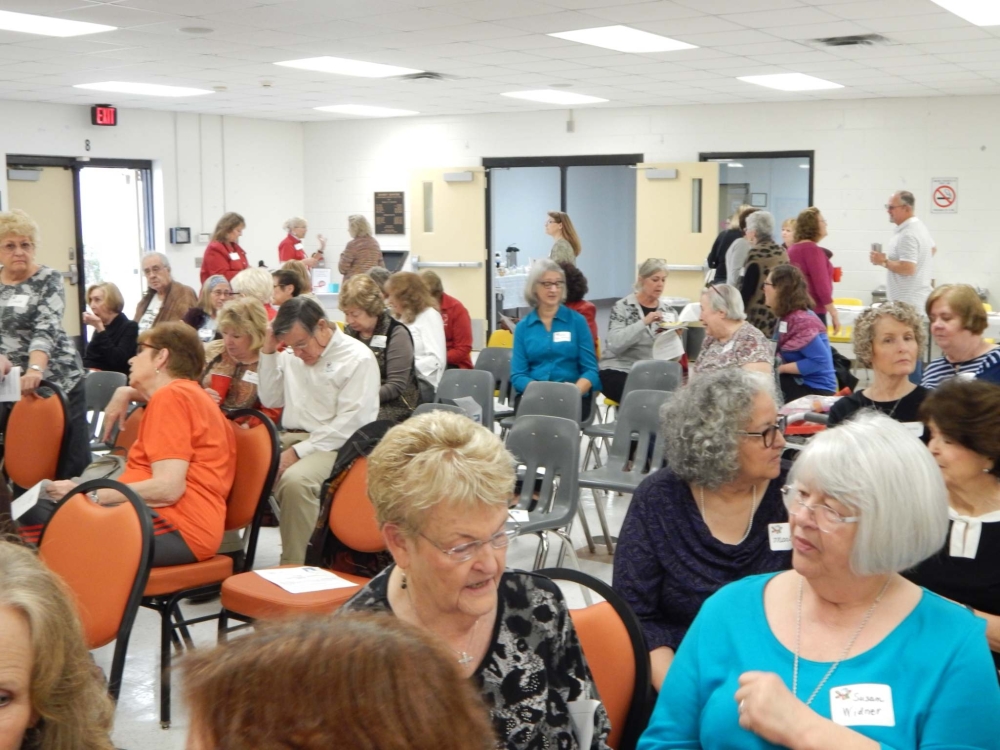 Members pay $45 in dues annually—$10 of which goes to the local chapter and funds initiatives such as sponsoring new teachers' classroom supplies.
"A beginning teacher has nothing but what she buys for herself, so this helps out a lot," Riley said. "We all support education, and we all support helping young teachers to have a good career, to stay with it and continue their work."
The remaining $35 goes to the TRTA. Cy-FARE Second Vice President Diane Garland said the statewide organization uses these funds to keep members informed on legislative activity that affects retired school district employees.
In Texas, retired educators are paid based on their length of service and an average of their highest years of salary. They do not receive Social Security benefits, and those who have retired in the last 17 years have not seen a cost-of-living increase on that annuity, Riley said.
Garland said she worked in public education for 43 years, working her way up to serve in a district-level position by the end of her CFISD career, so she continues to receive a decent paycheck. But other retirees continue to work because they cannot afford expenses ranging from haircuts to medications and home repairs.

Cy-FARE and retired educators across the state advocated for the Texas Legislature to approve a cost-of-living raise this summer through a letter-writing campaign. While that measure did not ultimately pass, Riley said she is hopeful the governor's proposal of providing retired school district employees a one-time supplemental payment is approved during the special session.
"People that worked 20, 25, 30 years, they're getting $1,000-$1,500 a month, and you can't live on that," Garland said.
Prospective members can apply at www.trta.org. Upcoming meetings will take place at the Steve Radack Community Center, 18650 Clay Road, Houston, at 9:30 a.m. on the following dates: Aug. 26
,

Sept. 9

,

Oct. 14

,

Nov. 11

and

Dec. 9.