"Now hiring" signs are posted outside restaurants across Cy-Fair, from locally owned eateries to fast food chains. Employers are incentivizing applicants actively searching for jobs.
Local restaurant owners said they are shocked people are not taking advantage of the surplus of job openings, some requiring no experience, as they recover from a global pandemic.
The Gulf Coast Workforce Board, the public workforce system in the 13-county Houston-Galveston region, found food preparation, operation and servers had the second-highest job demand among all industries in February.
About 20,573 food industry jobs in the region, including servers, food preparation workers and various positions in fast food chains, were open at the time. The restaurant industry is struggling to stay afloat and cater to the high volume of customers coming in as COVID-19 vaccines availability is more widespread, local business owners said.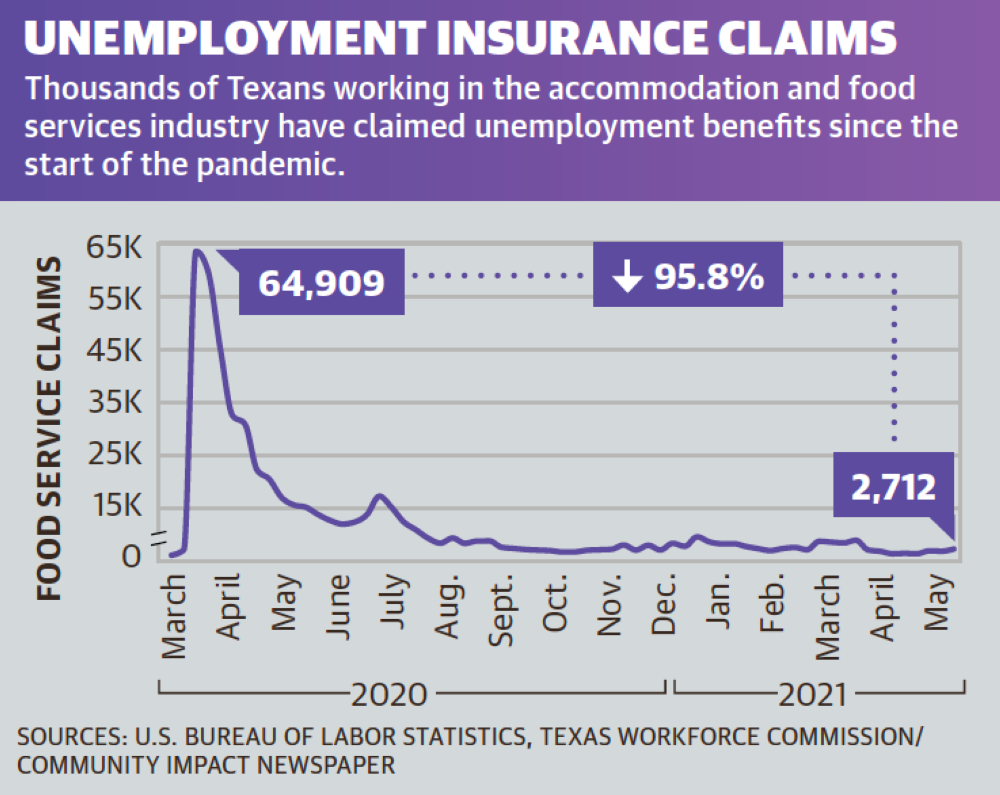 Even with a $250 signing bonus incentive for employees that stay longer than 90 days, Mia's Table Manager Alicia Valdivia said she cannot find enough workers to open the new Cypress location on Fry Road. Valdivia said she believes Mia's Table is not drawing in workers because they are unmotivated to return to work, especially if they have been receiving unemployment benefits.
North Houston Association President Marlissa Briggs said applicants will schedule interviews for serving positions but not show up so they can collect unemployment.
"They're having to recruit some of their family in to help whenever they have shortages, and I know that they spend a whole lot of time setting up interviews and planning for teams, and then when the people don't show up for those interviews or don't show up for their first day of work, then they're back to square one," Briggs said. "I can only imagine the frustration that they have."
Unemployment factors
Gov. Greg Abbott announced to the U.S. Department of Labor on May 17 that Texas would be opting out of federal unemployment compensation related to the COVID-19 pandemic effective June 26, which includes the expiration of a $300 weekly supplemental benefit. Abbott said in a May 17 news release that Texas is seeing a booming number of job openings.
"According to the Texas Workforce Commission, the number of job openings in Texas is almost identical to the number of Texans who are receiving unemployment benefits," he said in the release. "That assessment does not include the voluminous jobs that typically are not listed, like construction and restaurant jobs. In fact, there are nearly 60% more jobs open—and listed—in Texas today than there was in February 2020, the month before the pandemic hit Texas."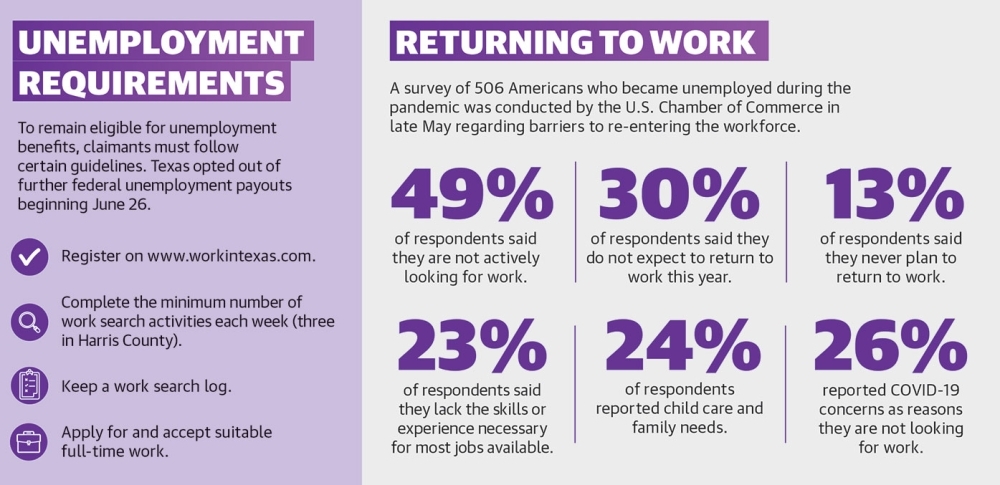 Additionally, Abbott's decision was also influenced by the fact that, according to the governor's office, about 18% of filed unemployment benefits were found to be fraudulent.
Abbott said as the state reopens to 100% capacity, he believes the focus should be on helping unemployed Texans find employment in one of the state's many job openings. However, Jonathan Lewis, senior policy analyst with Every Texan, said taking away unemployment would only harm those who rely on it. Every Texan specializes in strengthening public policy to give Texans equitable access to health care, education and jobs.
"I think it's kind of a short-sighted strategy to cut off these resources when people have that money coming into their pockets," Lewis said. "They're then able to continue to buy the goods and services that support businesses, and so you know, it's kind of like shooting yourself in the foot if you're going to cut off these federal benefits while people are still trying to find employment that is suitable for them."
He said populations of Texans who live off these benefits will see the effects more than others. He said workers of color, women with child care issues, veterans and even senior citizens will struggle with less aid.
Another issue facing a return to the workforce for some unemployed workers is salaries not meeting the needs of workers to afford basic things, such as child care or health insurance. In Harris County, the average family of four needs to bring in $6,084 monthly to afford housing, food, transportation, health care and other necessities, according to the Economic Policy Institute, a nonprofit, nonpartisan think tank that considers the needs of low- and middle-income workers in economic policy discussions.
"Wages really benefit society as a whole, so seeing workers be able to kind of negotiate wages up is a really good thing for everybody," Lewis said.
However, the state's minimum wage has remained $7.25 for more than 10 years, while the national average has increased to $9.21 since 2010, according to the U.S. Bureau of Labor Statistics.
"I think it's really important to think about who is being impacted by these cuts, and it's really our most vulnerable Texans," Lewis said.
Local business reactions
The Union Kitchen is another Cypress restaurant looking to hire employees for every position, General Manager Anthony Messina said.
"Every restaurant is fighting that battle," he said.
The business needs about 70 employees to run effectively, Messina said, but as of June 9, the eatery only had about 53 on staff. He said he has used social media and job websites to promote open positions.
The Union Kitchen has been looking to hire since Abbott opened business capacity statewide to 100% in March. Despite using online sources, the restaurant is struggling to recruit applicants.
"We were completely staffed up for the 50% capacity," Messina said. "And when he [opened up to 100% capacity] and they extended unemployment on top of it, it hurt [us]."
At Mia's Table in Cypress, Valdivia said she had planned to open by the end of June. However, she said if the eatery cannot meet its goal of hiring at least 30 workers by the estimated opening date, then it will have to push back the opening date again. Mia's Table has not opened as of press time June 24.
To cover more tables with a smaller staff, Marty Wadsworth, vice president of marketing at Willie's Grill and Icehouse, said the restaurant switched over to a digital ordering system combined with servers bringing out food to the tables for faster turnover rates.
"Our team members during the last six months here ... are averaging over $20 an hour right now simply by picking up more tables," Wadsworth said.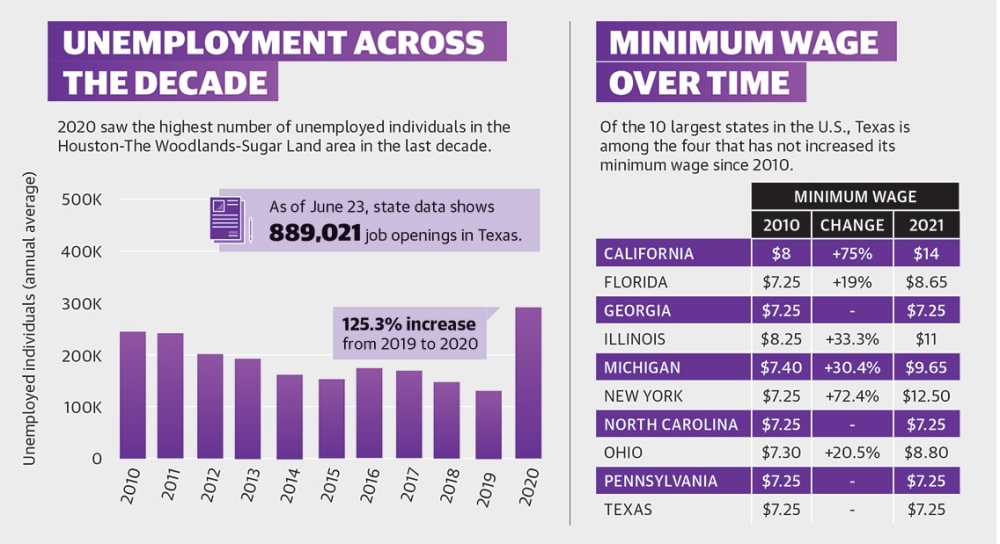 Potential solutions
Melissa Stewart, executive director of the Texas Restaurant Association, said hiring bonuses and referral bonuses are common when trying to recruit more staff members at restaurants.
In the meantime, restaurants have taken many measures to ensure their business stays afloat, including closing for a few extra days or changing their hours of operation.
While some are eager to return to the workforce, the challenges of finding good child care for single parents is still weighing on families, Stewart said. Employment may resume at a normal rate when schools and day cares open up in the fall to give those parents a chance to work, she said.
Meanwhile, Janet Ryan, director of development for local nonprofit Cypress Assistance Ministries, said their Operation Jobs program helps individuals prepare for interviews, rewrite resumes and refine presentation skills.
The one-on-one program aims to help individuals in job readiness, and most of the jobs in high demand are those that require little to no previous experience or credentials, Ryan said.
In the meantime, Stewart said she encourages restaurateurs to highlight the benefits of working in the industry, such as flexible hours, competitive pay, a great starting job for high school or college students and a reliable second job when needed.
"We're great for somebody who needs that extra little income," she said.
Hannah Zedaker contributed to this report.