Elderin Berisha said his primary goal at Trattoria Pizza & Pasta is making customers feel at home.
"If you come here on a Friday or a Saturday night, you'll see all the customers know us," he said. "We know their names; we talk to them; we sit with them. It's like a family. I want to try to make you comfortable when you come here. We know what you order, and we pay attention to the details."
Berisha is nine years into his career working with his family's business, which he said launched in 2005 and has six other restaurants in Tex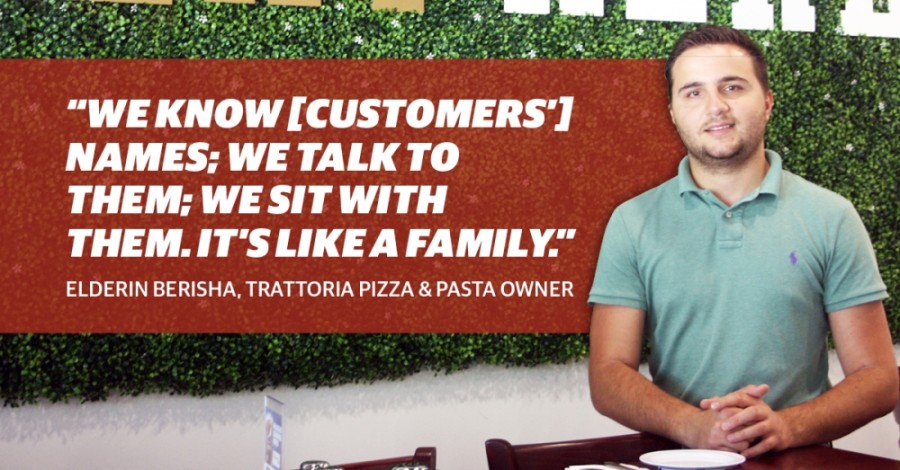 as and Louisiana. Trattoria, which celebrated one year in business at the end of August, is the first Houston-area location for the Albanian-Italian family.
Popular dishes include firebrick oven-baked pizzas, shrimp modo mio and the tour of Italy, which invites diners to try classics including an eight-layer lasagna, chicken Alfredo.
"We have plenty of options, but those are what I would say what people love most here," he said. "Our thing is every day it's fresh—pastas, sauces and everything."
Berisha said he prides himself on Trattoria's competitive prices and compliments from customers regarding the quality of food and service. Despite challenges brought on by the COVID-19 pandemic in his first year of business, he said he is pleased with the community support the restaurant has received.
Trattoria offers dine-in service, takeout and delivery through Uber Eats and DoorDash. Catering services are available for large groups.
Most regular customers come from nearby neighborhoods, but Berisha said he has received requests to open a second location in Spring or Katy, which he hopes to pursue in 2021.
---
10211 Cypresswood Drive, Ste. 300, Houston. 832-478-9482.
www.trattoriapizzapasta.com
Hours: Tue.-Thu., Sun. 11 a.m.-9 p.m., Fri.-Sat. 11 a.m.-10 p.m., closed Mon.