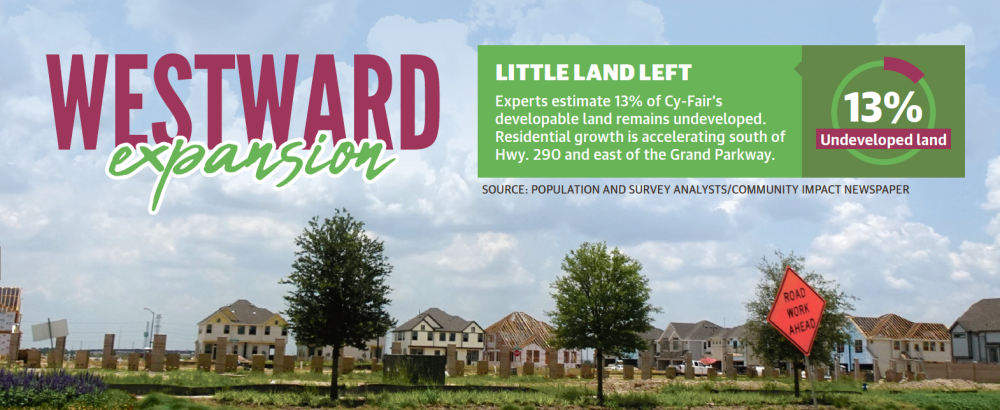 Since the local portion of the Grand Parkway was completed about five years ago and improvements along Hwy. 290 wrapped up last year, developers have accelerated construction of master-planned communities in the western portion of Cy-Fair ISD.
"We actually have residents that reside within Bridgeland where one of the family members might work in the Energy Corridor [and] the other one works up in The Woodlands or in Springwoods Village with Exxon," said Heath Melton, executive vice president of master-planned communities, residential, for Bridgeland developer Howard Hughes Corp. "That's all key to our selection [of] a location."
Another 18,637 single-family homes are expected to be built within CFISD over the next decade, according to a report released in March from Population and Survey Analysts, demographers who consult with the school district on where potential future school sites will be needed.
CFISD Chief Operations Officer Roy Sprague said district officials decide when and where to build new campuses based on enrollment projections and insight from local developers.
"With CFISD being more than 80% fully developed within its boundaries, acquiring land will become a significant challenge in the future," he said. "However, the district has already purchased future school and support sites based upon five- to 10-year enrollment projections."
Bridgeland, Marvida, Dunham Pointe, Bridge Creek and Towne Lake are the master-planned communities forecasting the most single-family home development in the coming years.
Archie Dunham, a former energy executive who also developed Stone Creek Ranch in Hockley, purchased 1,327 acres of land south of Hwy. 290 between Mason and Mueschke roads in 2007 as the future site of Dunham Pointe.
In addition to connectivity and its position in what he called one of the top-performing school districts in the Greater Houston region, he said homebuyers are attracted to the range of shopping centers and places of worship in Cypress.
"We really made the decision to buy the land because it was really the last, what I would call, premier residential and commercial site directly on [Hwy.] 290 in the corridor, and so we went after that one because we knew long-term it would be a very, very valuable property," Dunham said.
As Cy-Fair's remaining large tracts of land are built out, PASA projects by 2024, the development of multifamily units will outpace the growth of single-family homes, amounting to about 18,220 new units by 2030.
"That math probably is accurate only in that we're running out of land in Cy-Fair," said Fred Caldwell, president and CEO of Caldwell Companies, which developed Towne Lake and other Cypress neighborhoods. "You end up with smaller tracts that are going to lend themselves toward multifamily."
PASA estimates about 13% of Cy-Fair's developable land is yet to be developed, most of which is east of the Grand Parkway and south of Hwy. 290.
"The unique thing about Cypress is that it seems to always grow and grow ... and when you think that there's [no more] land to be developed, there pops up another master-planned community," said Tim Johnson, director of community sales and marketing for Land Tejas, the company developing several local neighborhoods.
Bridgeland
Melton said Bridgeland has grown to 16,000 residents since the first of its four villages opened nearly 15 years ago. PASA projects another 3,600 new single-family homes will be built there in the next decade.
While Lakeland Village is effectively built out, development in Parkland Village is expected to continue through 2025, and Prairieland Village is slated for a grand opening next spring with an estimated build-out date of 2035. Melton said the final village, Creekland Village, will start in the next couple of years, and this project in addition to Bridgeland Central, an 800-acre town center, will be ongoing through about 2035 as well.
In the short-term, CFISD plans to open Elementary School No. 57 in 2022 off Tuckerton Road and Middle School No. 20 at the Bridgeland High School site in 2023 to accommodate growth. These projects were included in the 2019 bond program and are estimated to cost $32.6 million and $66.9 million, respectively, according to Sprague. As Bridgeland expands, it will grow into Waller and Katy ISDs, Melton said.
The large scale of Bridgeland gave developers flexibility in long-term planning, allowing them to monitor trends and adapt to consumer demands, he said. For instance, creating habitats for native wildlife and dedicating about 3,000 of Bridgeland's 11,400 acres to open space has always been a focus. But Lakeland Village launched the community with manicured landscaping, and Parkland Village followed with more meadowlike vegetation.
Melton said homebuilders have introduced more modern architecture styles, which have resonated with millennials—the top consumer group in Bridgeland last year.
"We like to make sure that we provide home offerings where people can be a first-time buyer, they can go through the different ... phases of life so you can move up and then you can move back down when you become an empty-nester," he said.
Marvida and Bridge Creek
Land Tejas communities are expected to bring the second- and fourth-most new single-family homes to the market in the next 10 years. Marvida is expected to add 2,367 homes, and Bridge Creek will add another 1,916, according to PASA.
These two new communities are located just west of two other Land Tejas projects—Canyon Lakes West and Miramesa, which is expected to approach build-out next year, according to Johnson.
"The Cypress area and Katy areas are, from a development standpoint, a very easy decision for a developer if you can find land out there to build a development," Johnson said.
Bridge Creek began home sales last year, and Marvida is slated to deliver initial lots to homebuilders this summer. Homes range from $200,000-$500,000, which Johnson said meets the budgets for many young families in the market.
Land Tejas requires homebuilders to integrate technology in their homes, such as motion detectors, smart door locks, smart thermostats and USB outlets; and developers plan amenities that appeal to all ages, Johnson said. Marvida's signature amenity will be a lazy river.
Johnson said he believes the master-planned community concept is popular because amenity options like these, schools, retail and other businesses are within close proximity. Additionally, developers typically maintain high standards.
"You have the option to live in an environment where you know what the houses are going to look like because you have deed restrictions and guidelines set forth by the developer," he said. "So, you have peace of mind that the homes down the street from you are going to be very nice and similar to the home you just bought."
Dunham Pointe
Officials with Dunham Pointe broke ground earlier this year and are in the process of platting the first 995 lots, according to Dunham. PASA projects more than 2,000 new homes in the next 10 years in the community.
Dunham said the first contract signed was a 146-acre deal with CFISD for new elementary, middle and high school campuses in addition to a transportation center and athletic facilities. The elementary campus could open in 2027 or 2028, and the high school could open in 2028 or 2029, according to CFISD officials.
Four homebuilders have committed to the community, and Dunham said he plans to have lots ready for them by late July or early August. Home prices will start around $350,000-$400,000 and go up to as much as $800,000-$1.2 million, he said.
"I think the demographic will probably not be first[-time] homebuyers, but it would be maybe their upgraded second home just based on that price range," Dunham said.
The community will highlight nature with parks and lakes and ultimately dedicate 300-400 acres for commercial use. Dunham said he has had lots of interest from multifamily developers but wants to focus on his plan for nearly 1,000 single-family homes over the next few years first.
Dunham claims the location will also be a selling point when it comes to flood control. The community is located just north of Cypress Creek, but contractors have strictly followed the newest 500-year flood plain guidelines and have already constructed about 180 acres of detention, he said.
Towne Lake
PASA projects another 866 homes will be built over the next five years in Towne Lake.
Caldwell said when he acquired the first 400 acres for Towne Lake in 2005 and a subsequent 2,000 acres the following year, there was little housing activity south of Hwy. 290 despite being in the heart of CFISD. Around the same time, plans for Lone Star College-CyFair and the Berry Center unfolded, and these two institutions along with a 100-acre Harris County Precinct 3 park would make the area a "destination," Caldwell said.
Caldwell Companies has since developed a 320-acre lake and the Boardwalk at Towne Lake, which invites residents to boat to the dining, retail and entertainment center. The lake also contains rainfall to prevent flooding, and its water is used to irrigate common areas, Caldwell said.
"It's the largest earthmoving job probably in the city of Houston. We moved enough earth to fill the Astrodome around 11 times," he said. "Our goal was to have a community connected by water."
Caldwell said commercial development will extend to the front of the community at Hwy. 290 and Skinner Road. Construction will begin by 2024 on a project extending Greenhouse Road to Hwy. 290 and connecting it to Skinner Road, according to officials from Harris County Municipal Utility District No. 500, who anticipate funding to partially be covered by a federal grant.
"When you look at growth patterns in Houston for the last 50 years, they've been north, northwest and west. I think that will continue for the next 50 years, and so certainly the press is going to be into Waller, Willis and far west Katy and Brookshire," Caldwell said. "Those suburban markets are just expanding further and further out, and Cypress has been the example of suburban development done well."