In 2014, a major asthma attack and the flu put Kenneth Brooks into cardiac arrest for four and a half minutes, and he fell into a coma. He woke up craving something sweet. "[I] woke up three days later, recovered for three days and walked out of the hospital—had a taste for cheesecake," he said.
At the time, Kenneth was a neurodiagnostic technician at North Cypress Medical Center. When he made a sweet potato cheesecake to share with his peers that holiday season, he found himself swamped with demand for the confection.
The demand continued to grow after the holiday season, and Kenneth found himself juggling his job and his passion with support from his wife, Winsome, a Cy-Fair native and local professor.
"I guess I kind of started to make my own business on the side, and then it turned into something that became a high demand [among] friends and family, and then we started doing pop-ups in the city," Kenneth said. "So it just became so fun that I got passionate about it once I saw that I could create something that people actually wanted."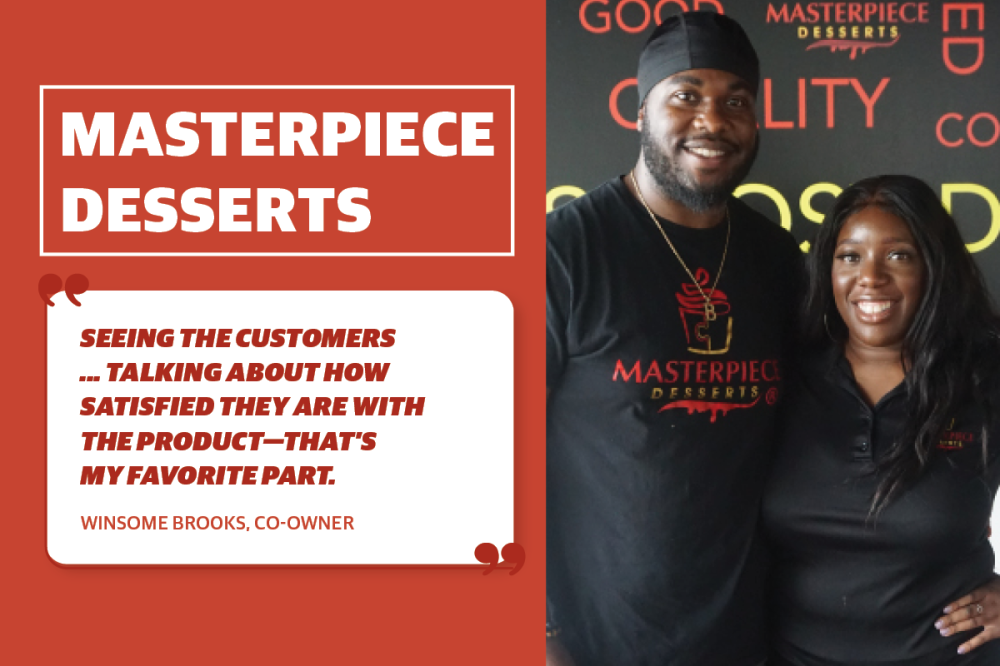 The demand continued to grow since selling cheesecakes out of their home in 2016. The Brooks family began serving the community through farmers markets and their Masterpiece Desserts food truck at Rosehill Beer Garden in 2018. The Brookses wanted their products to evolve with them, leading them to consider creating bite-size cheesecakes instead of serving slices or full-size cakes.
The couple moved forward with this idea and created their own custom cheesecake pans to mass produce the bite-size treats. With the food truck thriving and customers able to sample more flavors, the couple decided in 2021 to move into a brick-and-mortar location.
"Seeing the customers coming to the store or leaving the reviews online and talking about how satisfied they are with the product—that's my favorite part," Winsome said.
Kenneth said he also enjoys the positive feedback.
"Some people are driving from Rosharon and it's like, wow, we really must have something good if people are driving from foreign lands to come and try it," he said.
---
Masterpiece Desserts, 9111 FM 1960 W., Ste. A, Houston. 281-965-1535.
www.masterpiecedesserts.com
Hours: Tue.-Thu. 11 a.m.-9 p.m., Fri.-Sat. 11 a.m.-10 p.m., Sun. 11 a.m.- 6 p.m., closed Mon.