Julia Servetnik and her husband, Chun Yin Wong, are hopeful they will see their new business grow in 2021 after what she said was the most stressful year of her life. The couple opened Cavity Patrol Pediatric Dentistry on Fry Road midpandemic after battling construction cost increases, delayed inspections and the challenge of finding employees.
"There's a lot of talk about the vaccines. Hopefully that can be successful; everybody can go back to their normal life, and we have more opportunity to meet the community and introduce ourselves," she said. "I feel like people just don't know about us [because] we're new to this area."
Whether they opened their small business in 2020 or have been around for decades, entrepreneurs across the community have struggled with operations throughout the COVID-19 pandemic, and many were forced to lay off staff or close their doors completely.
The Texas Workforce Commission reported at least 60,000 Cy-Fair residents filed initial claims for unemployment insurance from mid-March through the end of November. According to estimates from the Greater Houston Partnership, the overall region lost more than 350,000 jobs in March and April and has only recovered a little over half of those since.
"Some [businesses] closed temporarily; unfortunately, some of them closed permanently. That's the way we decided to try to handle the virus," said Patrick Jankowski, the senior vice president of research for the GHP. "And we did it to control the virus, but we created some very significant damage."
Meanwhile, the first round of coronavirus vaccines arrived in Harris County in December, and about 157,000 doses were distributed over a three week span between Dec. 14 and Jan. 3.
For Danit Cadenhead, who co-owns Benchwarmers Sports Bar on Hwy. 6, the vaccine represents hope at a time when each day is a test of survival.
"Right now, there are so many places that are trying to stay above water, but the people who feel comfortable going out has been cut by at least half," she said. "With the vaccine coming, you can see the light."
Business innovations
With many local residents wary to get out in the community and operating costs growing as businesses add personal protective equipment to their budgets, business owners across Cy-Fair said they had to pivot to make ends meet.
Shivam Bhakta opened a new location of tutoring center IDEA Lab Kids in July with virtual summer camps and workshops in addition to the in-person activities that teach students principles of science, technology, engineering, art and math.
The business also launched a virtual learning support program to complement Cy-Fair ISD's remote instruction offering for parents who did not feel comfortable sending their children back to campuses in September.
"Rather than having the student at home in front of a computer, you have six students around their own laptops with a teacher in the room helping them as they go," Bhakta said. "Having that active support helps students learn at their own pace."
With COVID-19 trends worsening, bars were once again forced to close on Jan. 5 and restaurants were required to scale back their maximum occupancy from 75% to 50% under state guidelines. Benchwarmers in Cy-Fair, which has obtained a
food and beverage permit
, is able to stay open for the time being, Cadenhead said. She said she is unsure if the venue could survive another closure.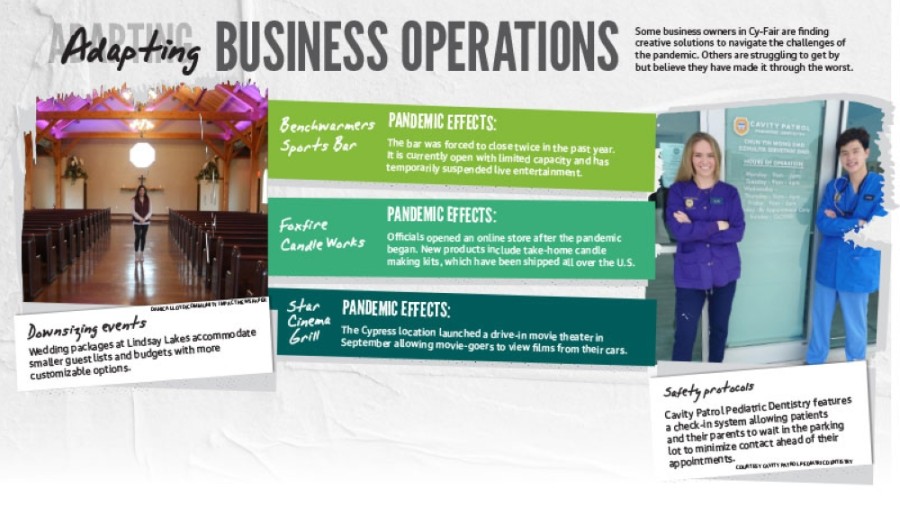 Eitan Werber, who co-owns Benchwarmers with Cadenhead, said the venue has been operating at 50% capacity and has suspended all entertainment in an effort to keep customers safe, going beyond protocols required by the state.
"The most important thing to us is making sure our customers and our staff are safe," he said. "We're just trying to keep our doors open, but if people are sick you can't have a business."
Melissa Stewart, the executive director of the Greater Houston Restaurant Association, said restaurants are more heavily relying on delivery services, grocery offerings, carryout family packs, patio dining and delivery-only kitchens—all trends that picked up during 2020 and will likely persist beyond the COVID-19 pandemic.
"We see people getting more innovative with delivery, and the consumer has pivoted—they've gotten more comfortable with ordering and going and picking it up," she said.
Economic effects
When the pandemic's effects peaked in April, Houston's hotel occupancy dropped below 25%. The price of oil declined to $16.55 per barrel, and air travel in Houston was down 95% year over year.
Spending habits trended down nearly 14% overall. While Houstonians were more willing to spend money on hobby items, books, groceries and building materials, purchases of gasoline, clothing, electronics, appliances, vehicles and home furnishings all decreased year over year, according to recent data from the GHP.
Large community events and family gatherings were canceled or downsized due to COVID-19 restrictions. There were only 51 events held last year at Lindsay Lakes, a family-owned event venue in Cypress that typically hosts about 150 events annually. The staff spent their extra time making cosmetic upgrades on the 22-acre property, manager Jenn Lindsay said.
Families spent an average of $10,000-$15,000 on more intimate weddings in 2020 compared to an average of $15,000-$25,000 in the previous year. Lindsay said she expects weddings to have smaller budgets and guest lists through 2021, so the venue has updated its offerings to meet individual needs.
"We used to have a minimum in the hall of 100 people, but we can't have a minimum anymore," she said. "We're making packages for 2021 that accommodate smaller weddings and make everything customizable."
Economic experts, including Jankowski, said the beginning of 2021 is expected to have many of the same challenges Houston has seen throughout the pandemic, but things could start looking up around midyear once vaccinations are underway for the general population. In the second half of 2021, he said global growth should start to ramp up, people will likely start traveling more and pent-up demand will be unleashed.
Several white-collar sectors in which employees have the option to work remotely have already fully recovered locally from the job losses that took place this spring.
Stewart said between 14%-16% of restaurants statewide closed permanently in 2020—from major national chains to small mom and pop shops. Because restaurants have always worked on lean margins with high labor needs, she said even a small interruption to their business can have significant ramifications.
"When you lose a national brand on your corner, you just say, 'Well, this coffee shop or burger joint wasn't doing well enough,' but when it's the Millers from up the street, and that's where you had your son's graduation party, it feels so much more personal," Stewart said. "We're seeing that ripple across our community."
The Houston area's unemployment rate reached 7.9% by December—down from its peak of 14.3% in April—but Jankowski said challenges still lie ahead for the coming year.
"We're creating jobs, but we still have a long way to go to recoup everything we lost," he said.
Future outlook
The plan for vaccine distribution is for the majority of health care workers and long-term care staff and residents to be vaccinated in the next few months, at which point the general public will begin being vaccinated, said Dr. Jill Weatherhead, an infectious disease and tropical medicine expert with the Baylor College of Medicine in Houston. Once more data is gathered, vaccines will then become available to children, she said.
To bring the pandemic under control as quickly as possible, Weatherhead said it will be crucial for people to get vaccinated when the opportunity becomes available. However, when it comes to masks and social distancing, she said it is difficult to put a timeline down as to when those measures will no longer be needed.
"This is something that has never been done before, and it's going to be a moving target," Weatherhead said. "Optimistically, we would hope that this rollout process is full [steam] ahead in the spring and summer [and that] by next fall, we [would] have some more return to normalcy. Maybe it will be quicker than that, maybe slower."
Jankowski said the Houston region is slated to add between 35,000-52,000 jobs through the end of 2021, with nearly every industry except energy and retail trade growing. But this job growth is dependent on the successful rollout of COVID-19 vaccines and the curb of new case numbers, so he encouraged residents to continue following precautions such as social distancing and wearing masks in public.
"We will not see significant growth in Houston or in Texas or in the U.S. until we get the virus under control," Jankowski said.
After a year of challenges in and innovations from the restaurant industry, Stewart said restaurant owners would benefit from further action from lawmakers at the state and federal levels to continue operating under unique circumstances. This might include stimulus money and loan forgiveness from the U.S. Congress as well as the permanence of Gov. Greg Abbott's alcohol to-go waiver and more transparency from third-party deli•very apps, she said.
A second stimulus bill was passed Dec. 20 that relaunches the Paycheck Protection Program with forgivable loans equal to 3.5 times the monthly payroll of a restaurant and 2.5 times the monthly payroll for other businesses. The bill also provides more flexibility in how loans can be used, including for inventory costs, according to the Texas Restaurant Association.
"While this will make an important difference, we view this as a down payment on additional relief that will be needed when Congress returns in the new year," TRA officials said in a statement.
Jimmy Henry, who runs the Cypress location of the kickboxing-based workout studio RockBox Fitness, said he hopes the distribution of the COVID-19 vaccine will lead to increases in the general comfort of the community over time.
"I'm an optimistic person, so I'm hoping that we can have a good new year in 2021," he said.