Harry and Tammy Chambers have been in the restaurant industry for 33 years. As the owners of Harris County Smokehouse at the Hwy. 290 and FM 1960 intersection, they have experienced their fair share of challenges, including Hwy. 290 road construction which has been ongoing in the area for more than five years.
When the coronavirus pandemic forced the business to close in late March, it would bring the biggest set of challenges yet to the longtime business owners, with sales dropping at one point to 25% of what normally comes in. In a September interview, the Chambers said they fear the worst is yet to come.
"In the beginning, we were spending everything we had put in a nest egg for our retirement," Harry Chambers said. "What's scary is we are not out of this by a long shot. You are spending everything you have worked your life for to keep these restaurants open."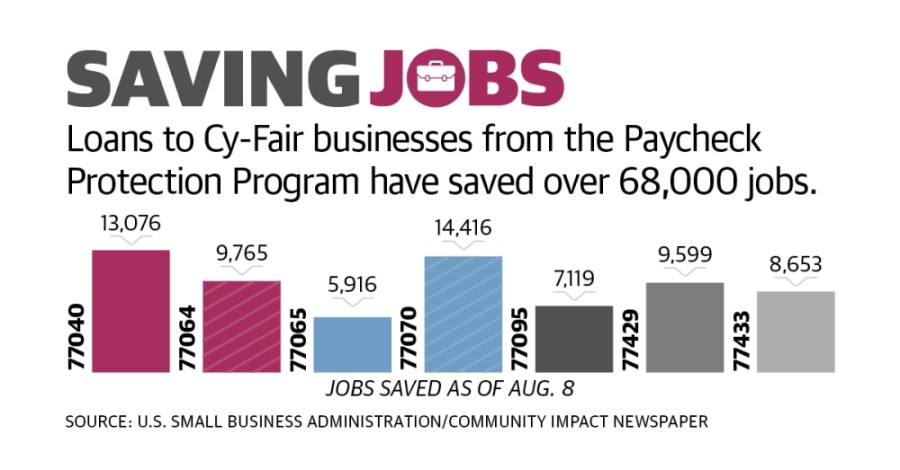 Harris County Smokehouse was one of thousands of businesses in the Cy-Fair area to be approved for a loan from the Paycheck Protection Program, an element of the Coronavirus Aid, Relief and Economic Security Act passed by the U.S. Congress in late March. Harry Chambers said about 80% of their loan was spent on payroll, which has allowed him to keep everyone on staff so far.
"We couldn't have done it this long [without PPP loans]," Harry Chambers said. "It's just too many dollars."
More than 7,300 loans totaling millions of dollars were given to businesses and organizations across seven ZIP codes in Cy-Fair: 77040, 77064, 77065, 77070, 77095, 77429 and 77433. Data released by the U.S. Small Business Administration covering April 3 through Aug. 8 shows the money helped save over 68,000 jobs.
The loans allowed some business owners to make crucial rent payments and continue paying staff. However, as loan money runs out some said they would look to another round of funding if it became available.
"It seems like more people are actually coming out now, but it's been inconsistent and in waves," said Mario Buitron, manager at The Annex Crafthouse in Vintage Park. "There's still a lot of catching up to do."
Keeping businesses afloat
Of the PPP loans approved in Cy-Fair, the vast majority, about 88%, were for $150,000 or less. Twelve loans were approved for amounts between $5 million-$10 million in Cy-Fair, according to the data, including to the general contracting company Clearwater Utilities and the energy industry tool company Gyrodata Incorporated.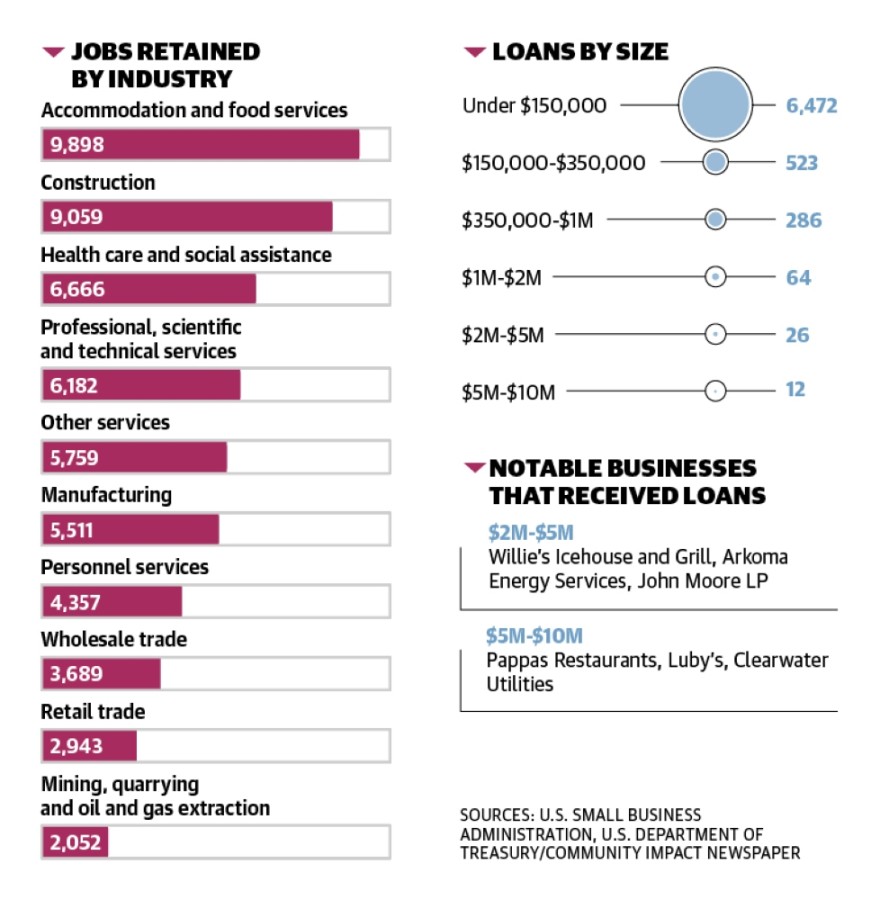 The SBA data includes the names of businesses for loans in excess of $150,000, but not for loans below that amount. For loans above $150,000, the loans size was provided as a range and not an exact dollar amount.
Fifty-three jobs were retained at The Annex Crafthouse, according to SBA data.
"It's helped us tremendously because we have a pretty high rent bill too," Buitron said. "We're a brand new restaurant, so once we started getting going, our sales started [dropping] to COVID in March."
Lauren Black, the executive director of the Cy-Fair nonprofit Reach Unlimited, said Reach's PPP loans saved roughly 45 jobs. Additional loan money went to rent and utilities for the nonprofit, which runs six group homes for individuals with intellectual and developmental disabilities, among other operations.
"Since the beginning of the pandemic, we have lost more than $1.75 million in revenue due to having to shut down our day program," Black said.
Loan forgiveness process
As of mid-September, Black said she was working to have the loans for Reach Unlimited fully forgiven, a process that involves proving the loans were spent in a way that meets the eligibility requirements. Several business owners said in interviews that having loans completely forgiven is crucial to keeping their businesses solvent moving forward.
Jessica Leone, the assistant vice president with Texas-based Frost Bank, said the bank received thousands of loan applications between April through when applications closed Aug. 8. Frost provided more than 1,500 loans to businesses in the Cy-Fair area, according to SBA data.
To be eligible for complete forgiveness, funds need to be spent on mortgage, utilities and rent, with at least 60% of any loan used to pay staff.
Tammy Chambers said her goal from the start was to make sure any loans they took on were 100% forgiven, and she has worked tirelessly crunching the numbers to prepare for the forgiveness application process.
"We cannot afford any more debt," she said.
Frost launched a loan forgiveness team in August that has specifically been tasked with helping business owners navigate the application process to have their loans forgiven, Leone said.
"So many people are ready to get that forgiveness taken care of," Leone said. "I think there is going to a large wave of people who, once it's officially turned on, are going to be anxious to get in there."
Future stimulus
Since exhausting his PPP loan money in early September, Harry Chambers said he is starting to see business bound back at the Cy-Fair and Tomball locations of Harris County Smokehouse, while business at the Katy location—which typically receives a lot of lunchtime traffic from office workers—has been slower to recover.
Harry Chambers and Buitron both said they would consider applying for a second round of PPP loans if the opportunity became available.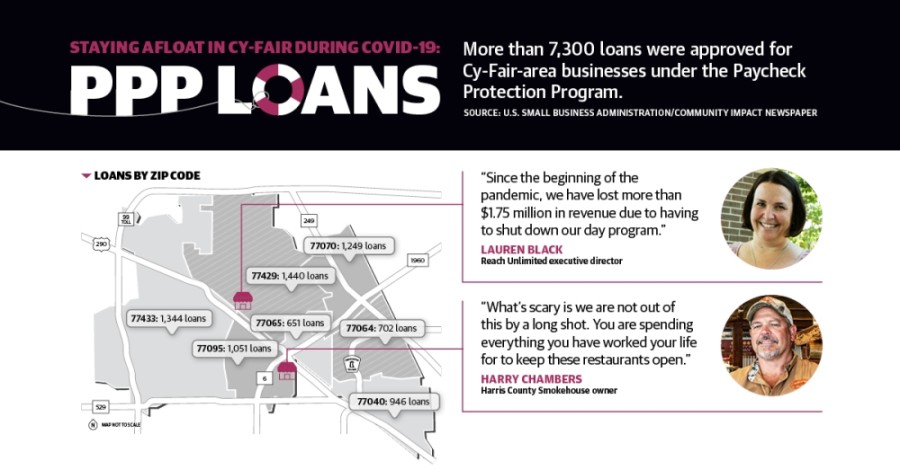 At the time he got approved for a PPP loan, Don James—who runs Brix Wine Cellar and Brixology Crafted Cocktails in Vintage Park with Nita Miller—said the requirements involved spending it within eight weeks, so he put together a plan to do so and shared that plan with his staff. Although the requirements would later be changed to allow the money to be spent over 24 weeks, James said there was little time to change course by that point as a lot of the money was already spent.
"When we first found out it was eight weeks, we basically entered into a contract with all of our employees saying we could pay you 'X' number of dollars per week for eight weeks," he said. "We were already well down the path of taking care of it in eight weeks."
Brix Wine Cellar, which features a large outdoor patio, was previously forced to close under a state rule closing venues that made 51% of more of their revenue from alcohol sales. However, they were since able to reopen when more relaxed rules allowed venues to exclude high-end wines and wine to-go sales.
James said it was tough to say whether he would take on another PPP loan if one became available and he would need to know additional details about how the program would work. He said he would rather see a forgiveness mechanism put in place for Economic Injury Disaster Loans provided by the Small Business Administration, which he said he had to take on to help cover expenses during the portion of the shutdown the PPP loans did not cover.
In the meantime, debates continue within Congress over the next potential stimulus package, including how much PPP loan money would be included and if any new conditions will be placed on which businesses are eligible for that funding.
As of press time, no bill had been passed, but officials with the Texas Restaurant Association said they are hopeful to see one introduced soon and have advocated for more relief for restaurants. According to research from the National Restaurant Association, about 50% of restaurant owners in Texas do not expect to be open six months from now if economic conditions remain unchanged.
Tim Jeffcoat, the district director of the SBA in Houston, said a big challenge for businesses moving forward will be adapting to the new environment.
"There's 100 different ways those meals can leave your kitchen and get into people's hands and have them put money in your pocket," he said.