When the pandemic hit the real estate market, one commodity in particular began making headlines: lumber.
After shooting to historic heights in April, lumber prices began to plummet in June, although they still hover above pre-pandemic levels, according to data from Trading Economics, which provides historical data and forecasts for various commodity prices. Local developers and builders in the Conroe and Montgomery area said predicting project costs and timelines have been near impossible.
When the pandemic hit, sawmills like Steely Lumber Co., located just north of Willis in Huntsville, initially reduced hours and cut back on production, Manager Chris Demilliano said. But demand for wood actually increased as distribution centers such as Home Depot and Lowes were deemed essential businesses, and Americans, forced to work from home, turned to home remodeling and renovations, he said.
A tight supply and burgeoning demand led to the price of lumber skyrocketing 365% from April 2020 to April 2021, according to a study by Texas A&M Forest Service. Lumber generally makes up 14%-18% of the cost of a house and is the largest single item that affects the bottom line, Demilliano said.
On May 6, the price of lumber hit a peak of just under $1,700 per 1,000 board feet before dropping to about $800 per 1,000 board feet in late June, according to Trading Economics.
"The prices have come way back; it's fallen back almost half of what we went to," Demilliano said in late June. "It was kind of a momentary blip."

With prices so unstable, contractors are finding themselves unable to guarantee a set price for customers, said Santiago Lopez, who owns the construction company SLT Group in Conroe.
"People are just not aware of how [the price of] material goes up and down," he said. "When I go to your house and you built a small deck for $4,000 a year or two before, and I come to you and say it's going to be $7,000 just a year later, you're going to think I'm trying to rip you off."
Outside of wood, other products such as appliances, paint and copper are also in short supply due to manufacturing facilities closing during the pandemic, according to Mike Dishberger, the CEO of Houston-based Sandcastle Homes and former president of the Greater Houston Builders Association.
Increasing costs of materials have added an extra $46,000 to the average cost of building a single-family home nationwide since April 2020, according to the National Association of Home Builders.
Local developers predict the shortages and higher prices may extend into 2022 before eventually stabilizing.
"There's already some sign, based on futures markets, that lumber is going to be down [in cost] by the end of the year, but I don't think we'll ever get back to where it was before," Dishberger said in early June.
Out of the woods
After trees are felled, the timber is taken to sawmills to be cut and processed into lumber. This lumber is then sold to supply stores and lumberyards such as 84 Lumber, which has a location in Conroe, and McCoy's Building Supply, which has a location in Montgomery. These businesses then sell to homebuilders.
During the 2008-09 housing crash, many sawmills in the South were unable to get loans from banks and consequently shut down or consolidated, Demilliano said. Few large-scale sawmills exist in Texas today, and when the pandemic hit in March, the already-small supply of sawmills saw more shutdowns or slowed production. The winter storm in February further dampened the already-sluggish supply, according to the Texas A&M Forest Service.
"There's only so many plywood manufacturers, and they just can't turn factories on and off," Dishberger said. "Once they shut them down, it takes a long time to get them back running again. And to produce a new factory for lumber is a two-year process. You can't build a mill in six months and start producing lumber."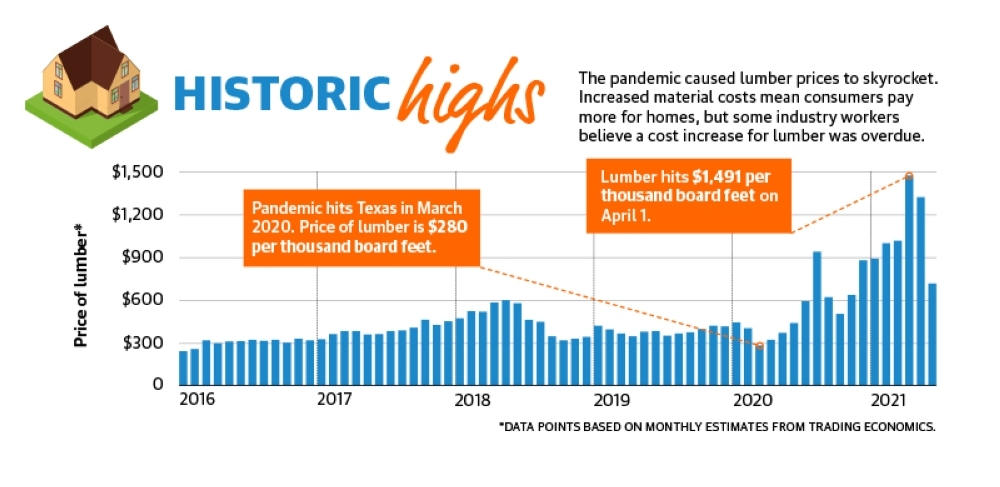 Industry workers predict the price of lumber could remain elevated and unstable into 2022. If costs remain elevated, the Texas A&M Forest Service study predicts cost-effective solutions such as 3D-printed homes could take the place of more expensive wood construction in the long term.
But the increased cost of lumber is only one factor for construction costs, and Demilliano said the price increase may have been long needed for the industry. Until recently, lumber prices have not changed significantly in the past 28 years despite the costs of other products such as concrete, steel and labor increasing.
And while the price of lumber initially exploded, the price of timber—wood before it is processed into lumber—dipped further during the onset of the pandemic. Factors for timber's diminishing prices include the length of time it takes for trees to fully mature, too much supply and too many long-term contracts with big companies, so the market cannot respond as quickly to changes in demand.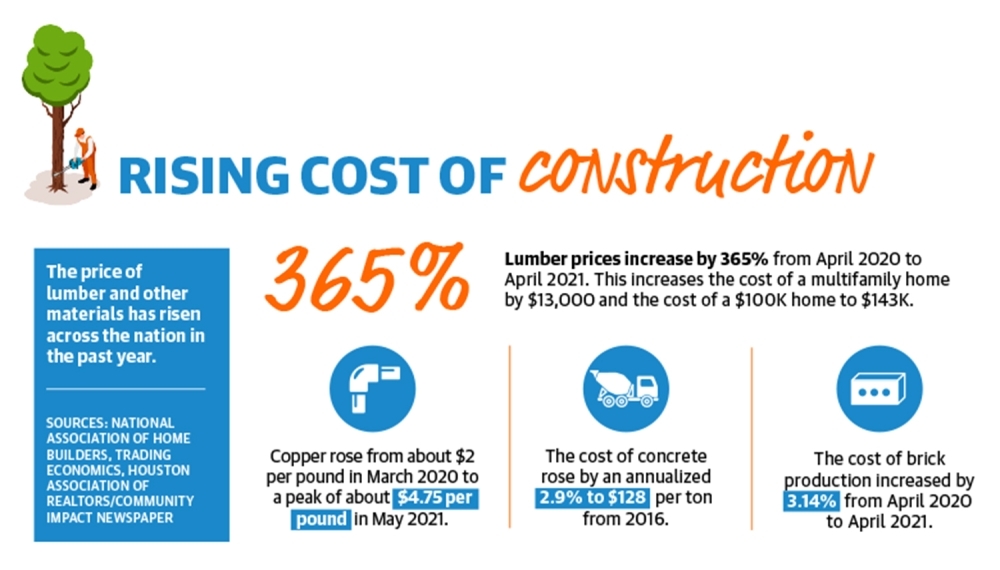 The price of timber has steadily decreased since the mid-1990s from a peak of $445 per 1,000 board feet in 1997 to $202 per 1,000 board feet in 2020, according to Texas A&M Forest Service.
"The timber landowner has paid the biggest price," Demilliano wrote in an email to a homebuilder in October. "Think of the landowner in 1990 that counted on growing their 30-year-old timber to 60-70 years old. ... We, as an industry, need [the price of timber] higher so people will continue to keep some land in timber production."
Knock on wood
Homebuilders are feeling the effect of higher material costs, which are passed on to consumers.
Lopez said the fluctuating costs make it hard to nail down a price for customers. Lopez mainly focuses on home remodeling and renovations throughout Montgomery County, including the neighborhoods April Sound and Walden, although he has built some new construction.
"I did a job for a guy in Magnolia; ... the material was $40,000," he said. "Ten days later I go to Home Depot; it was already $4,000 more. They told me that every seven days you have to check back on material."
Fluctuating costs can make it difficult to sell, Dishberger said.
"The challenge is you can write your contract and have an escalation clause, but nobody likes that," he said. "Nobody wants to buy a home with an escalation clause saying, 'If the price of lumber gets to a certain point, you're going to have to pay more for your house.'"
Also in Conroe, PREMIER HOMES Manager Jimmie Smith said he tries to work around the issue. PREMIER carries three product lines: Legacy Homes, which are manufactured or factory-built homes; Franklin Structures Homes, which are prefabricated homes; and Conroe Tiny House Outlet.
"... we have to be upfront and tell people we don't control material cost, but we try to build in a cushion ... that we are covered up to a certain price without any increase," Smith said.
Fluctuating prices mean construction time increases and delayed projects, Dishberger said. At PREMIER HOMES, the project completion time was four to six weeks pre-pandemic but now takes three to four months, Smith said.
"... builders are saying, 'We're not even going to sell the houses early. We're at least going to get the house framed and some other things in the home,'" Dishberger said. "A lot of the expensive stuff is done first ... And then they'll list their houses and decide what they can get for them."
Demilliano said he believes much of the future cost of other materials hinges on the price of lumber.
"I think lumber is going to be a leading indicator as we come out of the pandemic," he said.
Danica Lloyd contributed to this report.