While much of the Conroe and Montgomery area may see few changes to their representation in the next decade, portions of the region will be represented by new state Senate districts next year following the 2020 census and redistricting process completed in the fall.
Instead of two Senate districts, the area is now served by three, according to the approved maps, including Texas Senate District 18, represented by Sen. Lois Kolkhorst, R-Brenham.
"Montgomery County now has 10% of the Senate representing them," Kolkhorst said. "It will help drive legislation forward."
Previously, districts 3 and 4—represented by Sen. Robert Nichols, R-Jacksonville, and Sen. Brandon Creighton, R-Conroe, respectively—served Montgomery County. However, northern Montgomery County, including the city of Montgomery, will now be represented by Kolkhorst instead of Nichols' district.
To the south, Senate District 7, represented by Sen. Paul Bettencourt, R-Houston, now stretches from Jersey Village to north of FM 1488, including a portion of the Conroe area.
Despite state Senate changes, the Texas House and Montgomery County commissioner precincts spanning Conroe and Montgomery saw minimal changes, according to the approved maps.
Concerns over split Senate
During the redistricting process, several local leaders expressed concerns over the potential split in state Senate districts.
County commissioners approved a resolution to be sent to the Senate on Sept. 28, criticizing the proposed three-way split. Montgomery County Judge Mark Keough said he believes dividing the county into three districts would not accurately represent what he called a "community of interest."••"It goes beyond just population and race," Keough said at the meeting. "We are a community of interest with a certain ideology. ... To do this brings others into the mix that don't have those values."
The Loyola Law School defines a community of interest as "a ... group of people who have common policy concerns and would benefit from being maintained in a single district."
"I was discouraged that Montgomery County was not kept whole, as I explained on the Senate floor: Montgomery, Magnolia, The Woodlands and Woodforest are distinctly communities of interest and should remain intact, but because of rapid population growth, there were changes to our district," Creighton said.
Kolkhorst said she believed her and Bettencourt's additions added strength to the area's representation in the Senate.
"Neither of us drew this map; it's just how the lines fell," Kolkhorst said. "But I've known Sen. Creighton and Sen. Bettencourt for a long time, and I think the three of us are going to work really well together."
State Rep. Steve Toth, R-Spring, said he believes the sizes of Bettencourt's and Creighton's districts could hamper their abilities to work effectively with him.
"It is going to be difficult now to know if I work with Sen. Bettencourt or Sen. Kolkhorst ... or [Sen.] Brandon [Creighton]," Toth said.
However, Montgomery Mayor Sara Countryman said she believes the new representation will have a minimal effect on the city thanks to a strong relationship between elected officials.
"I've already met with Sen. Kolkhorst. ... She took notes and committed to action," Countryman said.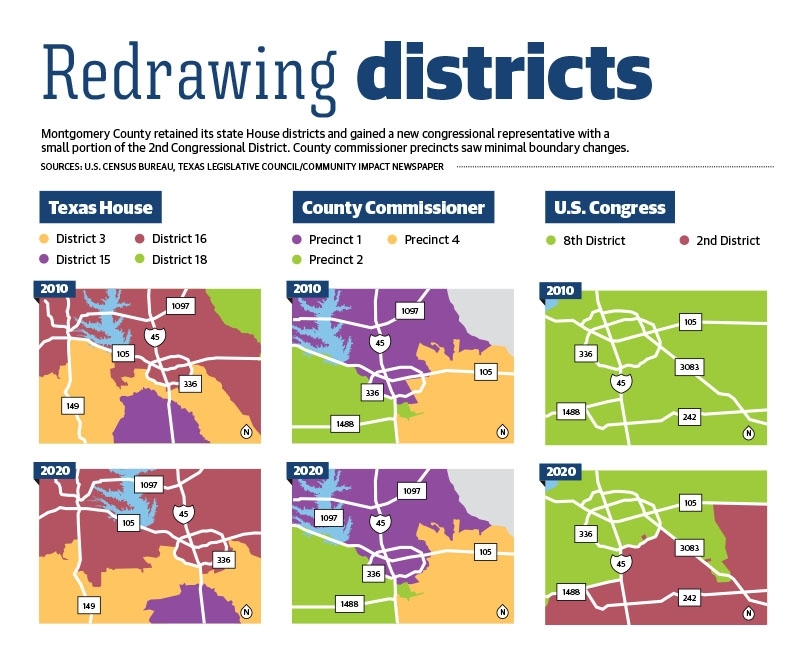 Texas House, congressional changes
With new boundaries adopted, the Conroe and Montgomery area largely remains within the 8th Congressional District, represented by U.S. Rep. Kevin Brady, R-The Woodlands, who will retire in 2022. However, boundaries for the 2nd Congressional District, represented by Rep. Dan Crenshaw, R-Houston, were extended to the southeast portion of Loop 336, including communities in southeast Conroe.
Brady said since he took office in 1997, the 8th District has changed every redistricting period due to rapid population growth.
"I have represented 18 counties during my time as the 8th District representative," he said. "It has changed quite a bit. This is no exception."
Crenshaw said he plans to work his way through the district to meet with constituents once the 117th Congress wraps up.
In the Texas House, Conroe and Montgomery continue to be represented by House districts 3, 15 and 16 with Rep. Cecil Bell Jr., R-Magnolia; Toth; and Rep. Will Metcalf, R-Conroe, respectively.
Metcalf declined to comment due to a redistricting lawsuit filed by the U.S. Department of Justice on Dec. 6.
However, following the 2020 census, House District 16 extends south to include southeast Montgomery and part of FM 2854, which is territory formerly in District 3.
"I think [Metcalf] has done an exceptional job and will continue to do so," said Shannan Reid, the director of the Montgomery Area Chamber of Commerce.
Creighton said there were benefits of redistricting, such as Texas getting two additional congressional seats and two more electoral votes due to a 16% population jump in the past decade, per census data.
"Of that growth, Senate District 4 has seen some of the most significant in the state, and to balance the 31 Senate districts, parts of the district shifted, but for the most part, District 4 will remain intact," Creighton said.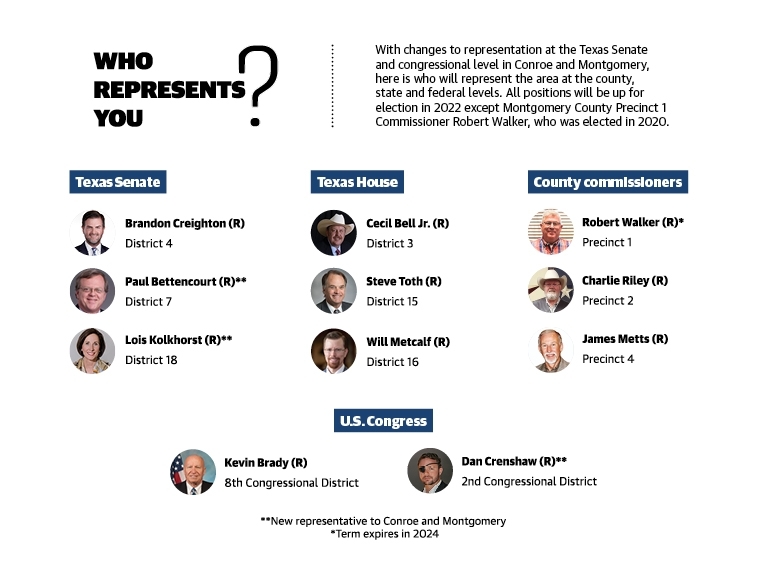 County-level changes
At the county level, commissioners approved a redistricting plan Nov. 9 that kept commissioner precinct boundaries largely consistent.
Following an analysis from law firm Bickerstaff Heath Delgado Acosta, county commissioners moved a voting precinct in Conroe from the most populated precinct—Precinct 4, served by James Metts—to the least populated precinct—Precinct 1, served by Robert Walker.
The boundary change moves residents in southeast Conroe near East Davis Street and Porter Road from Precinct 4 to Precinct 1.
However, the Montgomery County chapter of the NAACP released a statement Dec. 2 criticizing the changes to commissioner precinct maps. The statement said the Bickerstaff Heath maps presented to commissioners did not accurately represent Black populations in Conroe.
"Montgomery County's Black residents should not be ignored by the commissioners when they evaluate boundary changes affecting their governance," the statement said.
The chapter said it did not plan to take legal action against the commissioner precinct maps.
Andrew Christman contributed to this report.