Updated 9:40 p.m. June 3:
This article incorrectly quoted Vince Santini as saying "12,000 to 15,000 cases." It has been fixed to say "1,200 to 1,500."
---
A newly adopted court budget has highlighted the difference in opinion between the two Republican candidates for Montgomery County's
457th Judicial District Court
judge.
According to candidate Eric Yollick, a court can be effectively run on tight budget, but opponent Vince Santini said slashing positions will lead to less efficiency.
On June 23, county commissioners approved a proposed budget for the remainder of fiscal year 2019-20 for the new
457th Judicial District Court, which was created to help reduce the county's backlog of cases.
The proposed budget totals $131,560 and includes positions for a court administrator, two court coordinators, a research attorney and a court attorney. The budget also allocates $15,000 for office furniture and supplies.

The budget is modeled after the county's 284
th
district court budget. The future judge will have the ability to ultimately decide if all the proposed funds in the budget will be used or if all the staff will be hired.
Yollick and Santini, the two Republican candidates, will face each other in a runoff election July 14. Although Marc M. Meyer, the chair of the Montgomery County Democratic Party, is running unopposed on the Democratic primary ticket, Gov. Greg Abbott may appoint the winner of the Republican primary as the court's first judge.
Prior to the vote, Yollick addressed the commissioners, asking them to rethink allocating that amount of money for the new court.
Yollick presented his own proposed budget to commissioners, which had a total budget of $65,022, lower salaries for staff, fewer staff personnel and less money allocated for supplies.
"This court does not need two court coordinators. It needs a court administrator probably, and it needs a court coordinator," Yollick said. "As far as a research attorney, an experienced attorney who is sitting as the judge of the 457
th
district court especially under today's circumstances should not require a research attorney."
Yollick said modern resources allow research to be conducted very quickly.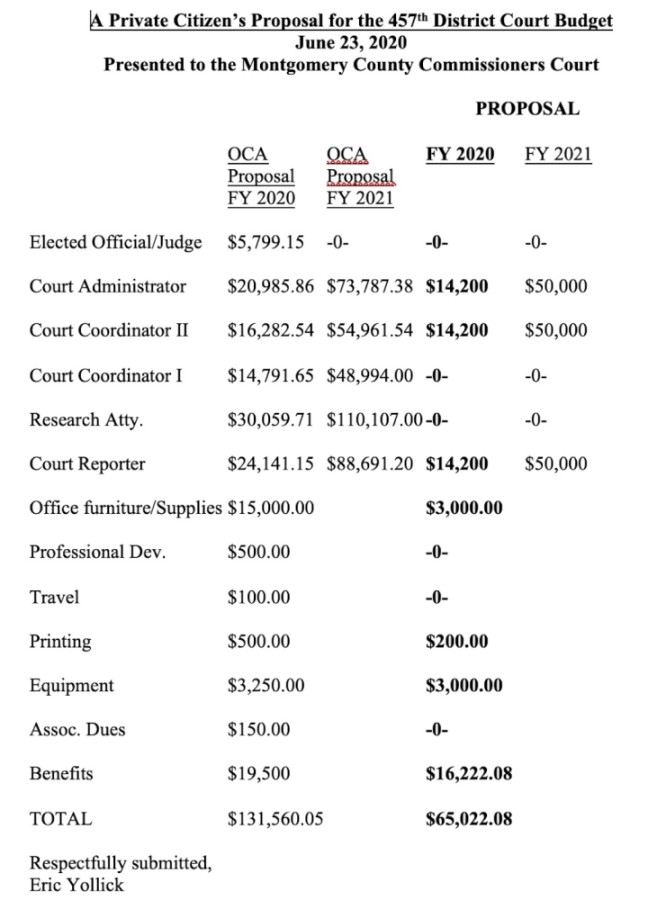 Other items that were also reduced were funds for travel, printing and equipment.
"With respect to office furniture and supplies, I think $3,000 is sufficient," he added.
But in a follow-up interview, Santini said cutting budgets and positions would reduce the efficiency of the 457
th
court, thereby defeating the purpose it was designed for.
"This court was created for judicial efficiency, to move these dockets that are growing so large in Montgomery County," he said. "You can't cut the budget so much that there's a delay in justice."
Santini also said research attorneys—who read up on cases and provide briefings to judges—are critical to help efficiently move cases. According to Judge Tracy Gilbert of the 418th state District Court, 1,500 pending civil cases with set trials will be immediately transferred over to the 457
th
court whenever the new judge is sworn in.
"You can't [read all the motions] with 1,200, 1,500 cases, presiding over all the hearings, making rulings, presiding over trials, answering phone calls, setting up scheduling; the staff is crucial to the court's success," Santini said.
Santini also pointed out the new court is currently empty and will need new supplies such as computers.
"You don't want to spend lavishly; you want to be responsible, but you have to balance that with running an efficient courtroom," he said. "No one is requesting 3D television. ... No one is spending lavishly; we are being cost efficient.
After hearing a presentation by Gilbert, commissioners ultimately approved the original proposed budget, noting the future judge will have the ability to spend less than what is allocated.