Updated 10:15 a.m. July 21:
After this story was published, Conroe ISD announced it will do remote learning for the first four weeks of the school year. The story can be read
here
.
---
The Texas Education Agency announced initial guidelines for the 2020-21 school year in June, requiring an option for students at all districts—including Conroe, Montgomery and Willis ISDs—to return to campuses in the fall. But while students may have the option to return to classrooms, several unknowns remain about instruction, health regulations and logistics.
Gov. Greg Abbott announced June 18 students will return to campuses in the fall. The TEA released additional guidelines July 7, which include giving parents options for on-campus and virtual classes, complying with the governor's mask orders and closing off areas used by people with lab-confirmed cases of COVID-19. However, district officials said they are juggling several options this fall.
"We've been planning all along to have a face-to-face option as well as an online option," CISD Superintendent Curtis Null said. "And so it basically confirmed our plan and let us know that we were on the right track all along."
Even as districts attempt to form plans for the school year, parents said they are conflicted.
"I just want what is best for my babies, but I'm not even sure what that is right now," Willis ISD parent Mindy Mileski said in a Facebook comment below a WISD post.
Class in virtual session
CISD is offering both in-person and remote learning this fall. CISD's remote learning will be an asynchronous model that includes synchronous learning, according to its website. The asynchronous model means students will complete work at their own paces through prerecorded lessons and other activities as well as daily check-ins with teachers. Synchronous learning means students may attend virtual classes with other students and teachers in real time.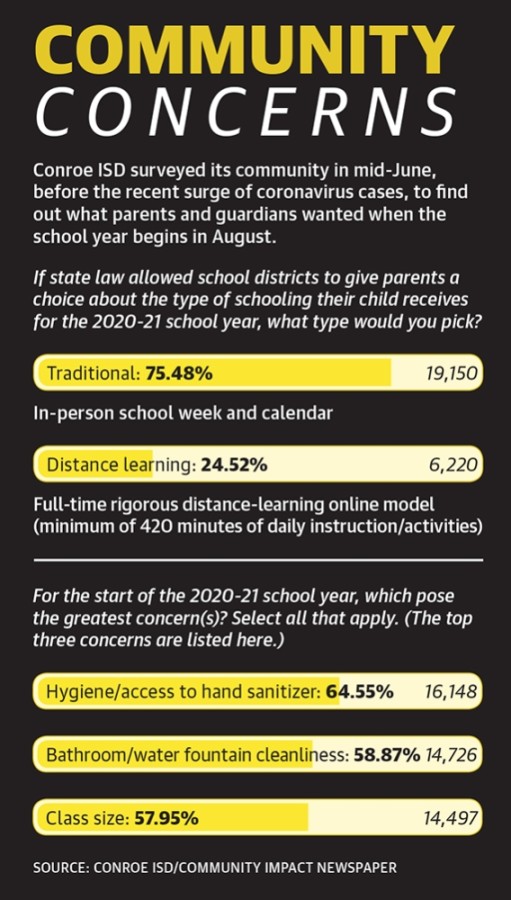 "There may be some days that we would ask those students to come in and go to a lab, or come do some hands-on activities," Null said.
Online instruction will be more rigorous than distance education in the spring, Null said during a YouTube livestream June 29. He said materials were condensed in the spring, but online education in the fall will mirror in-person instruction.
CISD staff is anticipating a drop in student academic performance due to the distance education in the spring, Null said. But he said staff began crafting plans to mitigate that drop by incorporating the topics covered in the spring into fall instruction.
At a June 16 meeting, interim Montgomery ISD Superintendent Ann Dixon said the district will also offer a remote option that is as rigorous as in-person school, and students will be required to attend 420 minutes of school per day.
WISD parents and guardians may choose between on-campus and remote learning. Remote learning will be more structured than the distance education held during the spring, and it will feature daily attendance checks and graded assignments that mirror on-campus instruction.
Students must be prepared to switch to remote learning if a campus or classroom needs to shut down for health concerns, officials said.
Looking for logistics
School officials said in June there were still many unanswered questions from the state. Null said if limited-capacity bus rides are mandated, the district will have to find a way to deal with that burden.

Similarly, Dixon said MISD was awaiting clarification from the state on transportation issues.
Mike Foster, MISD director of transportation, said the district is anticipating 11 to 13 students per bus amid social distancing, and about 48 to 55% of students are transported by bus. Buses can hold 71 to 78 students based on three to a seat, but typically hold 48 to 52 junior or high school students and 60 to 65 elementary students, he said.
These logistical concerns are shared by other groups. The Texas American Federation of Teachers, a statewide education union, asked districts during a June 24 press conference to include teachers in discussions for reopening, including mandating face masks. The July 7 TEA guidelines require compliance with statewide orders and allow districts to require face coverings.
"Individual school districts now have to rely on putting together a plan that works for their community based on their trajectory of COVID[-19] cases and their ability to provide a safe and healthy environment," Texas AFT President Zeph Capo said.
Null said CISD has formed a task force to consider aspects of reopening including student nutrition, instruction and transportation.
Into the unknown
Even as districts begin to lay the groundwork for fall instruction, there are several unknown factors.
During the June 29 livestream, Null said the district has seen positive tests at its schools, food distribution sites, strength and conditioning high school programs, and in the administration building, even with only 10% of staff and students on campus.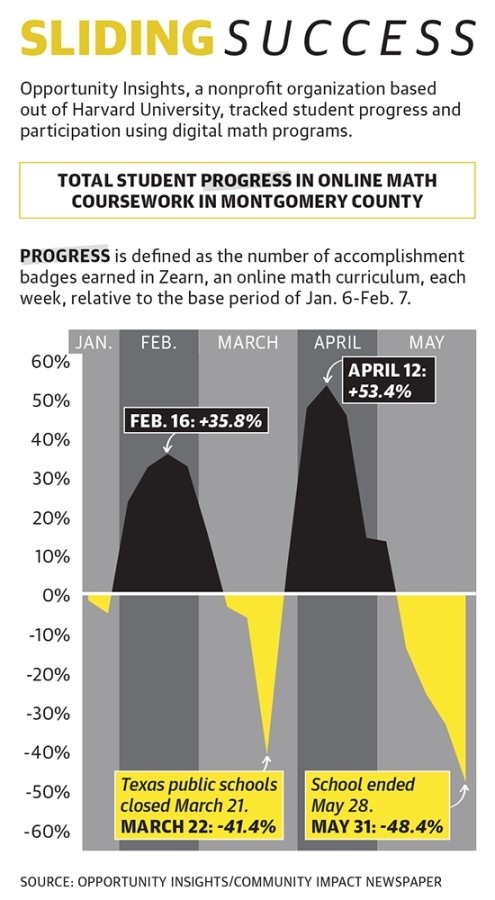 James Campbell, the Montgomery County Hospital District chief of emergency medical services, and MCHD Medical Director Robert Dickson urged viewers to wear masks, practice social distancing and sanitize their hands. Null said complying with these health initiatives is vital to bring students back to campuses.•"Without us taking this advice and changing this curve that we are currently seeing, we are not going to have an opportunity to have next school year," Null said.
When the district has a positive case on a campus, Null said an email is sent to everyone who was on campus. Montgomery County officials then perform contact tracing and reach out to those who interacted with the person who tested positive, but Null said it is unclear if this system will be in place in the fall.
"It's a mathematical certainty that we will have positive tests and so ... we're all going to have to anticipate that and be ready and understand that we're going to have to be ready to be flexible at a moment's notice," Null said.
Nicholas Cicale, Kelly Schafler, Claire Shoop and Eva Vigh contributed to this report.