Like many cities across the country, "now hiring" signs line the roads of Conroe and Montgomery with some offering incentives such as referral bonuses.
Phil's Roadhouse in Montgomery needs more dishwashers, cooks, servers, cashiers and kitchen staff, owner Marisa Philipello said. Since the pandemic broke in Texas in March 2020, employees have been stretched so thin the diner had to close on Wednesdays for the first time.
And despite offering overtime and time-and-a-half pay, Philipello said she cannot find enough people to work for her.
"Nobody is coming in to apply at all," she said. "The few that you do get, they don't call you back."
Philipello's situation mirrors other Conroe and Montgomery businesses as well as employers across the state and nation. As of April, Texas' unemployment rate was 6.7%, compared to 3.5% in 2019, according to the U.S. Bureau of Labor Statistics. Unemployment rates in the Houston-The Woodlands-Sugar Land area were 7.1% and 3.4%, respectively.
As of June 2, there were 866,168 job openings in Texas, according to the Texas Workforce Commission. Locally, Philipello said she knows of plenty of job openings in the Montgomery area.
"There's jobs up and down [Hwy.] 105," she said. "All of us in Montgomery are hiring; we just cannot find anyone."
Many employers attribute the hiring situation to federal pandemic unemployment payments they claim incentivize individuals to not work.
In March 2020, the federal Coronavirus Aid, Relief and Economic Security Act established the Pandemic Unemployment Assistance program, which temporarily expands unemployment benefit eligibility and provides an additional $300 a week on top of regular unemployment payouts.
"In talking with our retail employers, there has been a struggle for maintaining entry-level employees," said Shannan Reid, Montgomery Area Chamber of Commerce president. "There has been universal talk nationwide that the blame is on unemployment options that make working wages less desirable."
On May 17, Gov. Greg Abbott announced Texas will opt out of further federal unemployment payouts beginning June 26, citing an abundance of jobs as well as fraudulent unemployment claims. Local business owners and leaders said they anticipate this will help.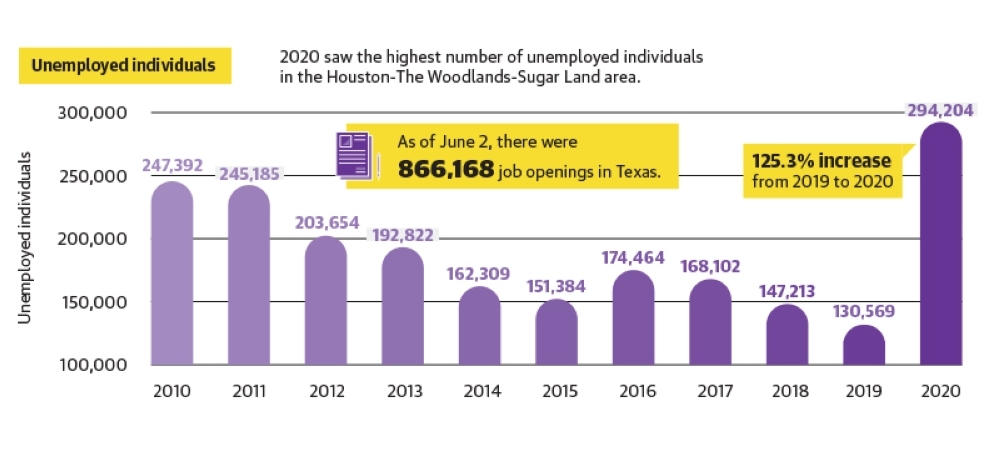 However, others said pointing the blame at unemployment benefits is mischaracterizing unemployed Texans as lazy and unwilling to work. Jonathan Lewis, senior policy analyst with Every Texan, a nonprofit that advocates to improve equity in health care, education and jobs, said he believes factors such as child day care, low wages and a lack of jobs that match employees' skills can turn away potential job seekers.
"This characterization that workers are lazy is pretty damning," he said. "If it's just a $300 benefit that's holding people back from accepting a job, [it's] a pretty sad state of affairs."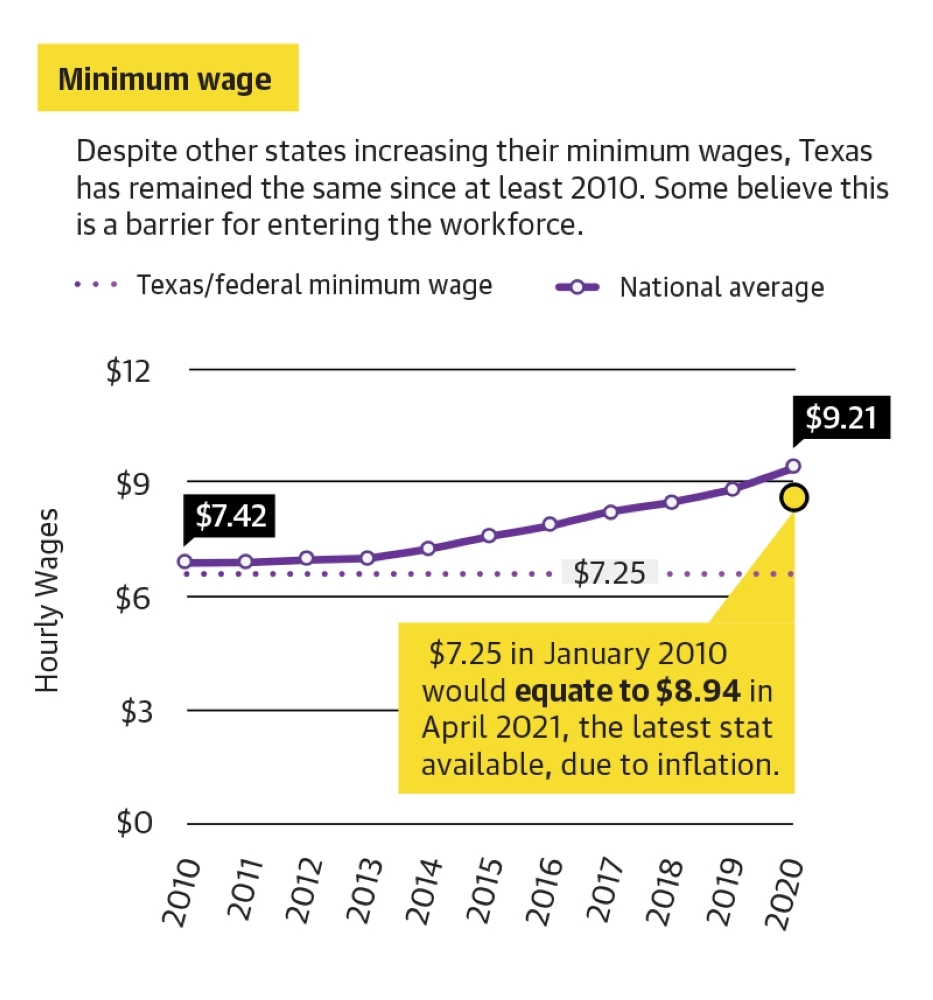 Unemployment payouts
The unemployment assistance program temporarily expands unemployment benefit eligibility and is available to claimants who lost their jobs because of the pandemic. To remain eligible, claimants must search for work according to the commission's guidelines, such as completing one to three work searches per week and applying for work. Montgomery County requires at least three searches to remain eligible.
Philipello said she lost employees due to unemployment benefits.
"They were coming to me telling me, 'We're making more on unemployment; it's not worth our time,'" she said.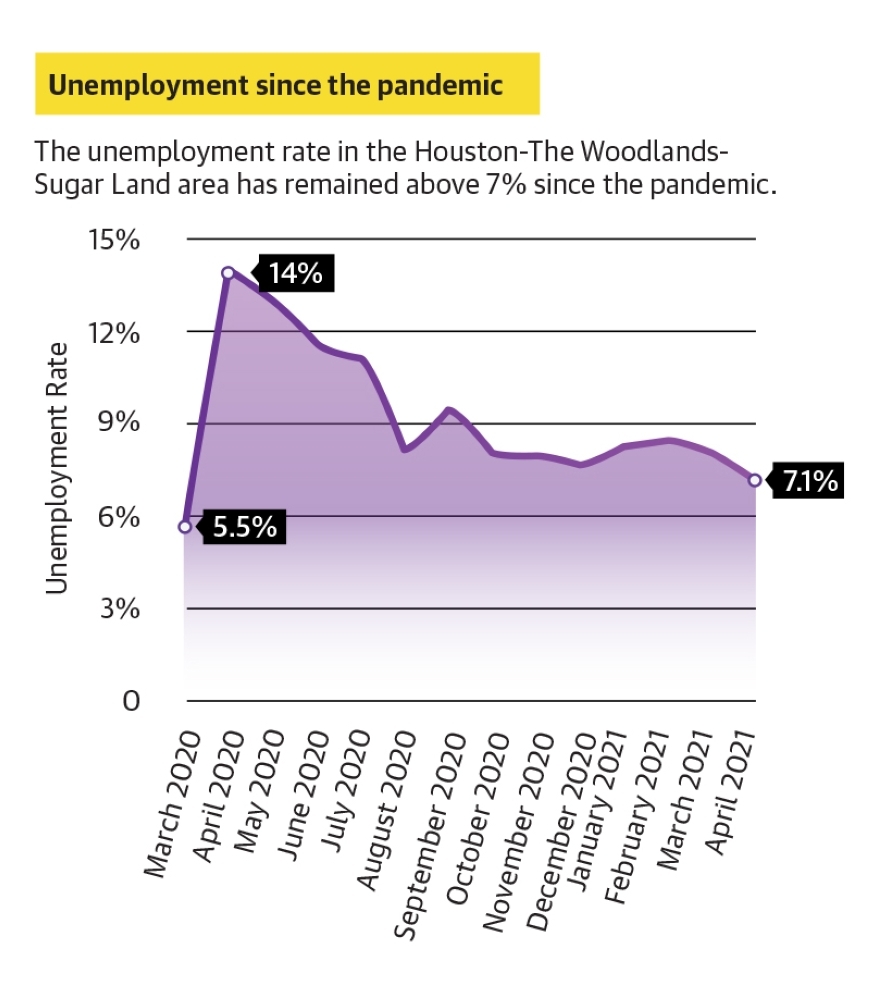 Reid also said the hiring situation is exacerbating Montgomery's existing entry-level workforce shortage, which has been ongoing for several years, according to previous reporting from
Community Impact Newspaper
.
Meanwhile at 242 Pub & Grill, managing partners Greg Holcombe and Anthony Shorrosh said since the pandemic, they have been struggling to hire and retain workers despite offering incentives. The restaurant has several locations, including one in Willis, which is in need of about 15 additional employees, they said.
"We had seven interviews set up [at one of our locations] confirmed, and not one employee showed up ... to actually interview for the job," Shorrosh said.
The duo said they believe the situation is the government's fault, not employees. When most businesses, schools and day care were closed, staying at home and being paid unemployment made sense to many people, and it could be hard to transition back into the workforce, Holcombe said.
"I was competing with the government to hire," Shorrosh said. "About 50% of the people that are actually filling out applications [now] have no intention to even come to work; they just want to extend the unemployment benefit."
Opting out
In his statement about opting out of the unemployment assistance program, Abbott said the state should help unemployed Texans get jobs rather than paying unemployment benefits.
According to the Texas Workforce Commission, there were nearly 60% more jobs open in Texas in May than there were in February 2020, the month before the pandemic hit Texas.
"The Texas economy is booming, and employers are hiring," Abbott said May 17. "The number of job openings in Texas is almost identical to the number of Texans who are receiving unemployment benefits."
Abbott also cited fraudulent unemployment claims as a reason for ending the program. According to the governor's office, nearly 18% of all claims for unemployment benefits during the pandemic are confirmed or suspected to be fraudulent. This totals more than 800,000 claims—worth as much as $10.4 billion, if all claims had been paid.
Abbott's decision to opt out of the federal program had mixed reactions. Reid and Danielle Scheiner, executive director for the Conroe Economic Development Council, said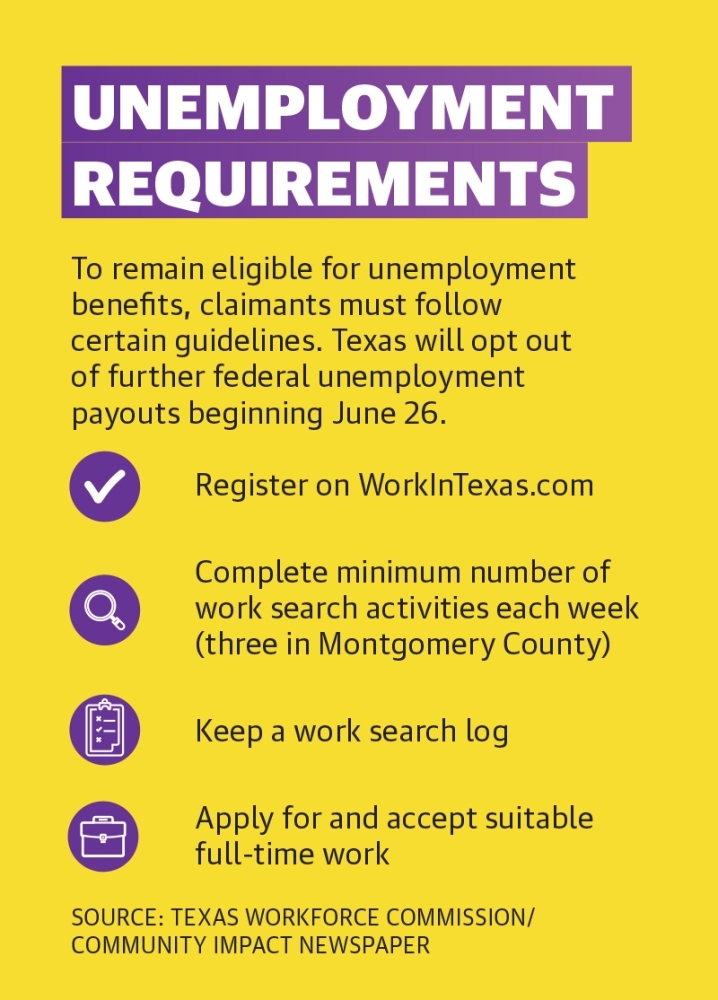 they anticipate it could help. Scheiner added the council is redoubling its efforts to inform people of skills training opportunities that are available.
Meanwhile, Lewis likened cutting off federal benefits to "shooting yourself in the foot."
"It doesn't serve the Texas economy to force people into lower-paying jobs than what they were earning before," he said.
Lewis said a lack of affordable child care and matching skill sets as well as inadequate wages are all barriers to entering the workforce. Texas' minimum wage has remained at $7.25 since at least 2010 despite the national average growing from $7.41 to $9.21, according to the Labor Law Center.
"For so long, the employer has been in the role of power, and they have the ability to leverage and negotiate salary and wages down because people need to work," he said. "Now we're in a position where the tide has shifted and you're seeing power in the hands of employees and workers to be able to decide whether this job fits their needs and their skill set."
However, Abbott's May 17 news release stated about 76% of posted jobs pay more than $11.50 per hour, and 2% pay around the minimum wage, according to the Texas Workforce Commission.
Efrain Lucas, general manager for the Cozy Grape, a wine bar in Montgomery, said when it first opened nine years ago, the business paid minimum wage, but wages have been steadily increasing, and it now offers upward of $12 an hour.
"Maybe some people are afraid [to return to work]. I get that, but enough is enough," he said.
Anna Lotz and Brooke Ontiveros contributed to this report.