The Montgomery Economic Development Corporation approved a grant at its April 20 virtual meeting to help businesses in the city limits affected by the ongoing coronavirus outbreak.
City Administrator Richard Tramm said the grant allows for up to $250 to cover utility bills from the city. The grant is open to any business that has generated at least $12,500 in Texan sales tax revenue in the last year and that can demonstrate a sales drop of at least 25% in March or April.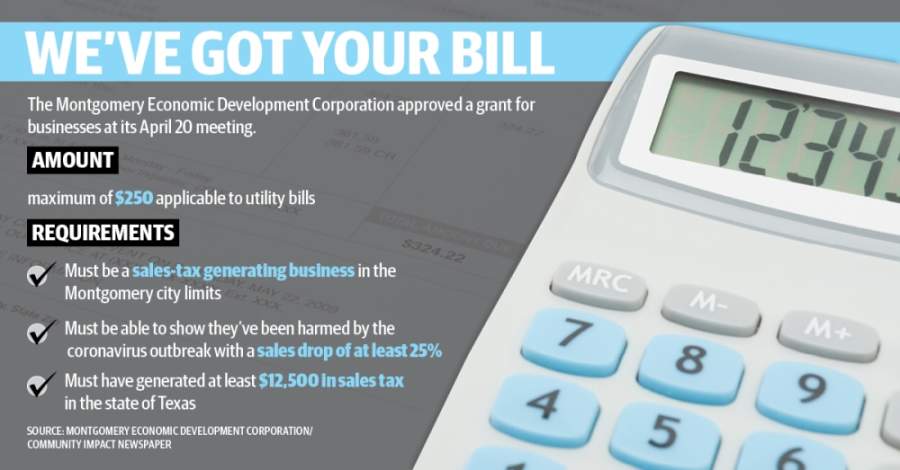 He said the businesses will not be paid outright but will instead have the grant cover their utilities as they use services with the city.

MEDC President Rebecca Huss said although the limit is a very small amount, some businesses in the city have very small bills, l and the grant could cover them for about six months.

"It's not a bonanza, but it's not nothing, either," Huss said.

MEDC members Tom Cronin and Robert Kerr both own businesses in Montgomery but did not recuse themselves because they said they would not apply for the grant. Kerr said he felt neutral about the grant in general, while Cronin opposed it; he said local business owners need to make their own decisions.

"Just because you have someone helping you with your utility bill doesn't mean people are going to come in," Cronin said. "You've got to generate revenue if you're going to be in business long-term."

Cronin suggested struggling businesses join the Montgomery Area Chamber of Commerce, which has been acting as a resource for local businesses. He said the city and MEDC should save the money, not invest in what he called a "band-aid."

Huss disagreed and said he believes that the city needs to show it is doing something to support people during the outbreak.

"You're right. It's not that much money. But if somebody needs it, they'll apply for it. If they don't need it, they won't apply for it," Huss said. "For some businesses, if we can give them six months without worry about one of their bills, they might really need that."

The grant was approved 6-1, with Cronin voting against the grant.