The print version of this story incorrectly stated the Lone Star Family Health Center in Conroe was selected as a vaccine hub location. The center was selected as a vaccine hub provider, but the doses will be administered at the Montgomery County Fairgrounds at 9333 Airport Road in Conroe.
---
Widespread COVID-19 vaccine availability could begin this spring, according to the Texas Department of State Health Services, and Montgomery County is gearing up for what officials anticipate will be an initial frenzy of high demand and limited doses.
The county has developed a distribution plan that could vaccinate up to 5,000 individuals per day through five major drive-thru sites, and officials said they have the supplies and logistics down pat. There is now just one crucial element left: the vaccines themselves.
"The states don't have enough vaccines being shipped to them from the federal government. It's just simply not as large a supply out there," said Chris Perkins, senior planner at the Montgomery County Office of Homeland Security and Emergency Management, at a Jan. 12 Commissioners Court meeting.
As of Jan. 12, the county has received about 26,000 doses of the Pfizer and Moderna vaccines, Perkins said. But when the mass supply of doses arrive—which is still up in the air—there will likely be an initial rush.
"When we are able to open these mass vaccination sites, there's going to be a wait; there's going to be appointments lists; the demand for it is going to be great, and the providers are all aware of that," said Jason Millsaps, the executive director of the homeland security and emergency management office. "They are asking the state for multiple thousands of doses at a time."
As 2021 makes headway, the state is anticipating the vaccine supply to continue to increase, reaching rural areas that may have been passed over in the initial distribution.
Distribution plan
A few weeks after the state began doling out doses in December, county officials said they sprang into action to develop a distribution plan.
The county plans to have five major drive-thru vaccination sites—one in the county's east side, one in the west side and three along the I-45 corridor—that will each administer up to 1,000 doses per day. The providers will operate as drive-thrus, with paramedics on-site to observe for any immediate effects postvaccination.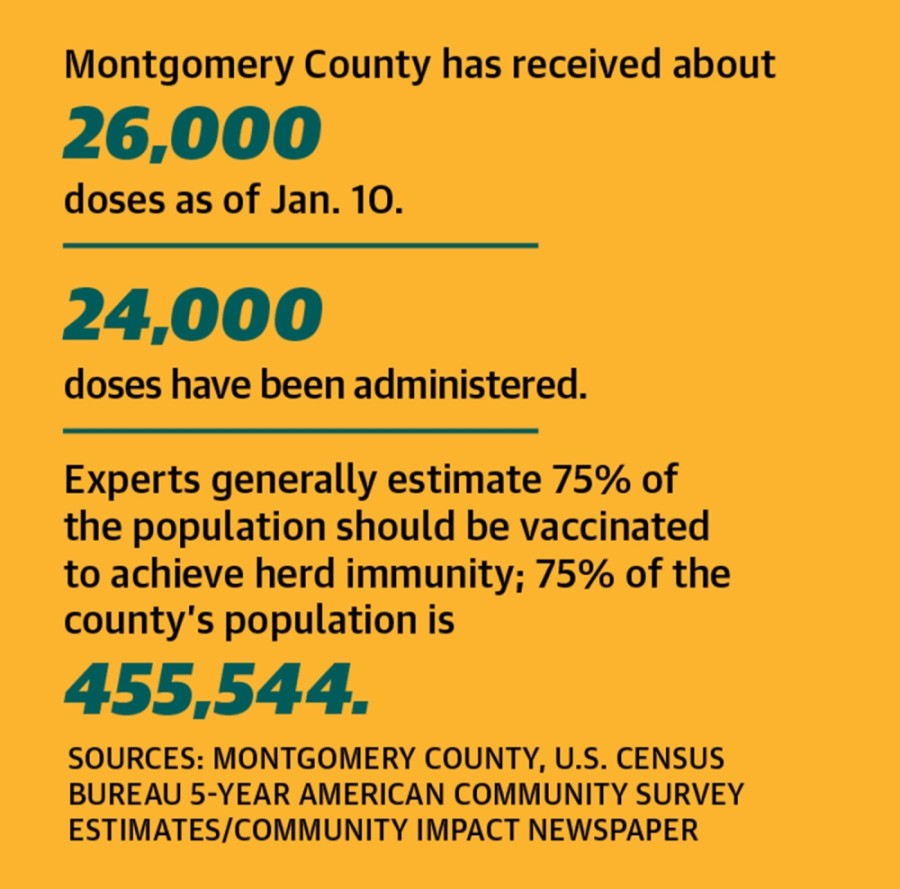 "Now we just need the vaccinations to start rolling in," Millsaps said.
One location—the Montgomery County Fairgrounds—has been chosen. Lone Star Family Health Center in Conroe was selected as a provider and received 2,000 doses Jan. 17, according to DSHS. Appointments for the week of Jan. 18-24
filled up within 30 minutes after registration opened
, Karen Harwell, CEO of Lone Star Family Health Center, said. The other locations have not yet been announced, but Steve Hoffart, owner of Magnolia Pharmacy, said
he hopes his pharmacy will be chosen
.
The county is looking toward the state for upcoming allocations. The state, not the county, is in charge of allocating vaccines to particular providers, and vaccine availability varies by region, according to the Texas Hospital Association.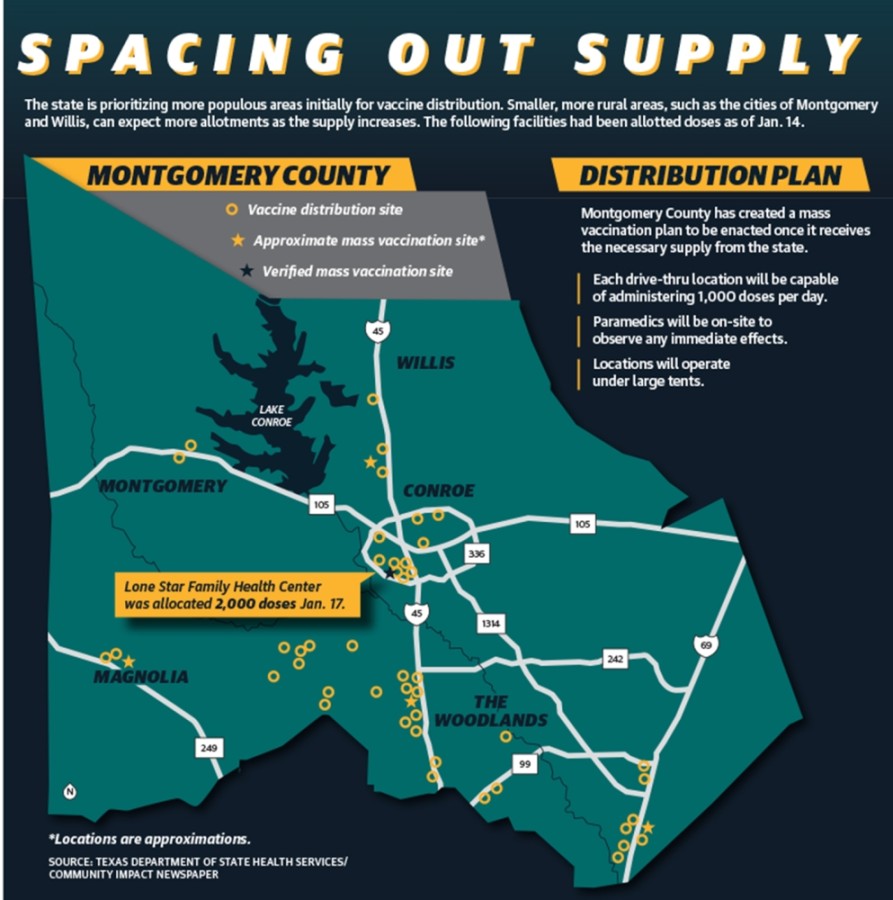 "We have very little to no input from the county level on how those allocations are made from the state vaccine advisory panel down to the individual providers that receive the vaccine," Perkins said.
More rural areas have been allotted fewer or no doses in these early shipments, based off state data. As of Jan. 18, the Montgomery County Public Health District is reported to have received just 100 doses of the Moderna vaccine. Over two dozen local clinics, physicians offices and pharmacies in Montgomery County had received or are scheduled to receive Moderna doses, but the majority of these are clustered in The Woodlands and Conroe, with two in the city of Montgomery and one in Willis.
On Jan. 10, the DSHS announced the designation of several regional "vaccine hubs" throughout the state. Montgomery County was not initially one of the 18 counties to have a megasite designated, although Lone Star Family Health Center was selected Jan. 17 .
Dr. Daniel Porter, the medical director of the Lone Star Family Health Center in Conroe, said because the vaccine supply is limited, it must be distributed to more populous areas first, but more rural areas can expect additional doses as the supply increases.
The concept from the public health officials is to put the vaccine into dense environments because you have people in closer proximity to one another," he said. "[However], rural locations are also getting hit by [COVID-19], so it's a tough decision."
According to the DSHS, the supply is expected to ramp up to meet the demand and ensure equitable access among geography and facility types, and the department predicts vaccine supply may even exceed demand at some point. Additionally, several vaccines are in the pipeline, including from Johnson & Johnson and AstraZeneca, and expected to become available early this year.
Once vaccines hit widespread availability, children under age 16 will likely be last in line, health officials said.
"The question of, 'When are we going to get approval for child immunization?'—I don't have an answer," Porter said. "The trials are ongoing to look at the safety data in children."
Demand for vaccine
Having a mass vaccination plan in place is critical for Montgomery County to prove to the state it has the capabilities to mass-distribute as well as the demand for it, Perkins said.
According to Perkins, the county has received about 26,000 doses of Pfizer and Moderna vaccines and has fewer than 2,000 doses still on the shelves as of Jan. 10—a sign providers are quickly getting vaccines out the door as required by the state, he said.
"The demand shows two things: ... Montgomery County can handle vaccinations as they come in ... and two, it does show a desire from our citizens, our health care workers, our first responders to be vaccinated," he said.

However, many county residents have expressed frustration and confusion about where and when they can get vaccinated. David Bowman, a 75-year-old Conroe resident, said in an email he tried to schedule an appointment but was unable to because of a bungled registration process and an understaffed appointment phone line.
Distribution in Montgomery County has already hit some bumps. Brightepointe at Rivershire, a nursing home in Conroe, contracted with CVS Pharmacy to administer vaccinations to its residents and staff. But the facility was scheduled to receive vaccinations Jan. 19—weeks after the initial request. CVS did not provide answers for the delay.
"I'm front line. I have a COVID[-19] unit; we are just as important as a COVID[19] unit in a hospital," said Susie Robinson, chief clinical officer at Brightpointe.
Robinson said she ended up going to an H-E-B in Katy, where she lives, to receive a vaccine.
Although many residents are clambering to be first in line, some may choose to not be vaccinated at all due to fear of potential side effects or not trusting a new vaccine.
A statewide survey conducted in December by Episcopal Health Foundation, a Houston-based organization focused on community health, found 35% of Texans said they were unlikely to get the vaccine. The research also showed that of those surveyed, 8% of Democrats and 30% of Republicans said they were very unlikely to get vaccinated.
Montgomery County, where majority of voters vote Republican, has seen a decline in the vaccinations of children. Schools saw an 83% increase in conscientious vaccine exemption rates from 1.66% in the 2011-12 school year to 3.21% in 2017-18, although it fell to 2.97% in 2018-19, according to DSHS.
"Knowing the politics of the community, I am nervous that people are going to choose to delay or not get [the COVID-19 vaccine] at all," Porter said. "It genuinely terrifies me."
Susan Brassard, an immunocompromised resident who lives on Lake Conroe, is among those who could receive the vaccine before the general public. However, she is hesitant to vaccinate—she has many medical and food allergies and has to get her flu shot via a nasal spray.
"I'm certain that at some point I will take it. I'm just not going to be the first in line," she said. "I'm going to wait a little bit and see how other people respond."•