As Montgomery County continues to reopen, officials said they are keeping a close eye on coronavirus trends. After an initial testing shortage, the county has expanded its testing capabilities since early May, and hospitals are reporting bed usage well within their capacities.
But despite concerted efforts to ramp up testing, only an estimated 3% of the county's residents have been tested as of June 1, and at least one drive-thru testing site has shut down due to decreased demand. A lack of testing, coupled with a lack of data clarity statewide, can make it challenging for experts to understand the scope of the disease and how to contain it, said Angela Clendenin, an instructional assistant professor in the Department of Epidemiology and Biostatistics at Texas A&M University.
"The data is all over the place," Clendenin said. "We want to know what is the transmission rate, what is the doubling rate. ... It tells us how this disease moves."
Texas was one of the first states to begin easing business restrictions due to the coronavirus as Gov. Greg Abbott's reopening plan began May 1. The restrictions have taken an economic toll, with 1.96 million unemployment claims filed in Texas between the weeks ending March 14 and May 2, according to the Texas Workforce Commission.
Montgomery County officials said they believe the county needed to reopen to prevent further economic collapse, with cities such as Conroe predicting up to a $1.5 million loss in sales tax revenue next fiscal year. Officials also claim the county has enough hospital capacity and supplies of personal protective equipment to handle a potential second wave of COVID-19.
"We have more than adequate supply of ventilators in the event that [the number of cases] doubles or even triples," County Judge Mark Keough said at an April 28 Commissioners Court meeting. "We are operating at 25%, 30% capacity [in our hospitals]."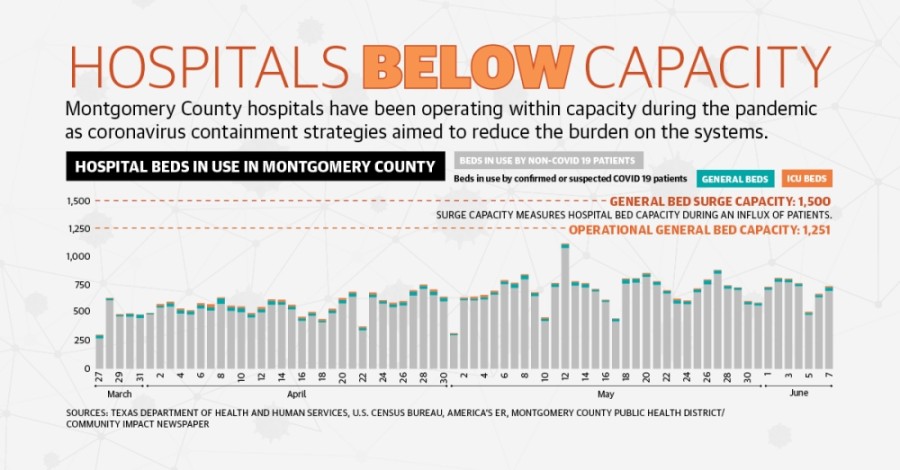 Data from the Montgomery County Public Health District shows there were 15 coronavirus hospitalizations in the county on April 1, while on June 1—one month after the county began easing restrictions—there were 29 currently hospitalized. Meanwhile, the number of active cases hit a peak May 19 with 539 cases and has since leveled off.
"Hospitalizations have not spiked since the state reopened," said U.S. Rep. Kevin Brady, R-The Woodlands, in a May 18 news release. "We've been able to open up our economy safely without an increase in positive case percentage."
However, the county also reported its highest number of new cases on June 2 at 44. The second-highest peak was April 14 at 42 new cases. Cases may continue to increase as testing ramps up, health officials said.
Access to testing
Although there have been concerted efforts to increase testing availability in Montgomery County, the resident demand for testing has not kept pace.
The county faced an initial testing shortage due to a statewide backlog that had prevented the opening of free testing sites, said Misti Willingham, the public information office for the MCPHD. In April, the MCPHD reported it had entered a request to order emergency supplies from the state for 1,000 COVID-19 test kits—and received six.
The Montgomery County Office of Homeland Security and Management also requested COVID-19 testing kits and was told the state may send some in August, the MCPHD said.
Up until early May, the closest free testing option for Montgomery County residents was Butler Stadium in Houston.
On May 13 the county implemented a free voucher program for residents to be tested in Spring or Conroe. The voucher program's launch came two weeks after officials approved the purchase of 12,000 tests, with funding provided through the federal coronavirus relief package.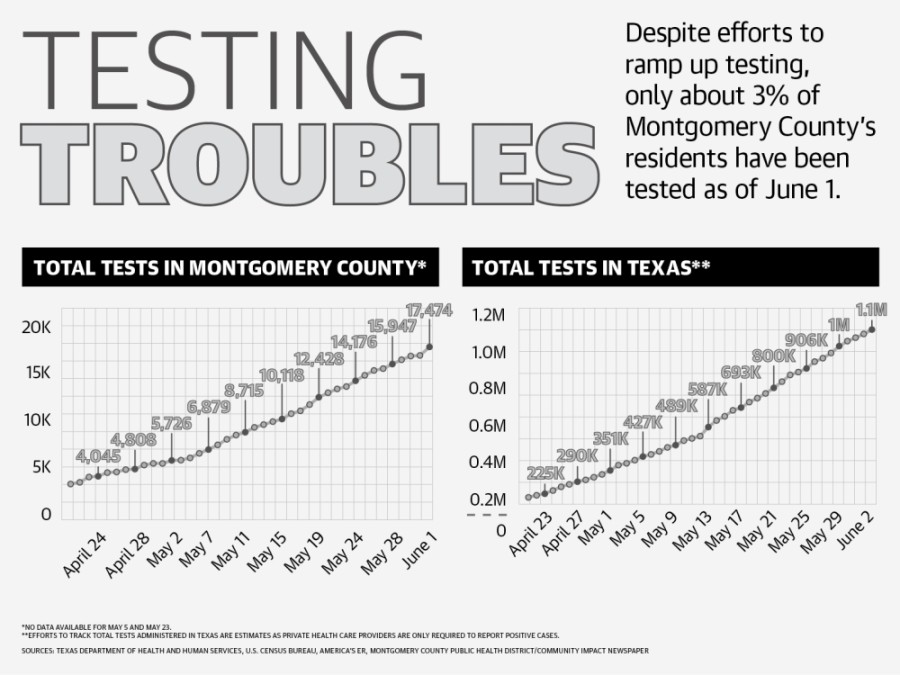 About half the tests will be reserved for symptomatic individuals, while the remaining half can be used for anyone regardless of symptoms, officials said.
Test usage is based on resident demand, and the county may hold back some tests in case of possible future case spikes, MCPHD CEO Randy Johnson said.
As of June 3, there were 11,460 unused vouchers countywide, according to America's ER, one of the testing locations. That means 4.5% of the vouchers have been used.
America's ER announced June 2 it would close its drive-thru COVID-19 testing facility at WoodsEdge Community Church on Gosling Road on June 4. According to the statement, the entity has no plans to open another drive-thru site due to decreased public demand for coronavirus testing.
Drive-thru testing is still available at America's ER facilities.
"In the event of COVID-19's resurgence, America's ER will re-evaluate the need for large-scale drive-through testing ... and will reopen a new drive-through facility to help with testing demand if we are able to do so," officials wrote.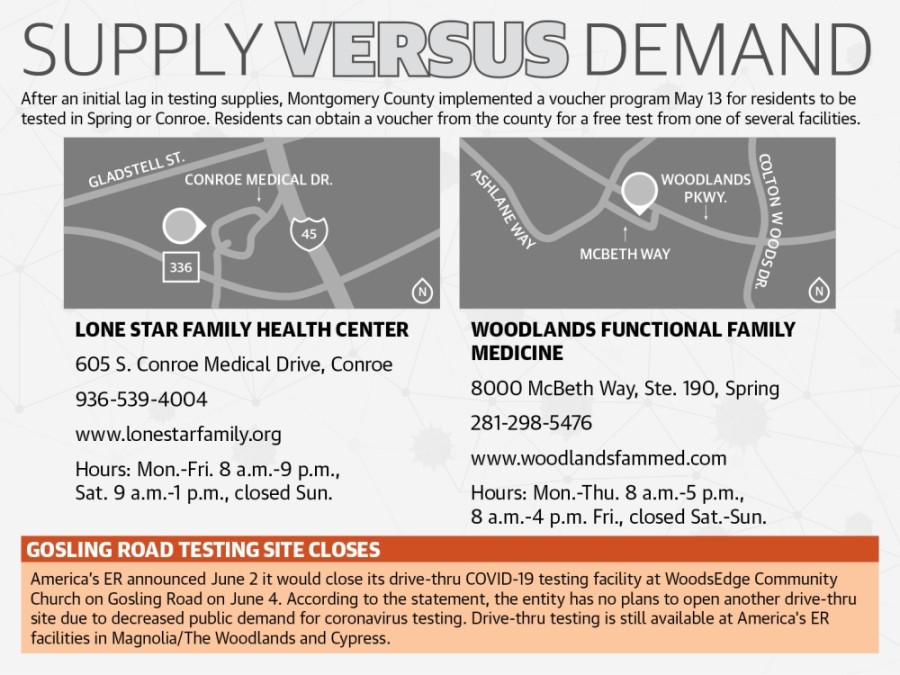 Clendenin said the best way to contain an infectious disease is to test every individual, and she estimates about 2.8% of the state's population has been tested as of June 1. Testing those with various symptoms as well as those who are asymptomatic is critical to understanding the scope of the virus, she said.
This was a challenge early on, when the state's testing supplies were low and individuals needed to exhibit certain symptoms such as coughing or a fever to be tested, Clendenin said. This meant people who had been in contact with someone with the coronavirus could not necessarily get tested even if they suspected they had been infected, she said.
"In order to make the most efficient use of our testing capacity, we tested the symptomatic people," she said. "We would advise [these individuals] to go and get a test, and they couldn't because they had no symptoms or the symptoms didn't match."
But symptoms associated with COVID-19 keep changing as more cases are reported, and about 50% of people who have the disease are asymptomatic, which is why the criteria for testing has largely dropped, Clendenin said. Still, asymptomatic individuals are not likely to get tested yet and are still spreading the disease, she said.
Following Gov. Greg Abbott's mandates to test every nursing home and food processing center in the state, Clendenin said she expects this percentage to increase. Following testing, individuals who have been exposed must be isolated to prevent further spread, she said.
Inconsistent data
Even as testing has increased, there are questions surrounding the reliability of the data.
When Texas began reporting its coronavirus cases in early March, it combined antibody and viral testing under total tests. Antibody tests indicate whether a person was previously infected, while viral tests show if an individual currently is infected. Combining the two lowers the reported positivity rate, which is the ratio of positive tests to total tests.
On May 20 the Texas Department of Health and Human Services began reporting its antibody tests separately.
Montgomery County tracks antibody tests but does not include them in case count totals, Willingham said. Data from the MCPHD and the Texas Health and Human Services Commission shows from May 1 to June 1, the county's positivity rate decreased by more than half, from 12% to 5.4%.
The state's positivity rating has decreased from 8.3% to 5.9%.
But how the state is reporting its total tests is not readily available. The HHSC did not begin reporting cumulative tests by county until April 21. And Willingham said because private health care providers are only required to notify the MCPHD of positive results, the county may not have an accurate number on all tests.
Clendenin said reliable data is key to understanding how COVID-19 acts within a population and implementing a mitigation strategy.
"We're still learning a lot about this disease, and that makes data clarity and purity really difficult," she said.
Hospital capacity, preparedness
From a hospital capacity and emergency response preparedness standpoint, Montgomery County officials said they are equipped to handle a possible second wave of cases.
HCA Conroe said in a statement it has the ability to adjust its beds and units to care for a variety of patients as needed.
General hospital bed usage in Montgomery County increased from March 30 to May 28, from 494 beds in use to 585, the SouthEast Texas Regional Advisory Council reported. The largest spike was May 12, at 1,109 beds; still, this did not fill the 1,251 total available beds.
Representatives from Kelsey-Seybold Conroe, which opened in March, said they have enough personal protective equipment, and the facility has been screening patients virtually first before letting them on-site to reduce exposure to the coronavirus.
The Conroe Fire Department has adjusted its emergency medical operations by screening its medical calls to see whether patients potentially have the coronavirus as well as setting up a centralized decontamination system, Conroe Fire Marshal Steve Cottar said.
Clendenin said she believes there will be public health repercussions from opening the state, although she said the state had little choice.
"It really was a no-win situation," she said. "We did what we had to do."
Anna Lotz and Ben Thompson contributed to this report.