The Montgomery County Appraisal District has sent out notices of appraised value for the 2020-21 tax year, and residents are criticizing what they call a "cash grab"—raising values during the ongoing coronavirus outbreak.
Although Montgomery County Chief Appraiser Tony Belinoski said his office has not seen a dramatic increase in appraised value protests as compared to previous years, several residents still said they plan on protesting their new values.
"The amount of money I've had to pay every year since I purchased the land and house I own has been too high from the beginning. And for them to raise the amount I have to pay every year is insane, to say the least," Montgomery resident Michael Jordan said.
Resident concerns
Conroe resident Nick Vonas said his appraised home value have dramatically increased in the last year. According to the MCAD's website, Vonas' home increased in value by about 6%, from $445,000 in 2019 to $471,810 in 2020.
"I've never resisted paying my fair share, but in my view, this round of assessments, in light of the hardships many residents are facing, is a thinly veiled money grab," Vonas said in an email.
Although Montgomery County did not issue a stay-at-home order until March 27, Vonas said the coronavirus outbreak's impact was felt as early as January and should be reflected in the appraised value.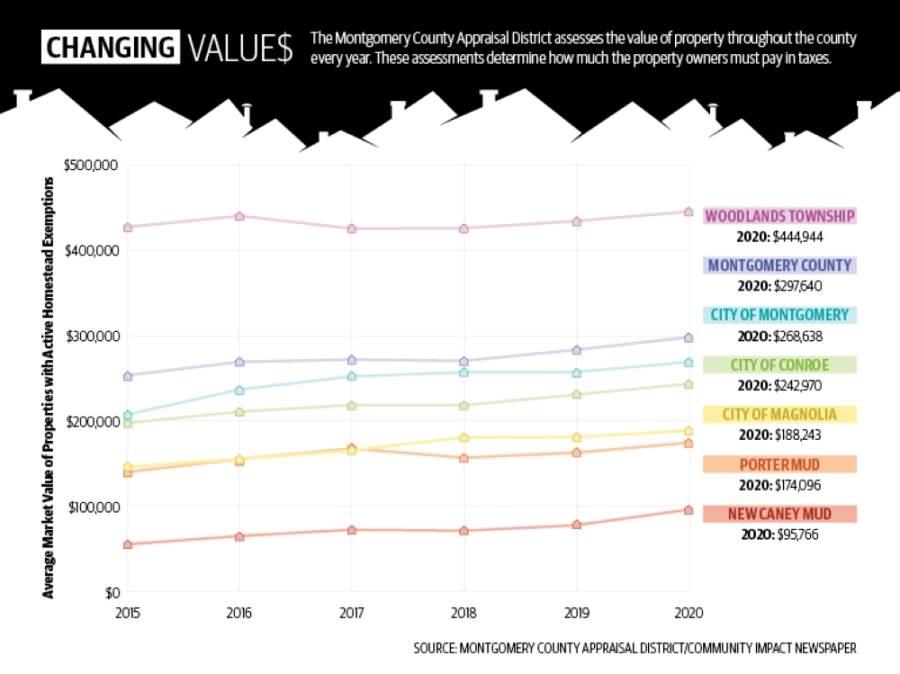 Conroe resident Ralph Finnegan agreed with Vonas. He said his land value has drastically increased in one year, from $11,110 in 2019 to $38,890 in 2020.
Although several taxing entities, such as
Conroe ISD
, are considering lowering their tax rate for the 2020-21 tax year, Finnegan said a lowered rate does not mean lower taxes if the property values go up. Even though his heating and air conditioning job has not been hit by the coronavirus outbreak, he knows several residents have been laid off or have reduced hours.
Vonas said the outbreak has also impacted residents' ability to protest their valuation. Because the appraisal district's office is closed, residents must protest over the phone or online, which he said makes the conversation "substantially hindered."
State Rep. Steve Toth, R-The Woodlands, said the appraisals specifically hurt small businesses, who are already struggling to stay open during the outbreak.
"I haven't heard a single person on the appraisal district board call on the governor to say, 'Gov. Abbott, would you please let us use last year's appraisal values?'" Toth said. "They haven't done it. They don't care. This is government at its worst."
Toth said the appraisal district is not "taxpayer-centric" and is not concerned about the small business owners and residents. He said residents should push Abbott to allow districts to use 2019 appraisals for properties the value of which increased in 2020. Toth said he and other elected officials are in conversation with Abbott to make that happen.
"[The appraisal district] should be absolutely standing up as leaders in our community and demanding the governor goes back and comes back with a plan that does not raise taxes on small businesses," Toth said.
Between a rock and an appraisal
Belinoski said the appraisal district is required to assign values to the property based on the state of the property as of Jan. 1. He said that without legislative approval, the district cannot deviate from that date to take into account the coronavirus outbreak. However, any long-term effects still present in 2021 will be taken into account.
"We understand the hardships that property owners are going through," Belinoski said.
He said the appraisal district has been in communication with state entities, such as the Comptroller's office, Gov. Abbott's office and other appraisal districts, to find "methods to ease the burden on property owners." But Belinoski said all of those conversations pointed to legislative action as the solution.
Although part of the appraisal process is determining "improvements," Belinoski said improvements do not reflect actual improvements or additions to a property or structure, but rather reflect changes in market values and sales transactions for a structure.
"It doesn't necessarily mean they repainted their house. It's just what the market is showing what homes in those areas or real estate in those areas are selling for," Belinoski said.
One of the reasons property values are going up is the development of much more land in the county, according to Belinoski. With large projects and roads being built, the land value goes up.
Belinoski also said it can be several years before the district collects enough data to assign a reevaluation, which contributes to what some property owners see as a large jump in their property values.
The appraisal district has seen about the same amount of resistance to new valuations as in previous years, according to Belinoski. Although there may be more frustration because of the timing and the impact of the coronavirus outbreak, he encouraged residents to apply to protest their appraisal if they are not satisfied. The appraisal district has closed its office until further notice but is accepting applications for protest
online
.
"With the coronavirus impact hitting a lot of the property owners and taxpayers in Montgomery County that have been laid off or are not working, it's just bad timing," Belinoski said. "But this is the time of year we are required to do this."