Willis High School senior Grace Hoegemeyer has been involved in showing livestock at the Houston Rodeo and Montgomery County Fair since she was 9 years old. The 2020 season was meant to be a final kickoff before she went to Texas A&M University.
"[When the rodeo was canceled] I was devastated because it is my senior year; I was so excited to finish off my rodeo time," Hoegemeyer said. "But I had hope still because I was like, 'At least I still have [the county fair]. ... But once I got the news the next day that county was canceled as well, I was pretty heartbroken. There's nothing left for me to do anymore."
Amanda Traylor, the head agriculture teacher at WHS, said students prepare for shows such as the fair and rodeo for the whole school year, caring for and training the animals themselves or writing essays, reports and business plans.
Traylor said she was at the rodeo with students when they received word of its cancellation.
"It was pretty heartbreaking to have to tell them," Traylor said. "We have a bunch of very heartbroken, distraught children."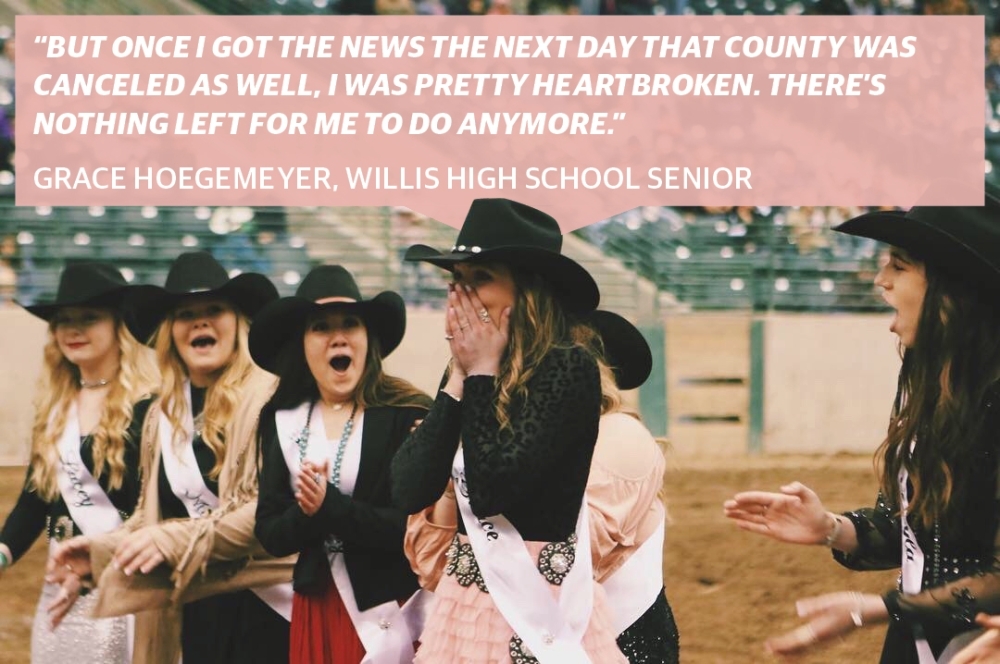 Like Hoegemeyer, many other students and businesses are left in the lurch with both the fair and rodeo canceled. Cody Bartlett, the president of the Montgomery County Fair, said although the exact amount of lost revenue is hard to calculate, the cancellation will have a significant effect on local restaurants and businesses.
"Anytime you bring 50,000-plus people to an area, business sees benefits. Restaurants have full tables; hotel rooms are filled; retailers move product," Bartlett said. "With this cancellation and the COVID-19 pandemic, the opposite is taking place."
The fair planned to have about 20 vendors on-site, according to Bartlett, not including countless other vendors and businesses that help put together the fair itself. Bartlett said the fair traditionally sees an average of 50,000 guests during its 10-day season.
Bartlett said the fair was originally going to increase hand-washing stations and signage, but conversations with county officials "quickly escalated" to a full cancellation. Hoegemeyer and Traylor said there are community movements to put on makeup shows and auctions to help mitigate the losses of the fair and rodeo. Traylor said many students wanted to sell their animals right away, but she advised them not to because she knew there would be a community push to help the students.
The Houston Rodeo also held an online auction for junior exhibitioners March 21, according to a press release.
Bartlett said the fair is still planing to give out 50 $2,500 scholarships and has created a Junior Exhibitor Stipend, which will go to children who were supposed to exhibit livestock at the fair. The stipend is funded by $150,000 from the fair's general fund and by public donations.
"As a former exhibitor myself, I know the work, time and money that goes into these projects and to not get your day in the ring is devastating for all involved," Bartlett said. "What we are going through is unprecedented and beyond any of our control, but we will remain committed to supporting our mission of youth and education and can't wait to welcome everyone back to the fair April 9-18, 2021."
Traylor said her son earned scholarships from both the rodeo and the fair in 2019, and these events can contribute a great deal to a student's education.
"Depending on where they're going to college and what they're going on doing, it can be a big chunk," Traylor said.
Although Hoegemeyer applied for scholarships at both the Houston Rodeo and fair, she said the majority of her college fund was meant to come from auctioning off the animals she was meant to show.
"Without the ability to sell these animals, it kind of puts me in more of a dire need of these scholarships," Hoegemeyer said.