When COVID-19 restrictions went into effect in March 2020, performing arts groups were among the many entities that were sidelined.
Curtains closed; performances were shuttered; and groups in Conroe credited season ticketholders, hoping funds would stretch just enough to get by.
"It was terrible," said Don Hutson, a board director and former music director and conductor for the Conroe Symphony Orchestra. "We had no way to bring music to the people."
Even as restrictions began easing, actors at The Players Theatre Co., the resident company of the Owen Theatre in downtown Conroe, pledged to keep their social circles small, restricting themselves to work, family and theater. When shows started back up in mid- to late 2020, the theater opened at 50% capacity, theater company representative Rebecca McDowell said.
On March 2, Gov. Greg Abbott lifted the mask mandate, and the Owen Theatre reopened at full capacity. On June 1, Conroe's recently renovated Crighton Theatre will also follow suit. Local groups have unveiled their new seasons, which include lineups with shows such as "Tarzan the Musical," "M.A.S.H." and "Matilda."
"We are ready to perform," McDowell said.
The community may be ready too; the first show back after the mask mandate ended, "Footloose" at the Owen Theatre, was a big success, McDowell said.
"We sold out performance after performance after performance," she said. "People were ready."
Some groups such as the Conroe Symphony Orchestra used the downtime to recoup and rethink the way music is performed by creating more interactive events, Hutson said. Plus, with a new performing arts center in the works in Conroe, local performers anticipate the stage has been set for increased support and creativity in the performing arts.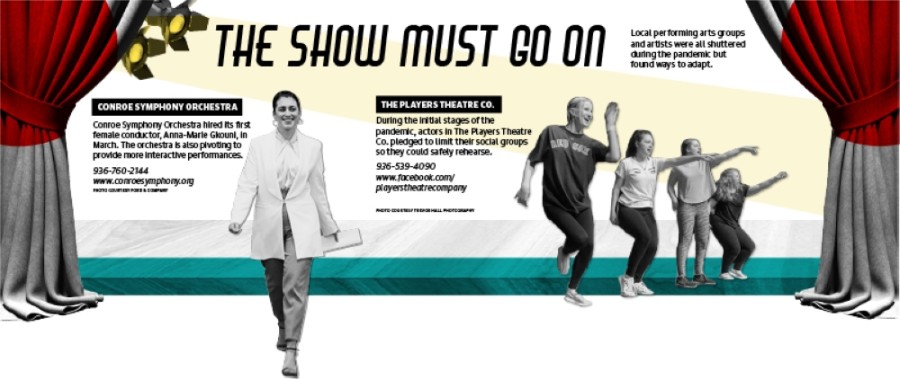 "It's like what happened at the end of [World War II]. ... After the war, there was an explosion of artistic creation," the symphony's director and conductor Anna-Marie Gkouni said. "I think the same will happen when people have the chance to get back together again. We will see great things."
Lifting the curtains
The historic Crighton Theatre opened in 1935 on North Main Street after then-Mayor Harry Crighton decided to open a grand theater, according to the theater's website. The Crighton flourished for years but began to decline as drive-in theaters became popular.
After closing in the 1960s, the condition of the building deteriorated—the orchestra pit was filled with stagnant water, dead pigeons and rodents—before being restored in the late 1970s.
Owned by the Crighton Theatre Foundation, the theater again underwent restorations last year, which were mostly wrapped up as of late April, said Amy Sowers, the president of Stage Right, the theater's resident company. The renovations, which cost about $1 million, include a new, larger lobby; 12 additional restrooms; and a new concession area.
Stage Right could not finish its season when pandemic restrictions went into effect and had to refund money from ticket sales, Sowers said. From February to December, there were no shows.
"So, that's no income during that time," she said.
In December, Stage Right reopened with limited capacity; the Crighton seats over 500, but the maximum allowed was 180. In the first show, "Peter Pan," Stage Right lost money; musicals typically cost between $15,000-$18,000 to build the sets and purchase costumes and props, Sowers said.
Still, the show was magical, she said.
"Peter Pan and Wendy and the kids were flying," she said.
At the Owen Theatre, which is owned by the city of Conroe, shows have likewise begun to pick back up. The Players Theatre Co. began reopening in May 2020, McDowell said.
Although the return was slow and cautious with one director choosing not to do her show at all, McDowell said the audience was thrilled to be there.
"People were coming out and going, 'Thank you so much for doing this,'" she said.
A time to pause
When the musicians at Conroe Symphony Orchestra were forced to stop playing, board members said they used the time to strategize.
"We were given the gift of time, [although] it didn't look like a gift at the time," said 359th District Court Judge Kathleen Hamilton, who also sits on the Conroe Symphony Orchestra board of directors.
The board began to rethink its approach to performances. Concerts typically last a couple of hours, and audience members sit and listen to classical pieces from composers, including Bach and Beethoven, Hutson said. But a new idea emerged.
Hutson said the vision is to create interactive, family-friendly performances in conjunction with other area performers to draw in more people, especially young people.
"Maybe it's a Cinco de Mayo concert in The Woodlands," he said. "[There's Latin] food, and we have dancers; we have guitarists; we have singers, ... people who are showing us their art, their dance, and it's a day of experiences."
In March, the board also hired its first female conductor, Gkouni, who hails from Greece.
Meanwhile, solo artists also found themselves suddenly sidelined during the pandemic with extra time on their hands. Singer and songwriter Emily Cole, who lives in Montgomery, has performed at various local events and venues, including Ransoms Steakhouse & Saloon in Montgomery, the Red Brick Tavern in Conroe and the Conroe Cajun Catfish Festival.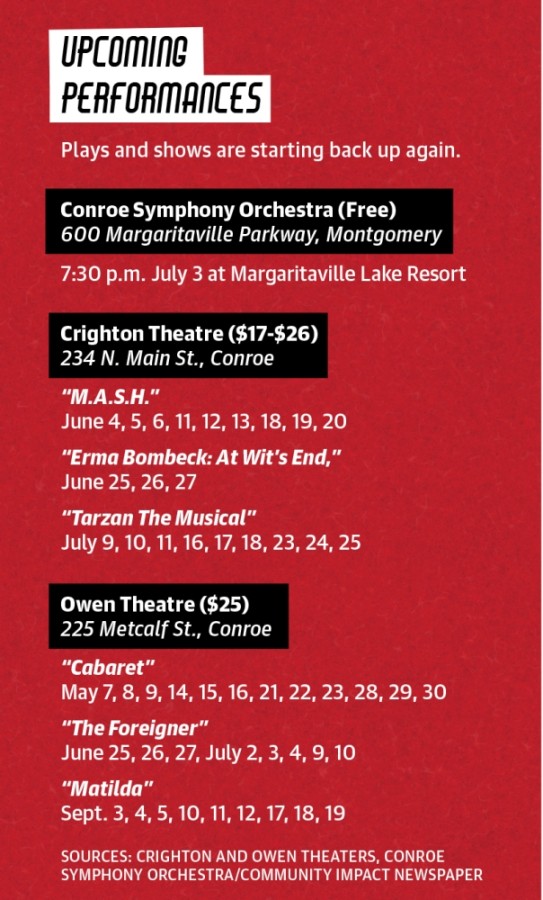 Her performances came to a screeching halt when the pandemic hit, she said.
"Everything kind of stopped for a solid two or three months," she said. "I went from having two to three gigs a weekend [that were] up to four hours long to nothing."
In the downtime, Cole took a production class led by One Republic's Ryan Tedder, where she learned how to produce her own music. She is producing her upcoming album, and the album's first single, "Dumb," was released April 30.
New performing arts center
For years, Conroe officials and arts enthusiasts have mulled over bringing a new performing arts center to the city. Arts groups have said they are limited for space, sometimes using churches or sharing facilities to perform.
A feasibility study conducted by Garfield Public Private was presented to City Council on Sept. 11, 2019, but the study's initial cost estimate of between $66 million-$89 million concerned city officials. The study's original proposed locations are no longer being considered, according to Marsha Porter, City Council member and the city's arts liaison.
The city is in discussions to convert Conroe ISD's old Sam Houston Elementary School to a new performing arts center that would be smaller and cheaper than the one proposed by Garfield, although a cost estimate is not yet known. The city has leased the building back to the district for three years, but it is possible the lease may be broken early, Porter said.
"[This center] is not in any way meant to be in competition with Crighton or Owen Theatre," she said. "It's just a different animal altogether."
Porter said she and a few others are scheduling meetings with arts groups to discuss their needs and wants for a new facility. Local groups have expressed support for the project.
"It will absolutely transform the arts of Conroe," Hutson said. "The benefits of this thing are significant."