A Conroe-based company transformed itself virtually overnight into one of the nation's leading suppliers of personal protective equipment and is now straddled with lawsuits and layoffs, raising questions about the federal procurement process amid the pandemic.
The company—Wildcat PPE—is a spinoff of Wildcat Cable Solutions, an oilfield equipment supplier in Magnolia. Its parent company is Tomball-based Python Holdings, an integrated group of brands.
Wildcat PPE was created in the beginning of the coronavirus pandemic to manufacture medical gowns as part of a national initiative to mass produce PPE.
After opening in April 2020, Wildcat PPE grew to over 2,000 employees—reaching 2,400 at its peak—making it the fourth-largest employer in Montgomery County,

based on The Woodlands Area Economic Development Partnership's 2020 major employers list. It also branded itself as the

largest, 100% American-made medical PPE company in the nation.
At the height of production, Wildcat PPE was producing about 3 million gowns per month, with the capacity to ramp up to 10 million per month, Python Holding's general counsel Matthew McFarlane said. The provider had federal contracts as well as contracts with several area hospitals, according to company officials.
But former employees said issues began to crop up early this year. Around February, Wildcat PPE began laying off hundreds of its workers.
McFarlane said the layoffs were a result of federal contracts stalling, and the setback is temporary. Once contracts are reissued—perhaps in August—Wildcat PPE will likely ramp up to 6,000 employees, McFarlane said in early July.
"The immediate demand has certainly diminished, but there is still a strong appetite for American-made PPE, both in the private and government sectors," he said.
Besides layoffs, lawsuits filed in late 2020 allege Wildcat PPE did not pay some of its staffing agencies, with one agency alleging Wildcat PPE owes it over $2 million dollars. Another lawsuit claims the company issued poor-quality gowns.
Former employees like Cynthia Carter, who was hired directly by Wildcat PPE in September 2020, also said the company mass manufactured shoddy products.
"They would just go by and pick up gowns without even inspecting them," she said. "Some of the gowns were horrible. I can't believe [they would] ... allow these things to go through."
Wildcat PPE officials denied the allegations. The company is U.S. Food and Drug Administration-compliant and has passed multiple third-party audits, according to McFarlane.
Quality concerns, unpaid invoices and legal complications have cropped up among companies that were hastily-awarded federal contracts during the pandemic, said Jeff Cuskey, a government procurement consultant and senior procurement advisor for the
San Diego, Orange, Imperial Procurement Technical Assistance Center
.
Cuskey said the federal government used a less stringent PPE procurement process due to the urgency of the pandemic and awarded contracts to companies that may not have been properly vetted.
"A lot of these companies didn't know what it took to ramp up production to meet the millions of quantities that were being contracted for, and a lot of them thought this was a quick killing," Cuskey said. "They didn't realize all the other hoops they had to jump through to comply with the contract requirements."
American made
When the COVID-19 pandemic broke, it revealed vulnerabilities in the global medical supply chain, such as the U.S.'s overreliance on foreign supplies, according to the U.S. Department of Health and Human Services website.
As a result, the HHS shifted its priorities to include expanding domestic manufacturing of PPE and replenishing the Strategic National Stockpile. The latter is a nationwide initiative to stock up on medical supplies that, prior to COVID-19, was largely focused on preparing for natural disasters or terrorist attacks but now includes infectious diseases, according to the department's website. Supplies include masks, gloves, gowns and N-95 respirators.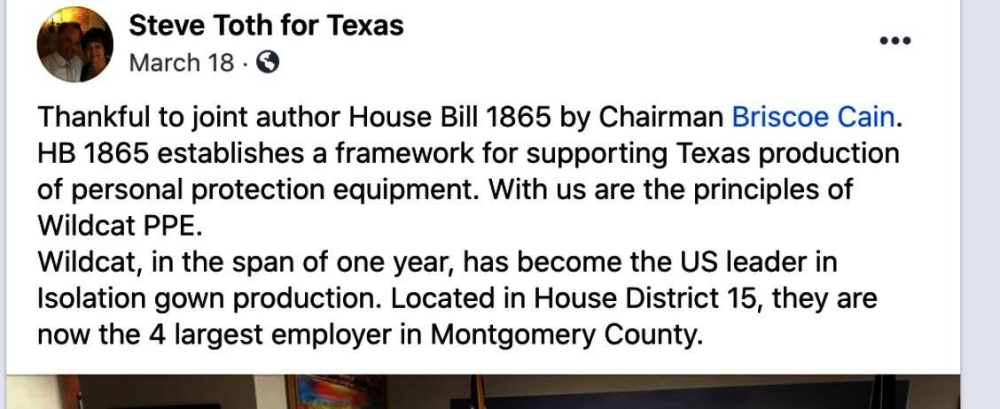 As of July 16, the Strategic National Stockpile held 273 million masks and 22.3 million gowns, an HHS spokesperson said in an email.
In Texas and in Montgomery County, elected officials have pushed for more Texas-manufactured PPE products. State Rep. Steve Toth, R-The Woodlands, co-authored House Bill 1865, which would have—if it passed in the 87th
Texas Legislature—required state agencies to give preference to PPE manufactured in Texas and offered for sale by Texas bidders.
"Right now, masks and gowns, it's all made in China," Toth said in a phone interview. "The problem we had during COVID[-19] is people would buy products in China, and a broker would call back two days later and say we can't ship them to you. ... It was awful."
Branding itself as 100% American made, Wildcat PPE was born in early 2020 after Magnolia-based Wildcat Cables pivoted from manufacturing cables to PPE, according to previous reporting from Community Impact Newspaper.
Wildcat PPE originally worked out of the Wildcat Cables complex, but it opened its facility at 301 S. Trade Center Parkway, Conroe, on June 22.
Just a few months later, Wildcat PPE would become a highly sought-after partner for companies that were awarded federal PPE contracts, McFarlane said.
In September 2020, the U.S. Defense Logistics Agency awarded contracts for disposable isolation gowns to several American businesses, including Washington-based Unifire, according to a news release from the U.S. Department of Defense. Unifire had a manufacturing agreement with a startup company called Olimax.
Olimax and Unifire partnered with Wildcat PPE.
"[We] were approached by every prime contractor who received an award from the DLA to be a place of performance to manufacture the gowns on their contracts," McFarlane said. "Wildcat chose to provide gowns to Olimax and Unifire due to their excellent reputation and track record."
With contracts in place, Wildcat PPE partnered with several staffing agencies, hired thousands of employees and began mass production.
Quality questions
Carter said she worked at Wildcat PPE for about six months before being laid off. She worked as a seamstress, sewing medical gowns in assembly lines that would later be bagged and shipped off.
She said she never knew where the gowns were being shipped.
"They just said clients had big orders," she said.
Carter said employees were supposed to walk the aisles and inspect the products, but many poor-quality gowns were approved. She estimated about 30%-40% of the gowns were faulty.
"Some of the arms [on the gowns] ... you couldn't get your arm through that at all. The end of the gown, it would be burnt or it [would] be torn," she said. "[Sometimes gowns would] split, and they would still send it on through."
Alfred Jackson, another former Wildcat PPE employee, was tasked with folding gowns and bagging them.
"The gowns were uneven [and] short," he said.
Jackson, who started in October and was unexpectedly laid off Feb. 15, said fights, drugs and criminal activity would occur at the facility.
"[There was] a bunch of fighting and shooting, ... a lot of drugs," he said.
Wildcat PPE officials said employees that were hired directly by them had to have a background check, but both Jackson and Carter said they were hired on the spot after filling out an application.
Matt Etter, a former employee of Staffing Solutions, which provided staffing services to Wildcat PPE

from July to September 2020

, also voiced concerns about the product quality. Etter was eventually hired on as a full-time supervisor at Wildcat PPE before being let go in March.
"We would take gowns from Bighorn [Manufacturing, a subsidiary of Python Holdings] that were bad gowns [and re-bag them]," he said, "The dimensions were off, you didn't know if they were extra-large or large."
Etter said management would tell employees big government contracts were coming.
"This was always the big thing, but it never materialized," he said. "It's not just because the pandemic is ending. ... They're not able to fulfill orders, there's no structure there. Someone is just making a lot of money. ... I don't know if these guys are legit or not."
It is not clear if production is ongoing at the Conroe facility. Community Impact Newspaper observed roughly 10 cars parked outside the facility the afternoon of July 1, although bay doors were closed.
"The last that I heard, they weren't in production," Carter said in June. "Two months ago, I called and asked if they had started back up, and they said no."
Meanwhile, Wildcat PPE officials denied allegations of poor-quality products. McFarlane said the company was carefully vetted for its contracts, passed multiple third-party audits and has a robust quality control system with multiple checkpoints. The company is also fully compliant with FDA requirements.
"Our quality system was second to none," he said. "We would be interested to know where the accusations are coming from, as we never had an issue with the quality of our product."
According to Unifire, Wildcat PPE fulfilled its contract agreement with no issues.
"Olimax and Wildcat PPE fulfilled all the orders and provided us with high quality [gowns] for the DLA contract," said Unifire Chief Technology Officer Francisco Martinez in an email. "Wildcat PPE's gown quality has been independently assessed and its quality control system reviewed before becoming a Unifire subcontractor."
Legal turmoil
Wildcat PPE faces several lawsuits filed in Harris County, ranging from allegations of poor-quality products to not paying its staffing agencies.
Staffing Solutions claims Wildcat PPE has refused to pay the amount due, which is $2.04 million. Cypress Creek Personnel Services, another staffing agency, also alleges in a lawsuit that Wildcat PPE owes it more than $166,000.
Another company, I3LOGIX, is suing Wildcat PPE for allegedly delivering nearly 50,000 unsterile gowns. I3LOGIX rejected the gowns and sent them back, but claims it was not refunded, according to the lawsuit.
In countersuits, Wildcat PPE claims the staffing agencies breached their contract by hiring unqualified employees who brought criminal activity including theft to the facility, requiring Wildcat PPE to hire security guards.
In a separate case, Wildcat PPE is suing Medlink Health Solutions, a medical clinic in Phoenix. The former alleges Medlink breached its contract manufacturing agreement by failing to provide materials.
Wildcat PPE also alleges Medlink took Wildcat's trade secrets and gown designs to two Houston-based manufacturers to create a competing operation at 22936 Kuykendahl Road, Spring. Private investigators hired by Wildcat PPE found gowns designed by Wildcat PPE in dumpsters outside the Spring facility, according to the lawsuit.
In a countersuit, Medlink argues that it had not breached the contract and alleges that Wildcat PPE fabricated the contract breach so it could get out of the agreement.
"Wildcat seeks to increase its profits by selling the products directly to Medlink's clients and other DLA awardees at a higher cost," the lawsuit reads.
Olimax, the company that held a manufacturing agreement with Wildcat PPE, has also been in embroiled in litigation.

Olimax was founded by Nelia Cruickshank, Daniel Ogbonna and Kingsley Ekworomadu, according to court records from the Harris County District Clerk.
In the lawsuit, Cruickshank alleges Ogbonna and Ekworomadu committed fraud and gross mismanagement of her funds, resulting in the company being unable to refund a client about half a million dollars despite grossing over $5.4 million in revenue as of August 2020.
Olimax has since dissolved, according to the lawsuit. A search in www.opencorporates.com, an online database of company filings, shows that Olimax was only in existence from September 2020 to February.
McFarlane told Community Impact Newspaper that Olimax's legal troubles and eventual dissolution had no effect on Wildcat PPE or its operations. Cruickshank and her attorney, Carly Milner, did not respond to requests for comment seeking confirmation about the relationship with Wildcat PPE.
Contract concerns
Wildcat PPE officials said a change in leadership at the federal level caused contracts to stall, resulting in layoffs.
Cuskey, the

government procurement consultant,

said the Biden administration had a change in priorities and is no longer requesting the same volume of PPE supplies as under the Trump administration.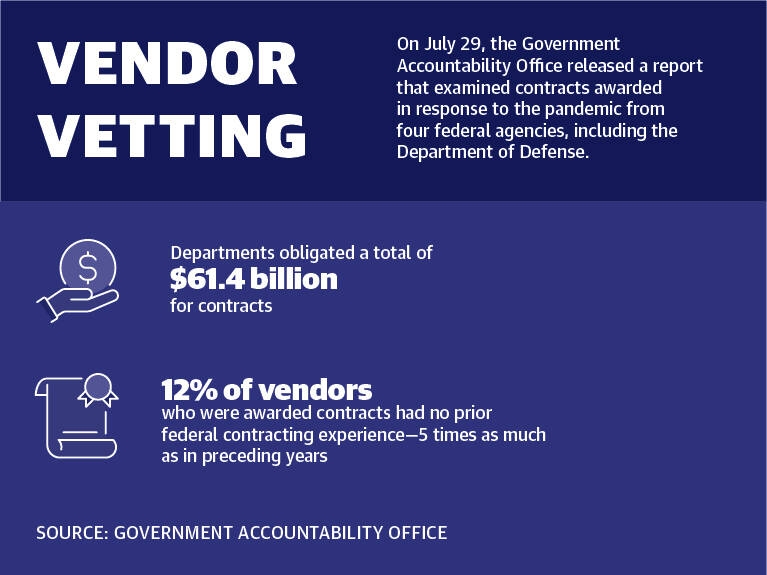 But contracts do not "stall" under new administration, he said.
The DLA awarded indefinite delivery and indefinite quantity contracts, meaning companies that won contracts would only know the minimum and maximum delivery orders that could be expected of them, Cuskey said. If the DLA needed more product, it would place a new order, but it is only required to meet the minimum delivery order.
The DLA has one year to obligate the funds. The new administration came on in January, before the end of the fiscal year.
"You can't have a government-caused delay when the government hasn't issued a [new order]," Cuskey said. "Yeah, these companies aren't getting the contracts, but the government is under no obligation to place orders above the minimum."
Cuskey said he not familiar with Wildcat PPE, but he has concerns about the federal procurement process under the pandemic.
The DLA used a Lowest Price Technically Acceptable source selection process. This meant that the DLA could award bids to companies that offered the lowest price, even if they had no relevant experience.
"

I really think that was a major mistake," Cuskey said. "You had new people come in that had never been a wholesaler or distributor for PPE before, and they had manufacturing facilities that may or may not have had experience with cut and sew operations."
According to Congressional Research Services, a government agency, the Lowest Price Technically Acceptable source selection process should be used in situations where there is a low risk for poor performance.
"DOD is also required to avoid—to the maximum extent practical—the use of [L
owest Price Technically Acceptable source selection process]

for procurements ... [such as] personal protective equipment," a January report from the agency reads.
On July 29, the U.S. Government Accountability Office released a report that found four federal agencies, including the Department of Defense, obligated $61.4 billion for contracts in response to the COVID-19 pandemic. Across the agencies, 12% of vendors who were awarded contracts had no prior federal contracting experience—five times as much as in preceding calendar years.
The report also highlighted challenges that contracting officials faced, including working with vendors new to federal contracting or supplying products they had not previously supplied, and operating under limited time frames.
According to news releases from the DLA, the agency was under tremendous pressure to meet unprecedented demands. The agency needed to find new vendors, and contracting specialists were tasked with researching companies' histories to determine that their products were legitimate, according to the DLA.
"It's not just finding a vendor who says they have 10 million masks and giving them a contract. It's a challenging and unforgiving process to make sure we're purchasing quality material from reputable vendors at fair and reasonable prices," DLA Medical Readiness Division Chief Pat Quigley said.
But Cuskey said this inadvertently led to awarding contracts to companies that were deficient and ill-prepared. He said that despite DLA claims of thorough vetting, his clients said that no one from the DLA ever came to look at their facilities.
"I don't think a lot of these new vendors understood the government's regulations," he said. "I think [the DLA] looked the other way."