West University Place's facilities master plan is pushing forward on project developments, particularly with its new public works campus. City officials and the contracted architects from PGAL shared updates on the city's new public works campus at the May 22 City Council meeting.
A closer look: The first facility to move is operational services for public works, which will be moved from its current location on Amherst Street to city-owned property at Dincan's Street and Westpark Drive. Some of the preliminary details shared included two variations of the new public works building.
Two-floors
Two budget-friendly options for the building design were discussed
Offices more than 10 feet wide
36 spaces for public/staff parking
Fencing around the facility
Fueling station
Oil/tire storage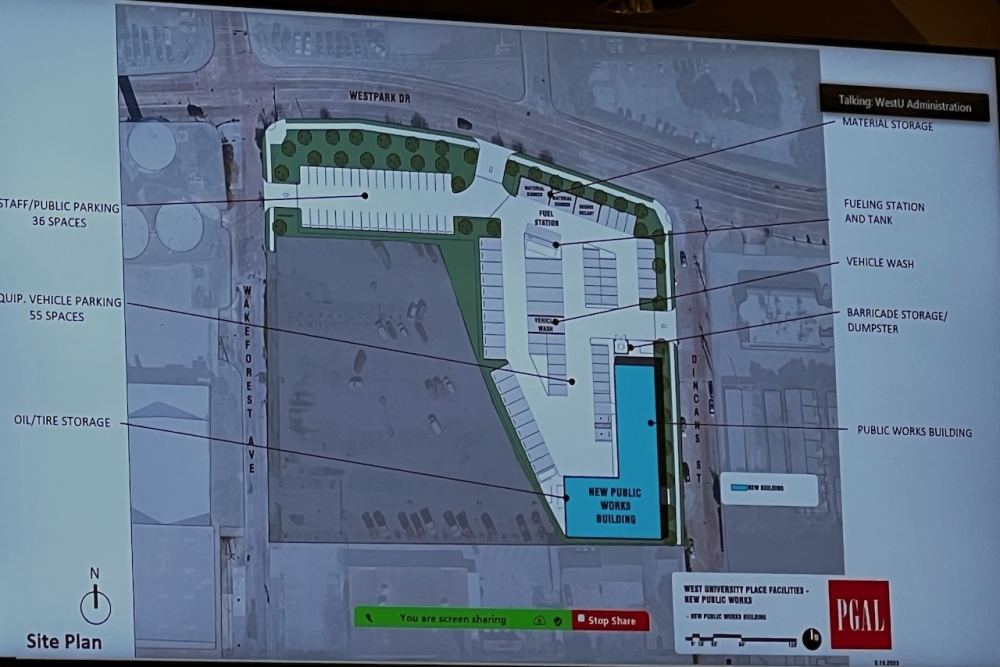 The backstory: West University Place is undertaking the largest public facilities makeover in the city's history as spacing issues and aging infrastructure creeps in. City leaders completed its facilities master plan in 2022.
The facilities plan is projected to cost the city nearly $38 million over the next couple years.
Key focuses of the plan involve renovations to City Hall, which houses the IT, finance, human resources, communications and police departments; and relocating the West University Branch Library and the city's community and senior center.
What's happening: City Manager Dave Beach said that they have been working with the city of Houston to replat two lots, which is required prior to applying for building permits with Houston.
During the process, another step was added when Houston officials notified West U staff that Houston had plans with a project regarding widening Westpark Drive.
Currently, the city of Houston is still reviewing West U's request.
"We think we're at the end of that process. Once we get the notice from staff from the city of Houston, we can submit [the building permit]," Beach said.
What's next: The deadline to submit the building permit is June 12, and Beach said their goal is to meet that deadline. City staff are expecting an answer from the Houston building officials regarding the Westpark Drive project. Once that is cleared, the PGAL representative said, the city will submit building permits, and the process for submitting construction bids to contractors will take place, in which the bids will be presented to City Council for approval.